India Helmet Market 2020-2025
February 14, 2020

Request Sample
COMING SOON
Multi User License - $1,800
INDIA HELMET MARKET
Two-wheeler helmets are used by motorcycle and scooter riders. The primary goal of two-wheeler helmet is to protect the rider's head during impact, thereby preventing or reducing head injury and saving the rider's life.
India being the worlds biggest two-wheeler market is also the biggest market for scooter and motorcycle helmets. There are 20 Million two-wheelers sold annually and more than 250 Million two-wheeler plying on Indian roads.Therefore, India helmet market is worlds biggest.
On an average there are 500,000 road accidents on Indian road deaths per annum and more than 30% involve two-wheeler riders, therefore there has been growing emphasis on helmet legislation by many state governments in India.
Due to growing road fatalities, and below par road infrastructure in India, now many state governments have made helmets compulsory for rider as well as pillions. There has also been other initiatives like the Tamil Nadu government  enforcing an old Motor Vehicle rule which says two wheeler companies must also supply BIS compliant helmets to their customers. 
MARKET SEGMENTATION
In India, wide range of  helmets are on sale including type, color's, graphics, designs, and level of safety.
However, there are basically three types of helmets:
Full-face
Open-face
Modular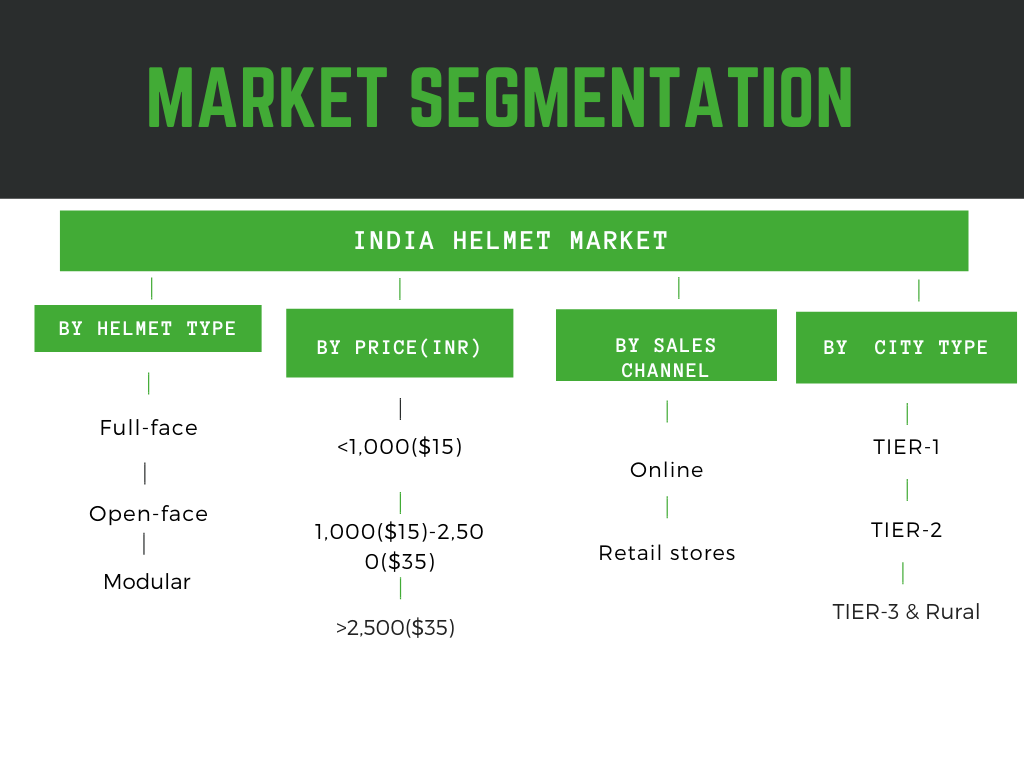 MARKET DYNAMICS
Most of the helmets, before being sold, pass through a strict set of standard guidelines. India has its own set of guidelines for helmets, set up by Bureau of Indian standards (BIS). Those helmets which comply with the above Standards get an 'ISI' certification sticker, usually seen on the back of the helmet. There are also other brands with international standards certification such as DOT, ECE & SNELL available in India.
In recent years, two-wheeler manufacturers have also started retailing their own line of helmets. Royal Enfield and Vespa already have their own line of helmets and now electric scooter startup , Ather Energy will also launch its "Smart" and Bluetooth connected helmets.
The biggest risk in India helmet market is fighting off competition from regional unorganized players who sell helmets at 60-70% lower price than branded helmets and have well established presence Pan-India.
A high 18% GST makes the branded helmets even more unaffordable or unattractive to low income and less informed buyers, especially given the fact that road legislation enforcement is a state subject.
COMPETITIVE LANDSCAPE
The competitive landscape of India helmet market is highly fragmented with unorganized players accounting more than 2/3rd of market.The helmets manufactured by regional vendors are of low quality and often sold by street vendors at less than 300 INR($5).
As of Jan 2020, there are more than 200 helmet manufacturers in India and less than 10% of them comply to safety standards. In the organized segment, Steelbird is the market leader.
Steelbird, STUDDS and Vega are among the most sought after helmet brands in India. We look at their recent developments below
Steelbird helmets registered 80 percent growth in sales in April-June quarter of 2019 YOY. The company has three plants, with manufacturing capacity of 22,000 units per day and aims to increase the production to 44,500 helmets per day. Their helmets are, priced between ranging from Rs.899($13) to Rs.12,999($185).It has set up a new manufacturing plant in Jammu & Kashmir  and invested $22M in the manufacturing plant  in Baddi, Himachal Pradesh.
STUDDS helmets has initiated talks with private equity investors to raise $15M ahead of a planned initial public offering (IPO).It`s fourth manufacturing plant will start operations in January 2020 and the company aims to increase its market presence pan-India
Vega Auto Accessories Pvt. Ltd, has three manufacturing plants, two in Uttarakhand and one in Belgaum manufacturing a total of 12,000 helmets per day. It is also the leading helmet exporter from India and exports about 40% of its production to Europe and US markets.
There has been growing interest in riding gears and accessories in upscale markets like Bangalore, Mumbai and Hyderabad, and thus many helmet companies are looking at expanding in this segment to come out with a customized range of riding gears.
COMPANY PROFILES
Vega helmets
Studds
Steel bird
LS2 helmets
Wrangler helmets
Royal Enfield helmets
Aerostar helmets
THH helmets
Shoei helmets
HJC helmets
THIS REPORT WILL ANSWER THE FOLLOWING QUESTIONS
  Market Size and Forecast of India Helmet market a(Volume and Value)
  Market Trends,risks, drivers and opportunities in  India helmet market
  Market share of helmet manufacturers in India
  Growth strategy of helmet  manufacturers in India
  Impact of state-wide helmet legislations on the helmet market in India
| | | |
| --- | --- | --- |
| Sl no | Topic | Slide number |
| 1 | Market Segmentation | 4 |
| 2 | Research Methodology | 5 |
| 3 | Scope | 6 |
| 4 | Abbreviations | 7 |
| 5 | Executive Summary | 10-12 |
| 6 | Introduction | 14-18 |
| 7 | Insights from Industry stakeholders | 19 |
| 8 | Two-wheeler Helmet manufacturing in India | 20-21 |
| 9 | All about unorganized helmet market in India | 22-27 |
| 10 | Growth in online Helmet sales | 28-31 |
| 11 | Rise is sales of imported helmets in 2015-2020 | 32-33 |
| 12 | Difference in consumer demand by city type(Tier-1, Tier-2, Tier-3) | 34-37 |
| 12 | Motorcycle PARC population in India- March 2020 | 38-39 |
| 13 | Two-wheeler License holders in India, by State, By Gender-2020 | 40-42 |
| 14 | Total Addressable and Serviceable market for Hemet Manufacturers | 43-45 |
| 15 | Market Size ,Dynamics and Forecast By City type | 46-65 |
| 16 | Market Size ,Dynamics and Forecast By Sales channel | 66-75 |
| 17 | Market Size ,Dynamics and Forecast By Price | 76-90 |
| 18 | Market Size ,Dynamics and Forecast By Helmet type | 91-105 |
| 19 | Competitive Landscape | 106-108 |
| 20 | Market share of vendors-2019 | 109 |
| 21 | OEM-supplier relationship in two- wheeler Helmet market | 110-111 |
| 22 | Unmet needs and Market Opportunity for suppliers (Tier-1 and Tier-2) | 112 |
| 23 | Conclusion | 113 |