INDIA ONLINE FOOD DELIVERY MARKET
OVERVIEW
Rapid digitalization coupled with a growing online consumer base and purchasing power of individuals has fostered the growth of Online Food Delivery Market in India

College students, working couples and office goers are the key target audience of these food tech companies.

Features that have contributed to the success of the online food delivery market in India are generating a code referral system, easy & user-friendly dashboard, social media integration, customer integration with push notification and cross-platform compatibility, etc

Although the players are mainly concentrated in the urban regions of the country, with Bangalore, Delhi and Mumbai representing the three largest markets, vendors are now also targeting smaller cities, as they have strong growth potential.

Furthermore, owing to the rising cases of COVID-19, some of the leading players like Zomato, Swiggy, McDonald's Corporation and Domino's Pizza Inc. have introduced contactless delivery services
INTRODUCTION
Online food delivery assists individuals in ordering and receiving their desired food products at their doorstep. It involves browsing the website or application, selecting from a wide variety of available cuisines and making the payment through a variety of methods.
The website/application also intimates the user about the expected duration of food preparation and delivery. These features, in confluence with attributes such as ease, speed and precision of delivery, are increasing the demand for these services in India.
Variety in cuisines is one of the top reasons for recurrent use of online food ordering apps, followed by good discounts and convenience.
The online food delivery market in India is growing with the evolving lifestyle patterns and eating habits of Indians. The market is also witnessing growth on account of the increasing access to high-speed internet facilities and the boost sales of smartphones. This, in confluence with hectic working schedules and rise in disposable income for people, is propelling the online food delivery market growth in India, especially in urban areas.
Restaurants and cafes also find it profitable to sell their food through online mediums since it reduces a significant amount of operational overheads.
Moreover, the rising trend of the on-the-go food items and quick home delivery models that offer convenience, ready-to-eat options and cheaper food delivery service are escalating the demand for online food delivery services in the country.
The contactless food delivering services ensure that the food reaches the customer without being touched by bare hands and is delivered safely with adequate social distancing measures. This has alternatively proved to be favorable for the market as many people now prefer ordering food from their preferred restaurant instead of going out to eat.
INDIA ONLINE FOOD DELIVERY MARKET SEGMENTATION
By Platform Type
By Payment Method
Mobile Wallet

Card Payment

Cash on Delivery

NetBanking
 By Region
North India

West and Central India

South India

East India
By City type
INDIA ONLINE FOOD DELIVERY MARKET DYNAMICS
Order value for online food delivery apps is on the rise.
Customers ordering food online are spending about 25-30% more per takeaway, even as overall volumes continue to recover, touching about half of pre-Covid-19 numbers, according to food delivery platforms and restaurants.
The recovery in order volumes, coupled with increase in order value, has led to overall sales bouncing back by 60-65%. Some of the growth can also be attributed to promotions and discounts making a comeback.
The rise in order value is because larger quantities are being ordered with many families now working from home. Known brands among restaurants with a set hygiene protocol, as well as the launch of home-delivery by many of these premium restaurants who were earlier strictly dine-in have further helped in gaining the trust of an average consumer regarding safety and hygiene concerns.
The upward swing comes in a quarter where Zomato and Swiggy saw a significant dip in orders to less than 3,00,000 per day in April as restaurant supply and overall customer demand cratered during the Covid-19 induced lockdown.
The average order value on food delivery platforms was about Rs 320 pre-Covid-19 and has since increased to Rs 420 on an everage. This trend is anticipated to last for another three to six months at least. However, it is difficult to forecast this continuing trend once the health crisis situation improves in the country in the upcoming years.
A structural change in restaurant options
Premium restaurants and food aggregators both have adopted online delivery services now in an effort to continue its operations amidst the pandemic. The adoption of online delivery by these premium restaurants is being called a structural change, adding a new category of its own, as most fine dining eateries do not expect footfalls to pick up anytime soon.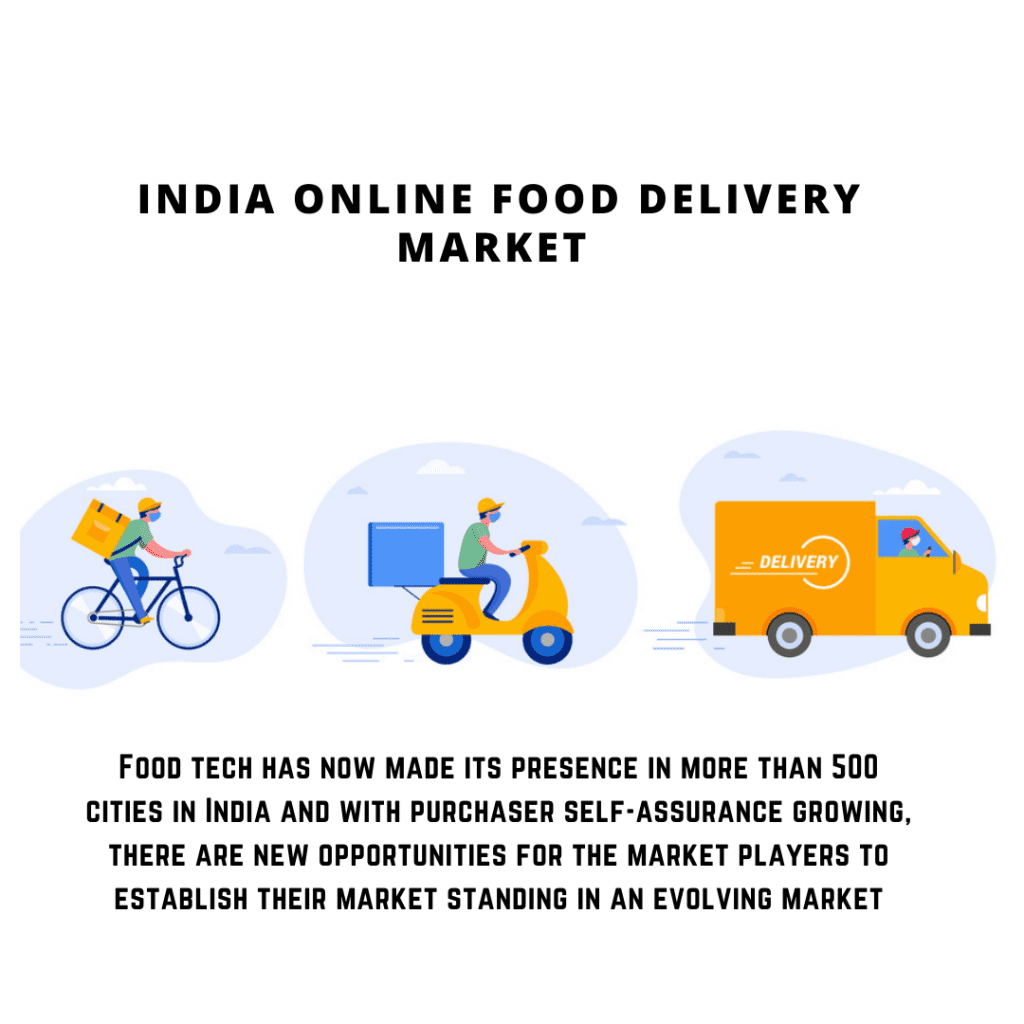 In Delhi, popular dine-in restaurants are now contributing about 5% to Zomato's overall food delivery sales from the city. Swiggy has seen a similar uptick from premium restaurants and hotels as the company has partnered with close to a 100 luxury properties from hotel chains such as ITC Hotels, Hyatt and The Hilton across major cities.
Some of these hotel chains have tailored their offerings with a delivery-specific menu to ensure that the overall experience is best suited for home delivery as an endeavour to ensure that customers continue to enjoy their favourite cuisine through an outreach dining experience in the comfort and safety of their homes.
Recovery in Smaller cities
Migration of white-collar workforce to their hometowns, too, has resulted in a change in buying patterns and geographies and alternatively contributed to the rising demand of these food delivery platforms.
According to Zomato, with more and more professionals and students moving back to their families, orders from smaller towns and cities are leading the growth compared to the metros. This upsurge is seen more in towns closer to metros. For instance, Mysuru has seen about 120% rise in order volumes compared to the pre-Covid-19 levels in the last few months.
In 2019, out of the major online food delivery service providers, Zomato held a share of xx% in terms of user base. Swiggy held a share of xx% in the online food delivery user base of India. High adoption rates in tier I and tier II cities, as well as swift delivery services has helped these two companies to gain a high share in the Indian market.
INDIA ONLINE FOOD DELIVERY MARKET DRIVERS
Favourable Changes in lifestyle patterns
With rise in dual-income families, especially in urban India, the way people live and consume different products and services has changed drastically in recent times. This generation sees both parents working and able enough to make individual purchase decisions with changes in routines, lifestyle and food habits.
The demand for quick access to food and one with affordable rates is on the rise. Time crunches and an increasing need to spend quality time with the majority of nuclear families living in India reaching out for fast food or takeouts to save time and energy that would otherwise go into cooking up a meal at home every day of the week. The key to its success is the easability and convenience it offers to its target consumers.
Keeping in line with the above point, there has been an astounding increase in working women. Working women end up spending most of their productive hours juggling between commuting from home or at work, therefore there is very less time to cook full blown meals at home, all by themselves.
Alternatively, working women typically spend a large amount of their disposable income on buying takeouts or eating out. This is again a key demand-driver for the food tech companies in India.
As of 2019, millennials accounted for about 60% of the overall user base of the online food delivery market. This can be attributed to the rising disposable income in the hands of millennials who prefer spending on this luxury, now seen as an essential service. Also, millennials prefer ordering food online since it provides them with a variety of options to choose from and is easy to handle and saves time and energy on cooking at home.
Encouraging Demographics
With a population of over 1.2billion, India is undeniably one of the biggest consumer markets in the world today. Moreover, 50% of this population fall under the age of 25, and the rest before the age of 35 years; making India among the youngest population in the world too. Most of the fast food demand comes from the age group between 18-40 years.
Further, the Indian middle-class demographic is expected to only increase in the near future, therefore Young India's appetite is one of the key drivers for demand in the food and beverage industry on the whole.
Promising Income and Consumption Levels
With an increasing number of young Indians being productively employed in lucrative industries, sectors like IT services have contributed in improving the living standards of people and left more money in the hands of the people to spend on alternate means. The World Bank has reported a staggering 50% increase in per capita income since 2006 until now.
Thus, Urban India sees a visible change in the social setting, which further fuels the advancement of online food delivery service in India. Higher disposable income is also a key driver for other subcategories of food products and delivery services.
Regional Insights
The major players operating in India online food ordering and delivery markets are currently focusing on their geographical expansion across various regions of the country.
Bengaluru acquired the highest quantity of online meals delivery orders, accounting for around 20 percent of the entire market share among other cities followed by Mumbai, Pune, Delhi and Hyderabad.
Food tech has now made its presence in more than 500 cities in India and with purchaser self-assurance growing, there are new opportunities for the market players to establish their market standing in an evolving market.
Word of mouth or community advocacy performed a critical function in drawing humans to attempt online meals ordering for the primary time. The trend of choosing one player over its contemporary was observed by means of advertisements that emerged to be a robust driving force in luring consumers in metros and amongst the better income groups throughout the country.
INDIA ONLINE FOOD DELIVERY MARKET SIZE
India online food delivery market size was estimated at ~$300M or 2,100 Crores INR but FY 2020 and FY 2021(estimated) earning are estimated to grow at double digits.
By 2025, the market could grow to $XXM at –% CAGR
COMPETITIVE LANDSCAPE
There have been some signs of consolidation in a market which has undergone several shifts in terms of strategies and operating procedures. The market share certainly belonged to the two top startups in the online food delivery space, Swiggy and Zomato.
Even though UberEats, a relatively new player in the Indian market, managed to make a sizable dent in the market in terms of daily orders, it was ultimately taken over by zomato.
Long road ahead to Profitability
Both the companies have spent ample amounts of money trying to lure people with enticing discounts for far too long now. And as a consequence, they are yet to turn profitable (as of FY2019).
While Swiggy made losses of around 2300 crores ($ 313 M) , Zomato posted losses of close to 1000 crores ($ 136M). This despite the fact that both are approximately making the same kind of money  in terms of revenues of around 1000 crores.
Zomato, however, is slowly shifting its focus to recovery from losses as compared to Swiggy who nearly doubled its loss margin from the previous year.
Difference in strategy
Swiggy and Zomato have now become synonymous with food-delivery and yet it seems as if both startups have very different ideas on how they plan to conquer the market.
Swiggy is comfortably the platform with a higher number of daily orders with over 1.5 million daily orders, to Zomato's 1.2 million. A lot of this can be attributed to the growth patterns of the two companies. While Swiggy chose to continue to align its expansion in 2019 with the delivery and logistics side, Zomato has expanded to the media space by boosting its advertising wing and even adding a streaming service.
Zomato. It's trying to be a one-stop-destination for foodies across the country. Whether one wants to order in, go out for a meal, or simply browse through restaurants, Zomato is the preferred app. Zomato's focus is on food and food alone. And it wants to capture the whole value chain — from restaurant discovery to delivery.
Swiggy instead is focusing on their delivery ecosystem to explore new categories like groceries, medicines etc. They are even using their delivery personnel to run errands for people who don't have the time to do it themselves in the form of Swiggy genie. And considering they already have huge manpower at their disposal, they can easily expand into the B2B space as well. It's like running errands for other businesses instead of consumers. The only difference is that this area is still relatively unexplored.
So yes, Swiggy is looking beyond the food space, whilst Zomato is only talking about food. Granted both companies have their eyes set on achieving a path to profitability, but it's clear that they are beginning to adopt very different strategies to get to the end goal.
Advertisement wars
Both companies have spent crazy money on applying different marketing strategies through a variety of media in order to engage with consumers at large and remain relevant in the rapidly changing market scenario.
On a standalone basis, Zomato increased its advertising promotional expenses 14.16X reaching INR 1214 Cr ($ 165 M) in FY19. Notably, this makes up to 39% of the company's total expenses for the year. In comparison, Swiggy's advertising cost was INR 776 Cr ($ 105M). This is 36% less when compared to Zomato.
The similarity between the two is that both know how to reach out to their target audience, their main motive being food and they've also succeeded in passing this message through different content whether its video sharing or creative image content. They offer pure entertainment and engage with their audience through different social mediums and that is their biggest strategy.
Indulging in this ever growing advertisement war over different media has however proved to be favourable for both the company's and their ads have been received very well by the audience and further contributed to the popularity of the two apps among new as well as existing consumers. 
COMPANIES PROFILED