India Seaport Infrastructure Market 2020-2025
November 12, 2020

Request Sample
Coming Soon
Multi User License - $1,800
KEY FINDINGS
Indian port traffic has witnessed single digit year on year growth from 2012-13 to 2017-18
Increasing investment and cargo at traffic point towards a healthy outlook for the Indian seaport sector
The capacity addition of ports is expected to grow at a CAGR of 6% till 2024
Within the ports sector, projects worth investment of 10 billion USD have been identified and will be awarded in the coming 7 years
Ministry of shipping has set a target capacity of over 313 MMT by 2024, which would be driven by participation from the private sector. Non-major ports are expected to generate over 505 of this capacity
INTRODUCTION
Sea ports have assumed enormous importance in the era of globalization, with a phenomenal expansion in world trade. The development of ports infrastructure in India is very crucial and indispensable for the increase of export volume through maritime trade.
Export is an important key components of gross domestic product (GDP), which is a base indicator for economic growth in India. According to ministry of shipping, around 95% of India's trading by volume and 70% by value is done through maritime transport.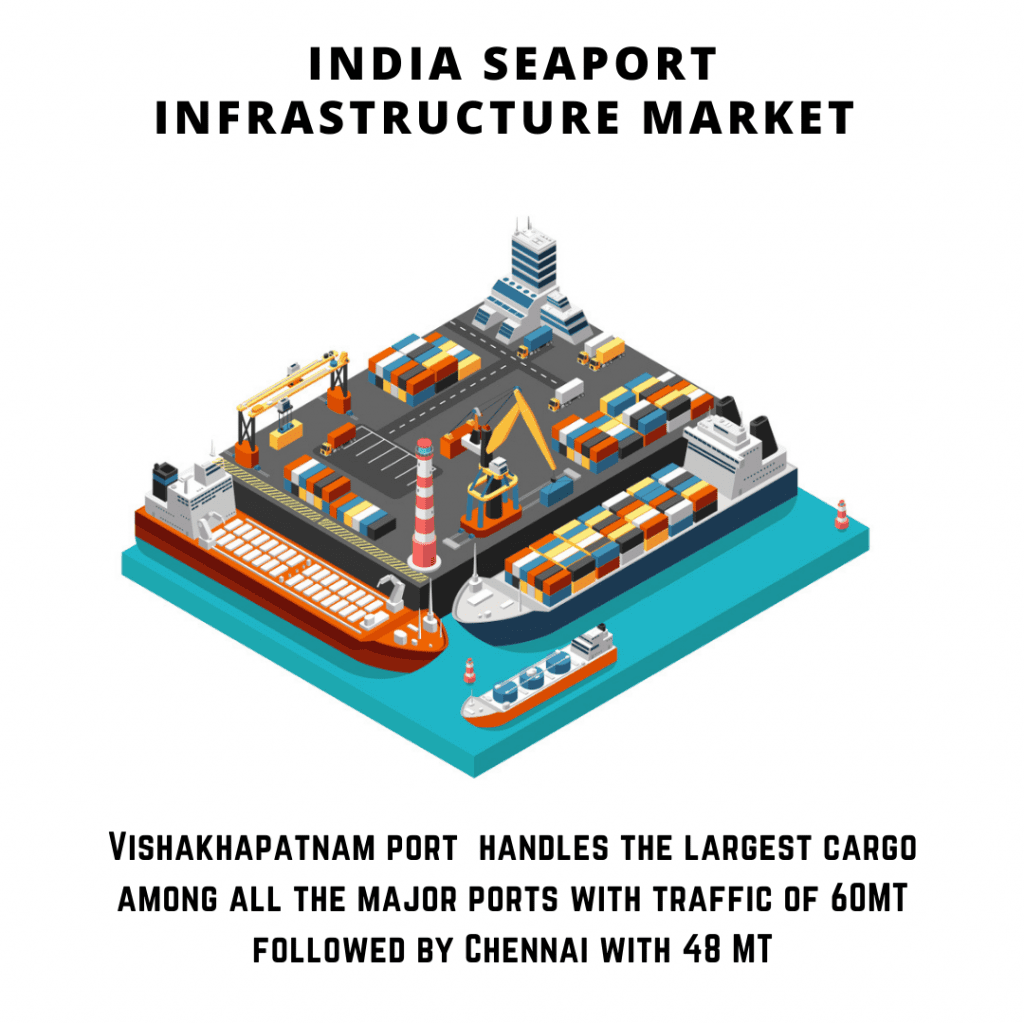 India has 12 major and 205 notified minor and intermediate ports. Under the National perspective plan for Sagarmala,6 new mega ports will be developed in the country. The Indian ports and shipping industry plays vital role in sustaining growth in the country's trade and commerce.
 India is the sixteenth largest maritime country in the world with a coastline of about 7500kms.The Indian Government plays an important role in supporting the ports sector. It has allowed FDI of up to 100% under the automatic route for port and harbor construction and maintenance projects. It has also facilitated a 10-year tax holiday to enterprise that develop, maintain, inland water ways and inland ports
MARKET  SEGMENTATION
By Type
By Commodity
Containerized
Liquid
Bulk
Others
By Region
MARKET DYNAMICS
 The maritime agenda 2010-2020 has a 2020 target of 3010MT port capacity ,major ports in India handled 704.82 MT cargo traffic, implying a CAGR of 2.74% in FY16-FY20.
Vishakhapatnam port  handles the largest cargo among all the major ports with traffic of 60MT followed by Chennai with 48 MT. There can be see advancement in corporate developments in recent years and one  among them is , Adani ports &SEZ sought government's approval for clubbing its 3 notified SEZ in Gujarat to form a mega multiple-export zone spanning over the 8500-hectare area.
Till 2010, most ports were operating over near the saturation  levels of their handling capacities, resulting in high pre-berthing and turnaround time of vessels. The situation improved in 2016 in major ports. CAGR of traffic at major ports shown inclination during 2003-2014 from 5.51% to 10.74% and growth shown a slightly increase in 2018-2020 by 2.74% due to global economic crisis.
GOVERNMENT INITIATIVES
Sagarmala Programme
Vision of the Sagarmala programme is to reduce logistics cost for EXIM  and domestic trade with, minimal infrastructure investment. This includes:
Reducing cost of transporting  domestic cargo through optimizing modal mix. Lowering logistics cost of bulk commodities by locating future industrial capacities near the coast. Improving export competitiveness by developing port proximate discrete manufacturing  clusters. Optimizing time/cost of  EXIM container movement.
Project  UNNATI
Project UNNATI was started by the Government of India to identify opportunities for improvement in the operations of major ports.
INDIAN SEAPORT INFRASTRUCTURE MARKET OUTLOOK
Indian port traffic has witnessed single digit year on year growth from 2012-13 to 2017-18. Through capacity addition has picked up pace at major ports, progress and development of new non-major ports remains tardy.
However, the port sector is expected to exhibit reasonable growth in cargo traffic in the coming years. The government is being proactive and leaving no stone unturned to ensure sector growth .It has been meeting challenges such as those related to connectivity and overcoming financial hurdles through the adoption of new and supportive policy measures. The outlook for the sector seems bright.
In 2017-18, the major ports handled 700MT of traffic, registering a year on year growth of 4% as against 7% of 2016-17.
As the state level, traffic at non-major ports has been increasing significantly, driven by great efficiency levels, draught and competitive tariff structure.IN 2017-18, non- major ports handled 520MT of traffic registering year-on-year growth of 9 %,as against 5% of 2016-17,their share has been rising since 2012-13.
Port wise Adani ports and SEZ limited corporation became the first commercial port in 2013-13 to handle over 100 MT of cargo in a year. Krishnapuram port which was commissioned in 2008,is among the fastest growing ports on the east coast.
In terms of infrastructure, there has been record capacity addition at the major ports. Overall , the major ports has added a capacity of 650 MT in the past 5 years .At the state level the capacity of non-major ports increase by 233MT in past 5 years. On the flip side the execution of green field projects continues to remain sluggish.
To improve operational efficiency and profitability, a benchmarking exercise was conducted for the major ports under the project Unnati.
On the efficiency front, there has been a significant reduction in turnaround time, from 94 hours in 2013-14 to 58 hours in 2018-19.
Ports are exploring new business area to diversify their portfolio and reduce business risks, with roll-on, roll-off, liquefied natural gas terminals, smart port cities and port based SEZ as new area of growth.
Cruise tourism is the another area of growth. Cruise terminals are operational at Mumbai, Cochin, Mormugao. The upgradation of a new terminal at Mumbai and Cochin are under way.
| | |
| --- | --- |
| Sl no | Topic |
| 1 | Market Segmentation |
| 2 | Scope of the report |
| 3 | Abbreviations |
| 4 | Research Methodology |
| 5 | Executive Summary |
| 6 | Introduction |
| 7 | Insights from Industry stakeholders |
| 8 | Cost breakdown of Product by sub-components and average profit margin |
| 9 | Disruptive innovation in the Industry |
| 10 | Technology trends in the Industry |
| 11 | Consumer trends in the industry |
| 12 | Recent Production Milestones |
| 13 | Component Manufacturing in US, EU and China |
| 14 | COVID-19 impact on overall market |
| 15 | COVID-19 impact on Production of components |
| 16 | COVID-19 impact on Point of sale |
| 17 | Market Segmentation, Dynamics and Forecast by Geography, 2020-2025 |
| 18 | Market Segmentation, Dynamics and Forecast by Product Type, 2020-2025 |
| 19 | Market Segmentation, Dynamics and Forecast by Application, 2020-2025 |
| 20 | Market Segmentation, Dynamics and Forecast by End use, 2020-2025 |
| 21 | Product installation rate by OEM, 2020 |
| 22 | Incline/Decline in Average B-2-B selling price in past 5 years |
| 23 | Competition from substitute products |
| 24 | Gross margin and average profitability of suppliers |
| 25 | New product development in past 12 months |
| 26 | M&A in past 12 months |
| 27 | Growth strategy of leading players |
| 28 | Market share of vendors, 2020 |
| 29 | Company Profiles |
| 30 | Unmet needs and opportunity for new suppliers |
| 31 | Conclusion |
| 32 | Appendix |