INDIA SPECIALITY CHEMICAL MARKET
INTRODUCTION
Specialty chemicals are referred to the chemical products which are capable of providing a wide variety of effects on which various other industry sectors rely upon. The chemical industry plays a vital role in the industrial development of a country. Industries like Automotive, aerospace, food, cosmetics, agriculture, manufacturing, and textile depend heavily on specialty chemicals.
These chemicals are used based on their performance. These chemicals are usually manufactured in batch chemical plants. The manufacturing of these chemicals is then followed by a series of processes like mixing, heating, cooling, distillation, crystallization, separation, drying, packaging, and many more.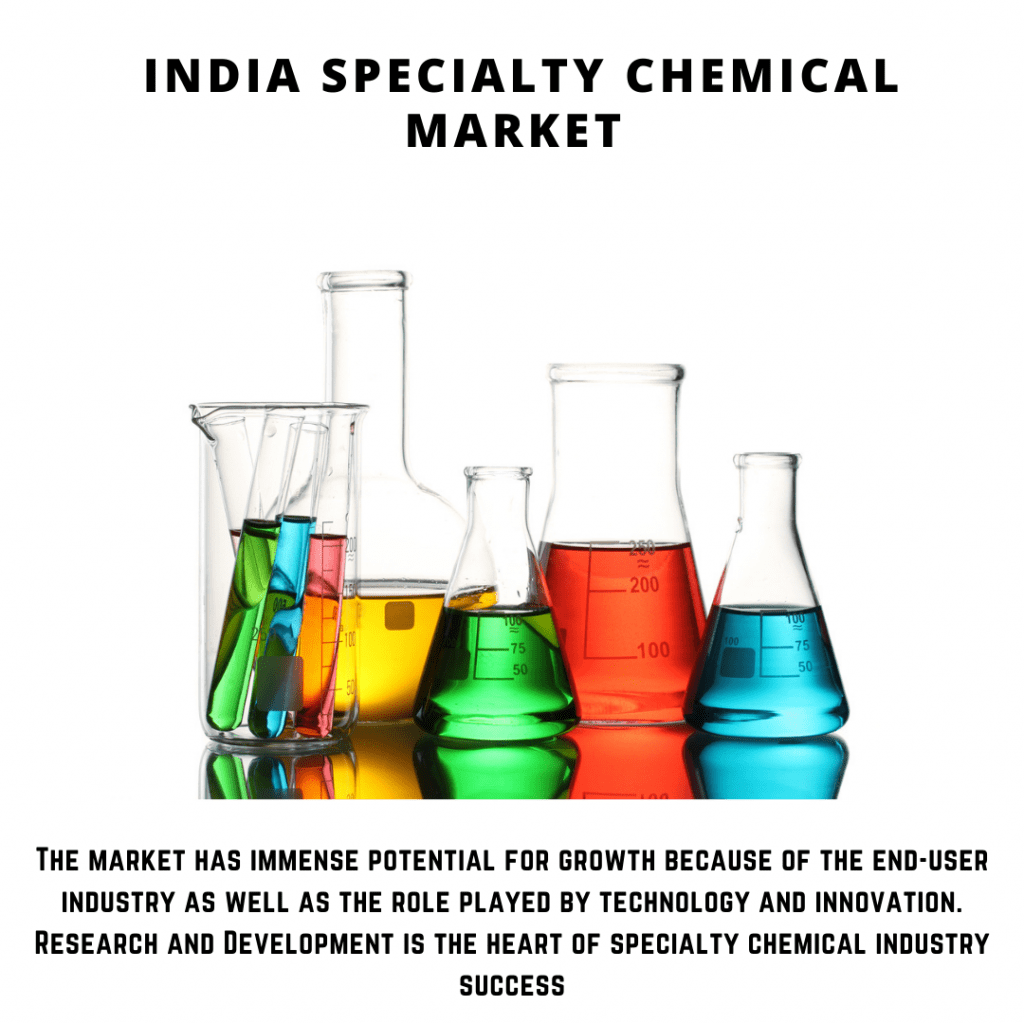 The world's top specialty chemicals segments have been specialty polymers, industrial and institutional cleaners, construction chemicals, electronic chemicals, flavors, and fragrances. India has seen considerable growth in the Specialty chemicals market and is a recognized producer of such chemicals on a global scale.
In this report, we will dwell upon the internal dynamics of the Indian Specialty Chemical market.
INDIA SPECIALITY CHEMICAL MARKET DYNAMICS
Major driving factors of the Indian Specialty chemical market can be listed as:
Growing demand from end-user industries like food.

Increased intensity of consumption

Significant exports with room to expand

Significant imports with scope for domestic substitution.

Improved Consumption standards
Differentiated business models and strong entry barriers act to contribute to the growth of the specialty chemicals sector. Processes like vendor regulation and customer loyalty act construct a barrier for the small manufacturers entering the marketplace.
In India, the market is heavily segmented with major shares between Agrochemicals and Dyes-Pigments. Other divisions of the market are Construction chemicals, Polymer chemicals, Chemicals used in Textiles, Surfactants, Functional Ingredients, Nutra-Functional, Base ingredients, and many others.
The market in India is primarily unorganized because of the large number of unorganized players catering to smaller unorganized customers. Interestingly, in some instances such as chemicals used in base ingredients, the market share of unorganized players is more than organized players.
India is self-sufficient in Petrochemical's manufacturing. However, India is a net importer of petrochemical intermediates and bulk chemicals. The country, because of its large population, has the advantage of skilled labor available at low cost.
INDIA SPECIALITY CHEMICAL MARKET SIZE AND FORECAST
Some of the major companies have been investing in Research and Development for specialty chemicals in India. To manufacture quality chemicals, the governments have initiated actions like mandating BIS-certification for imported chemicals to ensure good quality of raw materials.
Because of the good monsoon spread, the agrochemicals sector of the industry has flourished. Companies focusing on flavors and fragrances have also observed prospective growth in recent times. Also, in recent times a large number of manufacturers have risen for agrochemical manufacturing.
The government in India has allowed 100% FDI. Owing to this, the market has observed a good inflow of investments from M&A in recent times. Stakeholders and the government as well are actively considering a shift to put in use sustainable methods of manufacturing chemicals. 
Various mergers and acquisitions are taking place in the marketplace as well. Recently Grasim Industries signed a definitive agreement with Lubrizol Advanced materials to manufacture and supply CPVC resin in Gujarat. Pidilite Industries acquired Huntsman Group's Indian Subsidiary to strengthen adhesives and sealants portfolio. Millions of dollars deal has been the signed-in acquisition of JB Chemicals and Pharmaceuticals Limited and Carlyle acquisition of SeQuent Scientific Limited.
Since the country is the perfect marketplace for low-cost manufacturing capabilities, it is a preferred manufacturing destination for international companies. The sheer growth in disposable income of people and increased urbanization have led to growth in the end-user segment.
Covid-19 has made all chemical buyers rethink and diversify their supply chains. Thus, companies are prompted to give India another look as a source of raw materials for their chemical products. Indian executives are taking advantage of Covid-19 as companies are deciding to reduce their dependence on China. Also, the growing competitiveness of Indian manufacturers attracts international companies to set up their industries in the marketplace or look at the region as a supply chain. 
India's specialty chemical companies are expanding their capacities to cater to rising demand from domestic and overseas markets.
COMPETITIVE LANDSCAPE
Some companies are trying to create global leadership in their molecule sub-choice. An example of this practice is Navin fluorine. The company is a dominant market player in the fluorine industry.
The market has immense potential for growth because of the end-user industry as well as the role played by technology and innovation. Research and Development is the heart of specialty chemical industry success. To improve innovation in the respective marketplace, companies are required to align R&D to business objectives & growth drivers. 
One of the challenges that remain in the marketplace is to innovate but at lower costs to meet needs for improved health, safety, and environmental impact. Companies have been planning to employ AI in Research and Development in the upcoming years. 
Most Indian companies are still modest in size. Such companies have less capacity and capability as well to develop new production processes. Only, the larger companies have to capacity to do so. Additionally, many small and medium-size industries in India are family-owned and they don't want any outsider to take control over their business while Western investors generally take a majority stake to keep a grip on business and introduce new technologies.
COMPANY PROFILE
Some of the prominent industries in the Indian Specialty Chemical Market are listed below:
Deepak Nitrite

Alkyl Amines

Apcotex Ind.

Polson