India Truck Market 2019-2025
November 10, 2019

Request Sample
NUMBER OF PAGES-105
Multi User License - $1,800
INDIA TRUCK MARKET-SUMMARY
India truck market is estimated at ~0.6-0.8 Million units per annum, world`s third biggest after China and US
LCVs(Light commercial vehicles) account for ~65-70%% of total truck sales every year and Mahindra & Mahindra is the market leader in that segment
In terms of powertrain, majority of Indian light trucks are powered by 1.5L-3L Diesel engines, whereas M&HCVs are powered by 4L-7L Engines. Manual transmission accounts for 95+% fitment, followed by AMT- WABCO is one of the biggest supplier of AMTs
The adoption of alternative fueled electric trucks in India has been almost negligible so far and electrification of trucks is happening at a much slower pace as compared to US, China and Europe
India truck market is battling multiple headwinds i.e. 1.the slowdown in FMCG, Pharma and Industrial production 2. the transition from BS IV (Euro IV) to BS VI (Euro VI) 3. Revision of axle norms which allow trucks to carry 25% more load, negating the increase in freight volumes. Due to these three factors the manufacturers and dealers` margins are heavily squeezed
In the event of economic slowdown in India, as of August 2019 the inventory levels are at 1.5-2 months as opposed to 2-3 weeks on an average, resulting in heavy discounting across all tonnage segments and partial manufacturing plant shutdown.
India truck market is extremely consolidated, three OEMs (Tata, Mahindra and Ashok Leyland) had 90% market share in FY 2019
The latest entrant, Maruti Suzuki- market leader in passenger car segment, entered the light truck market in 2016 and has been aggressively expanding its presence in India, now has 300+ dealerships in a span of 3 years
COMMERCIAL VEHICLE SALES IN INDIA FY 2014-2019
Commercial Vehicles hold 4% of the total market share of all vehicles sold in India. This is in comparison to a 13% market share for passenger vehicles, 3 percent for three wheelers and a massive 80 percent held by two-wheelers as of Oct 2019.
MARKET SEGMENTATION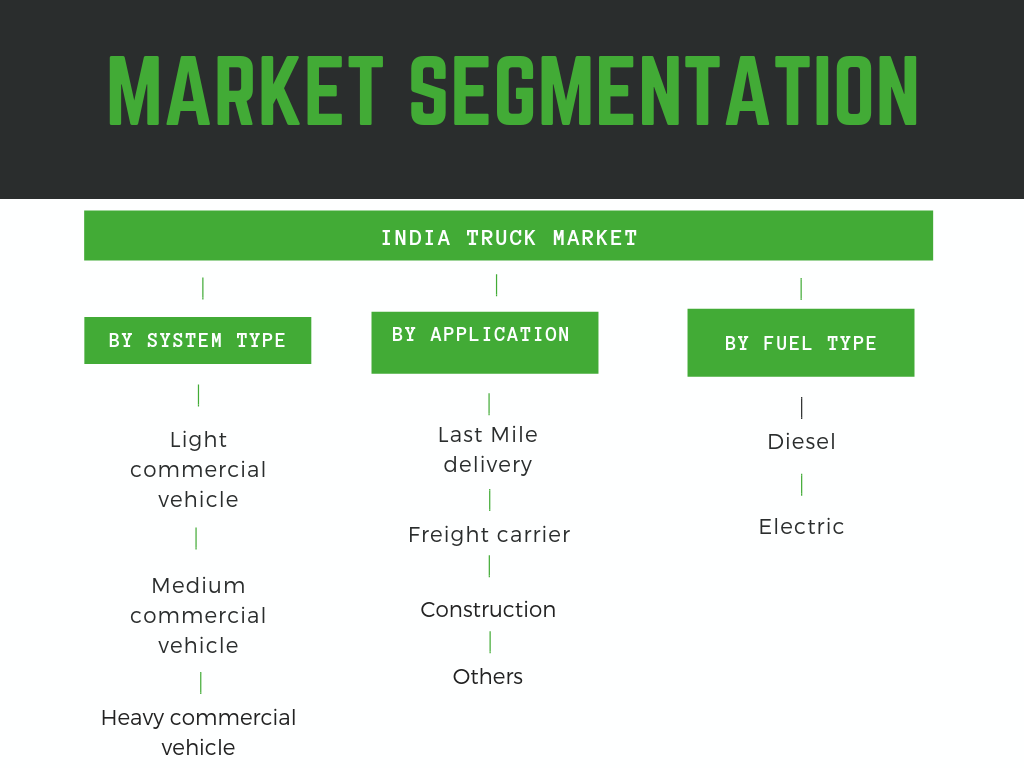 LIGHT TRUCK MARKET SHARE IN INDIA
Tata Motors with its best-sellers like Ace,Ace Ex,Ace Zip followed by Mahindra`s Jayo and Optimo hold 89% share, cumulatively
HEAVY TRUCK MARKET ANALYSIS
The heavy truck market in India reached an all time high in FY 2019 when sales crossed 350,000 units, due to high replacement demand and continued govt infrastructure spending. But, by oct 2019 the demand has slowed down and all CV makers have registered ~20-45% decline in FY-20 so far. Falling freight rates and low freight availability are a cause of major concern among fleet operators.
Both rural and urban consumption are on decline in FY-20 and this has resulted in a severe slowdown in truck rental market in India.The truck manufacturers in India are adjusting their channel inventory, given the weak demand and  phasing out of BS-IV vehicles by March 2020. Tata and Ashok Leyland plants are working at 50-60% of their monthly capacity in Oct 2019 and will likely to continue that way till Dec 2019.
Despite all headwinds in short term, we are bullish on India`s long term truck market prospects, given upcoming scrappage policy and growing  list of infra projects.
INDIA TRUCK MARKET- RECENT DEVELOPMENTS
Nov 2019-Daimler India Commercial vehicles unveiled the longest extended warranty(upto eight years or 800,000 kms) for all BSIV compliant heavy and medium duty trucks
Nov 2019– Ashok Leyland(#2 in M&HCVs in India) unveiled its entire range of BS VI compliant products- the first OEM to do so
Oct 2019– Daimler India commenced production of BS-VI-compliant heavy duty engines(OM 926) from its Chennai facility
Oct 2019–  Mahindra Group's truck and bus division announced that it will launch BS-VI compliant range of commercial vehicles, and rolled out a new variant of its Blazo truck in the 16-wheeler category. It also said that 80% of the parts will remain unchanged from the BS-IV variant
TRUCK MARKET IN INDIA-THE WAY FORWARD
The ICV(Intermediate commercial vehicle) segment , GVW of 6.2-to 16.2 tonnes accounts for 30% of India truck market and has grown at 12% CAGR in past three years. We expect multiple new launches in this segment
There is possibility that some customers are waiting to buy the latest Bharat Stage (BS)-VI emission standard compliant vehicles or are waiting for more incentives from vehicle makers who will be looking to sell off their BS-IV compliant stocks before the April 1, 2020 deadline
SIAM(Society of Indian Automobile Manufacturers) has already sought a GST relief coinciding with the implementation of BS VI as a pro-active measure to prevent vehicle sales from declining further
Despite positive numbers, the India truck market is expected to see a slowdown. A variety of factor like the pace of economic and industrial growth, a decline in consumption, more stringent environmental regulations are expected to weigh on CV demand in the upcoming quarters
Due to impending vehicle electrification, one can expect even the fiercest of competitors to collaborate together on electric vehicles
KEY CONTENTS OF THE REPORT INCLUDE
Market Size and Forecast segmented by tonnage capacity, application and region
Details on manufacturing facilities, existing capacity, planned increase in capacity and Key component suppliers in India
Impact of BS VI emissions norms on overall supply chain
All about fleet operators in India and their pain points
Overall dealership structure
Key consumer, technology and freight trends
Recent and upcoming legislations impacting India truck market
COMPANY PROFILES
Mahindra and Mahindra
Maruti Suzuki India Pvt Ltd
Tata Motors
Ashok Leyland
Volvo-Eicher
Daimler India Commercial Vehicles
| | |
| --- | --- |
| Sl no | Topic |
| 1 | Market Segmentation |
| 2 | Scope of the report |
| 3 | Abbreviations |
| 4 | Research Methodology |
| 5 | Executive Summary |
| 6 | Introduction |
| 7 | Insights from Industry stakeholders |
| 8 | Cost breakdown of Product by sub-components and average profit margin |
| 9 | Disruptive innovation in the Industry |
| 10 | Technology trends in the Industry |
| 11 | Consumer trends in the industry |
| 12 | Recent Production Milestones |
| 13 | Component Manufacturing in US, EU and China |
| 14 | COVID-19 impact on overall market |
| 15 | COVID-19 impact on Production of components |
| 16 | COVID-19 impact on Point of sale |
| 17 | Market Segmentation, Dynamics and Forecast by Geography, 2020-2025 |
| 18 | Market Segmentation, Dynamics and Forecast by Product Type, 2020-2025 |
| 19 | Market Segmentation, Dynamics and Forecast by Application, 2020-2025 |
| 20 | Market Segmentation, Dynamics and Forecast by End use, 2020-2025 |
| 21 | Product installation rate by OEM, 2020 |
| 22 | Incline/Decline in Average B-2-B selling price in past 5 years |
| 23 | Competition from substitute products |
| 24 | Gross margin and average profitability of suppliers |
| 25 | New product development in past 12 months |
| 26 | M&A in past 12 months |
| 27 | Growth strategy of leading players |
| 28 | Market share of vendors, 2020 |
| 29 | Company Profiles |
| 30 | Unmet needs and opportunity for new suppliers |
| 31 | Conclusion |
| 32 | Appendix |