Global Insurtech Market 2020-2025
November 16, 2020

Request Sample
Coming Soon
Multi User License - $2,500
GLOBAL INSURTECH MARKET
INTRODUCTION
Inspired by Fintech, Insurtech is a combination of insurance and technology in the insurance industry to bring more efficiency and innovation. This market is exploring the areas beyond the traditional insurance market, such as offering ultra-customised policies, social insurance and using data from the internet-enabled devices to price premiums.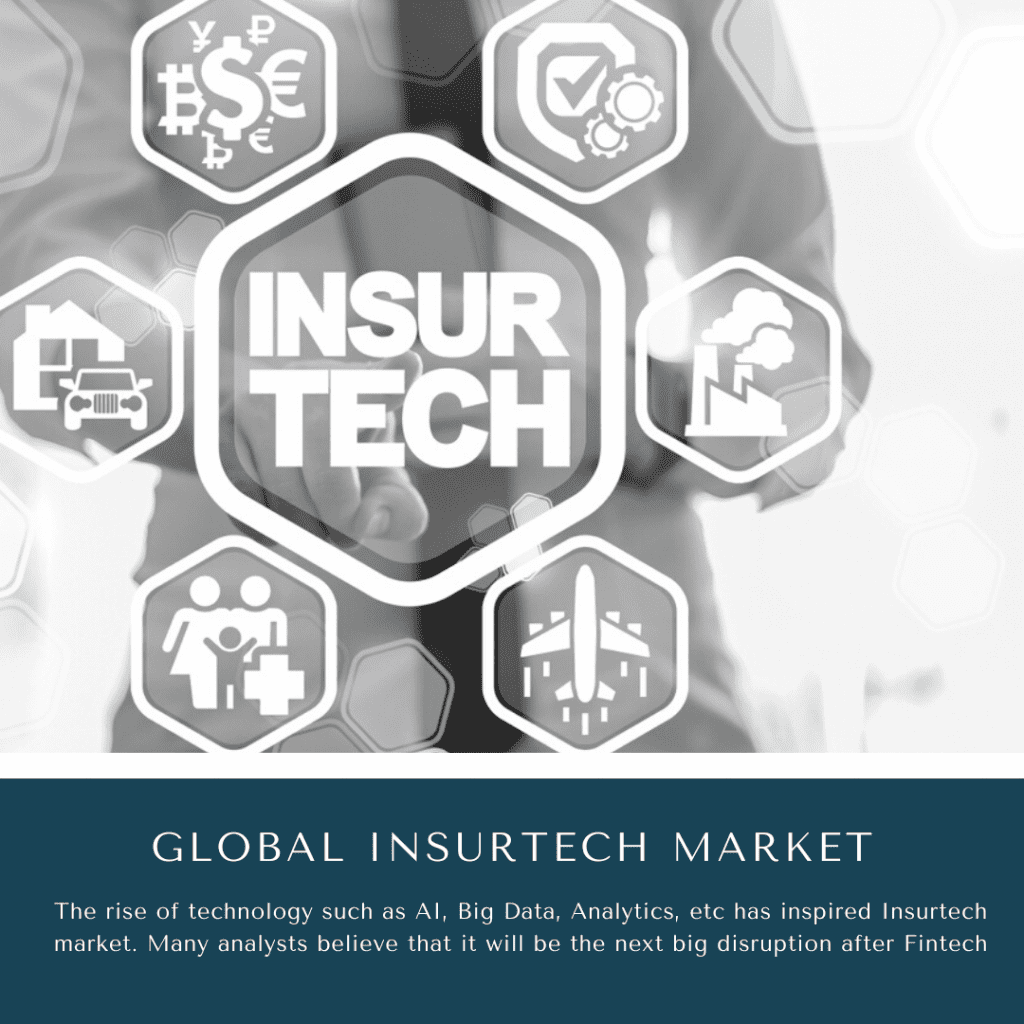 The companies in this market heavily invest in the technology such as Artificial Intelligence and Big Data that helps to optimize pricing mechanisms and enhance insurance-related services. These companies are providing the services with the help of online and mobile application platforms to users.
MARKET DYNAMICS
COVID-19 has impacted the insurance industry, especially in Asia Pacific and Middle East & Africa, and thus the market share of that region has sparked the insurance industry, to capture that market insurance companies are adopting new business strategies in payment methods and services which create revenue opportunities during lockdown situations.
The demand of Insurtech has increased and the figures of the forecasted period is also tending to increase in the pandemic.
It is estimated that North America will hold largest share in this market as the adoption rate of insurance technology solutions are increasing in the region.
Moreover, in the Asia Pacific the expansion rate of Insurtech is expected to grow fast, as the adoption rate of technologically advanced software platforms are increasing which will help to manage payment operational risk, foreign exchange risk and market risk in the region.  
MARKET SIZE AND FORECAST
Global insurtech market size is expected to grow due to many key factors such as simplification of the claims process, improved communication with the clients and implementation of automation capabilities.
Health insurance is expected to have the highest growth rate as compared to other insurance sectors such as motor, property and casualty, and others. Reason being, the pandemic and the health risk has increased in the human beings.
COMPETITIVE ANALYSIS
Quantemplate Limited.: It is a U.S. based insurance technology company. They provide product and services to insurance companies like data integration, machine learning and analytics solutions. The company is operational at North America and Europe, and they enable access of information at a global level with the help of cloud solutions to users.
Financials
Funding stage – Series B
Total Funding Amount – $25.6 Million
Type – Private Company
ZhongAn Online P&C Insurance Co. Ltd. : It is a Chinese online insurance company and provide services in consumer finance, auto, health, travel and lifestyles sectors. The company has other subsidiaries such as ZhongAn International and ZhongAn Information and Technology Services and Co. The company was listed in Hong Kong Stock Exchange in September 2017 and raised $1.5 Billion, which made the first company in the Insurtech to have an IPO.
Financials
Net Profit (HY 2020) – 490.5 Million yuan
Revenue (2019) – 6.7 Billion yuan
Market Cap – $60.41 Billion
PolicyBazaar.com: It is an Indian company and provide a platform to offer insurance products. They have several insurance plans such as life insurance, health insurance, motor insurance, travel insurance and group insurance. They also provide the comparision between buying insurance plans as per the individual preference and convenience. In 2019, Tencent Holdings Ltd., had acquired 10% minority stake in PolicyBazaar.com, valuing at $1.5 Billion
Financials
Funding stage – Later Stage VC
Total Valuation – $1.5 Billion
Type – Private Company
CONCLUSION
Insurtech market is an emerging market of the insurance industry. The rise of technology such as AI, Big Data, Analytics, etc has inspired Insurtech market. Many analysts believe that it will be the next big disruption after Fintech. COVID-19 has increased the health risk in the human beings and opened new market opportunities for insurance companies.
some existing players are using technology like mobile apps and customized insurance products through online to reach their customers. The growth of this market is high in the forecasted period and the key factors are increased health risk, increasing online services, demand of customised products, appealing automation process, etc.
COMPANIES PROFILED
| | |
| --- | --- |
| Sl no | Topic |
| 1 | Market Segmentation |
| 2 | Scope of the report |
| 3 | Abbreviations |
| 4 | Research Methodology |
| 5 | Executive Summary |
| 6 | Introduction |
| 7 | Insights from Industry stakeholders |
| 8 | Cost breakdown of Product by sub-components and average profit margin |
| 9 | Disruptive innovation in the Industry |
| 10 | Technology trends in the Industry |
| 11 | Consumer trends in the industry |
| 12 | Recent Production Milestones |
| 13 | Component Manufacturing in US, EU and China |
| 14 | COVID-19 impact on overall market |
| 15 | COVID-19 impact on Production of components |
| 16 | COVID-19 impact on Point of sale |
| 17 | Market Segmentation, Dynamics and Forecast by Geography, 2020-2025 |
| 18 | Market Segmentation, Dynamics and Forecast by Product Type, 2020-2025 |
| 19 | Market Segmentation, Dynamics and Forecast by Application, 2020-2025 |
| 20 | Market Segmentation, Dynamics and Forecast by End use, 2020-2025 |
| 21 | Product installation rate by OEM, 2020 |
| 22 | Incline/Decline in Average B-2-B selling price in past 5 years |
| 23 | Competition from substitute products |
| 24 | Gross margin and average profitability of suppliers |
| 25 | New product development in past 12 months |
| 26 | M&A in past 12 months |
| 27 | Growth strategy of leading players |
| 28 | Market share of vendors, 2020 |
| 29 | Company Profiles |
| 30 | Unmet needs and opportunity for new suppliers |
| 31 | Conclusion |
| 32 | Appendix |