Japan Automotive HVAC Market 2020-2025
August 11, 2020

Request Sample
Coming Soon
Multi User License - $1,800
JAPAN AUTOMOTIVE HVAC MARKET
Japan witnessed annual sales of 4.3 Million vehicles in 2019. The country was a major contributor with more than 43,000 EV sales. In 2019 Japan witnessed a 19% decrease in EV sales after an 8% decrease in 2018. In 2020, country is estimated to witness a drop in new car sales by 19%.
JAPAN AUTOMOTIVE HVAC MARKET DYNAMICS
Vans an MPVs accounted for almost 39% of the total car sales in the country in 2019. The Rear AC technology penetration is comparatively low in the country. Honda cars had among the least penetration for rear ac technology. In Japan, the vertical cockpit AC vents are more popular.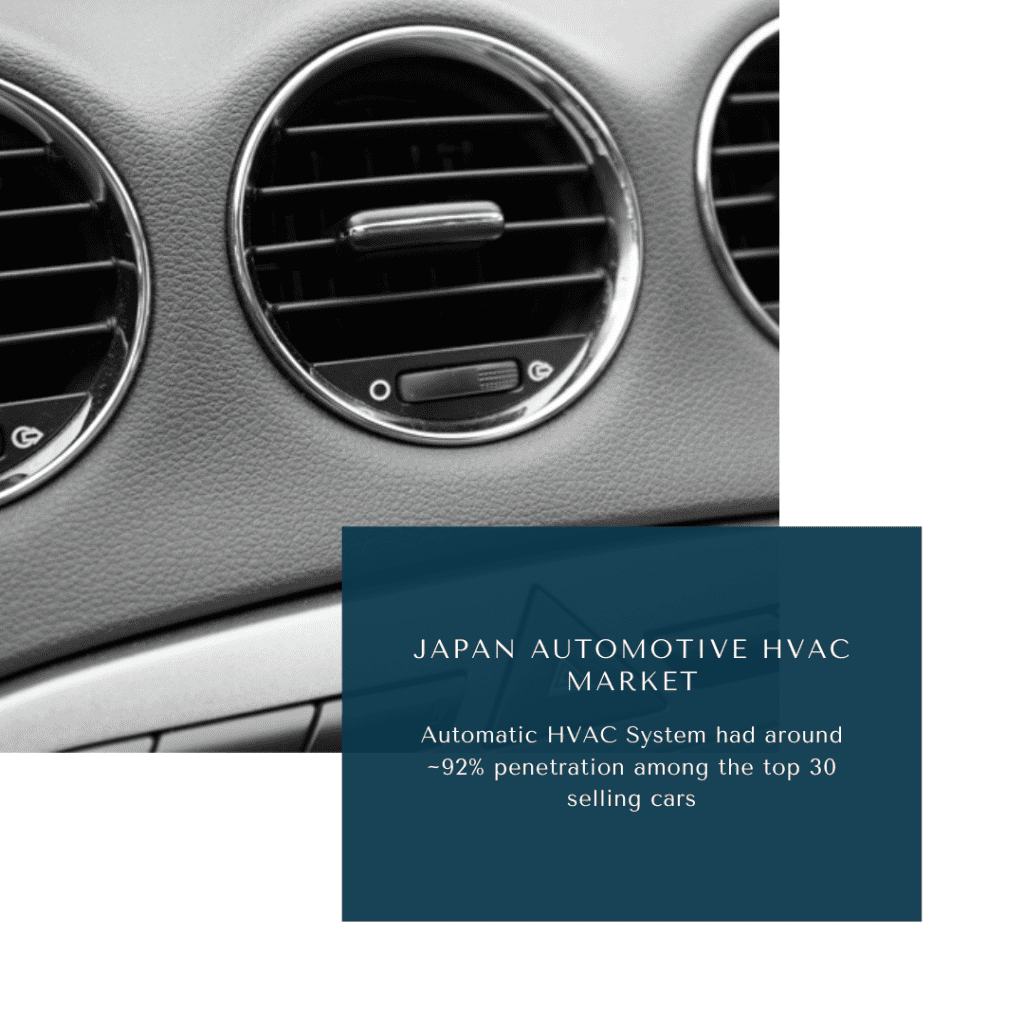 Owing to high share of automatic ac and high price of electric compressors the average HVAC content for vehicle is 2nd highest for any region.
Installation of air purifier in the cars is growing significantly. 24 of the top 30 selling cars in Japan were equipped with the air purifiers in 2019. Toyota vehicles are mostly equipped with the 'clear air & pollen removal' filters in its every top selling model. The Honda cars were fitted with 'Plasma cluster technology' filters. Few of the Honda cars were also fitted with 'high performance deodorizing' filter. Subaru cars were mostly installed with 'anti-allergy' filter.
JAPAN AUTOMOTIVE HVAC MARKET BASED ON TECHNOLOGY
Automatic HVAC System had around ~92% penetration among the top 30 selling cars in 2019. Top selling premium cars had almost all of its models equipped with automatic HVAC system.
Manual HVAC system was only seen in the top selling budget models of Toyota cars. Nissan is the only other OEM with comparatively higher penetration of manual HVAC system.
Among top selling OEMs Honda had the highest penetration for automatic HVAC system in the country followed by Toyota. Toyota occupies major market share in the passenger vehicle segment of about 58% among top 30 selling vehicles. Almost every top selling Honda vehicle in the country is equipped with automatic HVAC system.
13 of the Toyota models were equipped with electric compressor, highest for an OEM in Japan.
HMI (Human Machine Interface) or the HVAC controller design among the top selling cars is mostly knobs. Honda's cars were the only few top selling models equipped with touch screen HMI system. The touchscreen HVAC control technology is present in the premium segment cars. 
JAPAN AUTOMOTIVE HVAC MARKET BY ZONE
Most of the cars equipped with automatic HVAC system were fitted with multi zone climate control. Automatic dual zone climate control was the most popular technology in the region. Japan had the higher penetration of tri zone climate control among the top selling 30 models in 2019. Toyota had as many as 3 models with tri zone climate control.  
Among the premium segment cars almost every vehicle with automatic HVAC technology were equipped with the multi zone climate control. The four-zone climate control was limited to premium segment cars.    
JAPAN AUTOMOTIVE HVAC MARKET SIZE AND FORECAST
The high percentage of vans is expected to boost the rear ac technology penetration in the country, in upcoming years.
Opel has announced the return to Japanese market in 2021. Opel Corsa's electrified variants are expected to be the first models to be launched.
The HVAC market value too is expected to drop by 20% in 2020 owing to drastic decrease in sales in 2020.
JAPAN AUTOMOTIVE HVAC MARKET COMPETITVE LANDSCAPE
The top global automotive HVAC manufacturers are mostly Japanese such as Toyota Industries, Denso Corporation, Keihin Corporation and Sanden Corporation. Some of the other Global HVAC manufacturers are Mahle GmbH (Germany), Valeo (France), Hanon Systems (South Korea) and Estra Automotive (Luxembourg). Japanese accounted for more than 50% share in the global automotive HVAC segment.
COMPANY PROFILE
Hanon Systems
Valeo
Shanghai Highly
Calsonic Kansei Corporation
Aotecar New Energy Technology
Brose Fahrzeugteile GmbH & Co. Kg
Johnson Electric
| | |
| --- | --- |
| Sl no | Topic |
| 1 | Market Segmentation |
| 2 | Scope of the report |
| 3 | Abbreviations |
| 4 | Research Methodology |
| 5 | Executive Summary |
| 6 | Introduction |
| 7 | Insights from Industry stakeholders |
| 8 | Cost breakdown of Product by sub-components and average profit margin |
| 9 | Disruptive innovation in the Industry |
| 10 | Technology trends in the Industry |
| 11 | Consumer trends in the industry |
| 12 | Recent Production Milestones |
| 13 | Component Manufacturing in US, EU and China |
| 14 | COVID-19 impact on overall market |
| 15 | COVID-19 impact on Production of components |
| 16 | COVID-19 impact on Point of sale |
| 17 | Market Segmentation, Dynamics and Forecast by Geography, 2020-2025 |
| 18 | Market Segmentation, Dynamics and Forecast by Product Type, 2020-2025 |
| 19 | Market Segmentation, Dynamics and Forecast by Application, 2020-2025 |
| 20 | Market Segmentation, Dynamics and Forecast by End use, 2020-2025 |
| 21 | Product installation rate by OEM, 2020 |
| 22 | Incline/Decline in Average B-2-B selling price in past 5 years |
| 23 | Competition from substitute products |
| 24 | Gross margin and average profitability of suppliers |
| 25 | New product development in past 12 months |
| 26 | M&A in past 12 months |
| 27 | Growth strategy of leading players |
| 28 | Market share of vendors, 2020 |
| 29 | Company Profiles |
| 30 | Unmet needs and opportunity for new suppliers |
| 31 | Conclusion |
| 32 | Appendix |