Global Life Insurance Market 2020-2025
August 3, 2020

Request Sample
Coming Soon
Multi User License - $2,500
GLOBAL LIFE INSURANCE MARKET
INTRODUCTION
Financial security is one of the basic needs of humans to sustain. Life insurance in this context is very important as it provides a safety net in terms of financial security to the policyholder against any loss of life. Today life insurance market has grown in each and every market of the world economy.
Globally insurance premium crossed the benchmark of all times and attained USD 5 trillion in 2018 . US is world's  largest insurance market but it is forecasted that the share of insurance premiums from China will reach 20% by 2029 and China can surpass US in terms of insurance market size after a decade.
Due to the global pandemic situation, it can be said that insurance demand will decrease as almost all the countries are facing an economic recession in 2020.
The scenario can be similar to what happened during the 2008 global financial crisis. Some research reports are also claiming that global life insurance premiums can go down by 6% in the end of 2020. 
GLOBAL LIFE INSURANCE MARKET DYNAMICS
The life insurance sector plays a vital role in the GDP of a country. Life insurance consumption is still low in some developing countries. Financial literacy, creating awareness still acts as a major challenge for the life insurance companies.
World's largest insurance company by net premium written is UnitedHealth Group, USA, followed by AXA S.A. France, and Ping An Ins, China as in 2018. The change of net premium written from the previous year is 12.39% for UnitedHealth Group which is greater than the same of AXA i.e. only 3.22% also Berkshire Hathaway Inc. showed a negative change of 4.86%.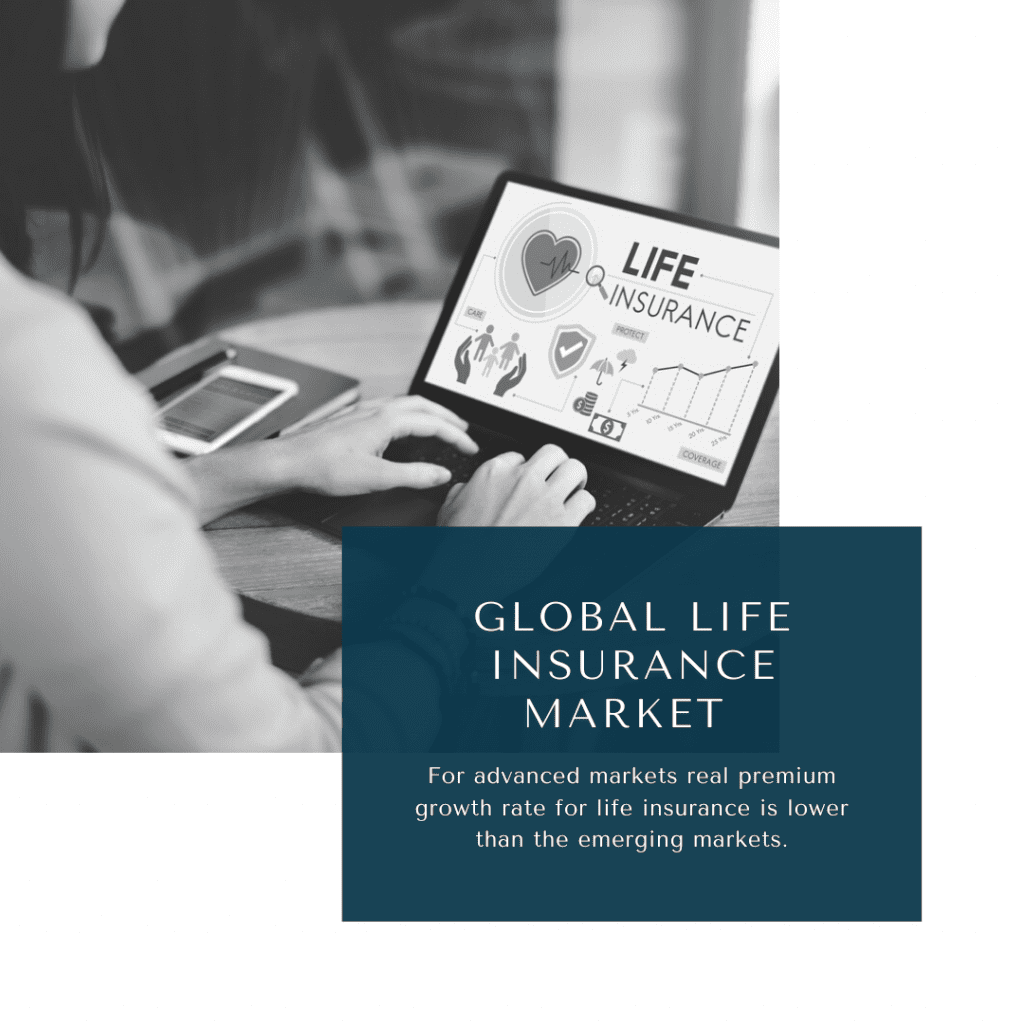 The China-based company Ping an Insurance showed a very high change of net premium written of 19.15% from the previous year followed by Japan's National Mut Insurance Fed Agricultural Coop., Nippon Life insurance company which showed 16.07% and 11.98% change respectively. So, there are chances that these companies will rule the global insurance market in the near future.
In emerging countries like China and India, the disposable income of middle-income group people has been  increasing . Thus, a rise in demand for life insurance is visible and growing over the years. People in these emerging economies have now a certain amount of money to invest in insurance.  Seven emerging markets will contribute to the global growth of 42% where China will contribute 27%.
GLOBAL LIFE INSURANCE MARKET SIZE 
In the case of term insurance, the Asia Pacific region is the largest contributor i.e ~49% of the total global market in FY19.
Asian pacific and European regions will be fastest growing in terms of the term life insurance market. It is expected that the growth in this sector will be at a compound annual growth rate of approximately 15% by the year 2023.
 In India, the life insurance market is probably anticipated to expand at a CAGR of ~11.1% until the year 2024. As per reports of IRDAI the country's share in the global market was 2.36%. Life insurance penetration in India was 2.72% in the year 2017. The share of life insurance in terms of premium globally was 54% during the FY 2018.
 For advanced markets real premium growth rate for life insurance is lower than the emerging markets. Also, this rate will shrink to -8% for the advanced market and 0% for an emerging market this year of 2020. Globally a negative growth rate of 6% will be seen this year. 
Further, it is forecasted that in 2020-2021, there will be a negative growth rate in advanced as well as world market of 3% and 2% respectively but a positive growth rate of 3% in emerging economies.
THE WAY FORWARD IN  GLOBAL LIFE INSURANCE MARKET
Emerging markets including China will strengthen their places in the global life insurance market in the coming years. Thus Asia will be the fastest-growing continent in the life and non-life insurance market. It is certain that the COVID-19 crisis will lead to a downturn in the economy and the global insurance market will face premium losses. But still, the magnitude of these losses is totally uncertain till now. In this pandemic situation, the interest rates are lower than usual and thus the savings products will be hit hard, but there will be stability in mortality covers. On the other hand, the non-life insurance market will see profit due to increased risk for COVID-19.
The insurance sector in India has come a long way and still has a far way to travel on the roads of the future. The Indian insurance sector still lags in trajecting life insurance to all segments of society. To compete with the western and European countries it's a big-time for us to realize and shift our focus towards increasing the domestic insurance penetration level and digitalization of the sector. It is an undeniable fact that with the given uncertain world and growing needs of artificial intelligence and big data it's high time for the global life insurance market to infuse higher in digitalization of the sector.
COMPANY PROFILE
Ping An 
 Life insurance corporation 
| | |
| --- | --- |
| Sl no | Topic |
| 1 | Market Segmentation |
| 2 | Scope of the report |
| 3 | Abbreviations |
| 4 | Research Methodology |
| 5 | Executive Summary |
| 6 | Introduction |
| 7 | Insights from Industry stakeholders |
| 8 | Cost breakdown of Product by sub-components and average profit margin |
| 9 | Disruptive innovation in the Industry |
| 10 | Technology trends in the Industry |
| 11 | Consumer trends in the industry |
| 12 | Recent Production Milestones |
| 13 | Component Manufacturing in US, EU and China |
| 14 | COVID-19 impact on overall market |
| 15 | COVID-19 impact on Production of components |
| 16 | COVID-19 impact on Point of sale |
| 17 | Market Segmentation, Dynamics and Forecast by Geography, 2020-2025 |
| 18 | Market Segmentation, Dynamics and Forecast by Product Type, 2020-2025 |
| 19 | Market Segmentation, Dynamics and Forecast by Application, 2020-2025 |
| 20 | Market Segmentation, Dynamics and Forecast by End use, 2020-2025 |
| 21 | Product installation rate by OEM, 2020 |
| 22 | Incline/Decline in Average B-2-B selling price in past 5 years |
| 23 | Competition from substitute products |
| 24 | Gross margin and average profitability of suppliers |
| 25 | New product development in past 12 months |
| 26 | M&A in past 12 months |
| 27 | Growth strategy of leading players |
| 28 | Market share of vendors, 2020 |
| 29 | Company Profiles |
| 30 | Unmet needs and opportunity for new suppliers |
| 31 | Conclusion |
| 32 | Appendix |