Global Marine Autopilot Market 2020-2025
August 28, 2020

Request Sample
Coming Soon
Multi User License - $2,500
GLOBAL MARINE AUTOPILOT MARKET
Marine autopilots were earlier reserved for bigger vessels and ships only but now they can be commonly found on boats more than 26ft in length.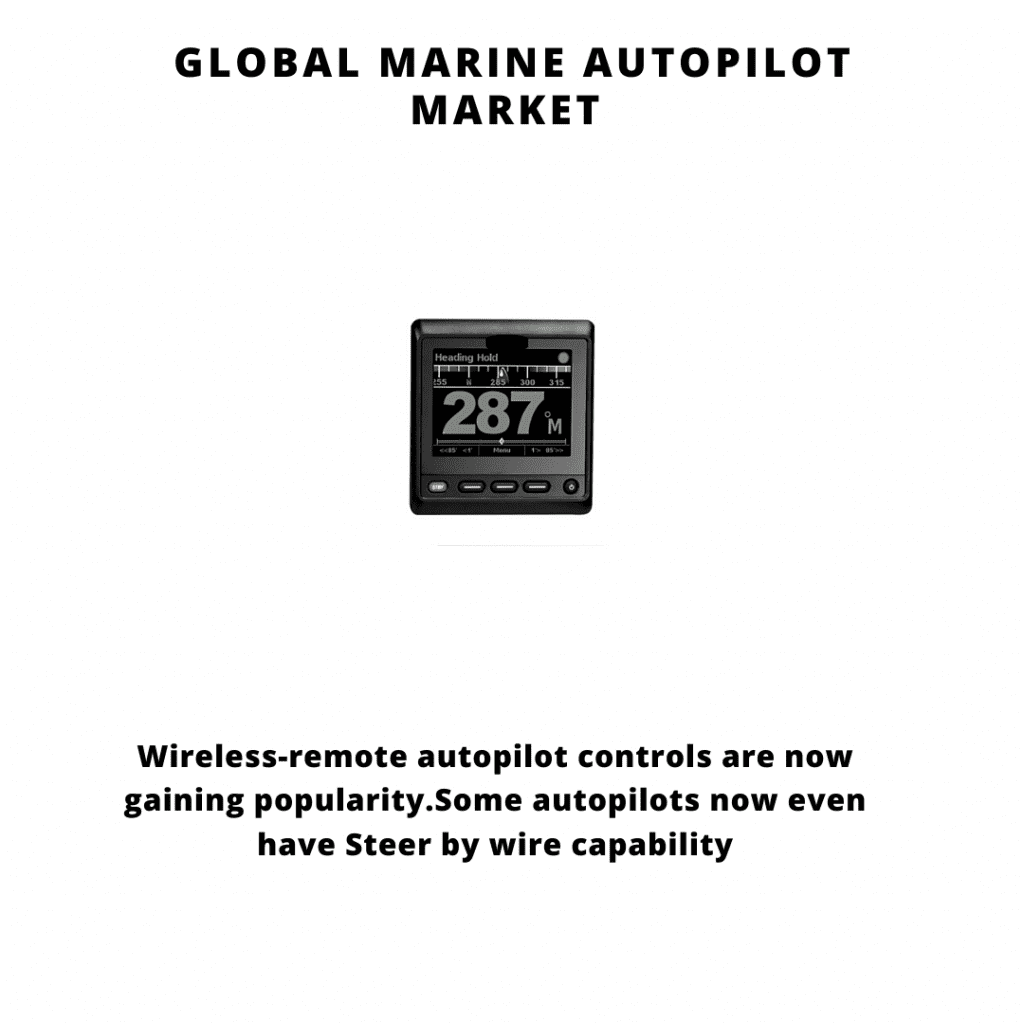 An autopilot system comprises five main components: the control panel, the computer, the heading sensor, rudder drive and, a rudder-position sensor.
GLOBAL MARINE AUTOPILOT MARKET DYNAMICS
The biggest technology advancement in marine autopilots has been in the sense that today's units can steer a far more accurate course, even in very challenging conditions, than early models.
The use of microprocessors now allows automatic compensation for asymmetry, counter-rudder and course tracking easily available now. Wireless-remote autopilot controls are now gaining popularity.Some autopilots now even have Steer by wire capability
Most of the autopilot technology now used in marine has migrated from aerospace.Tecnautic sells its products exclusively online and has pioneered the transfer of aircraft autopilot technology to the marine market.
NKE's GyroPilot developed in 1995 with a gyro compass that can output the rate at which a yacht is turning as well as its instantaneous heading now has a 3D sensor. The 3D sensor measures boat`s movement and orientation to provide accurate technical control data.
GARMIN`s Reactor series of pilots is designed for both sailing and motor yachts.
Raymarine is now using artificial intelligence (AI) to create its Evolution range of pilot computers which do not need human intervention to optimise settings as per conditions.
GLOBAL MARINE AUTOPILOT MARKET SEGMENTATION
By Product
By Yacht length
Under 35 ft
36-60ft
More than 60 ft
By Region
US
Europe
Asia
Rest of the world
GLOBAL MARINE AUTOPILOT MARKET SIZE AND FORECAST
In coming years, we can expect improved auto pilots with better algorithms and more data inputs will steer vessels more efficiently,
The global Marine Autopilot market is estimated at $XX Billion in 2020, growing at –% CAGR till 2025.
COMPETITIVE LANDSCAPE
There are more than 15 vendors in Marine autopilot market.
Raymarine, the leader in marine electronics, system comprises a central course computer, a rudder drive unit and a control head. 
Furuno offers the Navpilot 500, a microprocessor-based design which provides adaptive learning, enabling the autopilot to progressively enhance its ability.
Navman`s Autopilots can be used with a variety of rudder drive systems to serve a wide variety of vessels. 
AutoNav's autopilot range extends from vessels with 20 length feet to bigger container carrying ships. B&G now owned by Simrad offers three autopilots: h1000(entry level) and the H2000 systems, the Hercules and Hydra.
Simrad's autopilots are designed for power as wellas sail yachts upto 60 feet. The autopilot is available in two fixed-mount configuration. Simrad has also created a marine autopilot specially adapted for vessels equipped with the Volvo Penta IPS drive.
ComNav`s product range includes the 1420 and 1500, primarily intended for small recreational vessels, the 1201 workboat autopilot and the 1001, 1101, 2001 and 5001.
COMPANY PROFILES
Accu-Steer
AutoNav
THIS REPORT WILL ANSWER FOLLOWING QUESTIONS
Market Size and Forecast (2020-2025), Units and $M
Market split by region, end use segment and Application
Market share of leading vendors, 2020
COVID impact on Marine Autopilot market and suppliers` earnings
Marine Autopilot Technology trends
| | |
| --- | --- |
| Sl no | Topic |
| 1 | Market Segmentation |
| 2 | Scope of the report |
| 3 | Abbreviations |
| 4 | Research Methodology |
| 5 | Executive Summary |
| 6 | Introduction |
| 7 | Insights from Industry stakeholders |
| 8 | Cost breakdown of Product by sub-components and average profit margin |
| 9 | Disruptive innovation in the Industry |
| 10 | Technology trends in the Industry |
| 11 | Consumer trends in the industry |
| 12 | Recent Production Milestones |
| 13 | Component Manufacturing in US, EU and China |
| 14 | COVID-19 impact on overall market |
| 15 | COVID-19 impact on Production of components |
| 16 | COVID-19 impact on Point of sale |
| 17 | Market Segmentation, Dynamics and Forecast by Geography, 2020-2025 |
| 18 | Market Segmentation, Dynamics and Forecast by Product Type, 2020-2025 |
| 19 | Market Segmentation, Dynamics and Forecast by Application, 2020-2025 |
| 20 | Market Segmentation, Dynamics and Forecast by End use, 2020-2025 |
| 21 | Product installation rate by OEM, 2020 |
| 22 | Incline/Decline in Average B-2-B selling price in past 5 years |
| 23 | Competition from substitute products |
| 24 | Gross margin and average profitability of suppliers |
| 25 | New product development in past 12 months |
| 26 | M&A in past 12 months |
| 27 | Growth strategy of leading players |
| 28 | Market share of vendors, 2020 |
| 29 | Company Profiles |
| 30 | Unmet needs and opportunity for new suppliers |
| 31 | Conclusion |
| 32 | Appendix |