Global Marine Fishfinder Market 2020-2025
August 20, 2020

Request Sample
Coming Soon
Multi User License - $2,500
GLOBAL MARINE FISHFINDER MARKET
Fishing has been a favourite recreational activity of many boaters in US and Europe and owing to COVID, it gained further prominence this year.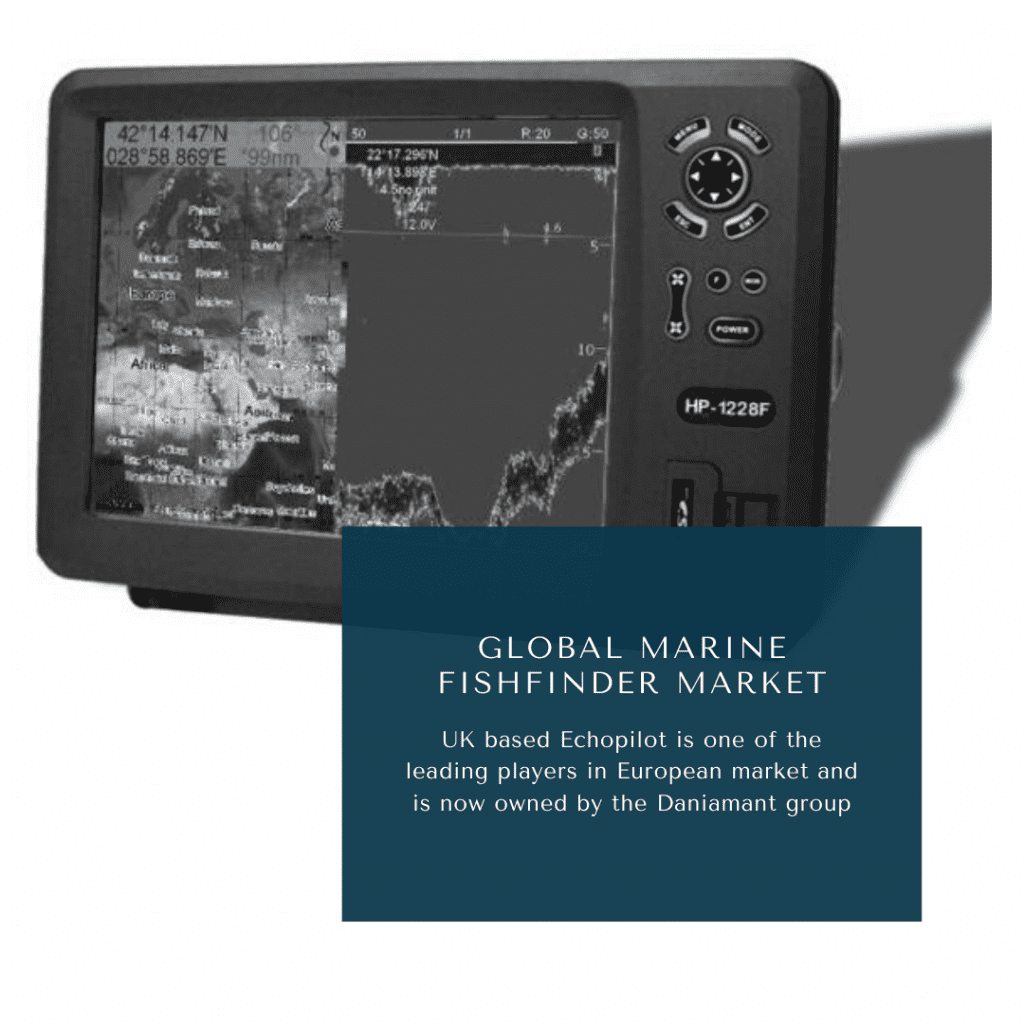 As a result the demand in marine fishfinder(Sonar based) market is now more than ever.
The range of boating fish finders are limited, but still better than conventional depth sounders.
GLOBAL MARINE FISHFINDER MARKET DYNAMICS
The technology trend in recent years has been to show as much as seabed as possible Echopilot's range updates with very low latency and can be used at speeds of up to 36km/hr(20knots).
Larger and more powerful transducers can provide higher frequency range that allows a great deal of detail to be shown.
Garmin's Panoptix range is available with through-hull transducers intended for fitting to yachts and also includes forward-looking functionality. The front view mode displays the seabed ahead of the boat at a range of up to 90m although, in normal depth. The scanner has a 20° beam width and provides pictures with decent clarity at boat speeds of up to  15km/hr(8 knots)
The top end model from GARMIN i.e. Panoptix LiveScope. gives real-time scanning both ahead and around the boat, with enough detail at a maximum range of 60m from the boat. 
Far Sounder produces a range of forward-looking sonar for bigger boats with range of up to 1km at operational speeds of up to 25 knots.
B&G`s Forward scan has a 180kHz transducer, which can scan the seabed over a 15° arc up to 90m ahead of the boat. The ForwardScan data can also be superimposed on a chart, to indicate safe, warning and critical depths.
Simrad's NSO evo3 glass bridge systems can be fitted to bigger sportfishing vessels. The NSS evo3 starting at $1,299 with 7/9/12/16 inch multifunction displays has been designed for 20- to 40-foot boats.
DESIRED IMPROVEMENT IN MARINE FISHFINDER MARKET
In marine fish finders there is always a conflict between range and detail. A 80kHz sonar will be able to reach greater depths, but will lack in detail. Conversely, a 200kHz units, will reveal more detail, but at the expense of range.
Accuracy is variable and closely co-related with location of the transducer and water conditions.
GLOBAL MARINE FISHFINDER MARKET SEGMENTATION
By Product
By Price
Under $1,500
More than $1,500
By Region
US
Europe
Asia
Rest of the world
GLOBAL MARINE FISHFINDER MARKET SIZE AND FORECAST
The global Marine fishfinder market is estimated at $XX Million in 2020, growing at –% CAGR till 2025.
COVID IMPACT ON MARINE FISHFINDER MARKET
As Fishing became a favourite pastime for many people, GARMIN reported improved earnings in Q2-2020 on the back of solid sales of its products, Panoptix.
COMPETITIVE LANDSCAPE
UK based Echopilot is one of the leading players in European market and is now owned by the Daniamant group since 2017. 
US based GARMIN is a leading player in the North American market.
COMPANY PROFILES
THIS REPORT WILL ANSWER FOLLOWING QUESTIONS
Market Size and Forecast (2020-2025), Units and $M
Market split by region, end use segment and range
Market share of leading vendors, 2020
COVID impact on marine Fishfinder market and suppliers` earnings
Marine Fishfinder Technology trends
| | |
| --- | --- |
| Sl no | Topic |
| 1 | Market Segmentation |
| 2 | Scope of the report |
| 3 | Abbreviations |
| 4 | Research Methodology |
| 5 | Executive Summary |
| 6 | Introduction |
| 7 | Insights from Industry stakeholders |
| 8 | Cost breakdown of Product by sub-components and average profit margin |
| 9 | Disruptive innovation in the Industry |
| 10 | Technology trends in the Industry |
| 11 | Consumer trends in the industry |
| 12 | Recent Production Milestones |
| 13 | Component Manufacturing in US, EU and China |
| 14 | COVID-19 impact on overall market |
| 15 | COVID-19 impact on Production of components |
| 16 | COVID-19 impact on Point of sale |
| 17 | Market Segmentation, Dynamics and Forecast by Geography, 2020-2025 |
| 18 | Market Segmentation, Dynamics and Forecast by Product Type, 2020-2025 |
| 19 | Market Segmentation, Dynamics and Forecast by Application, 2020-2025 |
| 20 | Market Segmentation, Dynamics and Forecast by End use, 2020-2025 |
| 21 | Product installation rate by OEM, 2020 |
| 22 | Incline/Decline in Average B-2-B selling price in past 5 years |
| 23 | Competition from substitute products |
| 24 | Gross margin and average profitability of suppliers |
| 25 | New product development in past 12 months |
| 26 | M&A in past 12 months |
| 27 | Growth strategy of leading players |
| 28 | Market share of vendors, 2020 |
| 29 | Company Profiles |
| 30 | Unmet needs and opportunity for new suppliers |
| 31 | Conclusion |
| 32 | Appendix |