Global Marine Gyrostabilizer Market 2020-2025
August 11, 2020

Request Sample
Coming Soon
Multi User License - $2,500
GLOBAL MARINE GYROSTABILIZER MARKET
INTRODUCTION
The world is home to ~150 Million recreational boaters and 19 Million boats with more than 89% of them in US and Europe alone. There are many boaters who stay only for a short duration on boats as they get sea sick due to sideways and up and down motion of the boat. Therefore, there was a growing need for affordable stabilizers in the market.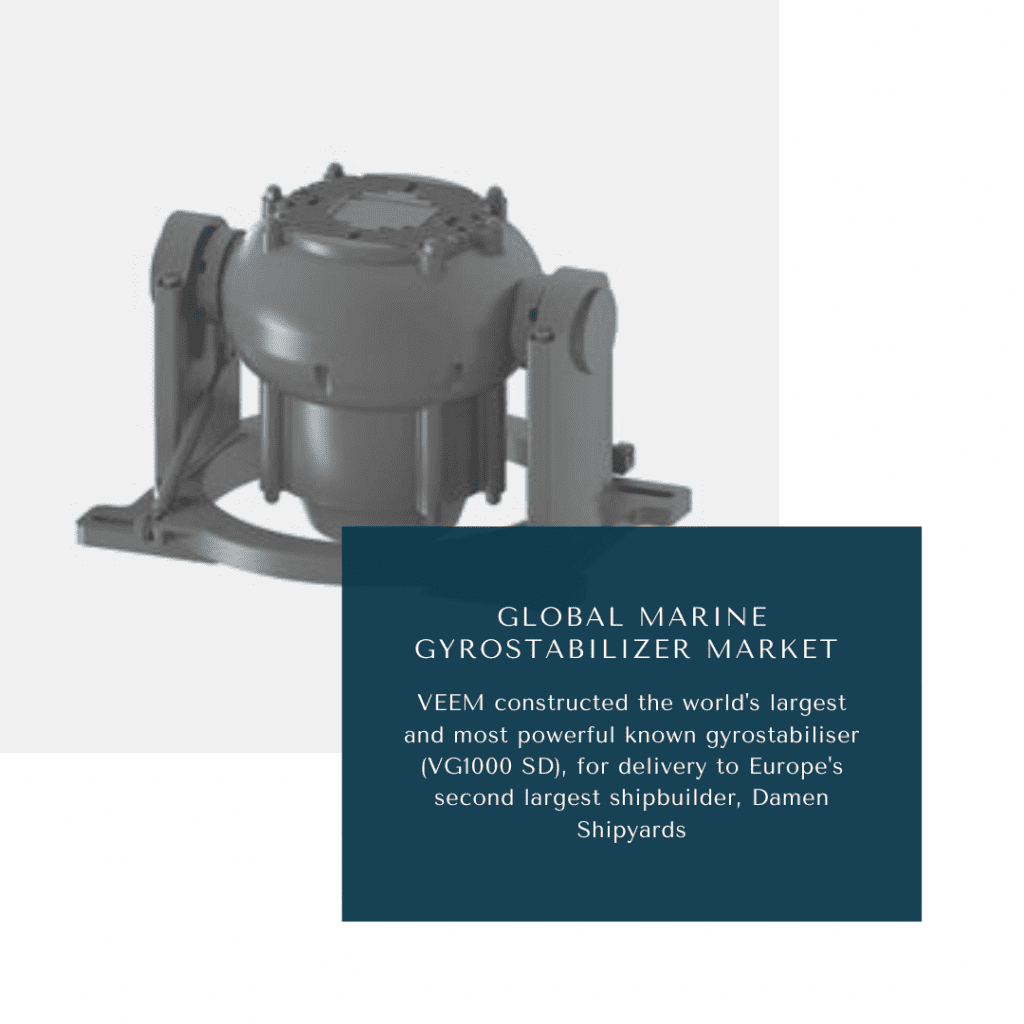 People who use the boat for fishing (hobby or Professional) have to wait for hours in the middle of the sea, with the engines off as they wait for fishes are likely to be the first set of users followed by yacht owners.
MARINE GYROSTABILIZER MARKET SEGMENTATION
By Geography
US
Europe
Asia
Rest of the World
By Spinning Axis
By Precession
By Application
Boats (Less than 26 ft in length)
Yachts
Commercial vessels
MARINE GYROSTABILIZER MARKET DYNAMICS
Seakeeper launched its newest, smallest model 1 designed to eliminate more than 90% of boat roll on vessel 23-30 feet (7-9 meters) or up to ~ 5.5 tons of GWT. It also said that more than 12 boat manufacturers have planned to integrate the Seakeeper 1 into their newest models, including Jupiter Marine, Regal Boats, SeaVee Boats, SEA PRO Boats and Cobia Boats.
In April 2020, Italy based Quick S.P.a launched X2, smallest gyrostabilizer, designed for small boats that need stabilisation, but don't have a generator on board. It has a rotational speed of speed 5000/min, consumes electric power 500 W and has a noise output of less than 70db.
As more than 95% of global boat PARC consists of boats with less than 26ft in length, we believe this product will find many takers if priced right.
MARINE GYROSTABILIZER MARKET SIZE AND FORECAST
A large chunk of the market is driven by retrofits. Seakeeper claims to have grown its retrofit business by 1X in the past year, and retrofit segment now accounts for 25% of overall sales. 5-6 years ago the market was majorly limited to boats between 50 and 60 feet, but the introduction of a smaller gyro stabilizer in late 2014 (Seakeeper 5) has resulted in more installations on smaller boats i.e. between 30 and 50 feet. 
Active fin stabilizer systems, dominate the larger boat space i.e. 100m and beyond segment.
The global marine gyrostabilizer market is expected to grow at doubled digits at least until 2027 and estimated at $XXM in 2020.
MARINE GYROSTABILIZER MARKET COMPETITIVE LANDSCAPE
The marine gyrostabilizer market is consolidated and comprises less than 15 vendors globally. All vendors are spending a lot on R&D to developed improved compact products which could be fitted in multiple applications. There have been a few important partnerships like Yanmar and Smartgyro, Hull vane and Naiad Dynamics in recent past as well.
We look at some important developments in Marine gyrostabilizer market below.
In July 2020, Quantum Marine Stabilizers finalized the contract for a new XT stabilizer system for the biggest superyacht ever built in Canadian history, the 50m (164') – DANZANTE BAY. The hydraulic system powering the stabilizers is composed of one QP2020 Hydraulic Power Unit (HPU) and two 20hp pump motor assemblies and one XT HPU.
In Feb 2020, VEEM constructed the world's largest and most powerful known gyrostabiliser (VG1000 SD), for delivery to Europe's second largest shipbuilder, Damen Shipyards. The product is well suited to vessels between 60 metres to 90 metres in length, including but not limited to luxury and superyachts, defence and civil vessels etc.
In Feb 2020, YANMAR, and Smartgyro entered into a strategic partnership and an equity investment by YANMAR enabling Smartgyro to accelerate its design, development, and launch of a full line-up of highly advanced gyro stabilizers for multiple applications.
In Oct 2019, CMC marine showcased Waveless STAB 25, the smallest of the family of ultra compact electric stabilizers that made their debut at the Cannes Yachting Festival. STAB 25 suitable for yachts 12 meters long and over, to solve the problem of both pitching and yawing.
In Oct 2019, Hull Vane and Naiad Dynamics announced their collaboration for a new product   called the Dynamic Hull Vane, an actively controlled version of the patented Hull Vane.
In Sep 2018, the first product developed after CMC's collaboration with Sirenha  was commercialized named Argo. CMC claimed it as the world's first integrated steering and stabiliser fin control system.
In 2014, DMS Holland launched AntiRoll-a roll damping system specifically designed for superyachts. It has dual- axis fin stabilizer, which rotates whilst sailing and flaps at anchor, AntiRoll was created to provide stabilization both underway and at zero speed without any loss of performance in any event.
COMPANY PROFILES
Smartgyro S.r.l
Naiad Dynamics
| | |
| --- | --- |
| Sl no | Topic |
| 1 | Market Segmentation |
| 2 | Scope of the report |
| 3 | Abbreviations |
| 4 | Research Methodology |
| 5 | Executive Summary |
| 6 | Introduction |
| 7 | Insights from Industry stakeholders |
| 8 | Cost breakdown of Product by sub-components and average profit margin |
| 9 | Disruptive innovation in the Industry |
| 10 | Technology trends in the Industry |
| 11 | Consumer trends in the industry |
| 12 | Recent Production Milestones |
| 13 | Component Manufacturing in US, EU and China |
| 14 | COVID-19 impact on overall market |
| 15 | COVID-19 impact on Production of components |
| 16 | COVID-19 impact on Point of sale |
| 17 | Market Segmentation, Dynamics and Forecast by Geography, 2020-2025 |
| 18 | Market Segmentation, Dynamics and Forecast by Product Type, 2020-2025 |
| 19 | Market Segmentation, Dynamics and Forecast by Application, 2020-2025 |
| 20 | Market Segmentation, Dynamics and Forecast by End use, 2020-2025 |
| 21 | Product installation rate by OEM, 2020 |
| 22 | Incline/Decline in Average B-2-B selling price in past 5 years |
| 23 | Competition from substitute products |
| 24 | Gross margin and average profitability of suppliers |
| 25 | New product development in past 12 months |
| 26 | M&A in past 12 months |
| 27 | Growth strategy of leading players |
| 28 | Market share of vendors, 2020 |
| 29 | Company Profiles |
| 30 | Unmet needs and opportunity for new suppliers |
| 31 | Conclusion |
| 32 | Appendix |