Global Marine Lithium Battery Market 2019-2025
January 5, 2020

Request Sample
COMING SOON
Multi User License - $2,500
GLOBAL MARINE LITHIUM BATTERY MARKET 
Li-ion batteries compared to lead-acid offer improved discharge and charge efficiency, longer life(10X), light-weight(50% savings), non-hazardous, easy to maintain  and  offer deep cycle ability while maintaining power. Lithium Iron Phosphate batteries are undoubtedly more expensive than lead-acid batteries but their cost can be easily recovered in the long run.
Lithium batteries  being lightweight,are also incredibly powerful. They can hold their charge for much longer duration without a drop in voltage, allowing boat owners to take longer trips without recharging.
But, there is also inherent danger associated with Lithium batteries. Unlike flights, restrictions on devices that use lithium-ion batteries or Lithium-ion batteries as an energy storage device have not extended to passenger boats. It was only in Dec 2019 that three California members of Congress introduced federal legislation that requires small passenger boats to have at least two escape exits, strong fire alarm systems and create mandatory safety rules for the handling and storage of phones, cameras etc powered by lithium-ion batteries.
MARKET SEGMENTATION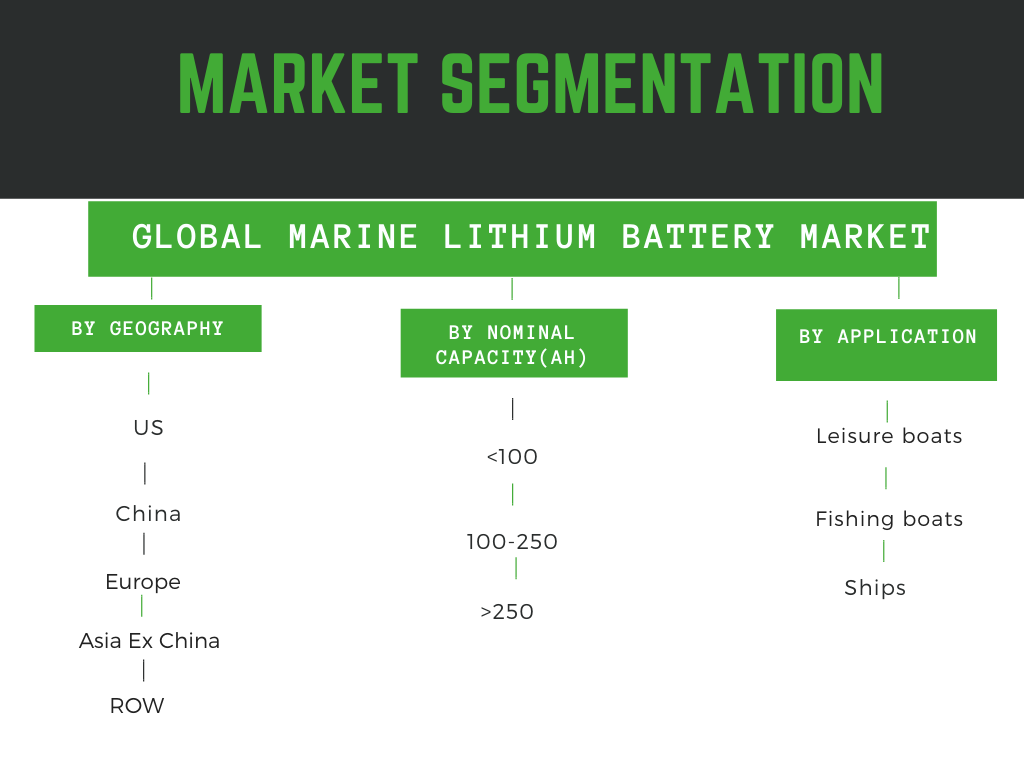 MARKET DYNAMICS
Marine Lithium batteries will get a boost after more electric and hybrid boats hit the market. Volvo Penta is already working on electric drive systems for land-based vehicles,which could be improvised and passed on for marine applications. In 2018, it set itself a target of introducing hybrid or fully electric drivetrain options to all its marine products by 2021.
Since, hybrid and electric boats are at-least 5 years away from becoming mainstream,the biggest addressable market segment for marine lithium battery suppliers is the boat refurbishing market.
In case of ferries, which have a closed loop operation and quick turn around time, an all-electric system could payback for additional cost in as little as six years.
MARKET SIZE AND FORECAST
In Nov 2019, South Korea's HMM joined Getting to Zero Coalition which includes Maersk, MAN and Euronav to develop the first CO2-free vessel before 2030. 
As of May 2020, there are more than 300 cruise ships worldwide, many of them run on cheap and polluting HFO. therefore, they are looking at various ways to cut down emissions. Hurtigruten is currently building three hybrid  expedition cruise ships at Norway's Kleven Yard.
The marine lithium battery market is estimated at XX units per annum, growing at ~X% CAGR till 2025.US accounts for almost ~35% of global marine lithium battery market
COMPANY PROFILES
The Lithium Battery Co.
Super B.B.V.
Corvus Energy
PMB Defence
GS Yuasa
NORIS Group GmbH
MG Energy Systems B.V.
Mastervolt
Aquawatt
Dometic
AENTRON GmBH
Victron Energy
RELiON Batteries
Optimum Battery
THIS REPORT WILL ANSWER THE FOLLOWING QUESTIONS
  Market Size and Forecast of marine Lithium battery market, by region, by price and by sales channel(Volume and Value)
  Market Trends,risks, drivers and opportunities in  global marine lithium battery market
  Growth in boat re-furbishing industry, by region
  Market share of suppliers, and their painpoints
  Growth strategy of marine lithium battery manufacturers and opportunity in charter market
  Important distributors of marine lithium batteries in US , Europe and Asia
| | |
| --- | --- |
| Sl no | Topic |
| 1 | Market Segmentation |
| 2 | Scope of the report |
| 3 | Abbreviations |
| 4 | Research Methodology |
| 5 | Executive Summary |
| 6 | Introduction |
| 7 | Insights from Industry stakeholders |
| 8 | Cost breakdown of Product by sub-components and average profit margin |
| 9 | Disruptive innovation in the Industry |
| 10 | Technology trends in the Industry |
| 11 | Consumer trends in the industry |
| 12 | Recent Production Milestones |
| 13 | Component Manufacturing in US, EU and China |
| 14 | COVID-19 impact on overall market |
| 15 | COVID-19 impact on Production of components |
| 16 | COVID-19 impact on Point of sale |
| 17 | Market Segmentation, Dynamics and Forecast by Geography, 2020-2025 |
| 18 | Market Segmentation, Dynamics and Forecast by Product Type, 2020-2025 |
| 19 | Market Segmentation, Dynamics and Forecast by Application, 2020-2025 |
| 20 | Market Segmentation, Dynamics and Forecast by End use, 2020-2025 |
| 21 | Product installation rate by OEM, 2020 |
| 22 | Incline/Decline in Average B-2-B selling price in past 5 years |
| 23 | Competition from substitute products |
| 24 | Gross margin and average profitability of suppliers |
| 25 | New product development in past 12 months |
| 26 | M&A in past 12 months |
| 27 | Growth strategy of leading players |
| 28 | Market share of vendors, 2020 |
| 29 | Company Profiles |
| 30 | Unmet needs and opportunity for new suppliers |
| 31 | Conclusion |
| 32 | Appendix |