Global Marine Watermaker Market 2020-2025
September 2, 2020

Request Sample
Coming Soon
Multi User License - $2,500
GLOBAL MARINE WATERMAKER MARKET
As yachts are often used to cruise into less-frequented regions, the passengers on board need to ensure they have a safe supply of clean water and the best way to do this is to produce it on board with a water maker.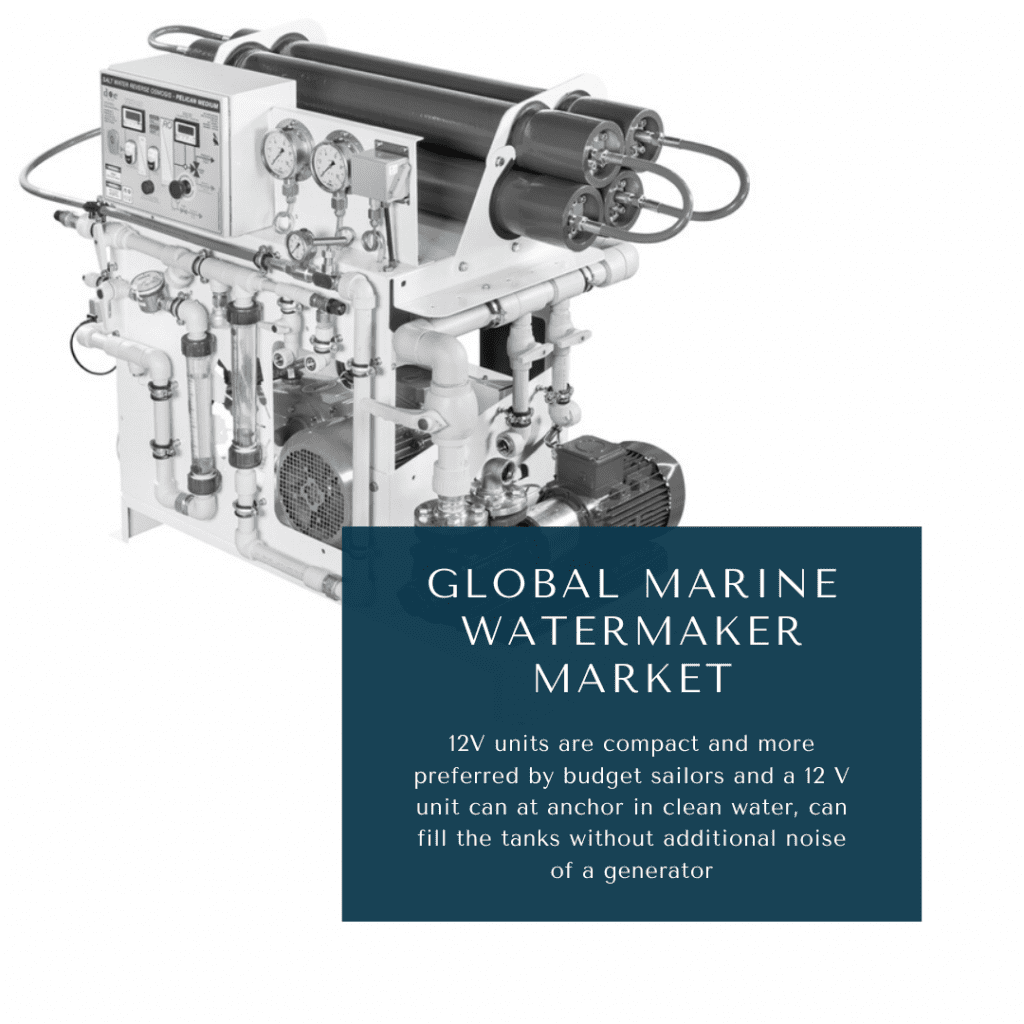 All new gen marine water makers use the reverse-osmosis (RO) principle to produce pure, fresh water from seawater. The pumps and drive motors of any water makers should be fully marinized as well to avoid corrosion-related problems in later years of ownership.
Watermakers can be AC or DC but the AC models have a higher water refining capacity depending on a working generator or large inverter. Watermakers an either be electrically driven or run directly off the engine.
GLOBAL MARINE WATERMAKER MARKET DYNAMICS
As more than 95% of boats in US are less than 26ft in length and therefore lots of boaters don't really need a watermaker, or the hassle of maintaining one and therefore the market for marine watermakers is limited to bigger vessels only
The new gen water makers, have advanced by a significant margin over the past decade and are now significantly more efficient and reliable than their older counterparts. A 12V DC unit producing around 40 Liters per hour would have drawn 40A or more at startup which is now at 15A or less. 
12V units are compact and more preferred by budget sailors and a 12 V unit can at anchor in clean water, can fill the tanks without additional noise of a generator
GLOBAL MARINE WATERMAKER MARKET SEGMENTATION
By Product type
By Boat type
Sailing
Cruising
Sports
Superachts
By Region
US
Europe
Asia
Rest of the world
GLOBAL MARINE WATERMAKER MARKET SIZE AND FORECAST
The global Marine Watermaker market is estimated at $XX Million in 2020, growing at –% CAGR till 2025.
COMPETITIVE LANDSCAPE
The marine water maker market is highly fragmented with more than 10 players occupying relatively smaller market share.All market players are relying on new and improved products to differentiate themselves in an increasingly crowded market.
Spectra's Ventura 150c unit can operate in temperatures up to 110 degrees and well suited for small or mid-sized vessels.
Rainman has an ultra-compact portable water maker comprises two separate modules—a reverse-osmosis unit and either an electric or gasoline-driven pump. The price range of its US products is between $4,500-$5,700.
Sea Recovery's Aqua Whisper Mini operates on 12V, comes as both a compact self-contained unit as well as in modular configuration, can produce produce 26 Liter per hour, and draws 27A.It can operate in ambient temperatures up to 122 degrees.
COMPANY PROFILES
Cruise RO Water
Horizon Reverse Osmosis
Village Marine
Watermakers Inc.
Dometic Corp
THIS REPORT WILL ANSWER FOLLOWING QUESTIONS
Market Size and Forecast (2020-2025), Units and $M
Market split by region, end use segment and watermaker water output
Market share of leading vendors, 2020
COVID impact on Marine Watermaker market and suppliers` earnings
Marine Watermaker Technology trends
| | |
| --- | --- |
| Sl no | Topic |
| 1 | Market Segmentation |
| 2 | Scope of the report |
| 3 | Abbreviations |
| 4 | Research Methodology |
| 5 | Executive Summary |
| 6 | Introduction |
| 7 | Insights from Industry stakeholders |
| 8 | Cost breakdown of Product by sub-components and average profit margin |
| 9 | Disruptive innovation in the Industry |
| 10 | Technology trends in the Industry |
| 11 | Consumer trends in the industry |
| 12 | Recent Production Milestones |
| 13 | Component Manufacturing in US, EU and China |
| 14 | COVID-19 impact on overall market |
| 15 | COVID-19 impact on Production of components |
| 16 | COVID-19 impact on Point of sale |
| 17 | Market Segmentation, Dynamics and Forecast by Geography, 2020-2025 |
| 18 | Market Segmentation, Dynamics and Forecast by Product Type, 2020-2025 |
| 19 | Market Segmentation, Dynamics and Forecast by Application, 2020-2025 |
| 20 | Market Segmentation, Dynamics and Forecast by End use, 2020-2025 |
| 21 | Product installation rate by OEM, 2020 |
| 22 | Incline/Decline in Average B-2-B selling price in past 5 years |
| 23 | Competition from substitute products |
| 24 | Gross margin and average profitability of suppliers |
| 25 | New product development in past 12 months |
| 26 | M&A in past 12 months |
| 27 | Growth strategy of leading players |
| 28 | Market share of vendors, 2020 |
| 29 | Company Profiles |
| 30 | Unmet needs and opportunity for new suppliers |
| 31 | Conclusion |
| 32 | Appendix |