Global Maritime Surveillance System Market 2020-2025
October 29, 2020

Request Sample
COMING SOON
Multi User License - $2,500
GLOBAL MARITIME SURVEILLANCE SYSTEM MARKET
INTRODUCTION
Maritime Surveillance as a sector produces the necessary tools and services that are used by security agencies and governments to monitor and collect essential data about their waterways. The sector takes care of safety & security, fisheries, border security, data collection, defense activities, etc..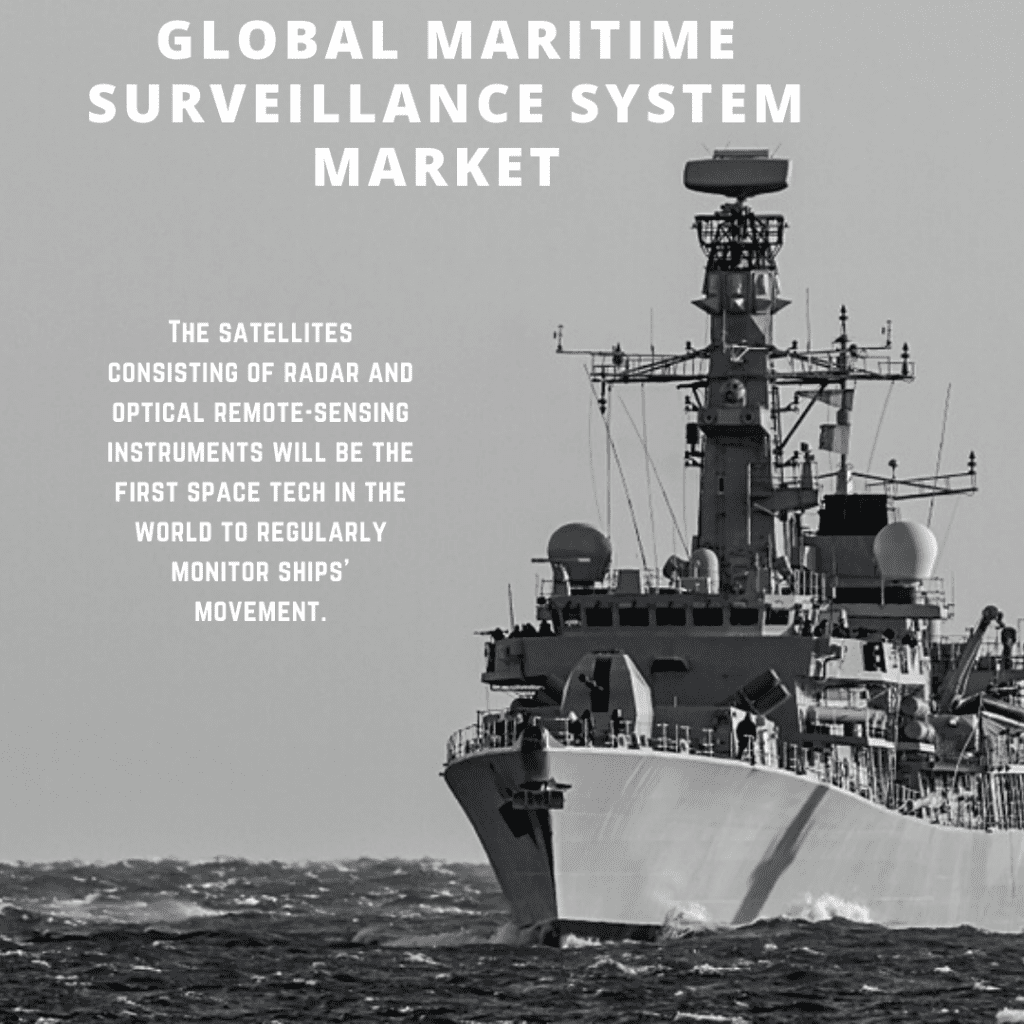 MARKET DYNAMICS
Security: Increased security concerns triggered by a surge in cyber-crimes, drug trafficking, piracy, seaborne attacks, natural disasters, illegal immigration, etc.. have forced government agencies to upgrade their surveillance technology.
Trade: According to the International Maritime Organization (IMO), 90% of the world trade is carried out by sea and has positioned itself as the most cost-effective way to ship goods and raw materials across nations.
Geopolitics & Outdated Tech: This market is growing due to intergovernmental mistrust and outdated aircraft fleets used for patrolling and surveillance.
Compliance & Funding: In recent years, regulatory compliances have been amended to accommodate new technological advances. Besides, many states have been continuously upgrading their military funding leading to lucrative deals.
High-end integrations and maintenance heads have affected the market's growth to some extent. But OEMs have adopted alternative business models like leasing and staggered interest-based payments for those clients who lack in finance.
MARKET SEGMENTATION
The global maritime surveillance market can be segmented based on 4 groups:
By Region
North America
Europe
Asia-Pacific (APAC)
The Middle East and Africa (MEA)
Latin America
By Components
Radars
Sensors
AIS receivers
Others (adapters, multiplexers, interfaces, converters…)
By Technology & Systems
Surveillance & Tracking
Geographic Information System (GIS)
Communication
Supervisory Control & Data Acquisition (SCADA)
By Application
Port
Vessel security
Coastal surveillance
PARTNERSHIPS & TECH INNOVATIONS IN MARITIME SURVEILLANCE SYSTEM MARKET
Efficient Warning System: In Asia, OPT (Ocean Power Technologies) has partnered with Taiwan based BAP precision to complement its radar & sonar equipment with the former's satellite data solutions. The technology will be used to create an autonomous warning system addressing foreign encroachment and protection of fisheries for southeast Asia island nations.
Drones: On Sept'20, California-based General Atomics Aeronautical system's MQ-9B SeaGaurdian drone completed its maritime test flights meeting NATO STNAG 4671 airworthiness requirements along with FAA & EASA flight regulations.
High-end integrations such as Raytheon's SeaVue XMC maritime surveillance radar, Shine Micro AIS, General Atomics' Lynx synthetic aperture radar (SAR), and Leonardo's Sage 750 have made it a competitive solution for anti-surface warfare, search & rescue, border surveillance, and anti-submarine warfare. Its potential customers include Indian Navy, Taiwan, Japan, Greece, and France.
Turkey's new Aksungur UAV from TUSAS (Turkish Aerospace Industries) with its recent tests has positioned itself as a competitive anti-submarine warfare asset. The drone boasts of satellite communication features that will help it traverse in jammed spaces, and advanced sensors that can sense mobile surface targets.
Satellites for Monitoring: In August'19, French space agency CENS and ISRO decided to jointly develop the maritime surveillance satellites' constellation to trace the illegal oil spillage in the Indian Ocean region.
The satellites consisting of radar and optical remote-sensing instruments will be the first space tech in the world to regularly monitor ships' movement. The program has entered the development phase with parts being manufactured in France & India.
Autonomous vessels: On October'20, RotorTug, Kotug International, and Captain AI jointly demonstrated the first autonomous vessel sailing through an optimized route on the Nieuwe Maas river, Rotterdam, Netherlands.
On the other hand, the US Coast Guard (USCG) is using the SM300 autonomous command and remote-helm module to test its autonomous vessel navigation. It is yet to go for its final trial at USCG R&D center and is targeted to be used for surveillance, patrolling, and scanning prohibited areas.
As a part of its $640 million defense innovation program, the Australian government's Department of Defense has granted $5.5 million to Ocious technologies for developing autonomous unmanned surface vessels.
The solar-powered vessels will be equipped with 360 degree cameras, radars, automatic identification systems, and collision avoidance AI for safe navigation. The technology is targeted to monitor Australia's maritime borders and monitor illegal immigration.
COMPANY PROFILES
| | |
| --- | --- |
| Sl no | Topic |
| 1 | Market Segmentation |
| 2 | Scope of the report |
| 3 | Abbreviations |
| 4 | Research Methodology |
| 5 | Executive Summary |
| 6 | Introduction |
| 7 | Insights from Industry stakeholders |
| 8 | Cost breakdown of Product by sub-components and average profit margin |
| 9 | Disruptive innovation in the Industry |
| 10 | Technology trends in the Industry |
| 11 | Consumer trends in the industry |
| 12 | Recent Production Milestones |
| 13 | Component Manufacturing in US, EU and China |
| 14 | COVID-19 impact on overall market |
| 15 | COVID-19 impact on Production of components |
| 16 | COVID-19 impact on Point of sale |
| 17 | Market Segmentation, Dynamics and Forecast by Geography, 2020-2025 |
| 18 | Market Segmentation, Dynamics and Forecast by Product Type, 2020-2025 |
| 19 | Market Segmentation, Dynamics and Forecast by Application, 2020-2025 |
| 20 | Market Segmentation, Dynamics and Forecast by End use, 2020-2025 |
| 21 | Product installation rate by OEM, 2020 |
| 22 | Incline/Decline in Average B-2-B selling price in past 5 years |
| 23 | Competition from substitute products |
| 24 | Gross margin and average profitability of suppliers |
| 25 | New product development in past 12 months |
| 26 | M&A in past 12 months |
| 27 | Growth strategy of leading players |
| 28 | Market share of vendors, 2020 |
| 29 | Company Profiles |
| 30 | Unmet needs and opportunity for new suppliers |
| 31 | Conclusion |
| 32 | Appendix |