Global Microfinance Market 2020-2025
November 3, 2020

Request Sample
Coming Soon
Multi User License - $2,500
GLOBAL MICROFINANCE MARKET
INTRODUCTION
Microfinance emerged in the 1970s, when Accion in Brazil and Grameen Bank began lending services to poor sections of the society. Microfinance is one of the banking services that caters to low-income individuals, unemployed or other disadvantaged people. Microfinance institutions provide microloans which range between $100-$25,000.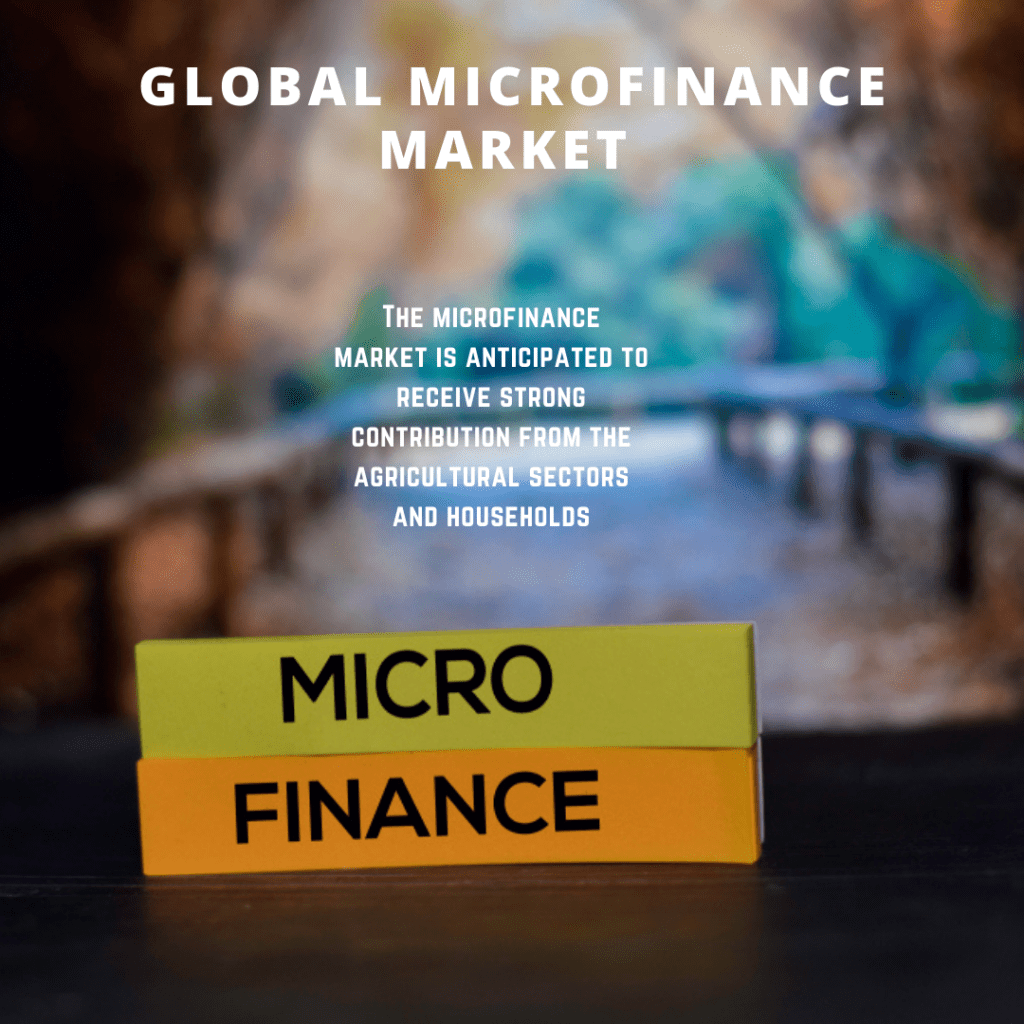 They also provide services like micro insurance products, savings accounts, financial literacy, etc. They charge interest on loans at a lower rate. The operations of microfinance are popular in developing countries like India, Indonesia, Uganda, Serbia, etc. World bank has estimated that more than 500 million people have benefited from the microfinance.
MARKET DYNAMICS
In the microfinance, the market is classified on the basis of services offered such as group and individual micro credit, insurance, leasing and others.
The micro credit segment has the largest contribution in the microfinance market and projected to contribute high CAGR in the forecasted period. However, COVID-19 impacted the market of microfinance globally and with the support from the government it is expected to grow slowly post pandemic.
Geographical segmentation of the microfinance market is North America, Europe, Asia-Pacific and Rest of the World. Asia-Pacific accounts for the largest share in the global market and higher growth, due to the continuous research activities in the regions such as India, China, South Korea and Japan.
India has the largest share in the Asia-Pacific segment and the major players are Bandhan Bank Ltd and National Bank for Agriculture and Rural Development(NABARD).
MARKET SIZE AND FORECAST
The key drivers are the rising inequalities in wealth distribution and the number of unbanked people. Number of billionaires' wealth should be equal to the wealth of the bottom 50% of the population, however, there is a wide wealth gap in the countries like South Africa (68%), China (73%), India (77%), etc. 
Thus, most of the population lives in the below poverty lines and few high net worth individuals are increasing their wealth.
The microfinance market is anticipated to receive strong contribution from the agricultural sectors and households.
Asia-Pacific segment is anticipated to gain from the factors like rapid industrialization, high demand of goods and services and consumer awareness. Issuance of Sukuk, a sharia-compliant bond in Islamic Finance, by the Islamic financial services and banks is expected to gain the market of microfinance.
South Asia is a leading market in the microfinance and majority of borrowers are made up of women. Within South Asia, India remains a promising market for microfinance and high growth is expected in the borrowers and loan portfolio.
COMPETITIVE ANALYSIS
Bandhan Bank: a commercial bank focused to serve underbanked and invisible market in India. It has now transformed to become a universal bank and provides services and products for micro banking and conventional banking. Its products and services includes micro loans, MSMEs loans, Internet banking, mobile banking, insurance products, mutual funds products, etc.
Financials
Market Cap: Rs. 49,824.88 Cr
Gross Sales of Rs 108,854.93 Cr (latest quarter)
Total Income of Rs.124,346.91 Cr (latest quarter)
Grameen Bank: The founder of 'Grameen Bank', Muhammad Yunus, pioneered the concept 'micro-credit'. Unlike conventional banking, they removed the need for collateral and created a banking system based on mutual trust.
CreditAccess Grameen is a public company incorporated in 1991 to provide financial services to rural poor and low income households (especially women)
Financials (CreditAccess Grameen)
Market Cap:  Rs 10,024.30 Crore
Gross Sales: Rs 619.29 Crore (latest quarter)
Total Income: 74.62 Crore (latest quarter)
BRAC Bank: The company founded by Fazle Hasan Abed on 1999, in Dhaka (Bangladesh). The bank provides products and services such as customer deposits, retail lending, SME customers, lease financing, trade financing and project financing. They focus on the segments like SME, Retail, Corporate, Treasury, bKash (mobile payment service) and others.
Financials
Market Cap: taka 56.482 bn (Rs. 4,954 cr)
Gross Sales: taka 26.302 bn (Rs. 2,308.32 cr)
Total Income: taka 5.67 bn (Rs. 497.65 cr)
CONCLUSION
Microfinance market is popular in the developing nations and India is one of the promising market. Overall, the key growth of the global market in microfinance are dependent on the factors like income and wealth inequalities, number of unbanked people, etc. Some companies are expanding their products and services in the digital services and competing with conventional banking system.
For example, Bandhan Bank offers other banking products and services like internet banking, EDC-POS terminals, distribution of third-party insurance products, etc. The microfinance institutions have successfully benefited the underserved people and will continue their growth while adapting to the technology.
COMPANIES PROFILED
| | |
| --- | --- |
| Sl no | Topic |
| 1 | Market Segmentation |
| 2 | Scope of the report |
| 3 | Abbreviations |
| 4 | Research Methodology |
| 5 | Executive Summary |
| 6 | Introduction |
| 7 | Insights from Industry stakeholders |
| 8 | Cost breakdown of Product by sub-components and average profit margin |
| 9 | Disruptive innovation in the Industry |
| 10 | Technology trends in the Industry |
| 11 | Consumer trends in the industry |
| 12 | Recent Production Milestones |
| 13 | Component Manufacturing in US, EU and China |
| 14 | COVID-19 impact on overall market |
| 15 | COVID-19 impact on Production of components |
| 16 | COVID-19 impact on Point of sale |
| 17 | Market Segmentation, Dynamics and Forecast by Geography, 2020-2025 |
| 18 | Market Segmentation, Dynamics and Forecast by Product Type, 2020-2025 |
| 19 | Market Segmentation, Dynamics and Forecast by Application, 2020-2025 |
| 20 | Market Segmentation, Dynamics and Forecast by End use, 2020-2025 |
| 21 | Product installation rate by OEM, 2020 |
| 22 | Incline/Decline in Average B-2-B selling price in past 5 years |
| 23 | Competition from substitute products |
| 24 | Gross margin and average profitability of suppliers |
| 25 | New product development in past 12 months |
| 26 | M&A in past 12 months |
| 27 | Growth strategy of leading players |
| 28 | Market share of vendors, 2020 |
| 29 | Company Profiles |
| 30 | Unmet needs and opportunity for new suppliers |
| 31 | Conclusion |
| 32 | Appendix |