Global Military Armored Vehicle Market 2020-2025
August 5, 2020

Request Sample
Coming Soon
Multi User License - $2,500
GLOBAL MILITARY ARMORED VEHICLE MARKET
KEY FINDINGS
India to procure more than 2,600 Infantry Combat Vehicles along with 1,700 Future Ready Combat Vehicle. 
BAE Systems to deliver 2,936 multipurpose combat vehicles to U.S. Army worth $15 Billion contract awarded in 2014 and to be delivered by August,2020. 
U.S. Army orders 416 new JLTV(Joint Light Tactical Vehicle) from Oshkosh Defense LLC worth $106.3 Million to replace old Light Tactical Vehicles, previously, in 2018, Oshkosh started building 6,107 JLTV for U.S. Army under $1.7 Billion deal.  
U.S. DoD to invest $52.2 Billion to buy 54,599 JLTV for U.S. Army and US Marine corps. 
Australia to spend $187 Billion in military modernization, long–range air strike weapons, among other things in the next ten years. 
U.S. Army to procure 228 fast and upgraded 155mm self-propelled howitzer artillery vehicle and 30 ammunition carrier tracked Armoured Combat Vehicle from Digital Vetronics and Modern Power systems worth $227.9 Million. 
KMW, Germany to deliver 44 Leopard-2 tanks to Hungary. 
UAE signed a deal worth $300 Million with local companies to upgrade and maintain Armoured vehicles. 
INTRODUCTION
Armored Vehicle is an integral part of the military since longtime. They are equipped with weapons ranging from light to heavy, depending on the type of Vehicle. They are used on the battlefield to carry troops to the desired position, to engage in direct fires whenever required, to assist the military forces and also used to counter riots inside the country.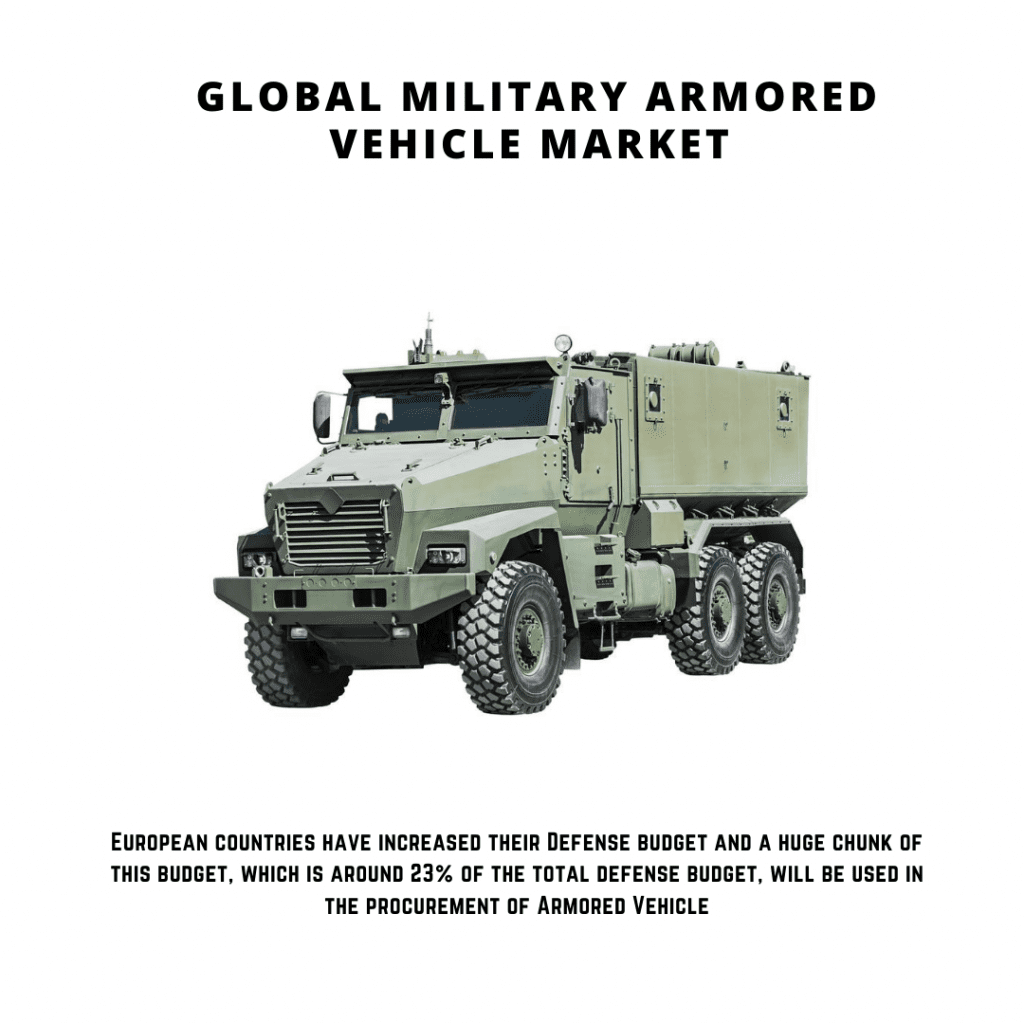 Recent developments in Unmanned Armored Vehicle have increased its demand in the military as well for commercial applications. These are the counterpart of Unmanned Aerial Vehicle on the ground.
GLOBAL MILITARY ARMORED VEHICLE  MARKET SEGMENTATION
BY TYPE
 Tanks
| | |
| --- | --- |
| Light | Thinner armour, lower-powered guns, better tactical mobility |
| Medium | Adequate armour with balanced mobility and fighting capability |
| Heavy | Thick armour, more powerful guns but difficult to transport and less mobile. |
Armored Personnel Carrier (APC)
APC is used to carry troops quickly and safely to the position where they need to be deployed.
M113 (Food Machinery Corp) is the most popular APC and was used in the Iraq war.
Infantry Fighting Vehicle (IFV)
 They are capable of carrying infantry to the battlefield and can provide direct fire support. IFVs are typically armed with 20-40mm calibre autocannon, 7.62mm machine guns, tank missiles and surface to air missiles.
CV-9035 (Hägglunds and Bofors) is an example of IFV in from the Swedish Army.
Infantry Mobility Vehicle (IMV)
 It is a wheeled APC which can be used for patrolling and can act as a security vehicle. They are suitable during ambush protection and are mine-resistant.
ATF Dingo (KMW,Germany) of the Germany army is an example of IMV.
Armoured Recovery Vehicle (ARV)
 It is a type of AFV (Armoured Fighting Vehicle). These vehicles are used to either repair any damaged armoured vehicle in a battle or to tow them out from the danger zone for extensive repairs.
Armoured Amphibious Vehicle (AAV)
 Most of the track designed armoured vehicles have amphibious capabilities. They can be used as APC powered by water jets and are laced with adequate armour.
BTR-80 (Arzamas machinery) is an example of AAV.
Unmanned Fighting Vehicle (UFV)
 These vehicles don't need a human operator and can be remotely controlled, which makes them a viable option for carrying intelligence and surveillance operations. These types of Vehicle consist of a set of sensors to observe the nearby conditions and then could act on their own or send data to the remote operator.
Sooran is India's first Unmanned Armour Vehicle.
BY MOBILITY
| | | |
| --- | --- | --- |
|   | Wheeled | Tracked |
| a. | Low production cost | Highly power-efficient |
| b. | Needs a low amount of torque to move | Can quickly move on rough terrain |
| c. | High manoeuvrability | More aggressive than wheels |
| d. | Lightweight | Creates less impact on the ground |
| e. | Simple in design | Lower speed of the Vehicle |
| f. | Can't drive over an obstacle | Can drive over an obstacle |
| g. | Difficult to drive in snow | Easy to drive in snow |
 Wheeled type can be broadly classified into 4X4 (4WD, 4X2), 6X6 (6WD, 6X4), 8X8, 8X12.
BY ENGINE
GASOLINE: Gasoline engine trucks were being used before the 1960s, very few are still in the market.
DIESEL: Diesel engine has Inline 6-cylinder (I6) engines, which are water colled. They are rugged and can adapt in any physical condition.
ELECTRIC/HYBRID: Electric motor engine is more competent. With time Batteries are getting cheaper and better with more energy density and are easier to charge.
RST-V (Reconnaissance Surveillance Targeting Vehicle) is an example of an electric military vehicle which is in the market.
BY GEOGRAPHY
ASIA PACIFIC
 With the increase in various political issues and tension at the border and Indo-Pacific region, countries like India, China, Australia and Japan have increased their defense budget to procure more advance weapon and technology to strengthen their military.
India stands third in the world with a defense budget of $70 Billion.
Due to the low domestic production of armoured vehicles in the region and huge demand in recent years to carry out surveillance and combat operations, Asia Pacific remains the biggest importer of these vehicles in the world.
MIDDLE EAST
 Egypt's strategic engagements against Islamic militants in north Sinai, the participation of Saudi Arabia and UAE's in Yemeni war and countries in the Middle East trying to secure their borders have led the Middle East countries to procure more armoured Vehicle, and the number is expected to increase amid recent tensions in the region.
However, the Middle East is also trying to be self-reliant as local companies like NIMR Automotive are in trade with big players from the U.S. and Europe dealing in Technology transfer and more. However, still, it's a long way to go.
NORTH AMERICA 
U.S. DoD to procure 54,599 Armoured Vehicle for U.S. Army and Marine corps. With increasing border disputes with Mexico, the need for armoured Vehicle and advanced surveillance technology has improved.
The US remains the net exporter of Armoured Vehicles worldwide. It exports more than 80% of armoured Vehicle to the Middle East.
EUROPE
 European countries have increased their Defense budget and a huge chunk of this budget, which is around 23% of the total defense budget, will be used in the procurement of Armored Vehicle.
KEY PLAYERS
GENERAL DYNAMICS, U.S.
RHEINMETALL GROUP, GERMANY
NORINCO, CHINA
| | |
| --- | --- |
| Sl no | Topic |
| 1 | Market Segmentation |
| 2 | Scope of the report |
| 3 | Abbreviations |
| 4 | Research Methodology |
| 5 | Executive Summary |
| 6 | Introduction |
| 7 | Insights from Industry stakeholders |
| 8 | Cost breakdown of Product by sub-components and average profit margin |
| 9 | Disruptive innovation in the Industry |
| 10 | Technology trends in the Industry |
| 11 | Consumer trends in the industry |
| 12 | Recent Production Milestones |
| 13 | Component Manufacturing in US, EU and China |
| 14 | COVID-19 impact on overall market |
| 15 | COVID-19 impact on Production of components |
| 16 | COVID-19 impact on Point of sale |
| 17 | Market Segmentation, Dynamics and Forecast by Geography, 2020-2025 |
| 18 | Market Segmentation, Dynamics and Forecast by Product Type, 2020-2025 |
| 19 | Market Segmentation, Dynamics and Forecast by Application, 2020-2025 |
| 20 | Market Segmentation, Dynamics and Forecast by End use, 2020-2025 |
| 21 | Product installation rate by OEM, 2020 |
| 22 | Incline/Decline in Average B-2-B selling price in past 5 years |
| 23 | Competition from substitute products |
| 24 | Gross margin and average profitability of suppliers |
| 25 | New product development in past 12 months |
| 26 | M&A in past 12 months |
| 27 | Growth strategy of leading players |
| 28 | Market share of vendors, 2020 |
| 29 | Company Profiles |
| 30 | Unmet needs and opportunity for new suppliers |
| 31 | Conclusion |
| 32 | Appendix |