Global Military Cybersecurity Market 2020-2025
August 11, 2020

Request Sample
Coming Soon
Multi User License - $2,500
GLOBAL MILITARY CYBERSECURITY MARKET
KEY FINDINGS
Cyber threats to cause loss of more than $5 Trillion a year worldwide by 2021. 
AFRL (Air Force Research Laboratory) awarded a contract of $12.6 Million to Praxis Engineering Technologies to provide advanced cybersecurity to U.S. military. 
In 2019, the U.S. Air Force awarded a contract of $35.8 Million to Dell Federal System to update their cyberspace platform. 
In 2018, U.S. Defense Advanced Research Project Agency (DARPA) had awarded a contract worth $32.9 Million to five namely Lockheed Martin, Draper Lab, SRI International, Cornel University and University of California to design tools for cybersecurity and computing. 
In 2019, the U.S. Air Force awarded a contract of $19.7 Million to Bowhead Cybersecurity Solutions for a real-time two-way interactive information exchange between intelligence agencies and Air Force. 
All companies in the U.S. to spend over $100 Billion, combined, to secure computer networks. 
INTRODUCTION
The military has been embracing Information Technology in mass, and with it comes the threat of data being stolen or being spied. This can be avoided by cybersecurity, which is designed to protect network, devices and data from unauthorized access or any kind of attack.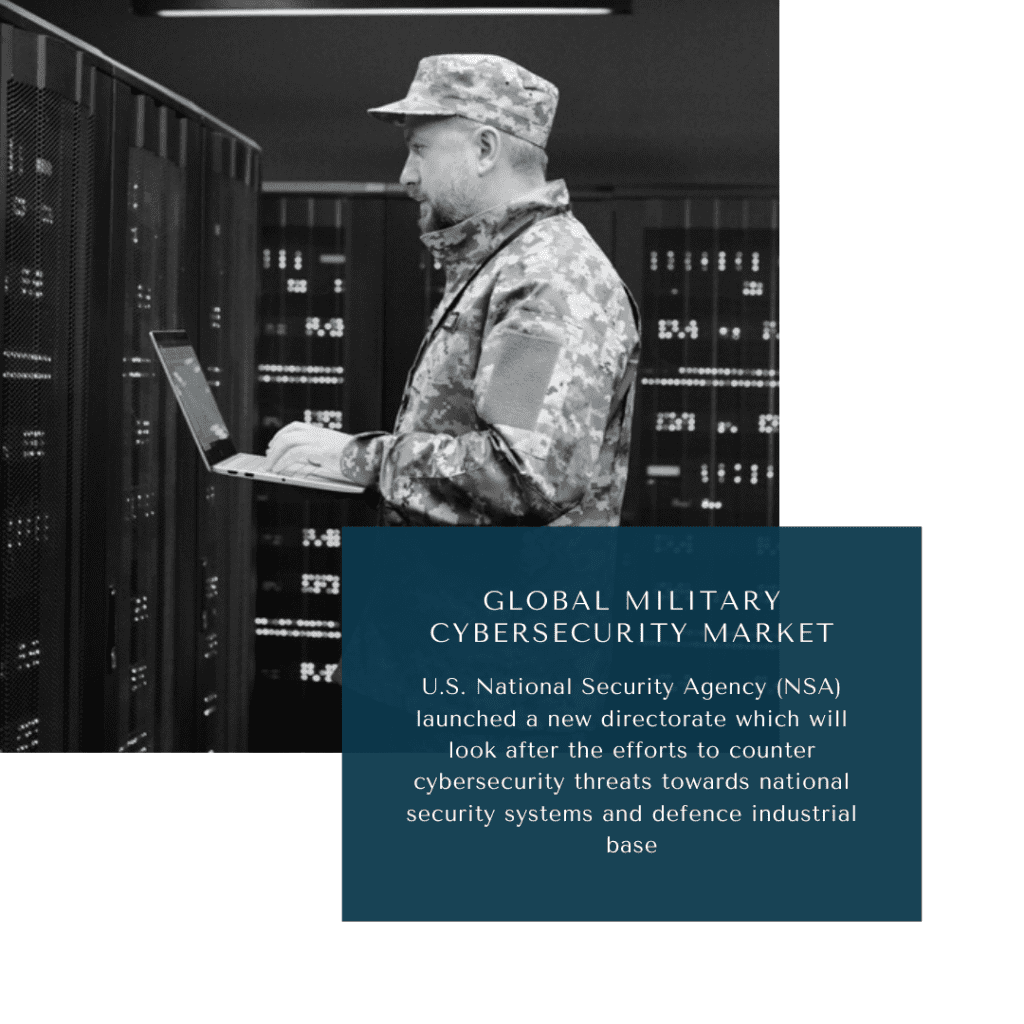 Cybersecurity has developed to an extent which can help the military be offensive in battlefields and defensive during peacetime. Only in the past few years, the depth of cybersecurity threats has been recognized, which has led to cyber warfare pushing military and civilian both to adopt cybersecurity.
Various regulations, such as Health Insurance Portability and Accountability Act (HIPPA),  Department of Defense Information Assurance Certification and Accreditation Process (DIACA) and Payment Card Industry Data Security Standard (PCI-DSS), have underlined different guidelines and security features which should be followed by all organizations to minimize cyber threats.
MARKET DYNAMICS
BY CHALLENGES OFFERED
Cybersecurity is provided in different forms for specific purposes. Some of which are listed below-
Data Security: Data is what's inside the networks and applications. Data security is necessary to protect the information from data being improvised.
Network security: This is done to avoid any kind of unauthorized access or any kind of intrusion.
Cloud security: Digital environments in the form of "cloud" are the new hub for storing data, and it is very challenging to protect data saved in cloud storage.
Application security: Application in a system needs to be updated regularly to avoid unauthorized control.
Wireless security: Many equipment and devices are being controlled remotely nowadays and to provide a secure signal used for remote controlling or to access certain technologies, Wireless security must be ensured.
Identity and access security: only authorized personnel must be given access to a particular company's information and this security type process such activities.
BY SOLUTION
Cybersecurity threats are not confined to a particular area. It can be identity theft based, cloud-based, data security-based and many more, and that's why the market is based upon the type of solution provided by different companies. Few are listed below-
SECURITY AND VULNERABILITY MANAGEMENT
IDENTITY AND PERSONNEL ACCESS MANAGEMENT
INTELLIGENCE THREAT AND RESPONSE MANAGEMENT
DATA LOSS PREVENTION MANAGEMENT
RISK AND COMPLIANCE
BY REGION
NORTH AMERICA
Five of the U.S. defence contractors have been listed among the top 25 companies in the world providing cybersecurity. Last year, in 2019, the U.S. National Security Agency (NSA) launched a new directorate which will look after the efforts to counter cybersecurity threats towards national security systems and defence industrial base.
U.S. military is continuously eyeing towards advanced cybersecurity to counter and strike any cyber-attacks to their defense system.
EUROPE
Since Russia's annexation in Ukraine, NATO and the European Union are evolving together to either prevent or respond to any kind of unconventional tactics. Russia has been showcasing its electronic warfare capabilities in Syria and cyberattack campaigns in Latvia, Estonia and other places which have prompted the U.S. and European Union for advanced cybersecurity technologies to counter these cyberattacks.
ASIA PACIFIC
China has progressively increased its capabilities in cyber espionage and offensive operations which is seen as a new threat in the Asia Pacific by many experts. U.S. and China have been in cyberwar for a long time now, which was thought to be over after both country's Presidents took oath in 2015 to cease any cyber espionage. The thirst for information and sensitive data is far from over, and most of the countries are investing billions in their cybersecurity.
Railways cybersecurity market in the Asia Pacific has also been booming in recent years.
MIDDLE EAST
Longstanding regional conflicts in the middle east have led to cyber aggression. Countries in the middle east have been exploiting other country's weak infrastructures for different kinds of cyber espionage. Governments have been advised by many experts to implement policies against such attacks to decrease cyber crimes frequencies in the region.
Iran has been advancing towards military supremacy and cybersecurity in the region.
KEY PLAYERS
| | |
| --- | --- |
| Sl no | Topic |
| 1 | Market Segmentation |
| 2 | Scope of the report |
| 3 | Abbreviations |
| 4 | Research Methodology |
| 5 | Executive Summary |
| 6 | Introduction |
| 7 | Insights from Industry stakeholders |
| 8 | Cost breakdown of Product by sub-components and average profit margin |
| 9 | Disruptive innovation in the Industry |
| 10 | Technology trends in the Industry |
| 11 | Consumer trends in the industry |
| 12 | Recent Production Milestones |
| 13 | Component Manufacturing in US, EU and China |
| 14 | COVID-19 impact on overall market |
| 15 | COVID-19 impact on Production of components |
| 16 | COVID-19 impact on Point of sale |
| 17 | Market Segmentation, Dynamics and Forecast by Geography, 2020-2025 |
| 18 | Market Segmentation, Dynamics and Forecast by Product Type, 2020-2025 |
| 19 | Market Segmentation, Dynamics and Forecast by Application, 2020-2025 |
| 20 | Market Segmentation, Dynamics and Forecast by End use, 2020-2025 |
| 21 | Product installation rate by OEM, 2020 |
| 22 | Incline/Decline in Average B-2-B selling price in past 5 years |
| 23 | Competition from substitute products |
| 24 | Gross margin and average profitability of suppliers |
| 25 | New product development in past 12 months |
| 26 | M&A in past 12 months |
| 27 | Growth strategy of leading players |
| 28 | Market share of vendors, 2020 |
| 29 | Company Profiles |
| 30 | Unmet needs and opportunity for new suppliers |
| 31 | Conclusion |
| 32 | Appendix |