Global Military Missiles Defence System Market 2020-2025
August 4, 2020

Request Sample
Coming Soon
Multi User License - $2,500
GLOBAL MILITARY MISSILES DEFENSE SYSTEM MARKET
INTRODUCTION
As technology is advancing, the nature of modern warfare is also demanding change and this has elated the demand for air system defense market.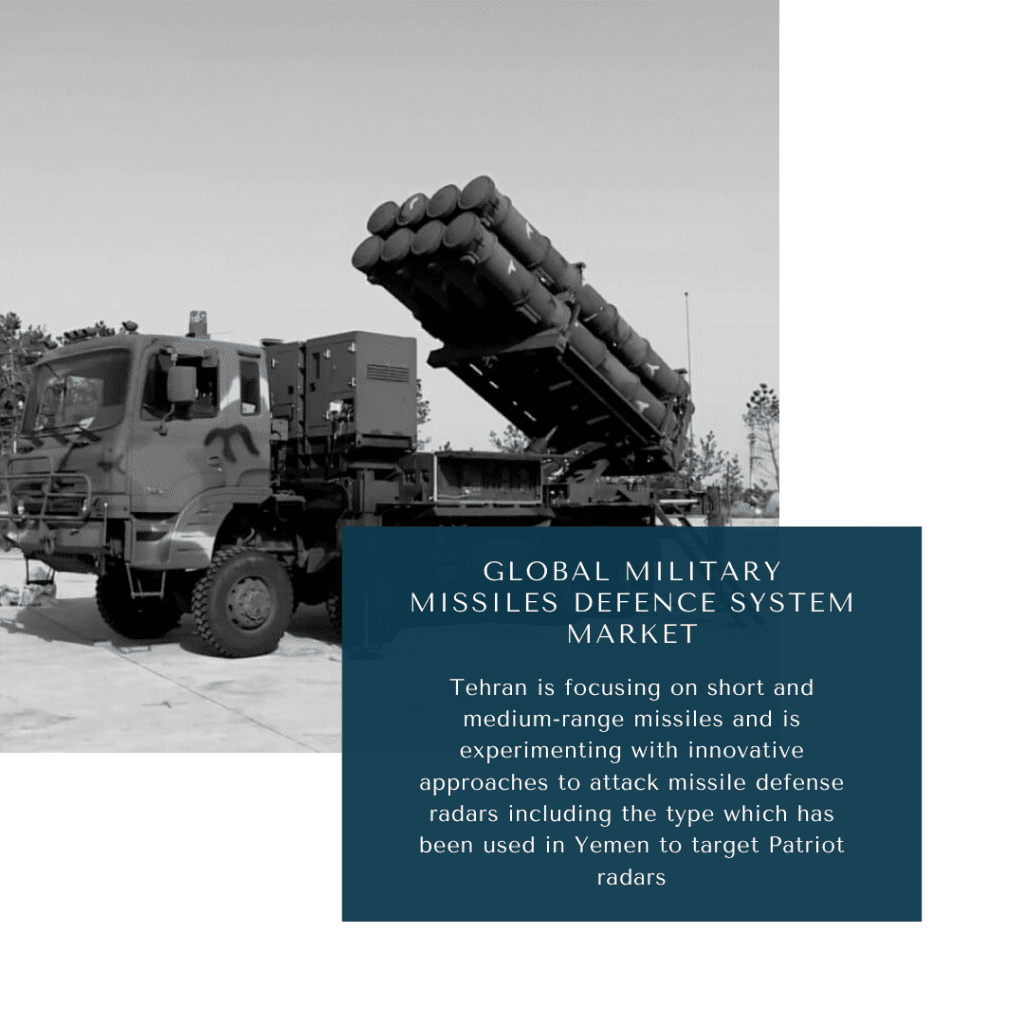 As the predictability of the nature of potential threats has ceased to a greater extent, all major countries have been forced to acquire a powered missile defense system as this type of defense arm their forces with chemical, biological and nuclear weapons simultaneously. Therefore, the Missile Defense System is the most sought form of Air System Defense and is projected to grow with the highest CAGR rate and lead the Air System Defense Market between 2021-2025.
During the period 2010-2019, the number of nuclear states took a jump to 9 from 6 while 31 countries have missile capabilities in total till now.  
MARKET DYNAMICS
The acquisition of Inter- Continental Ballistic Missiles (ICBMs) having ranges exceeding 3500 miles for better preparedness in counter-terrorism operations, territorial disputes, and accurate defense strategy dominates the sector.
Radar guided missiles catching up thick and fast in the market due to its better range capabilities, technical precision acquired by the altitude control system and flight path control system and its six degrees of freedom equipping it with ease and efficiency in changing directions.
The announcement of plans by US to arm unarmed aerial vehicles with lasers to zap long-range missiles in their boost phase and expansion of Ground-Based Defense System from 44 to 64 interceptors by 2023 and the demand of the fiscal year 2020 for a procurement of 380 billion USD to develop and test a prototype space-based laser weapon to destroy ICBMs form the evident base for the upward graph of the market.
The advancement of ballistic missile defense in the US has pushed Iranian countermoves in Middle-East. Tehran, Iran, Yemen and other Islamic Republic are following four distinctive approaches but collaboratively as the Middle-East Missile System.
Tehran is focusing on short and medium-range missiles and is experimenting with innovative approaches to attack missile defense radars including the type which has been used in Yemen to target Patriot radars.
Iran hit 2 of the 6 fired missiles at Syrian targets with accurate precision and impacts.
Qiam Missile Launch in Sep 2018 has shown the interest of these nations in developing capabilities to defeat terminal missile defense while Islamic republic is working on the development of cruise missiles.
The Asia Pacific Region, the US and the Middle-East may lead to an anomalous growth in the market with a CAGR as high as 20%.
MILITARY EXPENDITURE DETAILS -2019
| | | | |
| --- | --- | --- | --- |
| Country | Military Expenditure in billion USD | Share % of GDP | % increase in expenditure |
| United States | 732 | 3.4% | 5.3% |
| China | 261 | 1.9% | 5.1% |
| India | 71.1 | 2.4% | 6.8% |
| Russia | 65.1 | 3.9% | 4.5% |
| UK | 48.7 | 1.7% | – |
MILITARY MISSILES DEFENSE SYSTEM MARKET ANALYSIS
Currently, the ICBM segment is dominating the market for the adaptability of them to a range exceeding 12,000 km and launch from submarines and automated control using GPS and radar-based guidance. Global Military expenditure in 2019 was approximately 1,917 Billion USD with an increase of 3.6%.
To enhance the defensive and military firepower capabilities, military powerhouses such as the US, the United Kingdom, China, Russia, and India have increased the annual defense budget.
These countries together accounted for 61% of the global military spending in 2019. The US Financial Year 2020 entails 13.6 billion USD for Missile Defense System.
Though the US stopped developing ICBMs after the conclusion of the cold war, Russia continued to lay emphasis on the ICBM development acing up with the two contenders of the most advanced ICBM: the Russian-24 Yars and the Russian-28 Sarmat.
Currently, North America is yielding the highest revenue in the market being the most significant defense spender globally with the presence of major aerospace industries in the region and the support of its innovative and technically proficient counter-parts
The global military missile defense system market is estimated at $XX Billion in 2020, growing at –% CAGR till 2025.
COMPETITIVE LANDSCAPE
The Asia Pacific region due to the presence increasing geopolitical unrest and military conflicts, engagement in strengthening presence in Gulf region, Red sea areas and inter-continental counter-terrorism operations have led significant investments to procure new missiles and missile defense system.
The continuous research & development and intercontinental long-term contracts have been set up by these nations for the efficiency of integrated weapon technologies and associated products making it the area with the highest anticipated growth in the sector.
Larsen&Turbo's joint venture with Europe's MBDA, formed in 2017, has set up a missile integration facility in Tamil Nadu, India and testing facility in a special economic zone at Coimbatore as a part of Tamil Nadu Defence Industrial Corridor to deliver complete missile system for export markets and self-acquisitions from 2020.
US recently carried out testing of a key missile system designed for knocking down incoming intermediate-range missiles which used the Aegis Ashore System fitted with a SM-3 IIA interceptor being developed collaboratively by Raytheon Co. and Japanese Mitsubishi Ltd.
MAJOR PLAYERS IN MILITARY MISSILE DEFENSE SYSTEM MARKET
| | |
| --- | --- |
| Sl no | Topic |
| 1 | Market Segmentation |
| 2 | Scope of the report |
| 3 | Abbreviations |
| 4 | Research Methodology |
| 5 | Executive Summary |
| 6 | Introduction |
| 7 | Insights from Industry stakeholders |
| 8 | Cost breakdown of Product by sub-components and average profit margin |
| 9 | Disruptive innovation in the Industry |
| 10 | Technology trends in the Industry |
| 11 | Consumer trends in the industry |
| 12 | Recent Production Milestones |
| 13 | Component Manufacturing in US, EU and China |
| 14 | COVID-19 impact on overall market |
| 15 | COVID-19 impact on Production of components |
| 16 | COVID-19 impact on Point of sale |
| 17 | Market Segmentation, Dynamics and Forecast by Geography, 2020-2025 |
| 18 | Market Segmentation, Dynamics and Forecast by Product Type, 2020-2025 |
| 19 | Market Segmentation, Dynamics and Forecast by Application, 2020-2025 |
| 20 | Market Segmentation, Dynamics and Forecast by End use, 2020-2025 |
| 21 | Product installation rate by OEM, 2020 |
| 22 | Incline/Decline in Average B-2-B selling price in past 5 years |
| 23 | Competition from substitute products |
| 24 | Gross margin and average profitability of suppliers |
| 25 | New product development in past 12 months |
| 26 | M&A in past 12 months |
| 27 | Growth strategy of leading players |
| 28 | Market share of vendors, 2020 |
| 29 | Company Profiles |
| 30 | Unmet needs and opportunity for new suppliers |
| 31 | Conclusion |
| 32 | Appendix |