Global Military Personal Protective Equipment Market 2020-2025
October 8, 2020

Request Sample
Coming Soon
Multi User License - $1,800
INTRODUCTION
Military PPE is an important component of overall Military spending by major economies worldwide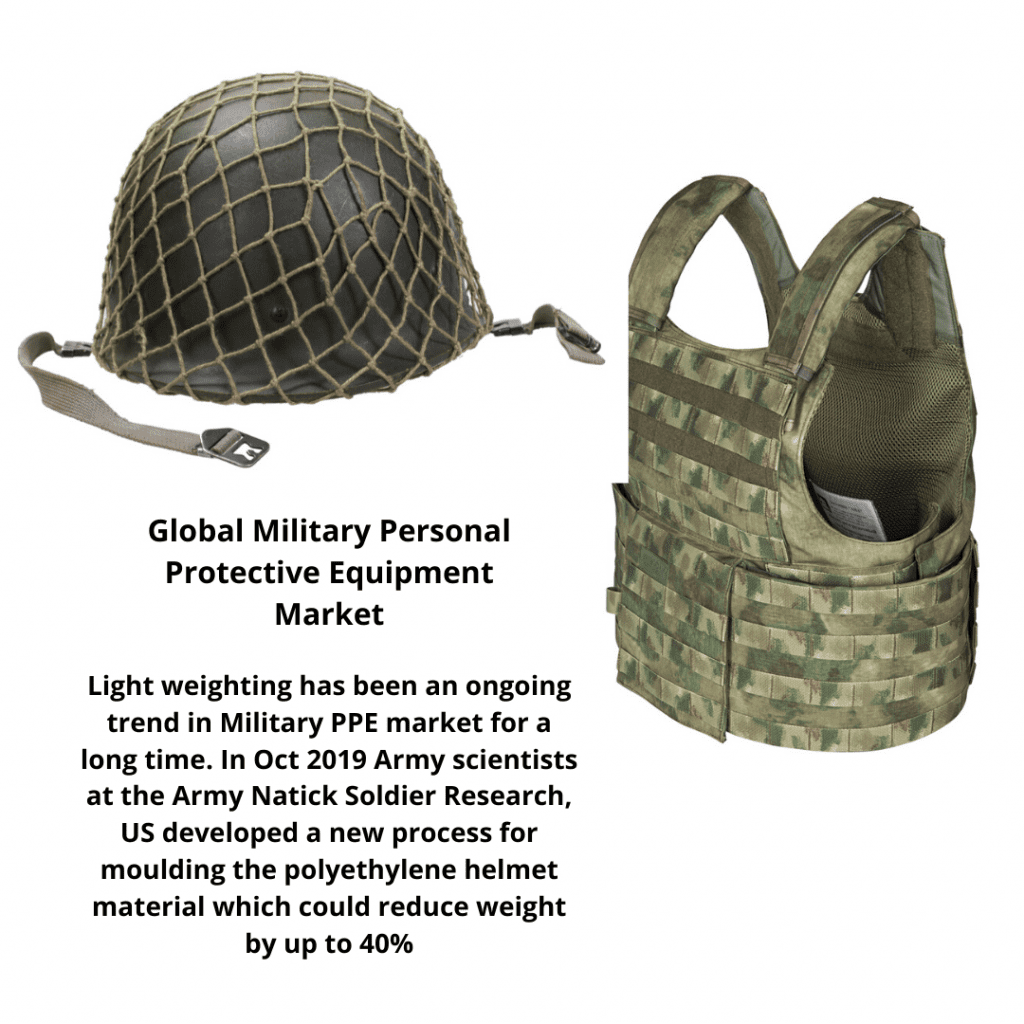 At present, Army engineers and scientists face ever-growing need to expand the capabilities of soldiers on the battlefield. As more powerful and versatile weapons, modern systems and gadgets are being increasingly added to the Military personal protection equipment, more innovations will be required to ensure their recharge.
MILITARY PERSONAL PROTECTION EQUIPMENT MARKET TRENDS 
Light weighting has been an ongoing trend in Military PPE market for a long time. In Oct 2019 Army scientists at the Army Natick Soldier Research, US developed a new process for moulding the polyethylene helmet material which could reduce weight by up to 40%,
Honeywell last year announced increased production capacity of its proprietary Spectra fiber, a strong, yet lightweight fiber made from ultra-high molecular-weight polyethylene (UHMWPE), which is incorporated into Shield technology for use in advanced armor application.
The U.S. Army is testing a new 7.62-mm armour-piercing cartridge and if it succeds in creating that then demand for more resistant PPEs will surge worldwide
COVID-19 IMPACT ON MILITARY PERSONAL PROTECTION EQUIPMENT MARKET
As of April 2020, US Defence Department reported more than 1,600 positive cases of coronavirus among service members and dependents, civilians, and contractors. In the light of growing infection in armed forces US defence secretary Mark Esper said, he was directing the use of face masks by the military worldwide to contain the virus spread.
In May 2020, The Chinese Peoples' Liberation Army (PLA) planned to procure 1.4 million units of bullet proof vests worth $1.8 Billion by 2022 as it prepares for possible military conflicts against Taiwan and US. US has been at the forefront of pinning blaming China for COVID-19 spread backed by a sizeable number of European countries.
In May 2020, the Indian Navy patented a low cost PPE for use in healthcare services for the fight against the Pandemic. The Navy will also undertake the Transfer of Technology once the item is mature for production.
The PLA is also holding open tenders to procure ~0.9 Million units of hard armour plates for universal plate carriers and ~0.5 Million units of plates for enhanced ballistic vests,
MILITARY PPE MARKET SIZE AND FORECAST
China is a major supplier of body armour for protection against small-arms fire upto 7.62mm bullet. The global military PPE market size is estimated at $XX Billion

NEW PRODUCT DEVELOPMENT IN MILITARY PPE MARKET
Mar 2020- Researchers with the U.S. Army and Embry-Riddle Aeronautical University in Florida have developed a vest that vibrates to warn disoriented pilots and help prevent aviation accidents
Jan 2020– Point blank enterprises introduced Introduces First Integrated Clothing and Body Armor System. The fabrics used are stain resistant
In Sep 2019, Army Futures Command began equipping two selected brigades to receive the Enhanced Night Vision Goggle-Binocular (ENVG-B), The ENVG-B is a wireless, dual-tubed technology with a built-in thermal imager. It allows soldiers to see enemy heat signatures at night and in the daylight through smoke, fog and other battlefield obscurants. It also facilitates better depth perception, and the thermal image intensifier allows soldiers
COMPETIETIVE LANDSCAPE
RECENT CONTRACTS AWARDED
| | | | | |
| --- | --- | --- | --- | --- |
| Awarded | Region | Product | Contract value($M) | Supplier |
| May 2020 | US | Enhanced Small Arms Protective Insert | 209 | Point Blank Enterprises |
| March 2020 | US | X-Side Ballistic Insert | 265*2 | TenCate Advanced Armor |
| May 2020 | Australia | Soft Armour | 1 | Craig International Ballistics |
| Jan 2020 | US | Ballistic helmets | 17.3 | ArmorSource LLC |
There are more than 100 specialized Military PPE manufacturers worldwide.
Point Blank Enterprises, Inc. is among industry's leading innovator of advanced products and designs for ballistic protection application.
Dupont has dedicated nearly 50 people across the globe for continuous improvement of Kevlar fibers and the development of next generation protective equipment
ArmorSource helmets and ballistic solutions are used by US Army and Marin Corps, the armies of Italy, Netherland, Israel,Australia and many other Law-Enforcement organizations worldwide.
COMPANIES PROFILED
ArmorWorks
Armorsource
Honeywell Advanced Fibres and Composites
THIS REPORT WILL ANSWER FOLLOWING QUESTIONS
Military personal Protection Equipment Market Size and Forecast (2020-2025), M units and $M
Market share of major vendors, by region
New product development in past 12 months
New contracts awarded in past 12 months by region
Impact of COVID-19 on Military PPE Market
| | |
| --- | --- |
| Sl no | Topic |
| 1 | Market Segmentation |
| 2 | Scope of the report |
| 3 | Abbreviations |
| 4 | Research Methodology |
| 5 | Executive Summary |
| 6 | Introduction |
| 7 | Insights from Industry stakeholders |
| 8 | Cost breakdown of Product by sub-components and average profit margin |
| 9 | Disruptive innovation in the Industry |
| 10 | Technology trends in the Industry |
| 11 | Consumer trends in the industry |
| 12 | Recent Production Milestones |
| 13 | Component Manufacturing in US, EU and China |
| 14 | COVID-19 impact on overall market |
| 15 | COVID-19 impact on Production of components |
| 16 | COVID-19 impact on Point of sale |
| 17 | Market Segmentation, Dynamics and Forecast by Geography, 2020-2025 |
| 18 | Market Segmentation, Dynamics and Forecast by Product Type, 2020-2025 |
| 19 | Market Segmentation, Dynamics and Forecast by Application, 2020-2025 |
| 20 | Market Segmentation, Dynamics and Forecast by End use, 2020-2025 |
| 21 | Product installation rate by OEM, 2020 |
| 22 | Incline/Decline in Average B-2-B selling price in past 5 years |
| 23 | Competition from substitute products |
| 24 | Gross margin and average profitability of suppliers |
| 25 | New product development in past 12 months |
| 26 | M&A in past 12 months |
| 27 | Growth strategy of leading players |
| 28 | Market share of vendors, 2020 |
| 29 | Company Profiles |
| 30 | Unmet needs and opportunity for new suppliers |
| 31 | Conclusion |
| 32 | Appendix |