Global Mobile Payments Market 2020-2025
August 10, 2020

Request Sample
Coming Soon
Multi User License - $2,500
GLOBAL MOBILE PAYMENTS MARKET
KEY FINDINGS
The Asia-Pacific region is expected to offer new opportunities for the industry as it is increasingly heading towards adoption of newer electronic payment models. Countries like India, Japan, China and Australia provide a stable ecosystem for the growth of mobile payments market. Estimates indicate that by 2028, Asia would account for around 40% of total global payment revenues.
Despite higher growth predicted in the industry in the near future, major market players struggle to survive owning to consistent losses borne by them. The prime facie reason for such losses is the cashbacks offered by them in a bid to attract customers and increase customer retention on their platforms forcing them to look for other avenues to overcome their losses and fund their expansion.
Technology is likely to spur demand in the industry. However, bridging the gap between awareness and adoption of mobile payments is a major challenge that requires an active involvement of all the participants to achieve the goal of a globalized digital world.
INTRODUCTION
The pandemic which has given an impetus to digital payments across the world encouraging people to resort to cashless methods of transactions in order to avoid physical contact and ensure social distancing. Major Indian digital platforms such as Amazon Pay, Phonepe, Mobikwik witnessed around 50% spike in transaction on their platform with user base increasing on an average from 2 million to 3 million per month since March 2020.
With India's Central Bank announcement on August 6,2020 of setting up an offline digital payment hub to encourage the underbanked rural communities to migrate from cash to card, it intents to push ahead the adoption of digital payments which has been spurred by the Covid -19 pandemic
A similar scenario could be seen in the US where the adoption of mobile payments which were below the global adoption rates ( less than 10%) pre-Covid crossed the limits during the outbreak in spite of the ubiquitous presence of smartphone in the country since a decade while in China such platforms were used by around 80% of its population.
As per a survey conducted by Visa.Inc in the month of June 2020, around 63 % of the customers would prefer to go to shop which accepts contactless payments and an estimated 78% have switched to online payments since the beginning of the global flu which indicates the quantum of growth that the industry can achieve in the future.
The pandemic has acted as a turning point for the mobile payments industry as companies that had invested in heavily in digital technologies thrive. A report by Statista indicates that the overall value of transactions through online means is expected to reach USD 47,69,370 Million by the end of 2020 registering an YoY growth rate of 15 % which is expected to rise until the current situation improves.
MARKET DYNAMICS
Increasing integration and implementation of artificial intelligence in mobile payment for better customer experience and secured mobile transactions is expected to increase the mobile payment market size. AI can manage the automated process of payment and number verification. As AI can detect patterns, it can be useful in detecting fraudulent activities. In addition, the growth of e-commerce industry is also expected to boost the market size of mobile payments as the number of omnichannel vendors is increasing worldwide.
However, the major driver for growth would be cashbacks and rewards that are offered by such payment platforms in order to increase their customer base and volume of transactions. However, as the number of competitors in the industry is increasing owning to the growth prospects it offers, a robust reward system must be designed by such organizations to achieve customer loyalty and propel their growth.
GLOBAL MOBILE PAYMENTS MARKET SEGMENTATION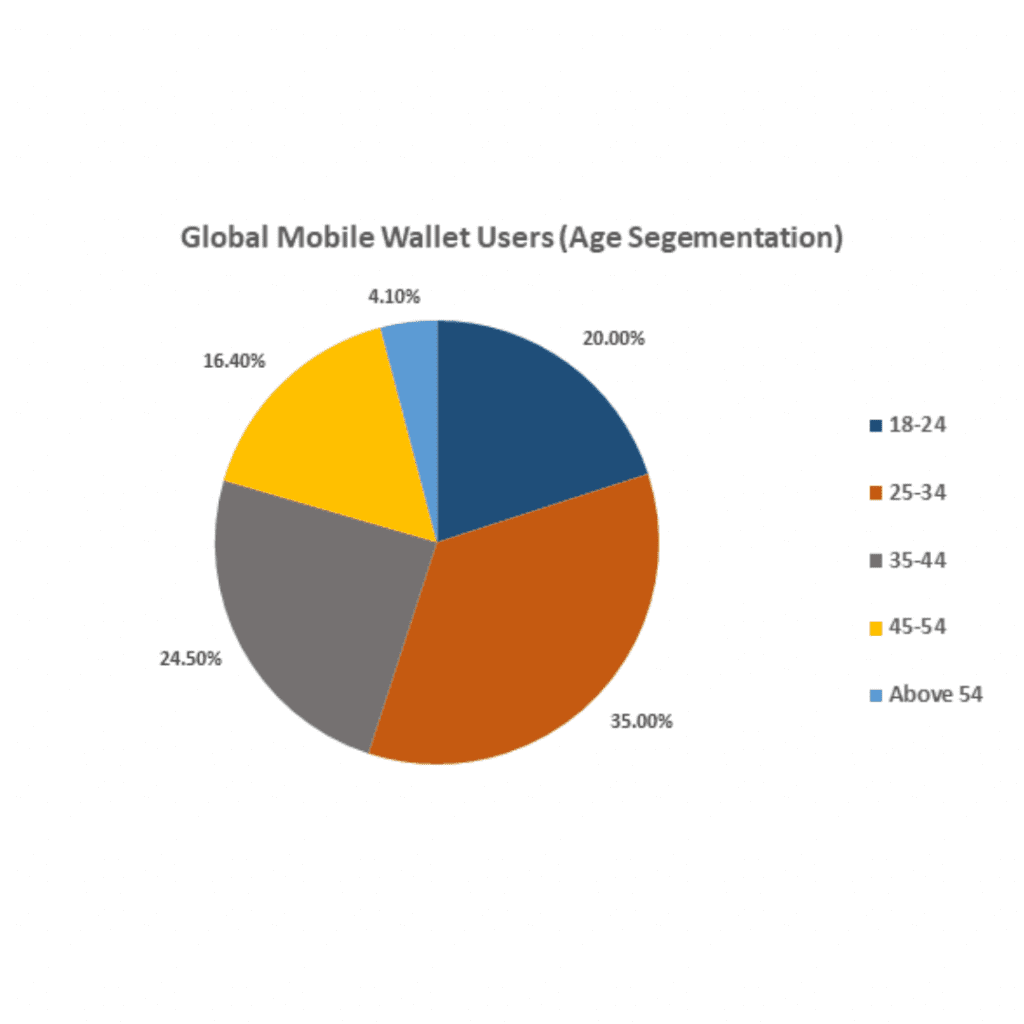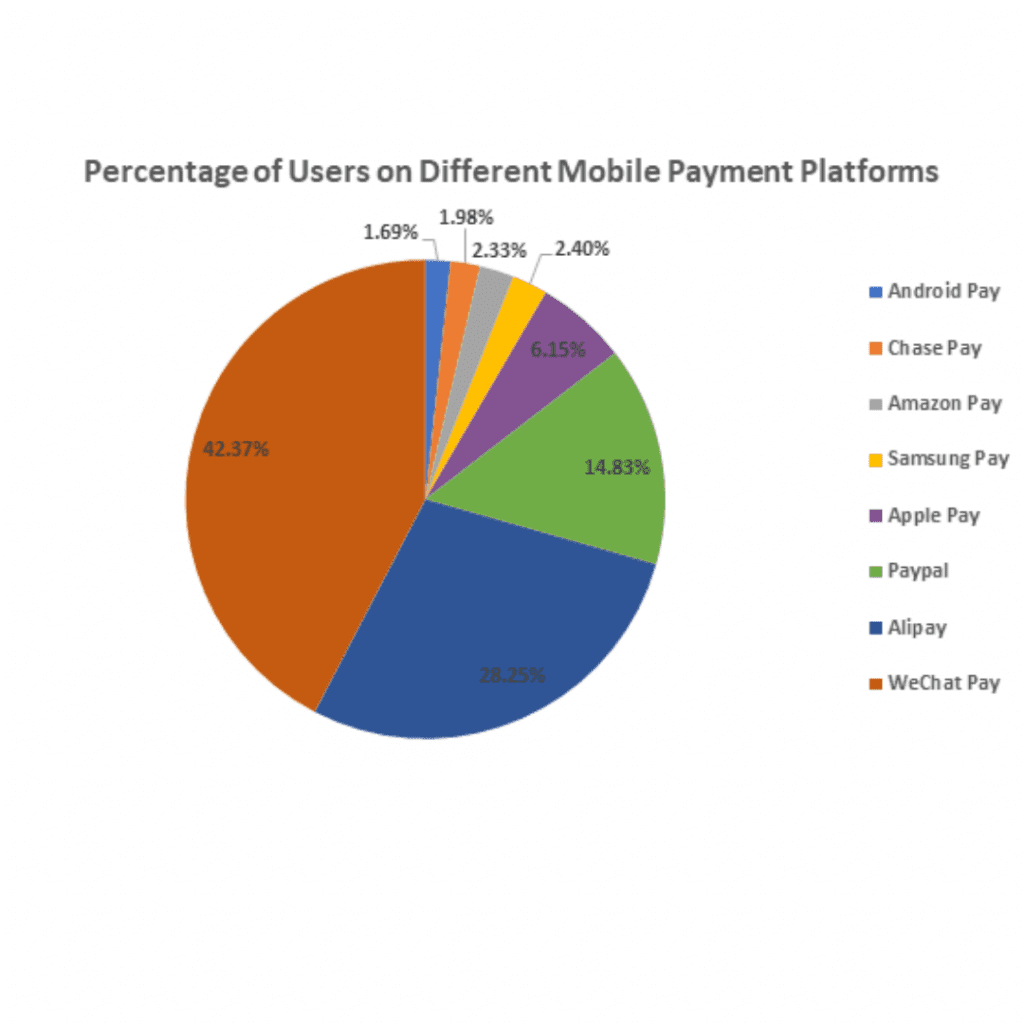 GLOBAL MOBILE PAYMENTS MARKET COMPETITIVE LANDSCAPE
The Mobile Payments Industry is significantly dominated by tech giants such as Google (Google Pay), Amazon (Amazon Pay ), Apple ( Apple Pay ), Facebook (Whatsapp Pay) to digital payment platforms such as Paypal, Visa Inc, Mastercard , America Express followed by startups such as Phonepe, Paytm ,Mobikwik ,Adyen which are providing customized solutions and products to attract customers to use their platform for making digital payments.
The payment platforms provided by such tech giants is just an extension of their data based business model as such payment functionalities allow them to get access to customer data which enables to design other products that are a major revenue stream for them. In respect of new competitors who are entering the industry, shorter product innovations and faster product development act as two factors for their entrance in such a competitive industry. Numerous Fintech have been successful in developing solutions that have brought B2C and B2B payments online.
India serves as one of the major markets for expansion as half of India's population is yet to come online. As per government's data, around 31.1 billion transactions were done digitally in 2018-19. Considering that there are over a billion Indians who are still not transacting in India, the industry is yet to see explosive growth in the coming years. In addition, the initiatives taken by the government such as Digital India would increase the penetration of online technology in rural areas which provides a huge untapped opportunity for tech giants and startups.
Apart from India, other countries such as Japan, China are also heading to wider adoption of digital platforms for payments owning to the convenience offered and increasing use of smartphones in the country.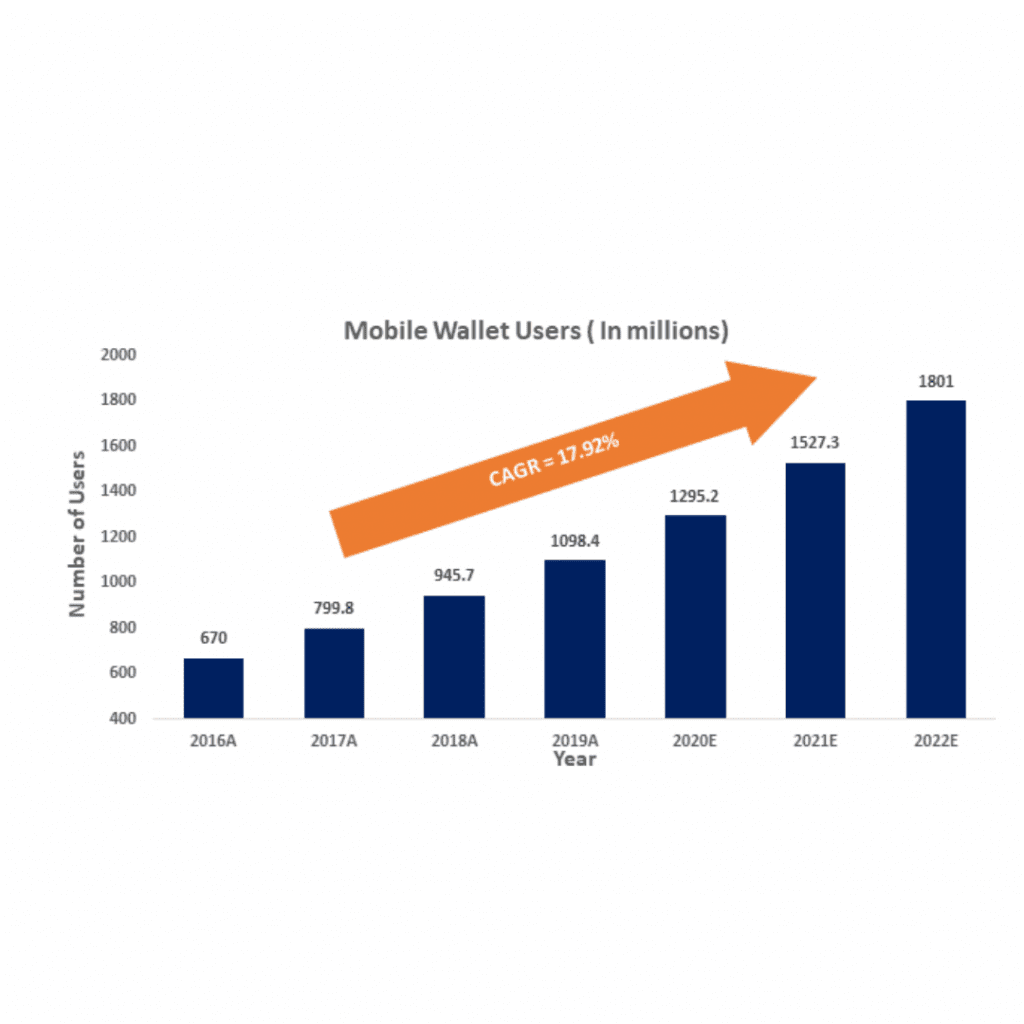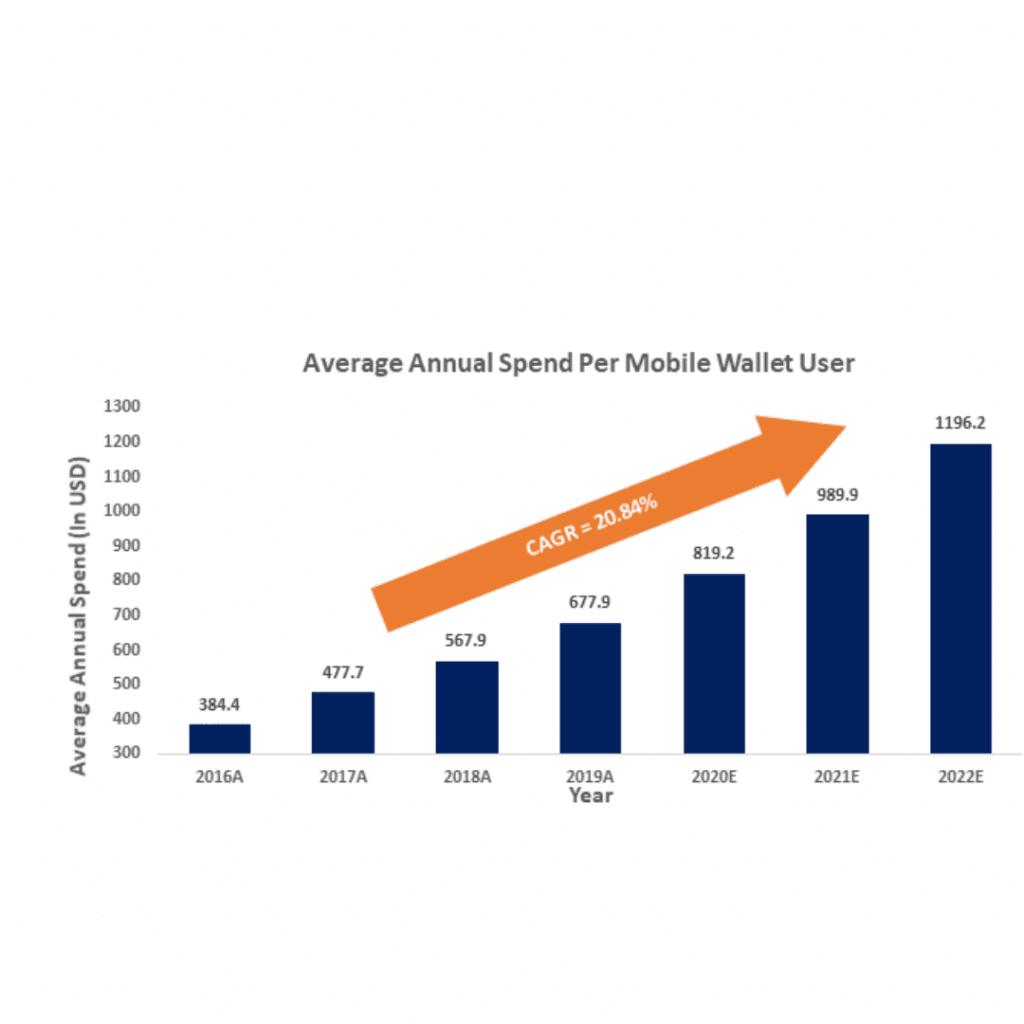 THE WAY FORWARD IN GLOBAL MOBILE PAYMENTS MARKET
Mobile payments are well poised for further growth due to the benefits they provide increasingly gaining interest not only from customers but also from businesses, financial institutions and even government.
In 2019, Apple and Goldman Sachs joined forces to create a credit card – a business that would generate new revenue streams for the both the participants. Meanwhile, Central Banks across the world such as Indonesia, Mexico are using mobile payments as a measure to achieve financial inclusion and provide a platform to bring the underdeveloped communities over the digital platform.
Security of users data still remains as a stumbling block for all the service providers as a robust and resilient system is required to ensure that no unauthorized usage of their customer data is made .As payment mode requires certain details such as location, card details , card PIN while transacting online, most users are reluctant to switch to such platforms which might hampers the industry's growth in the future.
Ultimately, the goal of "Cashless is King" requires consistent efforts on the part of all the participants in the industry such as customers, corporate and government to create a globalized and digital payment world.
COMPANIES PROFILED
Apple Pay
Google Pay
Paytm
Paypal
Alipay
Wechat Pay
Payoneer
| | |
| --- | --- |
| Sl no | Topic |
| 1 | Market Segmentation |
| 2 | Scope of the report |
| 3 | Abbreviations |
| 4 | Research Methodology |
| 5 | Executive Summary |
| 6 | Introduction |
| 7 | Insights from Industry stakeholders |
| 8 | Cost breakdown of Product by sub-components and average profit margin |
| 9 | Disruptive innovation in the Industry |
| 10 | Technology trends in the Industry |
| 11 | Consumer trends in the industry |
| 12 | Recent Production Milestones |
| 13 | Component Manufacturing in US, EU and China |
| 14 | COVID-19 impact on overall market |
| 15 | COVID-19 impact on Production of components |
| 16 | COVID-19 impact on Point of sale |
| 17 | Market Segmentation, Dynamics and Forecast by Geography, 2020-2025 |
| 18 | Market Segmentation, Dynamics and Forecast by Product Type, 2020-2025 |
| 19 | Market Segmentation, Dynamics and Forecast by Application, 2020-2025 |
| 20 | Market Segmentation, Dynamics and Forecast by End use, 2020-2025 |
| 21 | Product installation rate by OEM, 2020 |
| 22 | Incline/Decline in Average B-2-B selling price in past 5 years |
| 23 | Competition from substitute products |
| 24 | Gross margin and average profitability of suppliers |
| 25 | New product development in past 12 months |
| 26 | M&A in past 12 months |
| 27 | Growth strategy of leading players |
| 28 | Market share of vendors, 2020 |
| 29 | Company Profiles |
| 30 | Unmet needs and opportunity for new suppliers |
| 31 | Conclusion |
| 32 | Appendix |