GLOBAL MOBILE ROBOTS MARKET
INTRODUCTION
A Mobile Robot is a robot that is capable of moving in the surroundings. Mobile Robotics is generally considered to be a subset of Robotics and Information Engineering.
These robots can be autonomous, which means, they can be navigated in an uncontrolled environment without the need for physical or electro-magnetic devices. These robots are put in use in commercial and industrial settings. The autonomous mobile robots are also used in hospitals to move materials from stocking shelves to order fulfillment zones.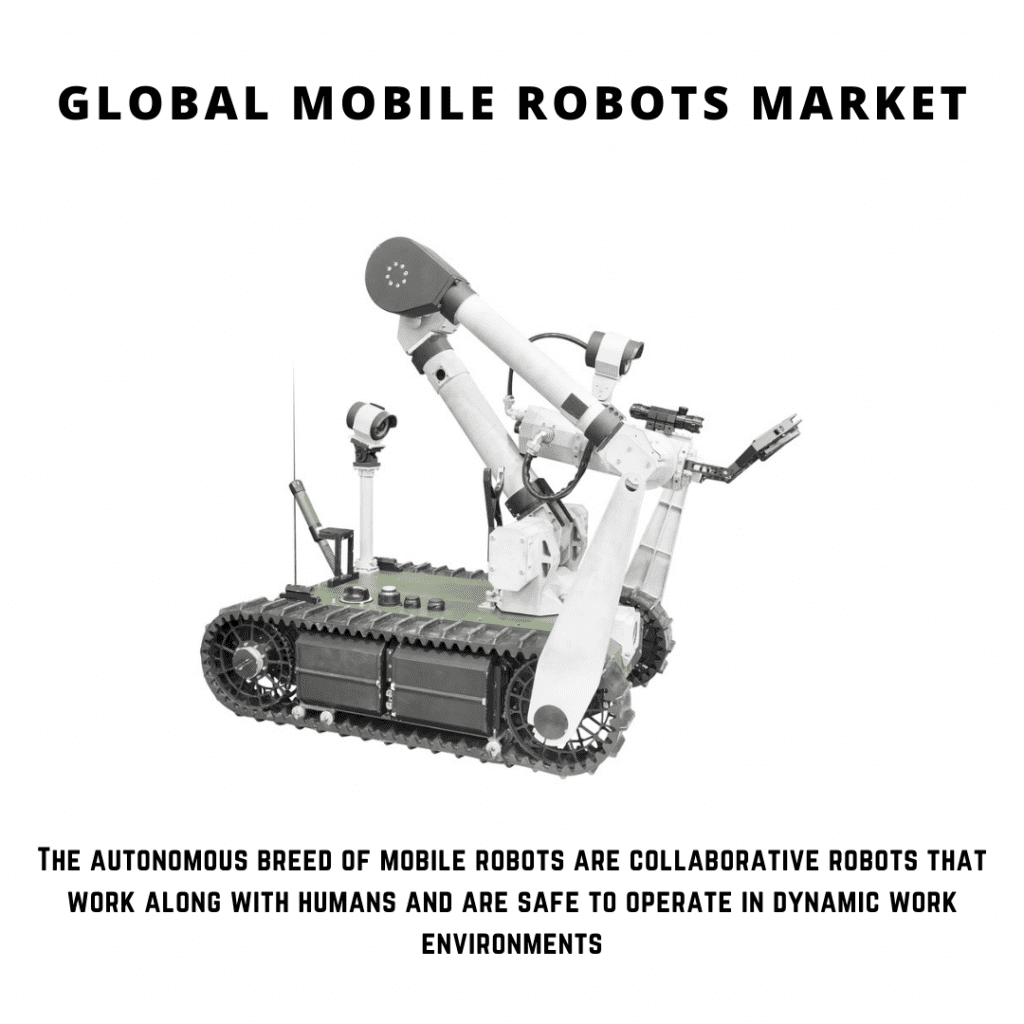 Major components of mobile robots are controllers, sensors, actuators, and power systems. They are classified based on the operating environment, I.e., Aerial, Ground, and Marine. Various other applications of mobile robots are Entertainment, Education, Military, Medical, Public Relations, Logistics, Construction and Demolition, Inspection, and many more.
In the report, we will delve deeper into the topic to understand the dynamics of the market associated with it.
MOBILE ROBOTS MARKET DYNAMICS
The major driving factors for the Global mobile robots' market are listed as:
Development in autonomous technology.

Growing demand for automatic equipment from various industries.

Increased demand for mobile robots in the manufacturing industry.

Increased automation system providers and software developers
On the other side, the high price and high maintenance of Mobile Robots may hinder the growth of this market.
The market is evolving as various stationary controlled products in many industries are being replaced by intelligent mobile robots. To combat rising labor costs and satisfy the greater demand for production, the rate of adoption of mobile robotics is increasing. 
In the previous year, Boeing signed an agreement with Tactical Robotics, in which both the companies work on developing and producing aircraft with vertical take-off and landing capabilities which is based on Tactical Robotics' Fancraft rotor technology. Omron company came into a partnership with Techmetics Robotics, which is a pioneer in Autonomous Mobile Robot solutions. Their partnership yielded a UVC disinfection robot that can automatically navigate and disinfect the surrounding area.
MOBILE ROBOTS MARKET SEGMENTATION
The market is segmented by Operating Environment, Component, Type, and Application.
Based on Operating Environment, the market is bifurcated into Arial, Ground, and Marine. Also, the increased concern of security in various institutions demands more mobile robots in the operational environments.
Based on components, the market is divided into Hardware (Sensors, Control systems, etc.) and Software.
Based on Type, the market is divided into Professional and Domestic Robots.
Based on application, the market is divided into Military, Medical, Field, Logistics, Human Exoskeleton, etc.
MOBILE ROBOTS MARKET SIZE AND FORECAST
Geographically, the market is divided into North America, Europe, Asia Pacific, and the Rest of the world. Among all the regions, the Asia-Pacific region is considered to be the dominating marketplace because of the increased implementation of domestic robots for maintenance and cleaning, strong demand for UAVs in Australia, Japan, China, and India. Also, the growing use of mobile robots in agricultural and medical appliances creates more opportunities in the marketplace.
The North American region dominates this market because of well-established robotics techniques and the deployment of mobile robots for various applications. Countries like the US, Canada, and Mexico have been spending a significant amount on investing in mobile robots in the aerospace and defense sector. 
The European region has been utilizing mobile robots in the automation and healthcare sector and therefore the market seems promising and profitable in this region in the forecast period.
The development of the Internet of Things and Artificial Intelligence give new aspects in expanding horizons to this marketplace. 
COMPETITVE LANDSCAPE
One of the major challenges that prevail in this market is building devices that can be controlled in a much more efficient and safer manner. 
Various companies are coming up with interesting innovations to advance how mobile robots operate. Companies such as WiBotic are developing machines with wireless battery charging facilities for mobile, aerial and aquatic robots. 
Mobile robotics is transforming factories by providing innovative solutions for manufacturing, inspection, and security. Clearpath Robotics – a Canadian manufacturer of unmanned vehicles for industrial applications has developed the OTTO motors product line of self-driving vehicles for the safe transportation of materials. Adept technologies have been working on designs of a self-navigating autonomous indoor automation vehicle for the transportation of objects weighing up to 60kg. 
The autonomous breed of mobile robots are collaborative robots that work along with humans and are safe to operate in dynamic work environments. Amazon Robotics, a division of Amazon Corporation developed Kiva Robot Systems which are unique orange robots capable of picking and moving products in a warehouse much faster than a human. Such innovations result in efficient and optimized order processing. In the previous year, Omron Automation Americas unveiled their HD-1500 autonomous mobile robot which can handle bulky objects weighing up to 1500 kg.
These robots have gained prominence in the industrial sector with massive advancements in the Industrial Internet of Things.
Companies like Kuka announced the development of a wafer-handling system for automated transfer and handling of semiconductor cassettes. Honeywell corporation has come up with its solution for unloading a wide range of packages from truck trailers and shipping containers. Their solution helps customers in improving workspace safety, reducing staffing challenges, and minimizing damage to the packages.
COMPANY PROFILE
The following list comprises the major market players in the mobile robot market:
Bluefin Robotics Corporation

Adept Technologies

Northgroup Grumman Corporation