Global Motorcycle Battery Market 2020-2025
October 14, 2020

Request Sample
COMING SOON
Multi User License - $750
GLOBAL MOTORCYCLE BATTERY MARKET
INTRODUCTION
Batteries are a critical component of every vehicle and motorcycles are no exception to that. Their prime purpose was and still is to empower SLI(starting, lighting and ignition), but now batteries also have to be strong enough to power on-board electronics and complete propulsion unit in case of electric motorcycle.
MARKET DYNAMICS
Motorcyles are largely used as an affordable means of commuting in Asia, unlike Europe and US where they are predominantly used for touring and adventure purpose.
The global electric motorcycle market is still in infancy stage and will only get to reasonable size in medium term. There are multiple startups in many countries working on electric motorcycles but very few products can be called practical at this point of time.
In April `19 , the four biggest Japanese manufacturers Honda, Kawasaki, Suzuki and Yamaha  announced to work together towards standardizing battery swapping technology for electric motorcycles. This is a significant step taken by the leading manufacturers  and will be pivotal in establishing consumer confidence in electric motorcycles, especially because Honda is a part of this consortium.
In terms of motorcycle lead-acid battery market, the arrival of BS VI emission norms in India(world`s biggest motorcycle market) has necessitated light-weighting,improved power density and higher voltage handling capacity.
HONDA`S DOMINANCE IN ASIA EX CHINA
Honda is the global market leader of motorcycle market. It had 27% share of global and 31% share of Asian motorcycle market. It`s 100-125cc motorbikes serve as reliable daily commuters for millions of Asian consumers.

Any changes in Honda`s two-wheeler battery spec and technology will have direct impact on OE as well has replacement demand.
Yamaha is the second biggest global motorcycle manufacturer with 9% global share and 11% share in the Asian market.
MOTORCYCLE BATTERY MARKET SEGMENTATION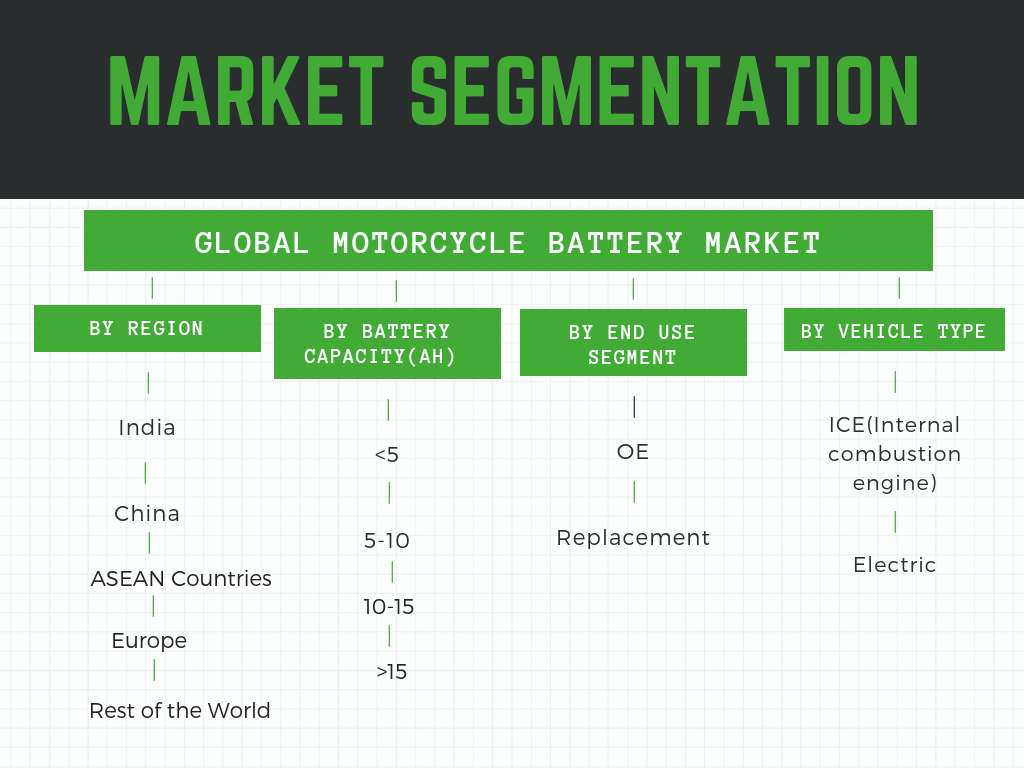 TOP 10 BEST-SELLING MOTORCYCLES GLOBALLY, EXCLUDING CHINA AND THEIR BATTERY CAPACITY
Sl no
Country
Brand
Model
Estimated annual sales-FY 2019
(`000 Units)
Engine capacity(CC)
Battery size(Ah)
1
India
Honda
Activa
3,000
110-125
4
2
Indonesia
Honda
Beat
3,400
110
4
3
India
Hero
Splendour
2,800
100
3
4
Indonesia
Honda
Vario 125 & 150
2,400
125-150
5-7
5
India
Hero
HF Deluxe
1,900
100
3
6
Multiple ASEAN countries
Honda
Scoopy
1,840
110
5
7
Multiple ASEAN countries
Yamaha
N Max
1,200
125-155
7
8
India
Honda
CB Shine
1,000
125
4
9
India
Bajaj
Pulsar Series
925
135-220
5-8
10
India
Hero
Passion
910
100
3
MARKET SIZE AND FORECAST
The global motorcycle battery market is largely concentrated in Asia(>90% share), with Europe and American continent accounting for <8% share cumulatively.
India and China alone account for ~60% of global new motorcycle battery sales i.e. ~37-40 M units. ASEAN countries account for 22-25% and several other countries account for remaining 18-20%.
It must be noted that the best-selling motorcycles in India are priced at $600-$900 per unit which is 25-35% less than ASEAN Countries and 60-75% less than in Europe and US.
The 100-110CC scooters/motorcycles have 3-4Ah battery whereas the 200-500CC motorcycles are equipped with 8-14Ah battery.
The global motorcycle battery market is estimated at $XX Million in 2019 and $YY Million by 2025.
COMPETITIVE LANDSCAPE
The global motorcycle battery market is fragmented with numerous players occupying very little market share. However, companies like Exide and GS Yuasa have significant market share due to wide global presence,strong distributor network and diverse product portfolio.
In India, the share of unorganized battery manufacturers is ~20-25% of total automotive battery market. To counter unorganized battery manufacturers, the organised players are promoting budget brands at competitive pricing and shorter warranty period. They are also expanding distribution network in the semi-urban and rural markets- the biggest market for unorganized players, where consumer awareness and purchasing power is among the lowest.Many OEMs are also looking to launch tubular batteries in the adjacent E-rickshaw/eelctric three wheeler market.
COMPANY PROFILES
Exide Industries Limited
Amara Raja Batteries Limited
Base Corporation Limited
SF Sonic Batteries
TATA Autocomp GY Batteries Private Limited
Scorpion Battery, Inc
EnerSys Energy Products Inc.
GS Yuasa International Ltd
MotoBatt Limited
VARTA Automotive
FIAMM Energy Technology S.p.A.
THIS REPORT WILL ANSWER THE FOLLOWING QUESTIONS
How big is the motorcycle replacement battery market as compared to OE market?
The growth in 200cc+ motorcycle segment in India and overall battery capacity post BS VI in 2020
Which country and battery segment generates biggest motorcycle replacement battery demand per annum ?
How is the aftermarket battery value chain different in India and China?
A detailed assessment of Chinese motorcycle battery market and the impact of ban on ICE motorcycles in major cities ?
What will be the impact of growth in electric motorcycle sales on battery market?
Major issues faced by battery manufacturers and how they plan to overcome it?
Competitive landscape in highly unorganized replacement battery market and organized OE market
Which countries account for majority of motorcycle battery manufacturing?
Opportunity in battery e-retailing in all major countries
Global outlook on availability of raw materials like Lead and Lead alloy
Developments in battery recycling and its impact on overall ecosystem
The impact of Indian and Chinese economy slowdown and tariff war on motorcycle battery market
How will on-demand micro-mobility,metro expansion and ride hailing impact motorcycle sales in Asia?
The growth potential of battery swapping for electric two wheelers, will it generate additional demand?
TO REQUEST A SAMPLE, PLEASE FILL THE  CONTACT US FORM
| | |
| --- | --- |
| 1 | Market Segmentation |
| 2 | Scope of the report |
| 3 | Abbreviations |
| 4 | Research Methodology |
| 5 | Executive Summary |
| 6 | Introduction |
| 7 | Disruptive innovation in the Industry |
| 8 | Technology trends in the Industry |
| 9 | Consumer trends in the industry |
| 10 | COVID-19 impact on overall market |
| 11 | Market Segmentation, Dynamics and Forecast by Geography, 2020-2025 |
| 12 | Market Segmentation, Dynamics and Forecast by Product Type, 2020-2025 |
| 13 | Market Segmentation, Dynamics and Forecast by Application, 2020-2025 |
| 14 | Market Segmentation, Dynamics and Forecast by End use, 2020-2025 |
| 15 | Incline/Decline in Average B-2-B selling price in past 5 years |
| 16 | Gross margin and average profitability of suppliers |
| 17 | New product development in past 12 months |
| 18 | M&A in past 12 months |
| 19 | Growth strategy of leading players |
| 20 | Market share of vendors, 2020 |
| 21 | Company Profiles |
| 22 | Unmet needs and opportunity for new suppliers |
| 23 | Conclusion |
| 24 | Appendix |