Global Motorcycle Engine Oil Market 2019-2025
November 27, 2019

Request Sample
COMING SOON
Multi User License - $2,500
GLOBAL MOTORCYCLE ENGINE OIL MARKET
INTRODUCTION
The most common grades of motorcycle engine oil, sold worldwide have viscosity rating of  10W40, 10W30,15W40,15W50 20W40 and 20W50.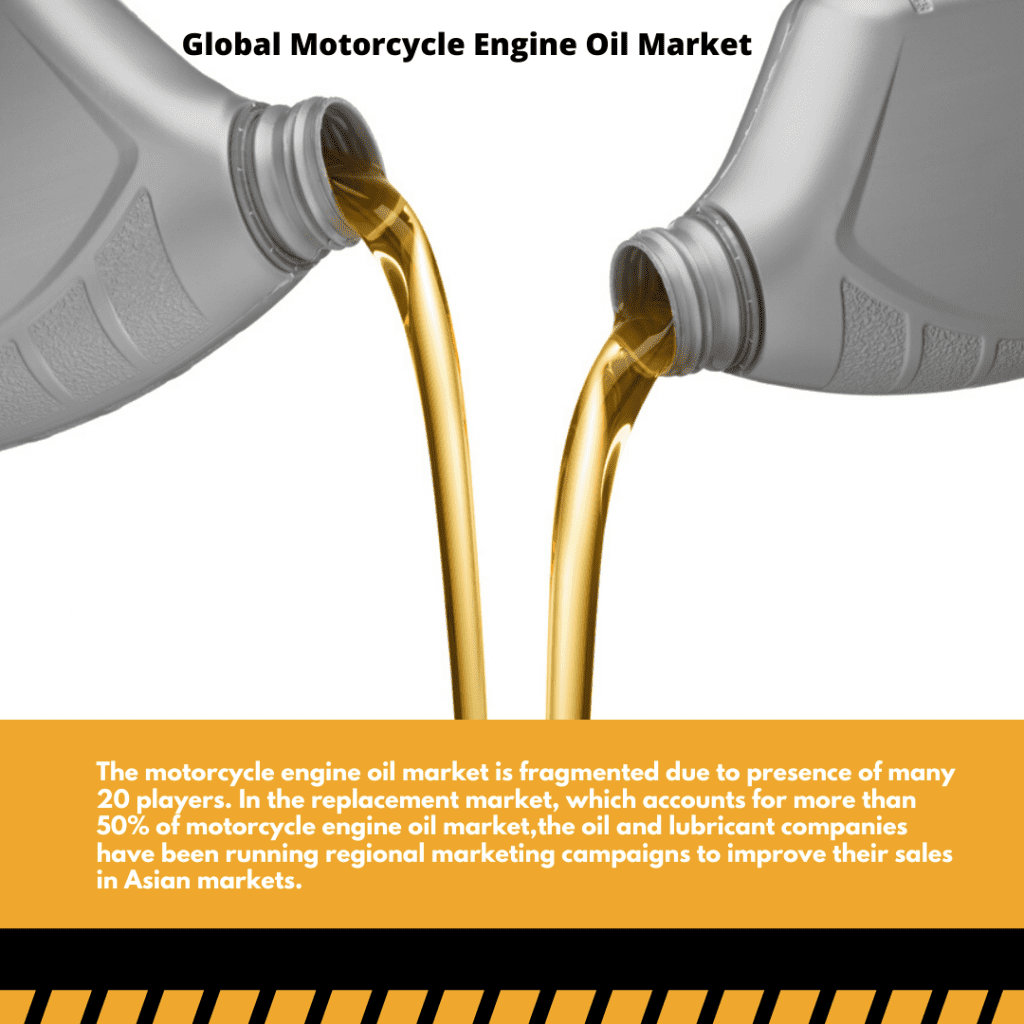 MARKET DYNAMICS
In the quest for higher specific power outputs by motorcycle OEMs, the engine oil suppliers have to closely involved to remain updated with the latest requirements.
The new engine oils launched by most oil and lubricant companies are aimed at improving following characteristics
Engine Protection
Long Engine Life
Low friction
Higher resistance to oxidation
Easy engine start-up
Improve fuel efficiency, gear-shift and extend wet-clutch action
MOTORCYCLE ENGINE OIL MARKET SEGMENTATION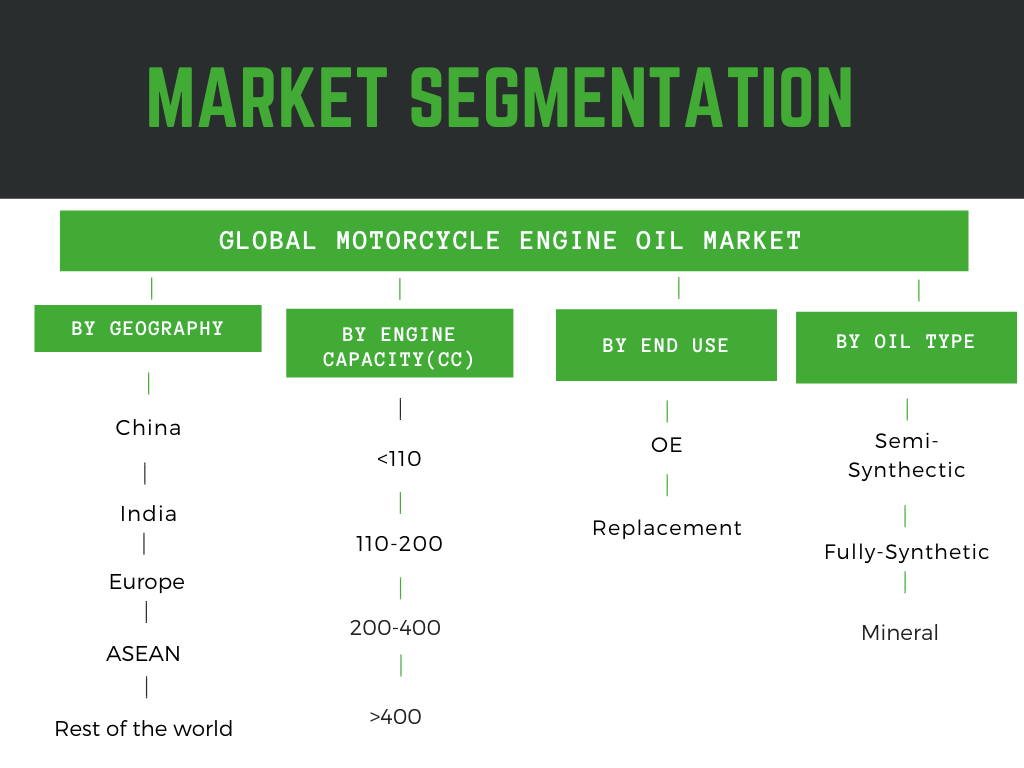 MARKET SIZE AND FORECAST
Asia-Pacific accounts for more than 80% consumption of motorcycle engine oil in OE as well as replacement market.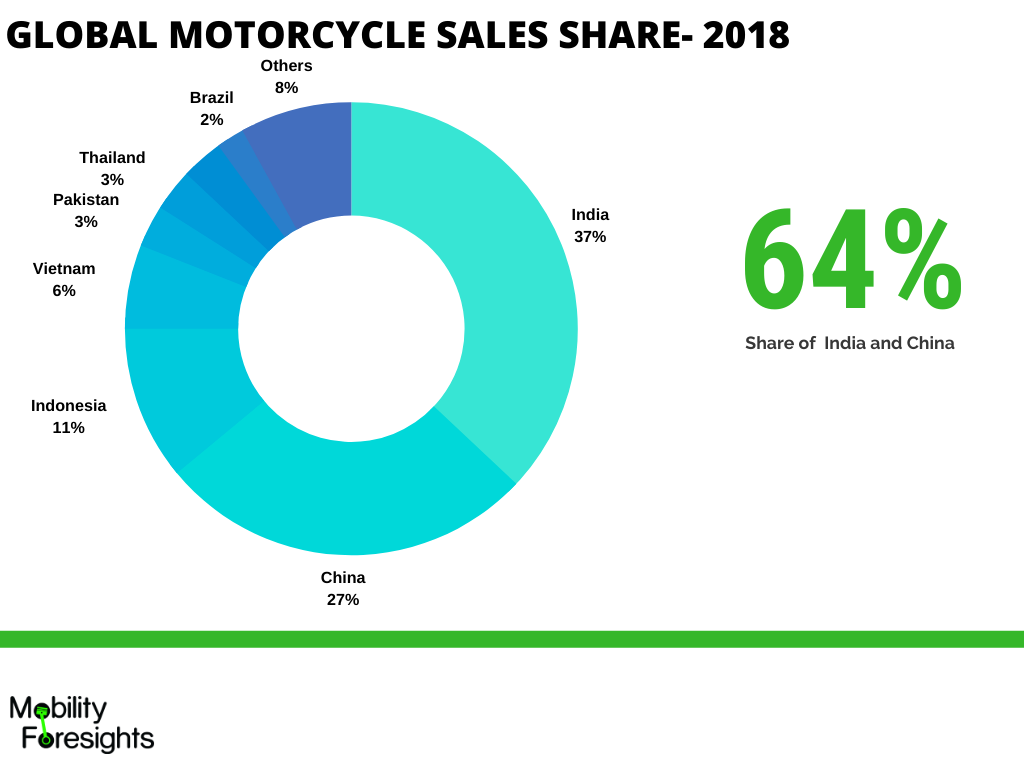 India, which is the biggest market for motorcycles/two wheeler with more than 300 Million vehicles on road, Low cost Mineral oils are more preferred to semi-synthetic and fully-synthetic oils.But,  the market for synthetic oil is a fast growing one in India. especially in tier-1 cities.
The premium(fully synthetic  oils)  are manufactured from high quality base oil and additives  and ar ethus priced at a premium of 30-60% on similar grade mineral/semi-synthetic oil.
The price of  engine oil in the replacement market varies from $7-$9 per liter for semi-synthetic oil to $10-$15 per liter for fully synthetic oil.
In the replacement/aftermarket segment 1L bottles are the highest selling segment as most of the commuter segment bikes have a 110cc-125cc engine and low engine oil capacity. For engines with >200cc capacity, 2.5L bottles are more common.
The motorcycle engine oil market is estimated at XX Kilo Liters and $XXM annually.
COMPETITIVE LANDSCAPE
The motorcycle engine oil market is fragmented due to presence of many 20 players. In the replacement market, which accounts for more than 50% of motorcycle engine oil market,the oil and lubricant companies have been running regional marketing campaigns to improve their sales in Asian markets.
COMPANY PROFILES
HP Lubricants
Honda
Royal Purple
THIS REPORT WILL ANSWER THE FOLLOWING QUESTIONS
The growth in 200cc+ motorcycle segment in India and overall battery capacity post BS VI in 2020
How is the aftermarket engine oil value chain different in India and China?
A detailed assessment of Chinese and Indian motorcycle engine market and the impact of ban on ICE motorcycles in major cities ?
What will be the impact of growth in electric motorcycle sales on battery market?
Which countries account for majority of motorcycle engine manufacturing?
Global outlook on availability of raw materials like crude oil
How will on-demand micro-mobility,metro expansion and ride hailing impact motorcycle engine oil sales in Asia?
TO REQUEST CUSTOMIZATION, PLEASE FILL THE  CONTACT US FORM
| | |
| --- | --- |
| Sl no | Topic |
| 1 | Market Segmentation |
| 2 | Scope of the report |
| 3 | Abbreviations |
| 4 | Research Methodology |
| 5 | Executive Summary |
| 6 | Introduction |
| 7 | Insights from Industry stakeholders |
| 8 | Cost breakdown of Product by sub-components and average profit margin |
| 9 | Disruptive innovation in the Industry |
| 10 | Technology trends in the Industry |
| 11 | Consumer trends in the industry |
| 12 | Recent Production Milestones |
| 13 | Component Manufacturing in US, EU and China |
| 14 | COVID-19 impact on overall market |
| 15 | COVID-19 impact on Production of components |
| 16 | COVID-19 impact on Point of sale |
| 17 | Market Segmentation, Dynamics and Forecast by Geography, 2020-2025 |
| 18 | Market Segmentation, Dynamics and Forecast by Product Type, 2020-2025 |
| 19 | Market Segmentation, Dynamics and Forecast by Application, 2020-2025 |
| 20 | Market Segmentation, Dynamics and Forecast by End use, 2020-2025 |
| 21 | Product installation rate by OEM, 2020 |
| 22 | Incline/Decline in Average B-2-B selling price in past 5 years |
| 23 | Competition from substitute products |
| 24 | Gross margin and average profitability of suppliers |
| 25 | New product development in past 12 months |
| 26 | M&A in past 12 months |
| 27 | Growth strategy of leading players |
| 28 | Market share of vendors, 2020 |
| 29 | Company Profiles |
| 30 | Unmet needs and opportunity for new suppliers |
| 31 | Conclusion |
| 32 | Appendix |