Global Motorcycle Fuel Injection System Market 2019-2025
November 27, 2019

Request Sample
COMING SOON
Multi User License - $2,500
GLOBAL MOTORCYCLE FUEL INJECTION SYSTEM MARKET
INTRODUCTION
Fuel injection system in motorcycles/scooters offer significant advantage over carburettor equipped vehicles
7-10% better fuel economy
Better cold start performance
50% reduced CO and HC emissions
5-7% more power and torque
MARKET DYNAMICS
In Japan, which now accounts for less than 1% of global motorcycle sales. All Honda scooters were offered with Fuel injection (PGM-FI) since 2007, and the majority of models for sale in ASEAN markets were  equipped with PGM-FI by 2010-2013. 
In US and Europe, all motorcycles and scooters are equipped with fuel injection system. But in cost-sensitive markets like India, Pakistan and Brazil, most of the motorcycles/scooters are still equipped with carburetors.
More than 95% mtorcyles sold globally are equipped with manual throttle bodies and only ~5% are quipped with electronic throttle bodies.
MOTORCYCLE FUEL INJECTION SYSTEM MARKET SEGMENTATION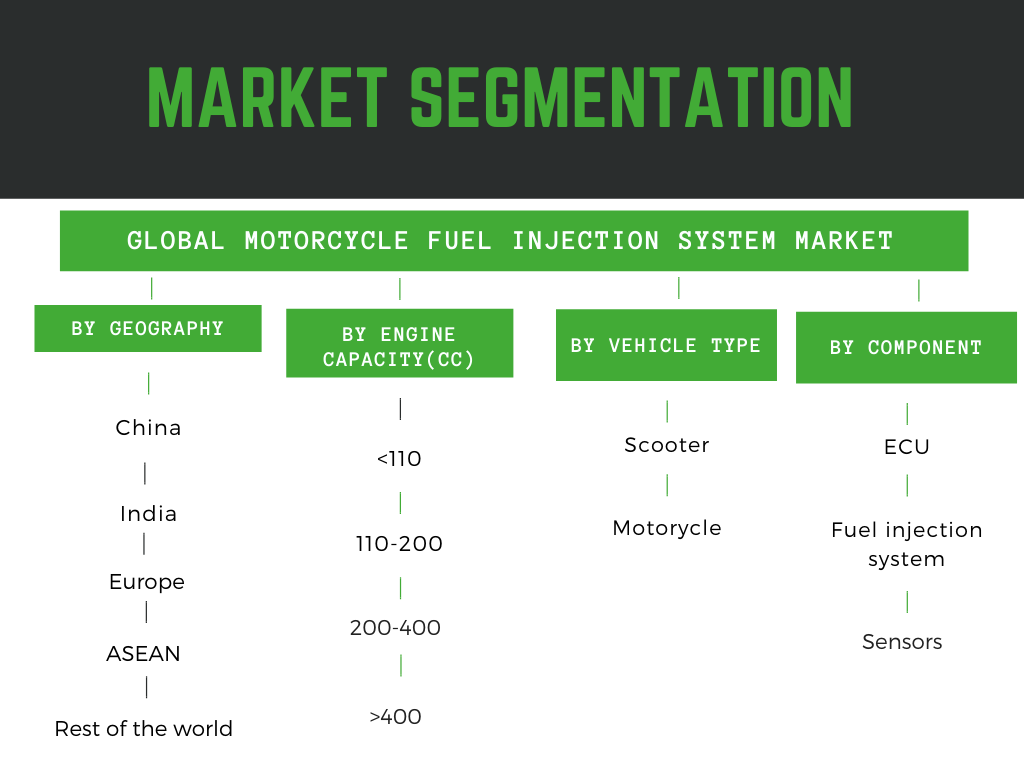 MARKET SIZE AND FORECAST
The global motorcycle sales was 55 Million units in 2018, growing at 3-4% CAGR in past two years. India and China are two biggest markets, accounting for 64% global cumulative share.

INDIA MOTORCYCLE FUEL INJECTION SYSTEM MARKET
India which accounts for 37% market share of motorcycles sold globally.The overall Indian economy has slowed down to various structural reforms in the economy and legislative reforms( ABS legislation, BS III to BS VI in two years etc).There are 813 auto component suppliers in India and ~70% of them are Micro-small and Medium Enterprises (Revenue< $35Million). They have been adversely affected due to the prolonged slowdown.
At present, less than 5% scooters/motorcycles sold are fuel injected and the rest are carburetted. But, due to upcoming BS6 emission norms this is expected to change drastically and we expect more than 95% vehicles to become fuel injected. Growing Fuel injection peentration is also expected to impact electronics and lighting market. To know more about the impact on lighting market, read our report Automotive LED lighting market in India.
In the light of upcoming BS6 emission norms,Honda Motorcycles & Scooters India has launched the BS-VI-compliant Activa 125 for the top 50 cities. But  the impact on demand has been much less than was expected.
COMPANY PROFILES
Bosch (Robert Bosch GmBH)
Continental AG
Delphi Plc
Denso Corporation
Keihin Corporation
Marelli(Calsonic Kansei Corporation)
Walbro Engine Management LLC
Mikuni Corporation
Honda
THIS REPORT WILL ANSWER THE FOLLOWING QUESTIONS
The growth in 200cc+ motorcycle segment in India and overall motorcycle fuel injection system  capacity post BS VI in 2020
A detailed assessment of Chinese and Indian motorcycle engine market and the impact of ban on ICE motorcycles in major cities ?
What will be the impact of growth in electric motorcycle sales on motorcycle fuel injection system market?
Which countries account for majority of motorcycle engine manufacturing?
Global outlook on availability of raw materials like steel and aluminum
How will on-demand micro-mobility,metro expansion and ride hailing impact motorcycle sales in Asia?
TO REQUEST CUSTOMIZATION, PLEASE FILL THE  CONTACT US FORM
| | |
| --- | --- |
| Sl no | Topic |
| 1 | Market Segmentation |
| 2 | Scope of the report |
| 3 | Abbreviations |
| 4 | Research Methodology |
| 5 | Executive Summary |
| 6 | Introduction |
| 7 | Insights from Industry stakeholders |
| 8 | Cost breakdown of Product by sub-components and average profit margin |
| 9 | Disruptive innovation in the Industry |
| 10 | Technology trends in the Industry |
| 11 | Consumer trends in the industry |
| 12 | Recent Production Milestones |
| 13 | Component Manufacturing in US, EU and China |
| 14 | COVID-19 impact on overall market |
| 15 | COVID-19 impact on Production of components |
| 16 | COVID-19 impact on Point of sale |
| 17 | Market Segmentation, Dynamics and Forecast by Geography, 2020-2025 |
| 18 | Market Segmentation, Dynamics and Forecast by Product Type, 2020-2025 |
| 19 | Market Segmentation, Dynamics and Forecast by Application, 2020-2025 |
| 20 | Market Segmentation, Dynamics and Forecast by End use, 2020-2025 |
| 21 | Product installation rate by OEM, 2020 |
| 22 | Incline/Decline in Average B-2-B selling price in past 5 years |
| 23 | Competition from substitute products |
| 24 | Gross margin and average profitability of suppliers |
| 25 | New product development in past 12 months |
| 26 | M&A in past 12 months |
| 27 | Growth strategy of leading players |
| 28 | Market share of vendors, 2020 |
| 29 | Company Profiles |
| 30 | Unmet needs and opportunity for new suppliers |
| 31 | Conclusion |
| 32 | Appendix |