GLOBAL MOTORCYCLE INSURANCE MARKET
KEY FINDINGS
The Insurance Regulatory and Development Authority of India (IRDAI) has approved the increase in premium of third-party motor insurance from FY20, the premium has increased 21% for premium motorcycles.
Motorcycle Insurance costs in the US (21 % higher) and UK (14 % higher), India offers a 15 % discount on premiums for third-party insurance cover on electric vehicles.
As the pandemic began to spread in March and mandated shutdowns followed suit, the widespread turn to remote work meant that vehicles were left parked for potentially weeks, if not months. As a result, many auto insurers in the US began to offer discounts and refunds on their customer in auto insurance premiums.
Amazon has tied up with Acko General Insurance Ltd to offer two- and four-wheeler insurance policies in India through amazon pay.
INTRODUCTION
Insurance protects against the financial risks that are present at all stages of people's lives and businesses. Insurers protect against loss of motorcycle and pay the policyholder or designee a benefit in the event of that loss. Those who suffer the loss present a claim and request payment under the insurance coverage terms, which are outlined in a policy. Insurers typically cannot replace the item lost but can provide financial compensation to address the economic hardship caused by a loss.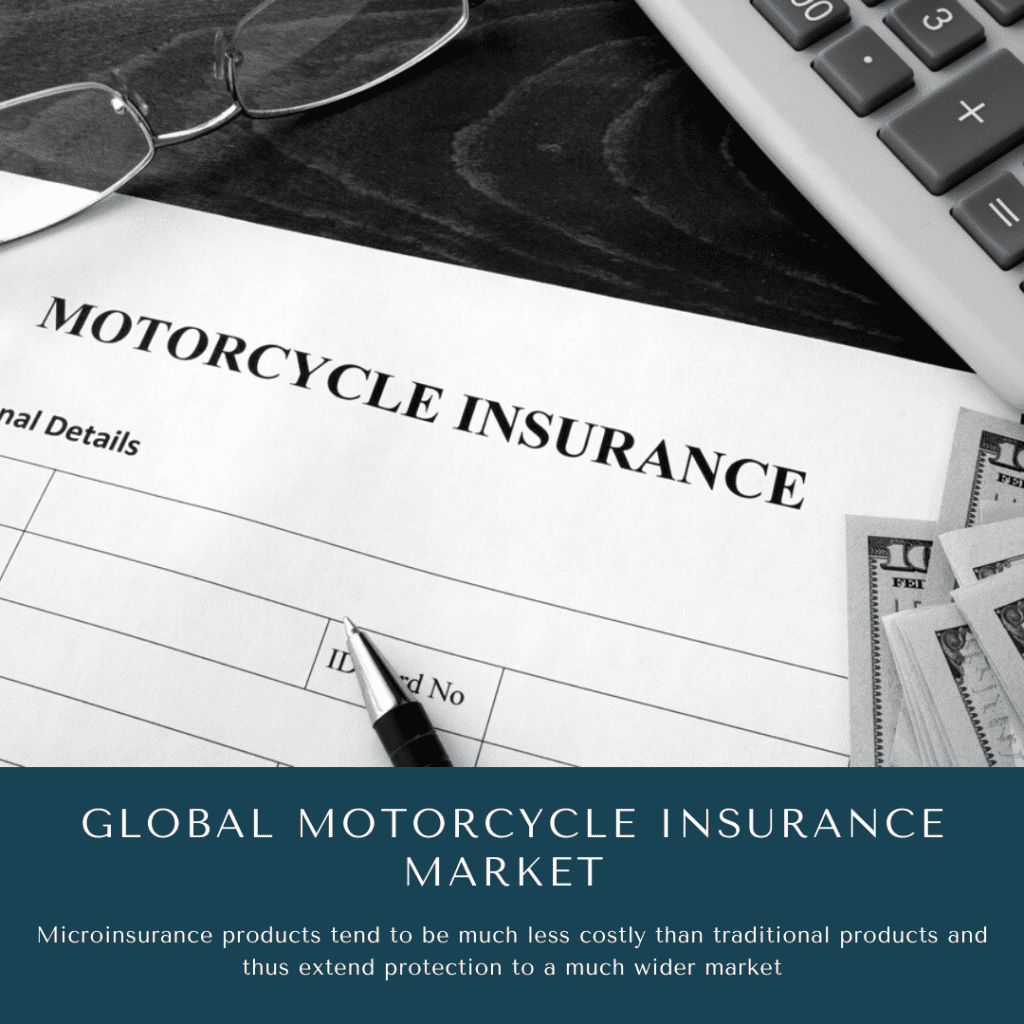 Companies protect individuals and businesses from financial loss. Money, they receive as premiums is invested in the economy. Protection from financial loss provides a sense of security to individuals and businesses, which are freer to pursue business and personal opportunities with less worry about financial devastation.
MOTORCYCLE INSURANCE MARKET DYNAMICS
Companies are tending towards Automated Process with Artificial Intelligence (AI) as they will occupy center stage in insurance, driven by newer data channels, better data processing capabilities and advancements in AI algorithms.
While AI eliminates brokers and paperwork, its behavioural economics capabilities minimize fraud – leading to reduced time, effort and costs. Insurer's virtual assistant answers customer queries on policies and payments. Claims are assessed and pay out property claims within seconds. Automated insurance agents interact with customers through a mobile app and other messenger platforms to help in the purchase of the right policies.
As countries relax lockdown measures and urban mobility resumes, consumption will eventually pick up, road congestion will return and so will the inevitable increased risks such as traffic tickets, accidents, vehicle thefts and fleet damages.
A growing number of insurers are tapping into markets in developing countries through microinsurance projects, which provide low-cost insurance to individuals generally not covered by traditional insurance or government programs. Microinsurance products tend to be much less costly than traditional products and thus extend protection to a much wider market.
Products vary in type and structure but are generally distinguished by high volumes, low cost and efficient administration. Policies may be offered along with a small loan, with premiums that are a small percentage of the loan amount.
With limited growth prospects in the insurance markets of developed countries, insurers see emerging economies as presenting significant potential for growth and profitability. Premium growth in developing countries has been outpacing growth in industrialized countries. Swiss Re identifies emerging markets as countries in South and East Asia, Latin America and the Caribbean, Central and Eastern Europe, Africa, the Middle East (excluding Israel), Central Asia, and Turkey.
World insurance markets reported that premiums in emerging countries rose 6.6 percent in 2019, after adjusting for inflation, compared with 1.9 percent in 2018, and were mainly China-driven.
Growth in developing markets outpaced growth in advanced markets, where premiums increased 2.1 percent in 2019 after rising 3.5 percent in 2018. Emerging markets accounted for 18.5 percent of total global premium volume in 2019, compared with 21.3 percent in 2018.
MOTORCYCLE INSURANCE MARKET SIZE AND FORECAST
Global motorcycle insurance market is estimated at $XX Billion Premium in 2020 and growing at XX% CAGR till 2025.
COMPETITIVE LANDSCAPE
Since the cost of electric cars is considerably higher compared to that of other fuel variants, insurance is also expensive. The costliest component to be insured in an electric car is the battery, which accounts for 40-60 percent of the vehicle cost. As and when battery prices drop, vehicle and insurance costs would also reduce. But insurers have their eye on the performance of batteries and their durability as the claims amount would be skewed towards this hefty cost if it needs to be replaced.
Allstate recently tested Virtual Assist using the collaboration software to create internal efficiencies before deciding to license the right to use it across its organization. The technology, licensed by Allstate, helps a body shop employee, or potentially a vehicle owner, connect with another employee using real-time video and skill routing technology to gain capacity, reduce overall cycle time and improve the customer experience.
Farmers Insurance announced the launch of Crash Assist, a new feature included within their app that helps connect drivers with emergency services in the event of an accident and offers help in reporting a claim, if desired. The crash detection feature will be available via app update to all customers by March 2021.
COMPANIES PROFILED