Global N95 Mask Market 2020-2025
May 10, 2020

Request Sample
Coming Soon
Multi User License - $2,500
GLOBAL N95 MASK MARKET
INTRODUCTION
N95 Grade Medical Protective Mask is a respiratory protective device designed to achieve efficient filtration of airborne particles. The N95 respirators when subjected to testing are expected to block at least 95% of 0.3 micron particles, hence the name N95 respirators. These N95 Respirators are not oil proof.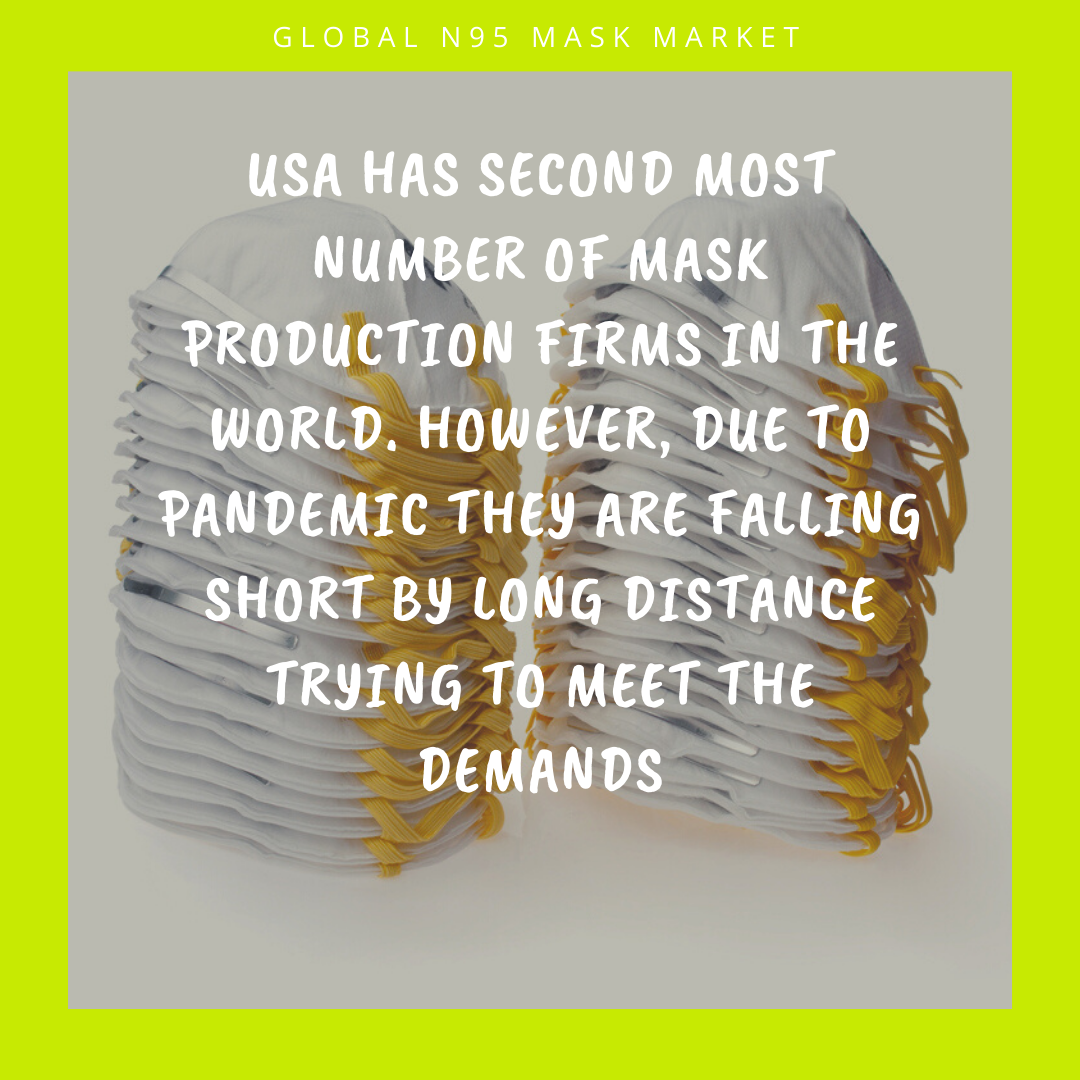 There are other masks with P and R rating similar to N rating which are oil proof. Some of the masks with different ratings are:
N95 – Not oil resistant and filters at least 95% of airborne particles
R99 – Oil resistant and filters at least 99% of airborne particles
P100 – Oil proof and filters at least 99.97% of airborne particles
The N95 masks have seen uncontrollable rise in demand from all over the world due to spread of COVID-19 pandemic.
MARKET SEGMENTATION
By Geography
Top 30 countries with highest COVID-19 infections 
By Distributor
Hospital / Clinic
Drug Store
Online Store
By Exhalation Valve
Mask with Exhalation Valve
Mask without Exhalation Valve
MARKET DYNAMICS
China used to produce about more than half of the world's mask production. Daily production was about 20 million units per day. Ever since the pandemic broke out first in China in December 2019, there had been temporary shutdown of the factories causing disrupt in production of these masks. Now, that factories are commencing slowly they are finding it hard to meet even the local demands and are not able to respond to global orders.
Factories that used to make phones and cars are turned to produce masks. Machines that once churned out fibrous material for diapers and sanitary pads are being re-tooled to produce materials for masks these days.
The below info graphic shows the share of hospitals, drug store and online store distribution channel: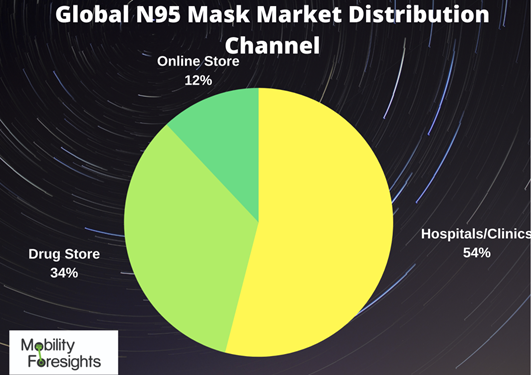 MARKET BY EXHALATION VALVE
The N95 respirators are available in 2 variants with respect to exhalation valve, one being without the valve, where it is just the layers of filter and the strap. This is cheaper in cost, but since they pose breathing difficulty for the people it is less preferred.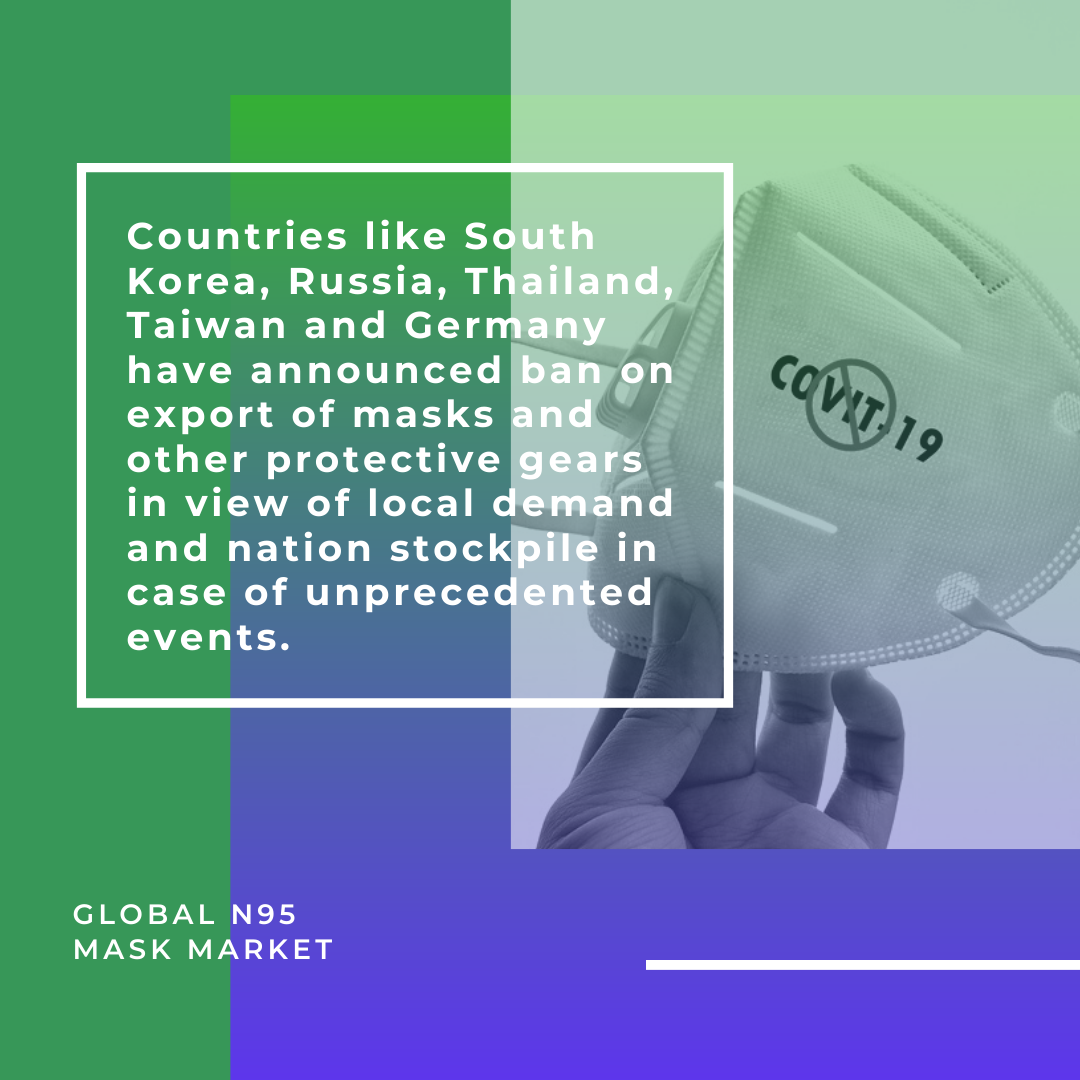 The masks with the exhalation valve make it easier for breathing and reduce sweat. Hence, these are in demand and are used extensively by the medical personnel. These masks are undoubtedly expected to hit high sales in the days to come.
US N95 MASK MARKET
USA has second most number of mask production firms in the world. However, due to pandemic they are falling short by long distance trying to meet the demands. They have about only 1% of required masks required to combat the outbreak. They are planning to buy 500 million masks for the nation stockpile. Prestige Ameritech largest US surgical mask manufacturer, said to have received a request to supply 1.5 billion masks.
In US, Centres for Disease Control and Prevention (CDC) has recommended the public to not to buy the N95 masks so as to limit its supply to medical personnel. Instead it has asked the consumers to stay at home and avoid being exposed to virus. But the public are paying no heed to this as the fear has taken over them and the demand for N95 masks have risen to all time high.
3M factories in Nebraska and South Dakota are producing 35 million N95 masks a month and 90% of them are dedicated for healthcare workers.
Honeywell is seeking $5 billion term loan to ramp up the N95 mask production.
EUROPE N95 MASK MARKET
Europe has its own standard i.e. EU 143 and EU 149. Based on these standards there are few mask ratings, FFP2 is one of them. FFP2 respirators are approximately closer to N95 masks. LVMH luxury conglomerate has committed to supply 40 million FFP2 masks for France from a Chinese distributor.
As Italy is now the worst affected European country due to COVID-19, by April 1st week 2020
Italy had a monthly requirement of 90 million masks.
Italy has secured total of 14 million masks each week from China till May 2020 including 8 million N95/FF2 masks
Czech Republic has sent about 110,000 face masks to Rome.
Germany is the third worst affected European economy, therefore
Automakers Volkswagen and Daimler Group have agreed to provide over 300,000 masks to health authorities that was available at their stockpile.
Volkswagen Group to donate medical supplies sourced form China worth almost 45 million USD. It also donated 200,000 FFP-2 masks.
Auto part manufacturer Zettl Automotive has been producing face masks instead of leather seats
Wegerich GmbH is making reusable protective mask and are making 2,000 masks a day
France is also struggling with N95 Mask production
Domestic mask manufacturers are able to produce only 8 million masks per week.  Whereas the requirement is 40 million each week.
France has ordered for 1 billion face masks, notably from China.
Belgium is expecting a delivery of 14 million surgical masks and 1.2 million FF2/N95 masks. from China.
H&M Sweden's fashion brand is producing masks at its factories and will produce 100,000 masks in the first batch and deliver it to Spain and Italy. Ikea has started the production of masks and other protective equipment.
FUNDING ALLOTED BY COUNTRIES TO FIGHT COVID-19
The following 24 countries have alloted $1.7 Trillion Dollars to fight COVID-19. Germany alone accounts for almost half of that.
| | |
| --- | --- |
| Country | $Billion |
| Spain | 223 |
| Germany | 808 |
| Iran | 5 |
| France | 50 |
| S. Korea | 9.8 |
| Switzerland | 42.6 |
| UK | 14.8 |
| Netherlands | 22 |
| Austria | 42 |
| Belgium | 8.6 |
| Norway | 2 |
| Sweden | 29.6 |
| Australia | 2.4 |
| Brazil | 144 |
| Canada | 82 |
| Malaysia | 58 |
| Turkey | 15.5 |
| Israel | 22.9 |
| Ireland | 3.3 |
| Pakistan | 7.2 |
| Thailand | 3 |
CHINA N95 MASK MARKET
KN95 is the N95 equivalent respirator as per Chinese standard. China the worst affected country by the ongoing COVID-19 pandemic has been producing the masks at rapid rate. They produce about 200 million masks a day as of March 2020, which is 20 times more compared to what they used to produce in February 2020.
Out of these 200 million China produce only 600,000 standard N95 masks used by medical personnel.
RECENT N95 MASK MARKET TRENDS
In countries like Japan and Germany doctors are being told to reuse the mask they get daily due to lack of supply.
Countries like South Korea, Russia, Thailand, Taiwan and Germany have announced ban on export of masks and other protective gears in view of local demand and nation stockpile in case of unprecedented events.
3M US MNC is expected to produce 35 million respirators a month and are strived to prioritize the supply to medical personnel first and then to the public.
Greece to get 500,000 masks mainly consisting of FFP2 masks from China
South Korea has imported 2.5 tons mask filters which is expected to help produce 2.5 million protective masks.
South Australia's packaging manufacturer Detmold Group is pivoting towards manufacturing of surgical and respirator masks to assist fight against COVID-19. The aim is to produce 100 million masks for National Medical Stockpile and 45 million for South Australia Health. Nobody Denim makers has converted their factory to produce 12,000 masks per week.
MARKET SIZE AND FORECAST
The over reliance on one country (China) has caused a serious imbalance in the market of the surgical masks and respirators. On parallel, Chinese engineering firms have started to build loads of machines that churn out the fibrous material; even though it takes time the production of masks is expected to skyrocket in months to come.
The global N95 Mask market is estimated at $XX Billion in 2020, a rise of 5X YOY.
COMPETITIVE LANDSCAPE
The outbreak has led to constant and rigorous working of various companies towards mass production of surgical and N95 masks. Honeywell and 3M multinational conglomerate companies are leading the production in US and other plants across the world. Prestige Ameritech limited to mask production has been supplying to countries all over the world. Shanghai Dasheng and Te Yin are some of the respirator manufacturers from China. DACH Schutzbekleidung GmbH (Germany) and Cambridge Mask Co (UK) are some of the European mask manufacturers.
COMPANY PROFILE
KOWA
Shanghai Dasheng
DACH Schutzbekleidung GmbH & Co. KG
Te Yin
Hakugen
THIS REPORT WILL ANSWER FOLLOWING QUESTIONS
Possible expected demand of N95 Masks, by Top 60 countries
Market Size and Forecast( Volume and Value), by Product Type- 2020-2025
Common Policy shifts announced by governments and organizations such as WHO, IEF
Budget allocated for emergency funding, by country 
Country-wise plans to combat such situations in the future
Domestic production volume and overall shortage of Product in all 60 countries
Global competitive Landscape, Market share and Company Profiles
| | |
| --- | --- |
| Sl no | Topic |
| 1 | Market Segmentation |
| 2 | Scope of the report |
| 3 | Abbreviations |
| 4 | Research Methodology |
| 5 | Executive Summary |
| 6 | Introduction |
| 7 | Insights from Industry stakeholders |
| 8 | Cost breakdown of Product by sub-components and average profit margin |
| 9 | Disruptive innovation in the Industry |
| 10 | Technology trends in the Industry |
| 11 | Consumer trends in the industry |
| 12 | Recent Production Milestones |
| 13 | Component Manufacturing in US, EU and China |
| 14 | COVID-19 impact on overall market |
| 15 | COVID-19 impact on Production of components |
| 16 | COVID-19 impact on Point of sale |
| 17 | Market Segmentation, Dynamics and Forecast by Geography, 2020-2025 |
| 18 | Market Segmentation, Dynamics and Forecast by Product Type, 2020-2025 |
| 19 | Market Segmentation, Dynamics and Forecast by Application, 2020-2025 |
| 20 | Market Segmentation, Dynamics and Forecast by End use, 2020-2025 |
| 21 | Product installation rate by OEM, 2020 |
| 22 | Incline/Decline in Average B-2-B selling price in past 5 years |
| 23 | Competition from substitute products |
| 24 | Gross margin and average profitability of suppliers |
| 25 | New product development in past 12 months |
| 26 | M&A in past 12 months |
| 27 | Growth strategy of leading players |
| 28 | Market share of vendors, 2020 |
| 29 | Company Profiles |
| 30 | Unmet needs and opportunity for new suppliers |
| 31 | Conclusion |
| 32 | Appendix |