North America Recreational Vehicle Market 2020-2025
July 31, 2020

Request Sample
Coming Soon
Multi User License - $1,800
NORTH AMERICA RECREATIONAL VEHICLE MARKET
Key Findings
RV Shipments in North America decreased by about 2.1 % in 2019 YOY but is expected to grow in 2020-2023
Pessimistic growth is possible due to the impact of COVID-19.
Camping accounts for about 1/3rd of total outdoor activity mainly in USA and Canada. This allows for increasing demand for RV Vehicles in the region
The hashtag #vanlife has been used more than 7.7 Million times on Instagram.
In 2017 more than 500,000 RVs were sold, an increase of about 17% from 2016, and has grown in sales by about 200% from 2009.
The average RV owner ages between 38-55 and are male.
Approximately 1 million Americans live in RVs full time.
Over 11% of US households own a recreational vehicle.
The industry supports nearly 600,000 jobs.
There are over 16,000 campgrounds and parking facilities to support public and private RV camping.
There are more than 100 RV manufacturers with the majority of those being in the United States.
RV Vacations can cost about 60% less than a traditional holiday.
North America has about 370 national outlets and local RV dealers.
INTRODUCTION
According to the Recreation Vehicle Industry Association (RVIA), a recreational vehicle is a vehicle designed as temporary living quarters for camping, recreation, season use, or travel. Recreational vehicles are categorized as motorized (motorhomes) or towable (travel trailers, folding camping trailers, and truck campers). By type, the segment is subdivided as follows: Motor Homes (Class A, Class B, and Class C), Travel Trailer & Campers (Conventional Travel Trailers and Fifth-wheel Travel Trailers), and Camping Trailers (Folding Camping Trailer and Truck Camper). It started getting manufactured in the 1970s and had become quite popular due to its ease of holiday and camping.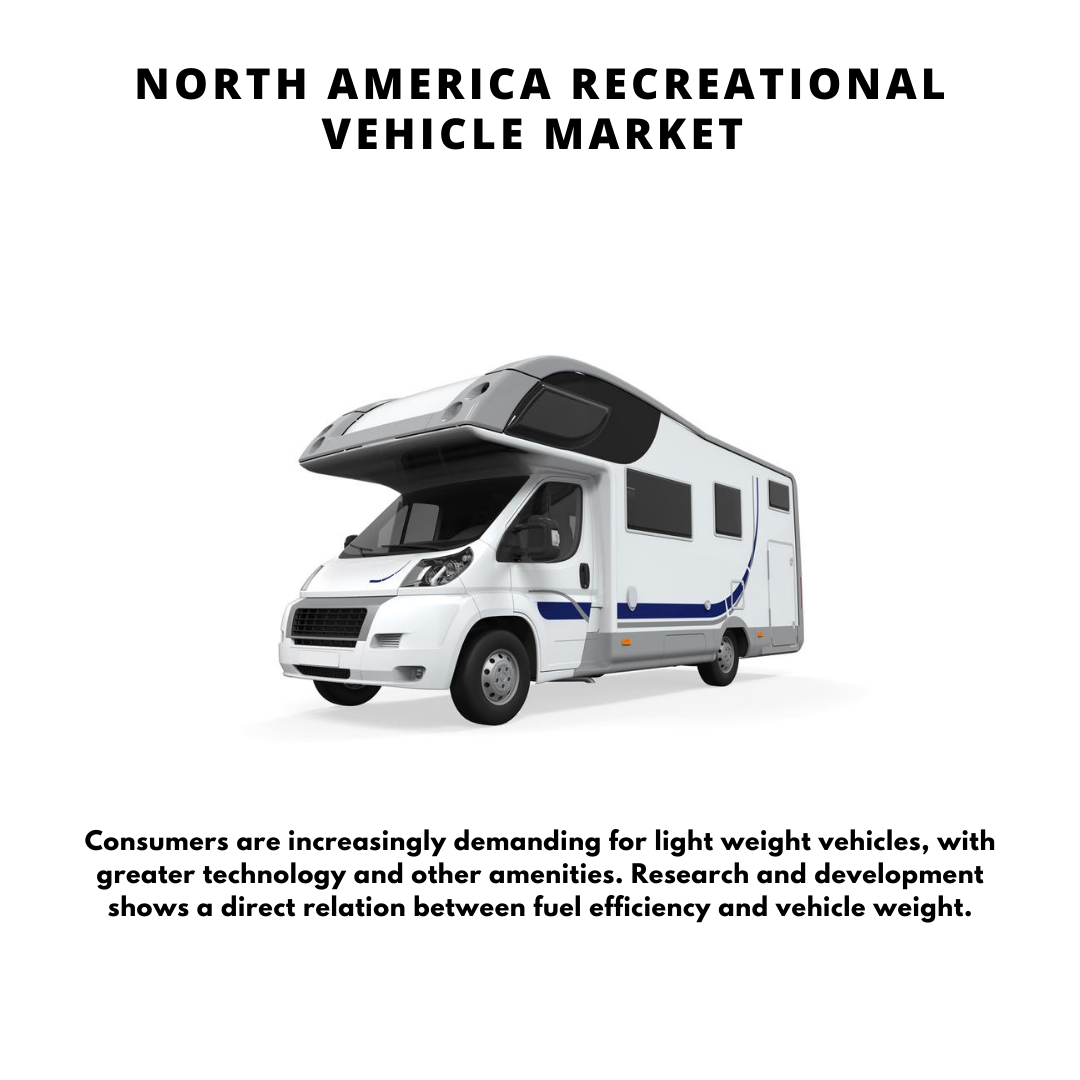 According to a study, US ownership is increasing at a fast pace due to the rise in income, employment, and household wealth. But due to the impact of COVID-19, there is a possibility of decreasing this year and coming year.
MARKET LANDSCAPE
Trends
Rise in the manufacturing cost for RV manufacturers and RV dealers adjusting their inventories due to changes in inventory carrying costs, there is a decline in the sales of RVs.
Rise in the manufacturing cost for RV manufacturers and RV dealers adjusting their inventories due to changes in inventory carrying costs, there is a decline in the sales of RVs.
People are preferring motorhomes, as well as travel trailers as a viable and convenient option, due to the fuel economy offered by them.
Consumers are increasingly demanding for lightweight vehicles, with greater technology and other amenities. Research and development show a direct relation between fuel efficiency and vehicle weight.
NORTH AMERICA RV MARKET SEGMENTATION
Motorhomes
There are 3 types of Motorhomes, Type A, Type B, and Type C.
Type B motorhomes are witnessing a strong demand among the 3 types, as they are smaller in size compared to Type A and also allow walking making it family-friendly.
Some important reasons are its motility and ease of driving.
The market share of Type B is about 46%, Type C about 30%, and Type A about 24%.
Towable RVs
There are 5 types of Towable RVs, Travel Trailer, Fifth Wheel Trailer, Folding camping trailer, Truck Campers, and Park Model.
Over 289, 940 travel trailers were sold in 2018 in the USA.
14% of households own a fifth-wheel trailer.
The Bestseller of Fifth wheel was Keystone Montana, representing 8% of sales.
By Geographical Segmentation- Canada, USA 
There are more than 100 RV Manufacturers with the majority in USA.
About 472,000 vehicles were manufactured in 2019, a slight decrease of 2.1% from 2018 but the possibility of a rise.
By an online survey, about 15% of Canadian households own a recreational vehicle.
Of the 4,500 US and Canadian leisure travelers surveyed, 46 percent said camping would be the safest type of travel when COVID-19 restrictions are lifted, versus 8 percent who viewed international air travel as the safest option.
The impact of Covid-19 is there on the campgrounds as it is restricted due to social distancing and economic issues.
Sales have increased by about 200% from 2009 to 2019.
It is also noted that 14% of people who never owned any RV are planning in the future.
Canada recreational vehicles expected to increase in terms of volume by 5x by 2023.
USA expected to record more than 500 BPS by 2023 and increase by volume about 7x.
Aluminum recreational vehicles expected to be more attractive in the future.
By Construction Material
Wood
Aluminum
Fiberglass
Steel
Others
Fiberglass is in high demand due to the lightweight and therefore an increase in fuel economy.
COMPETITIVE LANDSCAPE
Some significant increase in market share has been observed, for example, Thor Industries increased from 28% in 2014 to 60.18% currently. Winnebago Industries has a 14.4 % market share and the Rev group 19.57%. Growth is forecasted to about an increase of 2.2% of Winnebago and a decrease of 1.5% of Thor Industries, still being strong in the market.
Companies are continuously supporting R&D to generate ideas of lightweight and economic vehicles. 
Mergers and acquisition have been a common sight, like Thor industries acquiring Erwin Hymer Group increases its market share and enhancing its market representation.  
COMPANY PROFILES
THIS NORTH AMERICA RECREATIONAL VEHICLE MARKET REPORT WILL ANSWER THE FOLLOWING QUESTIONS
What will be the market growth of recreational vehicles in North America for the upcoming years?
Sales and price analysis of all manufacturers?
What is the impact of COVID-19  on North America recreational vehicle market?
The impact of COVID-19 in the market on North America recreational vehicle rental market?
Market dynamics of different market segments of RVs?
How is it performing in the major countries of North America like USA and Canada?
The competitive developments like a merger, partnership, investments
RV's economic impact in USA and Canada
How do people use their RVs?
| | |
| --- | --- |
| Sl no | Topic |
| 1 | Market Segmentation |
| 2 | Scope of the report |
| 3 | Abbreviations |
| 4 | Research Methodology |
| 5 | Executive Summary |
| 6 | Introduction |
| 7 | Insights from Industry stakeholders |
| 8 | Cost breakdown of Product by sub-components and average profit margin |
| 9 | Disruptive innovation in the Industry |
| 10 | Technology trends in the Industry |
| 11 | Consumer trends in the industry |
| 12 | Recent Production Milestones |
| 13 | Component Manufacturing in US, EU and China |
| 14 | COVID-19 impact on overall market |
| 15 | COVID-19 impact on Production of components |
| 16 | COVID-19 impact on Point of sale |
| 17 | Market Segmentation, Dynamics and Forecast by Geography, 2020-2025 |
| 18 | Market Segmentation, Dynamics and Forecast by Product Type, 2020-2025 |
| 19 | Market Segmentation, Dynamics and Forecast by Application, 2020-2025 |
| 20 | Market Segmentation, Dynamics and Forecast by End use, 2020-2025 |
| 21 | Product installation rate by OEM, 2020 |
| 22 | Incline/Decline in Average B-2-B selling price in past 5 years |
| 23 | Competition from substitute products |
| 24 | Gross margin and average profitability of suppliers |
| 25 | New product development in past 12 months |
| 26 | M&A in past 12 months |
| 27 | Growth strategy of leading players |
| 28 | Market share of vendors, 2020 |
| 29 | Company Profiles |
| 30 | Unmet needs and opportunity for new suppliers |
| 31 | Conclusion |
| 32 | Appendix |