INTRODUCTION
China is world`s biggest automotive market since 2010, with more than 24.2 million new cars sold in 2017.But, still the car ownership per capita in China is way lower than US and Europe.
The coastal cities of China are extremely wealthy and the car ownership in those tier-1 cities is 300+ per 1000 inhabitants, more than double the national average.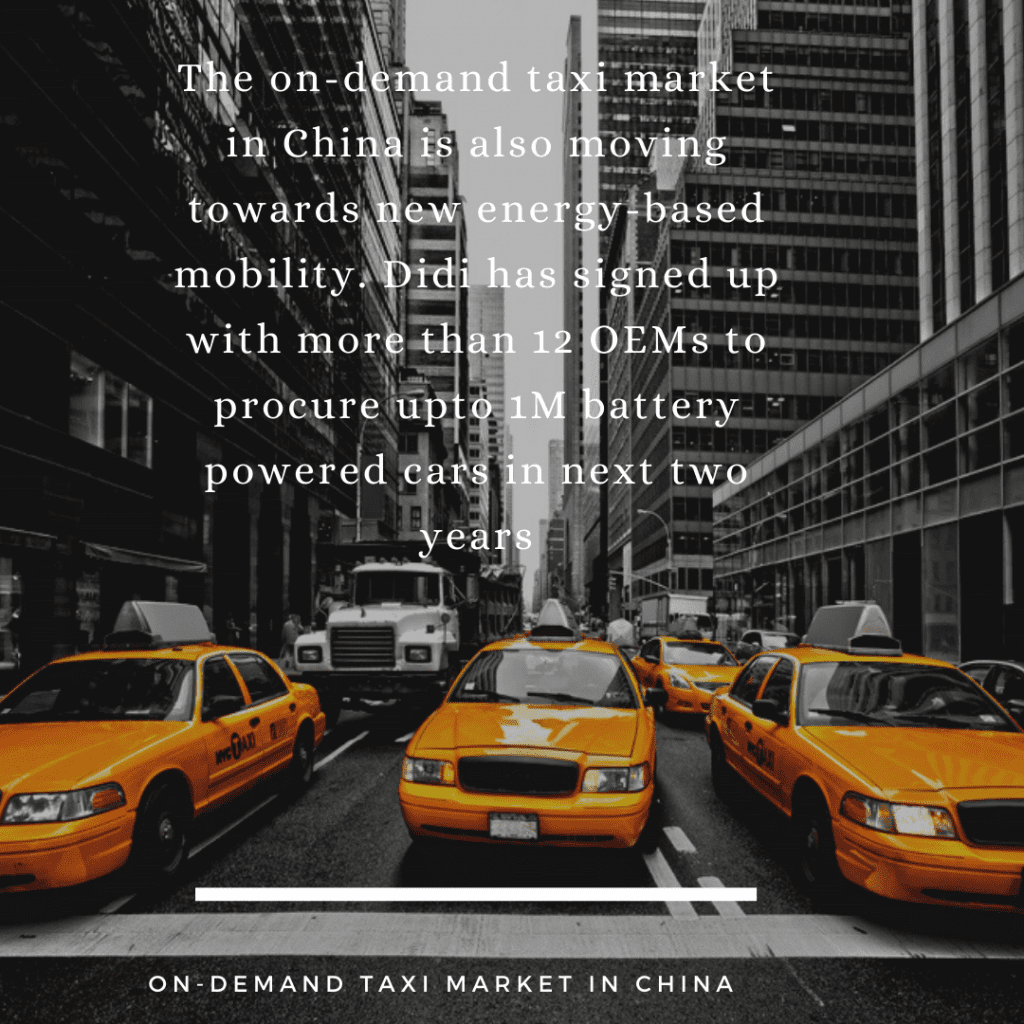 The on-demand taxi operators typically target cities with 2M+ population and there are more than 250 cities in China with that much population. It is also expected that by 2023, the consumption growth of tier-3 and tier-4 cities will surpass that of tier-1 and tier-2 cities.
By Sep `18, China had 800M+ internet users, which is more than twice the US population. Almost 97% of them access internet from their smartphones
MARKET DYNAMICS
Till 2016, all on-demand taxi operators in China were burning a significant amount of cash on driver incentives and subsidizing the rides.
Also, in 2016, more than 20 cities including Beijing and Shanghai introduced laws which required to have local drivers and local number plates. Now, almost all cities have mandated taxi companies to employ only local driver with credible history.
The operators are now offering premium experience in their tides to differentiate themselves in the crowded on-demand taxi market in China. In terms of AI technology, Caocao Car will work with Volvo(Geely) in self-driving cars and Terrafugia(also owned by Geely) in flying cars.
Like other global markets, China is also facing security concerns related to female riders. To improve passenger safety,Shouqi Limousine & Chauffeur (SQLC) launched the Car Intelligence system (CI) in April 2018. It will notify if there is any untoward activity with the passenger. In 2019, it will also launch a new fleet specially built for on-demand taxi market in China.
The on-demand taxi market in China is also moving towards new energy-based mobility. Didi has signed up with more than 12 OEMs to procure upto 1M battery powered cars in next two years.Caocao(Geely backed taxi operator) now operates in more than 25 cities across China with 18,000 Geely branded EVs. It also offers business rides and intra city packages.
MARKET SIZE AND FORECAST
The number of on-demand taxi users reached 225M in 2017.Didi Chuxing claims to have 30M drivers on its platform but, less than 5% actually have an on-demand taxi license.
Unlike US, China doesn't allow private car owners to book ride via on-demand taxi apps.
The market size of on-demand taxi market in China was $XX B in 2017, growing at –% CAGR till 2023
COMPETITIVE LANDSCAPE
The competitive landscape of on-demand taxi market in China is highly concentrated and fiercely competitive. Didi Chuxing is the undisputed market leader with more than 85% market share. It accrued a net loss of ~$350M in 2017 and is yet to become profitable But, it has always faced stiff competition from Uber earlier and now from Meituan Dianping, DiDa,and CaoCao.It plans to go public at ~$70-80B valuation by 2018 end- early 2019.
Alibaba has been strengthening its position in this market.It already owns ~6% stake in Didi Chuxing but it wants to take advantage of the sheer size of this industry by its mobile payment service, Alipay. Again,looking at the sheer size, we expect many more new entrants in this market, Daimler has already announced its plans in Oct `18 to launch its on-demand taxi services.
Like on-demand taxi market in US and India, the market players are expanding to other transportation modes like bike-sharing, car sharing and integration with public transit.
The gross margin in Chinese ride-hailing market was less than 2% in 2017, and it has shrunk even lower in first 9 months of 2018.
COMPANY PROFILES
Tiantian Yongche
Meituan Dianping
Didi Chuxing
Caocao Zhuanche
DiDaChuxing
Ucar Inc
Shouqi Limousine & Chauffeur