Global Online Gambling Market 2020-2025
August 4, 2020

Request Sample
Coming Soon
Multi User License - $2,500
GLOBAL ONLINE GAMBLING MARKET
INTRODUCTION
Online gambling refers to betting your money online, through playing over the internet. The online gambling market comprises of games such as casinos, bingo, lottery, poker, betting, and country-level games. The device type of online gambling is categorized into mobile and desktop gambling games.
The online gambling market comprises revenue generated by remote gaming activities via the internet using desktop and mobile devices. The market includes gambling establishments developing online sports betting, casinos, bingo, lotteries and poker games, among others.
MARKET DYNAMICS
 The market is expected to greatly flourish in the forthcoming years owing to the COVID-19 outbreak and people relying more and more on home based entertainment during these trying times along with rising internet penetration and smartphone usage across the globe.  
 Artificial intelligence, chatbot, blockchain technology and machine learning have greatly contributed to the evolution of this industry, making it a hit in recent times. The increasing number of participants across the world along with commercialization and an increase in spending ability of end users is driving the online gambling market to success.
 Furthermore, change in consumers' offline casino preferences, the convenience of cashless modes of payment during gaming and the legalisation of betting activities in many countries have further accelerated the growth of the online gambling market on a global level. Rising number of internet users and increase in the time spent on smartphones is creating huge opportunities for the online gambling market.
However, Security and authentication related issues still continue to be barriers in the growth of this market segment as fraudulent practices over the internet is still on the rise, thus presuming the online gambling market to be an unsafe practice by many.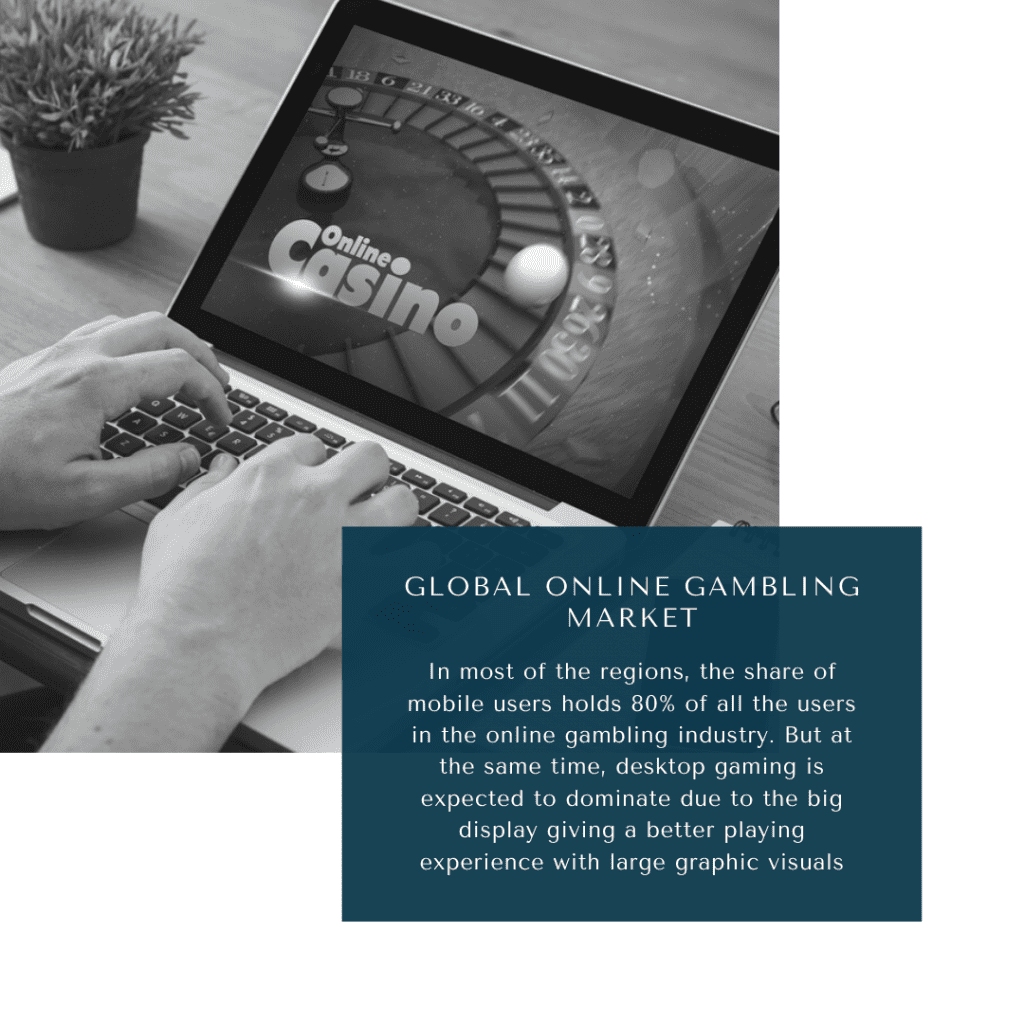 Though internet gambling is no more a new method of gambling, there is still a lack of understanding of its application and impact. Ever-changing preference for online gambling, technology enhancement, innovation, and ever-changing policies has made the process of comprehending the online gambling system at a global level difficult and complex.
MARKET SEGMENTATION  
By Type
Lottery  
Sports Betting
Football  
Horse racing  
E-sports  
Other sports
Casino  
Live Poker  
Live Casino  
Blackjack  
Slots  
Bingo 
By User 
By Geography 
North America
European Countries
Asia Pacific region  
MARKET TRENDS 
Online betting holds a prominent share the growing number of sports fanatics all across the globe has fueled the demand for sports betting. Esports has been the fastest growing segment gauging huge customer attention and attracting many potential consumers especially in events such as FIFA World Cup and European Championships. Betting on sports like that of boxing, hockey, cricket and baseball is also hugely driving the market.
Ease of sports betting using a computer or a smartphone coupled with increasing ads on the same  have proved to be beneficial for agencies globally and is expected to drive the market further in forthcoming years.
Online agencies, networks and exchanges and third party ad servers are used to advertise gambling websites of various companies, Many of the sports betting companies  have indulged in sponsorship activities as part of their marketing initiatives and brand awareness and expansion measures. As in the case of Mobil 1 pairing up with Rocket League for mutual benefit in terms of their respective brands.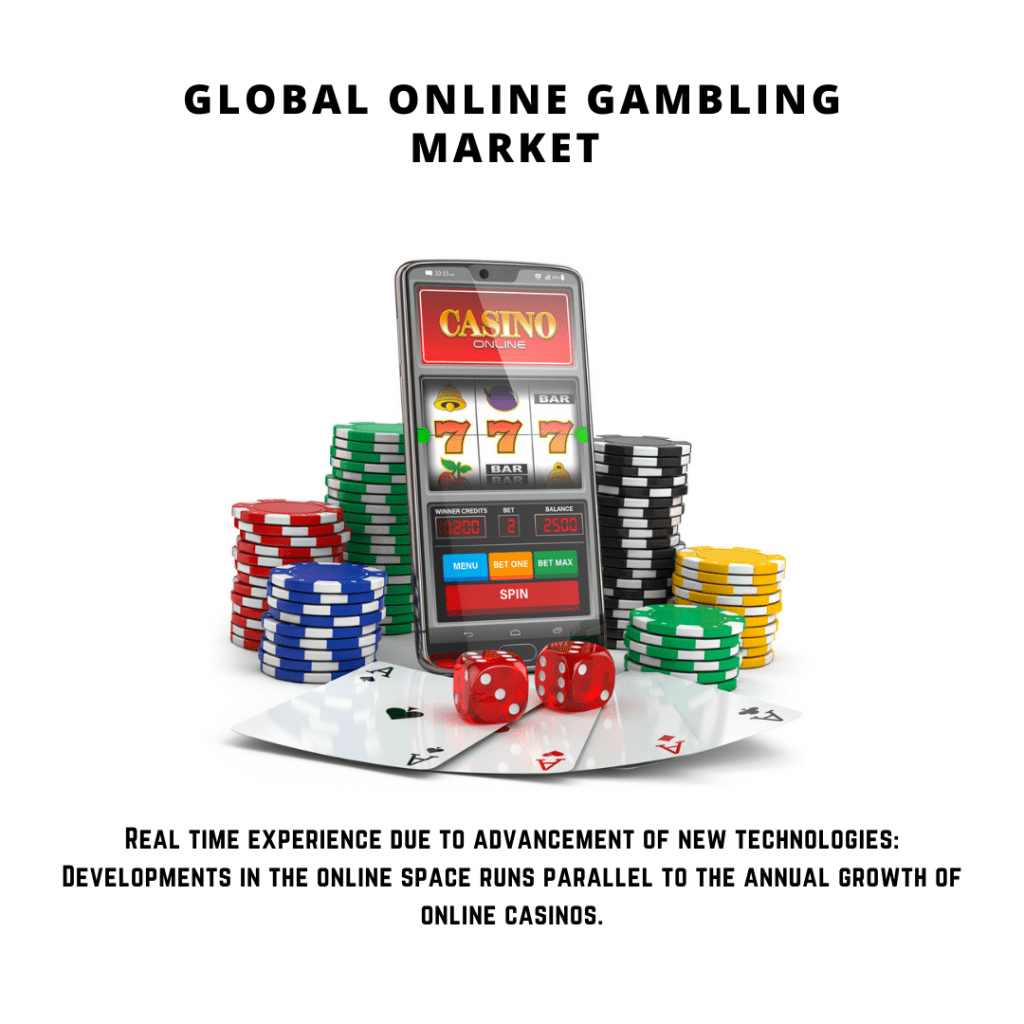 Real time experience due to advancement of new technologies: Developments in the online space runs parallel to the annual growth of online casinos. Increasing popularity of new technologies like that of virtual reality and blockchain is also greatly contributing to the growth of this industry.
As many companies are integrating the new blockchain technology into their gambling business, this in turn ensures transparency in gambling activities and offers enhanced user experiences. This practise has also helped more consumers to trust the company's legitimacy and indulge in gambling activities more freely, thus building customer loyalty in the form of game rewards. In addition, blockchain gambling platforms are free of third party influencers further making it a more preferred choice among gamers.  
Electronic Gambling Devices are inexpensive to run and easily accessible to the masses. These devices have a built in software that mimics the experience of a real time casino. For example, electronic slot machines, video slot machines, electronic poker machines and spinning reel slot machines have seen a subsequent increase in demand globally. This has fostered its recent popularity thus ensuring a lucrative market ahead for the online gambling industry.
There were concerns with online casinos not being transparent and hiding their workings and dealing, which has been resolved by blockchain technology. With the features of blockchain used, everyone can see exactly what is happening behind the screens, thus preventing various kinds of fraud maintaining trust and transparency among the players during online gambling. With technology enhancement, easy access to websites and software applications has improved.
Moreover, the relaxation in government policies and guidelines concerning online gambling has given a significant boost in the online gambling market.
Digital Gambling devices are easily available and inexpensive. This device has inbuilt software which tends to give a real-time experience of the local casino. For example, with technology advancement, Video Lottery Terminal has the potential to get customized to video slot machines and poker games electronically.
COVID IMPACT ON ONLINE GAMBLING MARKET
The online gambling market has increased due to the outbreak of COVID-19, exponentially. The social distancing has to lead a huge population to get confined in their homes, with a lot of leisure time to participate and engage in online activities, including online gambling.
ONLINE GAMBLING MARKET SIZE AND FORECAST
Based on different types of online gambling which include casinos, bingo, poker, and sports betting, sports betting is expected to dominate the market. With the right combination of technological advancement and widespread access to mobile phones with the internet, the online gaming segment is assumed to grow rapidly in the next few years.
In various games like FIFA World Cup, European Championship and greyhound racing are gaining vast popularity. Moreover, increased adoption of smartphones coupled with the influence gained through sports ads at a global level has further boosted the growth of sports betting in the upcoming years.
Based on the type of device used, the average use of the mobile devices as compared to desktop is significantly greater due to the increased adoption of smartphones coupled with easy access to the internet and mobile game applications.
 In most of the regions, the share of mobile users holds 80% of all the users in the online gambling industry. But at the same time, desktop gaming is expected to dominate due to the big display giving a better playing experience with large graphic visuals. These features are further backed up by high storage, sound quality giving preference and inclination towards desktop gaming. At the same time, the average use of the mobile devices as compared to the desktop is significantly greater due to the increased adoption of smartphones with easy access to the internet and mobile applications.
MARKET DRIVERS 
 Regulation of Gambling Laws: Laws regarding online gambling vary from one region to another. The established and reputed licensing authorities in different locations have imposed a strict code of conduct concerning licenses in this segment which needs to be strictly adhered to by the licensees. However, numerous countries are now regulating laws and restrictions related to online gambling as it is known to generate lucrative revenue and offer employment opportunities to many.  
Online casinos are also trying to focus more on investing in information solutions to ensure a continuing support to online gamblers, ensure the credibility of such activities and prevent illegal affairs. Many casinos in turn, are offering a free play version for some of their games, which is creating great market opportunities for growth.  
Europe is expected to continue its dominance over the online gambling market owing to legalization of gambling activities in countries such as the United Kingdom, Germany, Malta, France and Italy.  
Meanwhile, the growing use of internet services and smartphones in the Asia pacific region looks like a promising market for Online gambling in the coming years. High economic growth and Increasing popularity of these betting websites is further expected to drive the market in this region and showcase a staggering growth rate. 
ONLINE GAMBLING MARKET BY REGION
As per the regional analysis, the laws associated with online gambling vary from region to region. Some of the countries have their own policies and rules, responsible for dealing with relevant legal and relevant issues. While countries like the United States have their gambling regulatory process very complex.
The online gambling is practiced majorly in South America, North America, Europe, Asia-Pacific, and Africa, Europe is dominating the market and is expected to dominate in the coming year as well. The policy framework providing relaxation is the primary factor for the adoption of increased online gambling on a large scale.
Due to the adoption of innovation, product development backend by technology and collaborations, some of the leading players are Bet365 Group Ltd., William Hill PLC, and Paddy Power Betfair PLC.
Third-party ad servers and online agencies are responsible for promoting the gambling websites of various companies. Also, the online gambling service providers can get into mutual agreements with customers/players for providing additional and better services in exchange for real money, which in turn is generating more game obsessed customers, giving a boost to the market growth of online gambling.
ONLINE GAMBLING MARKET IN INDIA  
The online gambling market in India is still at its early stages but shows great potential with the rise in internet and smartphone penetration and a growing interest among players regarding online gaming and gambling websites. India has seen one of the fastest growing gambling markets despite apps operating in the grey area of the law.
Although gambling activities are heavily restricted under the Indian laws except for horse racing and lotteries, many global companies and regional players have been successful in targeting the indian audience and garnering a market for the same.
Real money gambling games such as Adda 52, Poker stars, Junglee rummy in India continues to grow at a considerable rate with sports betting being the most popular choice among the audience.  
India is one of the largest countries with its younger population largely invested in sports, especially cricket. Games like Dream 11 and Mobile Premier League which lets the players form their own teams and practise sports betting on various tournaments have been quick to attract the crowd and are only expected to see further growth in the market. 
Currently, the state of Sikkim and Goa are the only two places which allow some regulations in gambling practices, with a little ease in government regulations related to such practices, Indian market is sure to attract many foreign players into the industry.  
COMPETITIVE LANDSCAPE  
Market leaders in this segment have relied on mergers to increase their market shares and expand globally. The key players in the online gambling market include Leo Vegas International, Betfair, 888 Holdings Inc, William Hill, Onisac Ltd and Kindred Group among others. Companies are focusing on consistent innovations in order to personalise and differentiate their service offerings from its competitors, relying on marketing strategies. Product launches, mergers, Collaborations and acquisitions are some of the key strategies adopted by the players to gain a competitive edge in the market.  
KEY PLAYERS IN ONLINE GAMBLING MARKET 
Galaxy Entertainment Group Ltd.
| | |
| --- | --- |
| Sl no | Topic |
| 1 | Market Segmentation |
| 2 | Scope of the report |
| 3 | Abbreviations |
| 4 | Research Methodology |
| 5 | Executive Summary |
| 6 | Introduction |
| 7 | Insights from Industry stakeholders |
| 8 | Cost breakdown of Product by sub-components and average profit margin |
| 9 | Disruptive innovation in the Industry |
| 10 | Technology trends in the Industry |
| 11 | Consumer trends in the industry |
| 12 | Recent Production Milestones |
| 13 | Component Manufacturing in US, EU and China |
| 14 | COVID-19 impact on overall market |
| 15 | COVID-19 impact on Production of components |
| 16 | COVID-19 impact on Point of sale |
| 17 | Market Segmentation, Dynamics and Forecast by Geography, 2020-2025 |
| 18 | Market Segmentation, Dynamics and Forecast by Product Type, 2020-2025 |
| 19 | Market Segmentation, Dynamics and Forecast by Application, 2020-2025 |
| 20 | Market Segmentation, Dynamics and Forecast by End use, 2020-2025 |
| 21 | Product installation rate by OEM, 2020 |
| 22 | Incline/Decline in Average B-2-B selling price in past 5 years |
| 23 | Competition from substitute products |
| 24 | Gross margin and average profitability of suppliers |
| 25 | New product development in past 12 months |
| 26 | M&A in past 12 months |
| 27 | Growth strategy of leading players |
| 28 | Market share of vendors, 2020 |
| 29 | Company Profiles |
| 30 | Unmet needs and opportunity for new suppliers |
| 31 | Conclusion |
| 32 | Appendix |