ONLINE GROCERY DELIVERY MARKET IN INDIA
INTRODUCTION
Shopping in India is slowly shifting towards the digital platform and the grocery and home need shopping is no exception to that. Although grocery segment is late into the online sector compared to the electronics and the fashion wear the pioneers in this field. Doorstep delivery and the hectic schedule of the working people have been the major drivers of the market. Ever since the COVID-19 broke out online grocery vendors are inevitably been the go-to option for the shopping of home needs, as the public is in lockdown and offline retail stores are closed increasing the market like never before.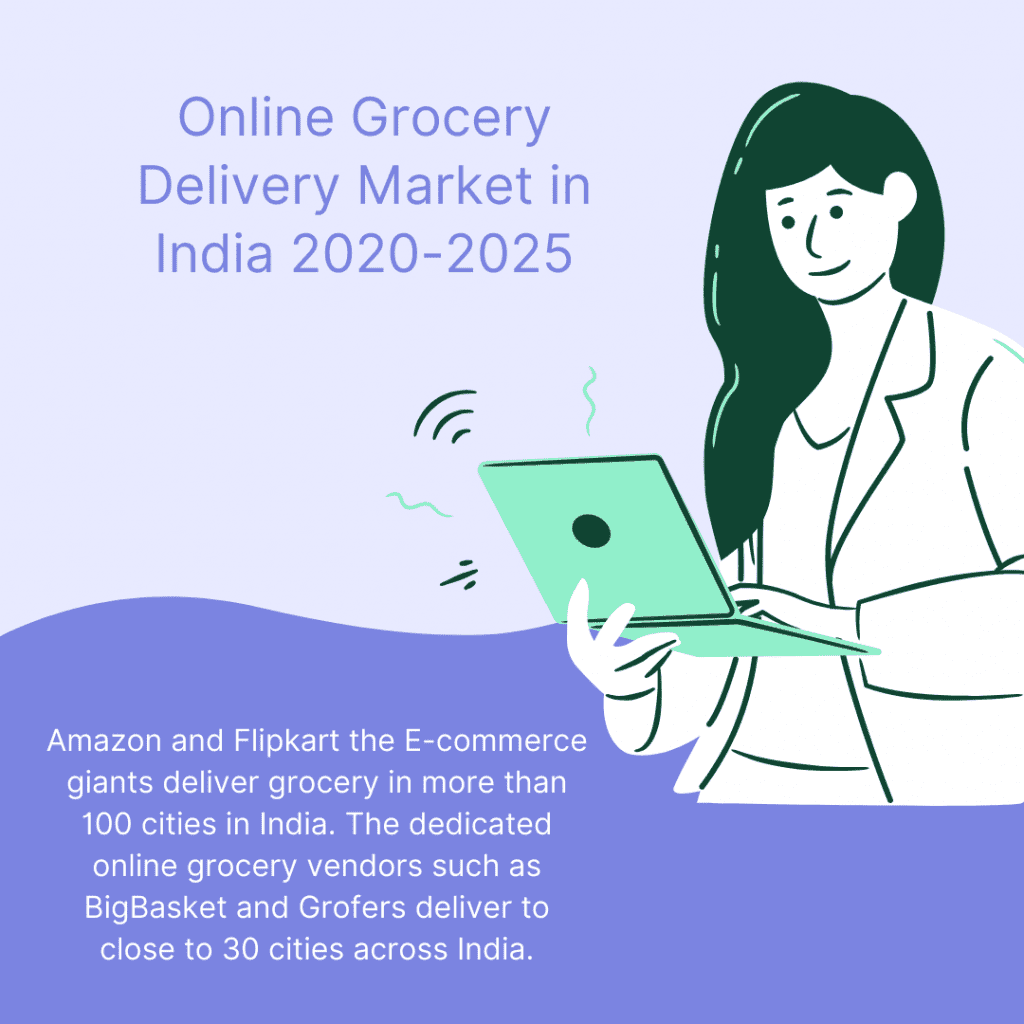 MARKET SEGMENTATION
By Products Type
Grocery & Staples

Fresh Produce

Packaged Food

Household Items

Personal Care

Others
By Geography
North India

South India

East India

West India

Central India

North-Eastern India
MARKET DYNAMICS
Increase in penetration of internet services and smartphone number in the country have been the major contributors for online grocery market. The online grocery market however is concentrated only in the urban area.
Amazon and Flipkart the E-commerce giants deliver grocery in more than 100 cities in India. The dedicated online grocery vendors such as BigBasket and Grofers deliver to close to 30 cities across India.
The same day delivery and within an hour delivery features are available for premium customers. This willingness of customers to pay extra for this will boost the market.
Since the lockdown, BigBasket has seen an increase in 150,000 orders per day and as of April 2nd week they are running at close to 285,000 orders per day. Grofers has also witnessed double the number of orders compared to prior lockdown. They are servicing almost 200,000 orders per day.
BY GEOGRAPHY
South India is home for most number of urbanised cities and hence the higher urban population accounts for larger market for online grocery shopping. BigBasket based in Bangalore operates in most of the urban areas in South India making them the leader in the South India region.
The west and north parts of India account for more industrialised centres than the southern part. Hence the population of the urban areas in this region is less and penetration of online market is limited to few cities. The upcoming vendors from the west and north India region like Nature's Basket, Country Delight, Easyday will boost the market in the region. Grofers based in Gurugram holds the major share in this region and 20 out of its 28 cities of operation are North Indian cities.
The Eastern part of India is currently lagging in this sector and has the lowest penetration of online vendors. Spencers based in Kolkata is one such vendor that has larger reach in this region than any other region.
MARKET SIZE AND FORECAST
Amid lockdown, cab service provider Uber is planning to start delivery service options called Uber Direct and Uber Connect. This will help the online grocery vendors to increase the supply and spend less on transportation.
BigBasket has invested more 60 million USD in the current situation to meet the surging demand from the public.
Amazon is partnering with the local grocery stores to sell the goods through their company's platform and is investing 1.3 million USD. This will boost Amazon's penetration in Indian grocery market.
RECENT MARKET TREND
Swiggy food delivery platform has started grocery and household essential delivery in 125 cities after partnering with leading offline retailers.

Zomato another food delivery partner has started the grocery delivery in over 80 cities. Grofers is working with Zomato to expand its delivery fleet.

BigBasket has completed the acquisition of Bengaluru based startup DailyNinja. This will help BigBasket to expand its fleet to milk delivery platform.

In April 1st week, cab aggregator Uber has partnered with Flipkart to deliver essentials to doorstep in 3 cities viz. New Delhi, Mumbai and Bengaluru.

BigBasket has partnered with Uber and two wheeler mobility firm Rapido to deliver the essential to doorstep in selected cities.

Walmart owned Flipkart has increased the delivery of groceries to 400 cities during the lockdown.

Shopclues has launched the delivery of home essentials such as grocery in Delhi and Gurgaon region.

The Facebook's investment in Reliance Industries has initiated the e-commerce platform JioMart distinctively for grocery and as of April 27th it is currently available in selected areas of Mumbai.
COMPETITIVE LANDSCAPE
The 2 big online vendors are BigBasket and Grofers. Amazon and Flipkart with their online services Amazon Pantry and Flipkart Supermart are able to penetrate higher number of cities due to their E-commerce background.
Some of the other players who started the online channel along with the running retail outlets are Reliance Smart, DMart Ready and Easyday (Future group). These online stores deliver in less than 10 cities.
COMPANY PROFILE
DMart