Global Personal Protective Equipment Market 2020-2025
May 8, 2020

Request Sample
NUMBER OF PAGES-110
Multi User License - $2,500
GLOBAL PERSONAL PROTECTIVE EQUIPMENT MARKET
KEY FINDINGS
Across the globe,Governments will have to step in with subsidies or other forms of help as profits will be lower if production is in Europe as compared to China. Since majority of the protective equipment buyers are hospitals and many of them run by the government it'll be easier for the government to offer incentives
In Europe, particularly in Spain and Italy, the shortage of medical personnel during the corona outbreak along with lack of PPE caused strain and fear among the front line health personal which is not desirable.Many cloth manufacturers such as Austral, Inditex etc. stepped in to help in creating masks and hospital coveralls
Like Europe ,USA too had shortage of PPE . Volunteers stepped up to fill the gaps left by the shortage. This included automobile companies , clothing companies most of who didn't have prior experience in these segments but like WW2 the factories were retooled when necessary to implement this.
China is the leader in global supply for PPE with more than 50% of the supply being manufactured in China. Post the spread of Corona, China manufactured 200 million masks a day as of Mar 2020 which is 20x the production of Feb 2020
INTRODUCTION
Personal Protective Equipment (PPE) is a safety gear that protects the user against injury risks at workplace. PPE consists of bunch of products to protect different parts of human body. Stringent regulatory guidelines have made mandatory for employers to provide its employees with standard protective gears.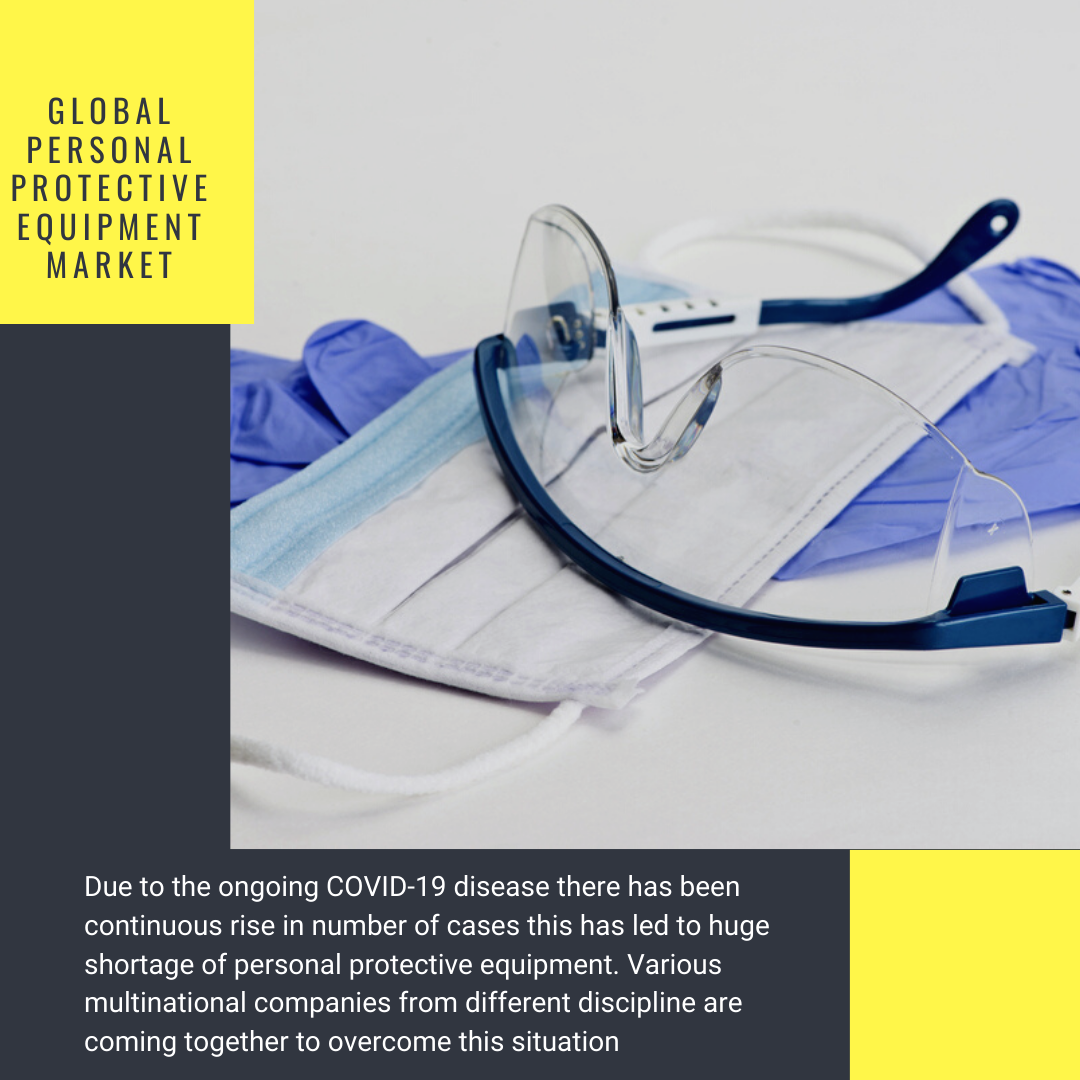 Due to the ongoing COVID-19 disease there has been continuous rise in number of cases this has led to huge shortage of personal protective equipment. Various multinational companies from different discipline are coming together to overcome this situation.
MARKET SEGMENTATION
By Product
Masks
Gown
Coverall
Glove,Extended cuff
Glove exam
Boot/Shoe cover
Fluid resistance apron
By Geography
Top 20 Countries with highest COVID-19 infections
MARKET DYNAMICS
The virus outbreak has caused drastic changes in the market. Various companies are launching special task force to ramp up the production of personal protective equipment. World Health Organization (WHO) urged all the nations to boost their production by 40% and has requested to remove the export restrictions which is causing to limited global supply. Many tech companies are collaborating with healthcare firms to speed up the production process.
PERSONAL PROTECTIVE EQUIPMENT MARKET BY PRODUCT TYPE
In terms of product segmentation, hand protection had the highest market share. Since almost every industry demand for particular kind of gloves the hand protection market is the highest revenue generating segment. Oil & Gas and Medical & Health care are considered to contribute majorly to hand protection market.
Respiratory protection equipment is the next largest segment consisting of air purifying and supplied air respirators. Basic surgical masks also used in Medical and health care also contribute immensely towards protection equipment market.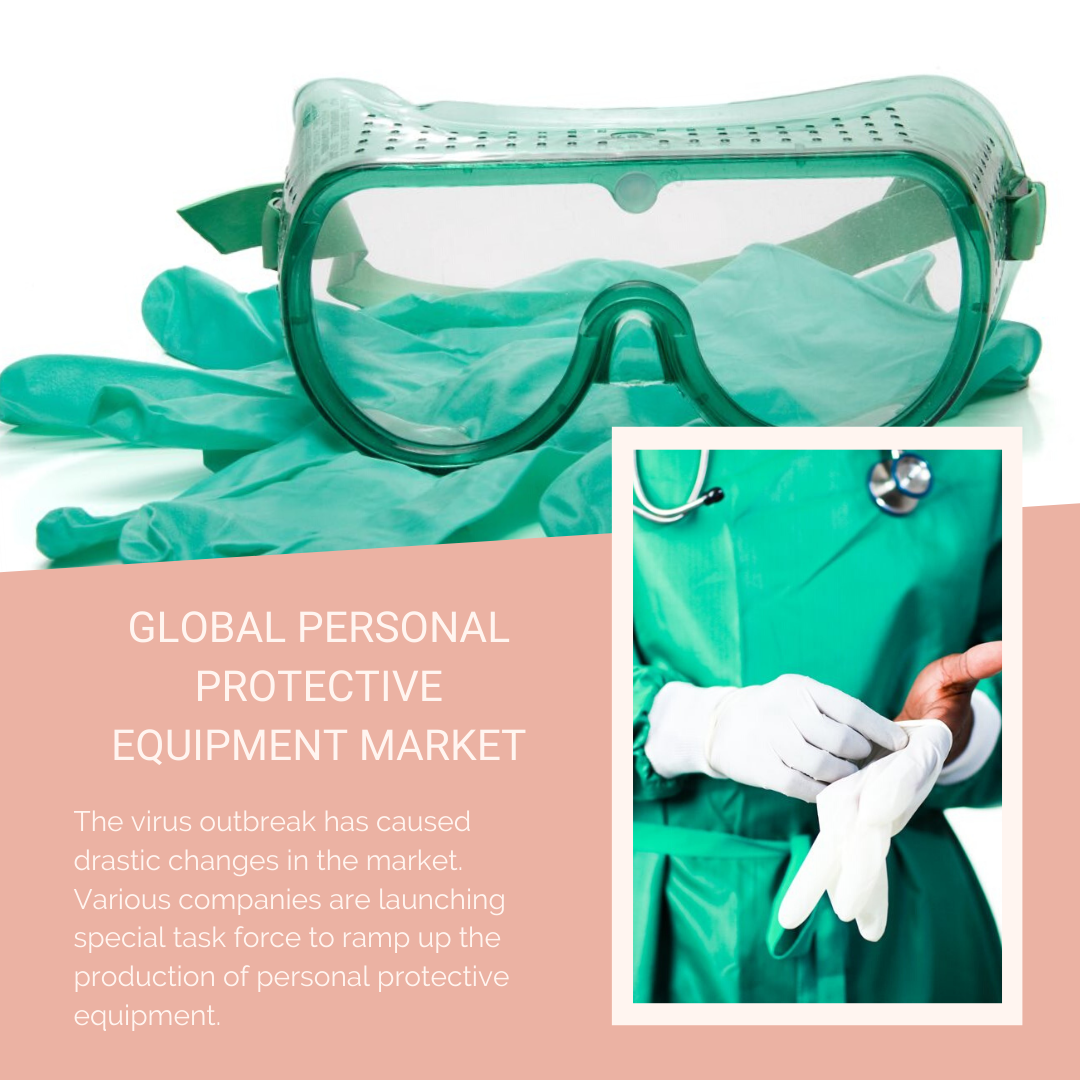 The ongoing pandemic outbreak has led to huge spike in demand of the respirators and other protection equipment from medical & health care sector such as gloves, clothing and others.
The graphic shown below depicts the market share of equipment based on the product: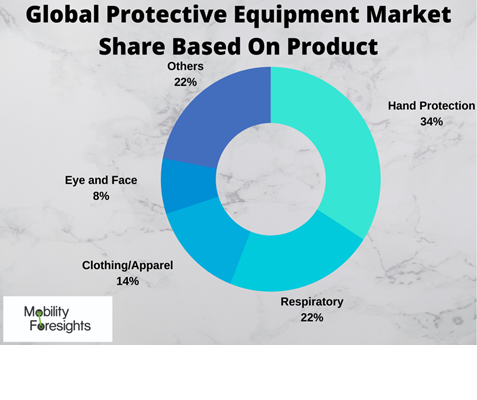 US PERSONAL PROTECTIVE EQUIPMENT MARKET
US is the hub for most of the health care companies manufacturing protective equipment. In spite of this health officials have warned stockpiles of these equipments maybe insufficient despite manufacturers speeding up the process. Occupational Safety and Health Administration (OSHA) has released certain regulations to be followed by the equipment manufacturers.
Medicom's manufacturing facility in Georgia increased their production timing to 18 hours to create face masks ,sterilization kits, bibs and other single time protective personal equipment mainly for medical professionals.
As of 10th April 2020 , US now has most of the COVID-19 infections globally. To battle on-going pandemic Clothing companies and designers such as Christian Siriano, Prabal Gurung, Karla Colletto produced in house masks and associated equipment to help medical professionals or re tooled their factories to help the cause. Several state governments have taken various intitiatives to counter the shortage, For example
Oregon Gov. Kate Brown ordered all hospitals, ambulatory surgery centers, outpatient clinics, dental clinics, and veterinary clinics with surplus PPE supplies to help out hospitals with shortage. It was also encouraged to cancel or postpone non-essential uses of PPE during the ongoing state of emergency, so that the equipment can be conserved and redirected to the state's Covid-19 response
EUROPE PERSONAL PROTECTIVE EQUIPMENT MARKET
European Union made a joint procurement of personal protective equipment that exceeds the needs of member states fighting the coronavirus outbreak, European Union states needed 10 times as much personal protective equipment and other medical devices compared to stock in hand . The situation was worsened by restrictions imposed by some EU states on export of medical gear to other EU states.
In Spain  infection spread happened after Italy but necessary steps to procure PPE and stop the outbreak weren't taken which caused medical personal to be affected.
In Germany, North Rhine-Westphalia and Bavaria, worst hit states in Germany during the corona virus outbreak had ~10% of infected cases as health workers. The lack of PPE especially among health personal caused Germany to stop export of masks, gowns, bibs and overalls temporarily.
In France, There were claims of expected supplies falling apart at the last moment due to price gouging. The concerns raised by health workers resonated throughout the pandemic. The government had to take multiple steps such as seizing supplies to make sure their citizens were able to get what was needed. This will call for more domestic manufacturers whose supply outside France will be restricted.
NHS has announced there is serious shortage of protective equipment for medical personnel all across Europe. Doctors are threatening to quit service as they are unable get access to equipments. EU has restricted the export of protective equipment. It is estimated that this year expenditure on protective equipment is skyrocket to $265 Million in contrast with ~$17 Million last year. Military personnel have been helping by supplying the equipments to the hospitals.
Healthcare workers accounted for 9 % of Italy's Covid 19 positive cases i.e. 2,609 out of 41,000 and 12% of Spain's cases i.e. 5,400 as of 24 March 2020 mainly due to the lack of personal protective equipment.
FUNDING ALLOTED BY GOVERNMENTS FOR FIGHTING COVID-19
These 24 countries have so far allotted $1.7 Trillion to fight COVID-19 
| | |
| --- | --- |
| Country | $Billion |
| Spain | 223 |
| Germany | 808 |
| Iran | 5 |
| France | 50 |
| S. Korea | 9.8 |
| Switzerland | 42.6 |
| UK | 14.8 |
| Netherlands | 22 |
| Austria | 42 |
| Belgium | 8.6 |
| Norway | 2 |
| Sweden | 29.6 |
| Australia | 2.4 |
| Brazil | 144 |
| Canada | 82 |
| Malaysia | 58 |
| Turkey | 15.5 |
| Israel | 22.9 |
| Ireland | 3.3 |
| Pakistan | 7.2 |
| Thailand | 3 |
CHINA PERSONAL PROTECTIVE EQUIPMENT MARKET
Chinese suppliers used to supply almost 80% of protective equipment to US. This has taken serious hit due to the pandemic outbreak. The worst hit region China is slowly recovering and has started exporting the medical supplies to Europe.
Gerber Technologies have been working in China over past 2 months and has helped to improve equipment manufacturing with the help of Shanghai Challenge Textile Co.
RECENT MARKET TRENDs
InkSmith Canadian Tech Company is partnering with healthcare firms to increase the production of protective equipment such as masks and face shield.
Nike has approached Oregon Health & Science University to develop safety gears for health care workers.
More than 130 Australian companies have stepped up to speed up the production of protective equipments such as gloves, gowns and masks.
Ford has partnered with GE healthcare and 3M to quickly increase the supplies from these firms.
Fashion giants H&M and Inditex have committed in operations to help improve the medical supplies across Europe.
In Europe,The protective equipment required by doctors are FFP3 masks (which offer high levels of respiratory protection), visors, surgical gowns and two pairs of gloves each. But due to lack of supply it was revised to a standard surgical face mask, short gloves and a plastic apron during the pandemic which was classified as "totally inadequate" protection by multiple medical personnel.
MARKET SIZE AND FORECAST
Department of Defence in US has committed release protective equipment including 5 million face masks and out of which 1 million has been made available immediately.
Cycling and Bike industries are expected to jump in to help the healthcare workers to speed up the manufacturing process.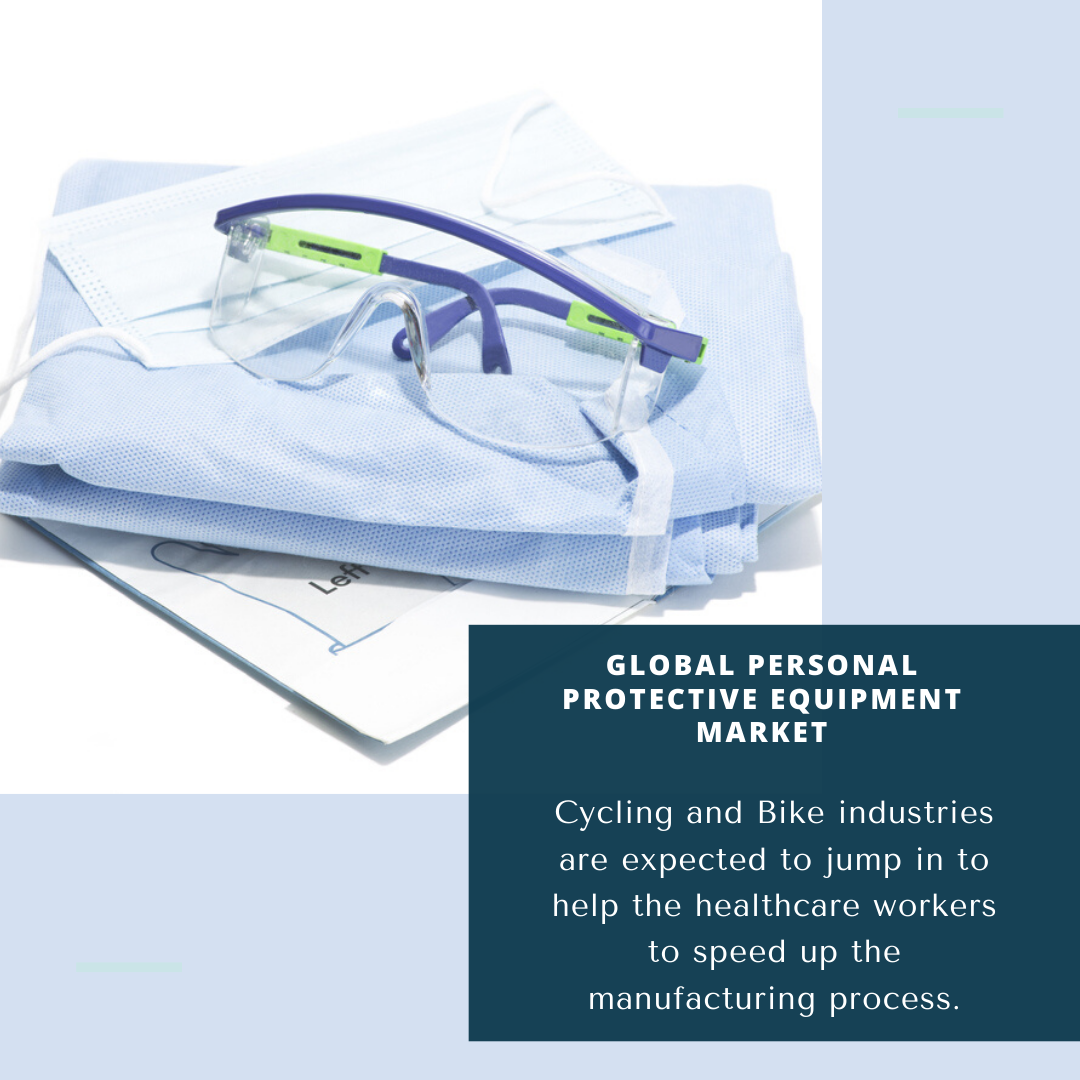 EU is planning for air shipment of protective equipments including 2 million face masks from China to meet the rising demands of equipments. Health and Safety   Executive (UK) has expecting equipments from China including 11 million masks, 1 million goggles and 50,000 gowns.   
The global personal protective equipment market is estimated at $XXM in 2020
COMPETITIVE LANDSCAPE
The key players in the protective equipment sector are 3M (US), Honeywell International (US), DuPont De Nemours (US), Alpha Pro Tech (Canada), Metric AG (Germany), Delta Plus Group (France) and Ansell Ltd (US).
In Europe,as multiple garment manufacturers and other industry players temporarily shifted to mask production and other equipment needed during the time of crisis it will pave way for multiple new market entrants as self sufficiency is the target.The market players (both old and new) will also look to export part of their produce as the dependency on a single country will reduce.
The manufacturing can see growth in improving the manufacturing set up in terms of automation, use of robots and efficient supply chain so as to reduce dependency on humans.
The products will also have a major scope for improvement in terms of microns of particle allowed to pass through, different types of materials used and integration of protective equipment.
China based companies have a strong hold in the supply-chain of fabrics required for protective equipment manufacturing.
COMPANY PROFILE
Metric AG
| | |
| --- | --- |
| Sl no | Topic |
| 1 | Market Segmentation |
| 2 | Scope of the report |
| 3 | Abbreviations |
| 4 | Research Methodology |
| 5 | Executive Summary |
| 6 | Introduction |
| 7 | Insights from Industry stakeholders |
| 8 | Cost breakdown of Product by sub-components and average profit margin |
| 9 | Disruptive innovation in the Industry |
| 10 | Technology trends in the Industry |
| 11 | Consumer trends in the industry |
| 12 | Recent Production Milestones |
| 13 | Component Manufacturing in US, EU and China |
| 14 | COVID-19 impact on overall market |
| 15 | COVID-19 impact on Production of components |
| 16 | COVID-19 impact on Point of sale |
| 17 | Market Segmentation, Dynamics and Forecast by Geography, 2020-2025 |
| 18 | Market Segmentation, Dynamics and Forecast by Product Type, 2020-2025 |
| 19 | Market Segmentation, Dynamics and Forecast by Application, 2020-2025 |
| 20 | Market Segmentation, Dynamics and Forecast by End use, 2020-2025 |
| 21 | Product installation rate by OEM, 2020 |
| 22 | Incline/Decline in Average B-2-B selling price in past 5 years |
| 23 | Competition from substitute products |
| 24 | Gross margin and average profitability of suppliers |
| 25 | New product development in past 12 months |
| 26 | M&A in past 12 months |
| 27 | Growth strategy of leading players |
| 28 | Market share of vendors, 2020 |
| 29 | Company Profiles |
| 30 | Unmet needs and opportunity for new suppliers |
| 31 | Conclusion |
| 32 | Appendix |