Pet Car Seat Cover Market in US 2018-2023
April 29, 2018

Request Sample
Number of pages – 65
Multi User License - $1,200
INTRODUCTION
In 2000, there were 68 million pet dogs in the country, and by 2017 the number increased to 90 million. In 2012 there were 83.3 million dogs and about 47% of families had a dog.  In 2017, there were an average of 1.5 domestic dogs per family.
The invention of the canine car seat cover and its numerous varieties is not credited to a single individual or organization.The thought originated from the inadequacies of utilizing straightforward covers or towels to ensure a pet and a car's interior from damage. The product turned out to be particularly basic in the mid-2000s, with one of the main licenses allowed in 2007 that was particularly intended for a pet's use.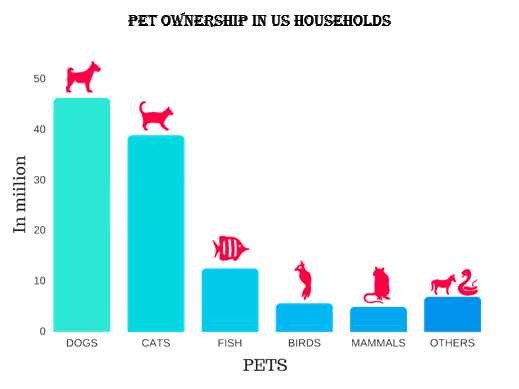 PET CAR SEAT COVER MARKET- SEGMENTATION

MARKET DYNAMICS
The millennial demographic group has become a leading and increasingly influential consumer force in the US pet market between 2007 and 2015. The millennial spending on the pet market in the US accounted for ~ 42% of the growth. The 42 million pet owners of the millennial age group now represent about one in three pet owners.This makes this population segment more relevant than ever for the pet car seat cover market.
The willingness of American families to invest so in pet ownership physically, financially and emotionally is the biggest driving force for pet car seat cover market. Post the financial turmoil of 2008, there has been a significant gain in the percentage of pet owners reporting that their pet helps relieve stress (up to 60% from less than 50%). There has also been a sizable increase in the number of dog owners reporting that exercise is one of the benefits of a canine companion- up to ~50% in 2017 from 35% in 2008. Whatever, be the added benefits of pet ownership to individual owners, most agree on one thing, pets are faithful companions.
The number of pet owners in US reached a record high of around 74 million in 2017. This means that a total of about 65% of American households have at least one pet. Almost two thirds of American households own at least one pet, with at least one dog in ~ 46 million families.
MARKET SIZE AND FORECAST
Domestic trips have always had the largest share of the U.S. leisure travel market, and over the past few years, this trend has gained momentum. U.S. travellers took 13.4 million more trips within the country in 2017. Domestic vacations made up for more ~86% of total vacations taken by American adults. Families with annual household income of $50,000 or more usually take at least one long distance trip in a year. This is the biggest driver for pet seat cover market in US.
There are more than 200 million cars on US roads and when coupled with high pet ownership across US, there exists a huge market opportunity for pet car seat cover manufacturers. Car OEMs in US rarely give even an option of buying pet seat covers from their dealerships, the buyers are left with no choice but go shopping online or to their nearest pet store. This market at present is being catered by small and medium enterprises selling products via  major e-retailers and supermarket chains.
At the national level, the ownership of pets has declined between 2006 and 2011, But the pet ownership diminished even faster in Minnesota. The number of domestic dogs in the nation in 2011 was estimated at about 70 million, down 3% compared to 2006. But the ~0.9 million dogs in Minnesota in 2011 represented a decline of 6.4% compared to the levels of 2006. 75 million Domestic cats in the nation in 2011 were 9.3% less than in 2006. But the 1.2 million domestic cats of Minnesota in 2011 represented a decline of 16% compared to 2006.Pet ownership has remained stable in all other states, therefore we believe the market will grow at an encouraging pace.
North-East has the smallest share i.e ~16% of Pet car seat cover market, primarily because of lowest population among all regions and low car ownership. New York Metropolitan area, which accounts for the most of the population of this region has the best public transportation system in entire US, which is the reason why few people travel with their pets in their car. However, the high average income of New York metropolitan area makes a strong case for pet ownership and when coupled with growing outdoor travel culture, we believe this region will grow at ~6% over the next 5 years.
COMPETITIVE LANDSCAPE
The pet industry has been consolidating through increased mergers and acquisitions, making the competition difficult for small independent retailers. About 18% of all pet product sales come from the two giants, PetSmart and Petco. Experts say they have "mixed emotions" about the results of consolidation, as the industry is now witnessing acquisitions of big players. Nestle Purina PetCare recently acquired Merrick Pet Care, J.M.Smuckers acquired the Big Heart Pet brand in 2015 and the dog toy company Outward Hound acquired Petstages.
The pet car seat cover market is extremely fragmented, marked by the presence of many regional players. Low barrier to entry is one of the biggest reason behind this high level of fragmentation. The market seems so lucrative that even online retailers like Amazon has come up with its own Amazon basics seat cover for the dogs and sells it at a very competitive price.
The car pet seat cover from 4knine has a very high satisfaction rate among  pet owners who have purchased it. Every buyer we interviewed was all praises for it. 4knine is the top pick because it offers features like non-quilted sheet material to provide complete waterproofing of the seat bottom, is super easy to clean, and installation is super simple.Orvis and Transpawt are among the other leading players of this market.
THIS REPORT WILL ANSWER FOLLOWING QUESTIONS
The market size (both volume and value) of pet car seat cover market in US in 2018-2023 and every year in between?
The market size and forecast segmented by Region (North East, West, Mid-west, South)
The market size and forecast segmented by Sales channel (E-retailing and Retail outlets)
The impact of e-commerce on pet car seat cover market
The impact of Mobility as a service on car ownership and pet car seat cover market
Latest trends in pet seat covers
Market share of leading players
Profiles of the market leaders and their market positioning
SCOPE OF THE REPORT
RESEARCH METHODOLOGY
MARKET OVERVIEW
3.1. BY VOLUME
3.2. BY VALUE
INTRODUCTION
4.1. US ECONOMY OUTLOOK
4.2. US: HOUSEHOLD INCOME
4.3. DEMOGRAPHY OF US
4.4. THE POPULAR PET FRIENDLY TRAVEL SPOTS IN US
4.5. PET OWNERSHIP HISTORY
4.6. CAR OWNERSHIP HISTORY
MARKET DYNAMICS
5.1. MARKET DRIVERS
5.1.1.     Driver 1
5.1.2.     Driver 2
5.1.3.     Driver 3
5.1.4.     Millennial and Baby Boomers Drive Growth in Dog Ownership
5.1.5.     Driver 4
5.1.6.     Growing popularity of lifestyle and recreational vehicles
5.2. CHALLENGES
5.2.1.     Challenge 1
5.2.2.     Challenge 2
5.2.3.     Challenge 3
5.2.4.     Challenge 4
5.2.5.     Challenge 5
5.3. TRENDS
5.3.1.     Trend 1
5.3.2.     Trend 2
5.3.3.     Trend 3
MARKET SIZE AND FORECAST, SEGMENTATION BY REGION 2018-2023
6.1. MARKET OVERVIEW
6.1.1.     Pet car seat cover market in US, by sales channel, by volume
6.1.2.     Pet car seat cover market in US, by region, by volume
6.2. MARKET BY REGION
6.2.1.     Pet car seat cover market in US, North- East by Volume
6.2.2.     Pet car seat cover market in US, North- East by Value
6.2.3.     Pet car seat cover market in US, South by Volume
6.2.4.     Pet car seat cover market in US, South by Value
6.2.5.     Pet car seat cover market in US, Mid- West by Volume
6.2.6.     Pet car seat cover market in US, Mid-West by Value
6.2.7.     Pet car seat cover market in US, West by Volume
6.2.8.     Pet car seat cover market in US, West by Value
MARKET SIZE AND FORECAST, SEGMENTATION BY SALES CHANNEL 2018-2023
7.1.1.     Pet car seat cover market in US, Retail outlets by Volume
7.1.2.     Pet car seat cover market in US, Retail outlets by Value
7.1.3.     Pet car seat cover market in US, E-retailing by Volume
7.1.4.     Pet car seat cover market in US, E-retailing by Value
COMPETITIVE LANDSCAPE
THE MAJOR COMPANIES IN PET SEAT COVER MARKET IN US
8.1. 4KNINES
8.2. KURGO
8.3. ORVIS
8.4. FORMOSA COVERS
8.5. PLUSH PAWS PRODUCT
8.6. CANINE COVERS
8.7. PETMATE
8.8. TRANSPAWT
8.9. LEADING THE MARKET
COMPANY PROFILES
8.1. 4KNINES (VERSALIVING)
8.2. KURGO ( MOTIVATION DESIGN)
8.3. ORVIS
8.4.FORMOSA COVERS(SUNMART INTERNATIONAL LIMITED)
8.5. PLUSH PAWS PRODUCT (SPARK PRODIGY LLC.)
8.6. CANINE COVERS (COVERCRAFT INDUSTRIES, INC.)
8.7. PET MATE (DOSKOCIL MANUFACTURING COMPANY)
8.8. TRANSPAWT (ZEKES BLEU LIMITED)
10.          CONCLUSION OF REPORT