Global Rail Freight Market Size,Trends, Forecast & Risks 2019-2025
February 11, 2020

Request Sample
COMING SOON
Multi User License - $2,500
RAIL FREIGHT MARKET – INTRODUCTION
Rail freight has a major role in global freight transport system. In Europe, Its environmental friendliness provides additional value by helping Europe in reducing carbon emission targets. Each freight train removes ~50 -70 trucks from the roads, reducing carbon emissions, traffic congestion and improving safety.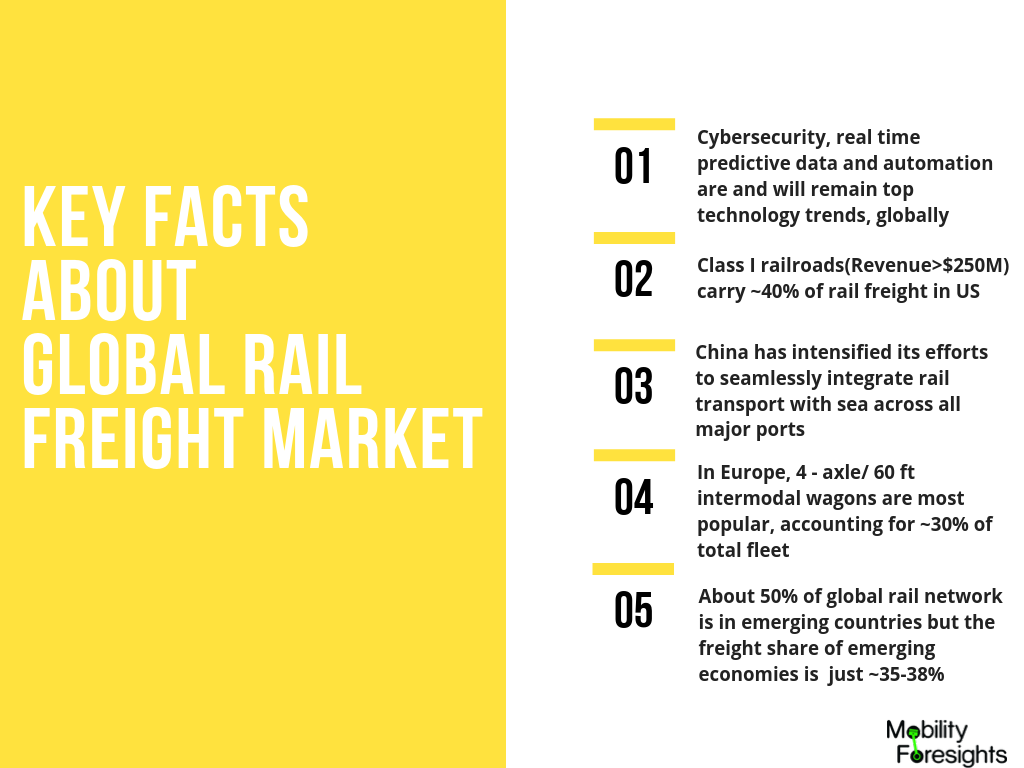 MARKET DYNAMICS
One of the major challenges for rail freight market in the US is substitution of coal by natural gas in power generation. Rail transport has always lagged behind road transport due to first and last mile transport often required in rail freight movement. Low oil prices over the past 3 years have further dented the growth of rail freight whereas making truck freight even more competitive. The high energy tax burden on the rail freight in the US and Europe is a major challenge to rail freight market. The advent of new digital marketplaces, fuel economy improvement technologies and ADAS have made road transport even more shipper friendly.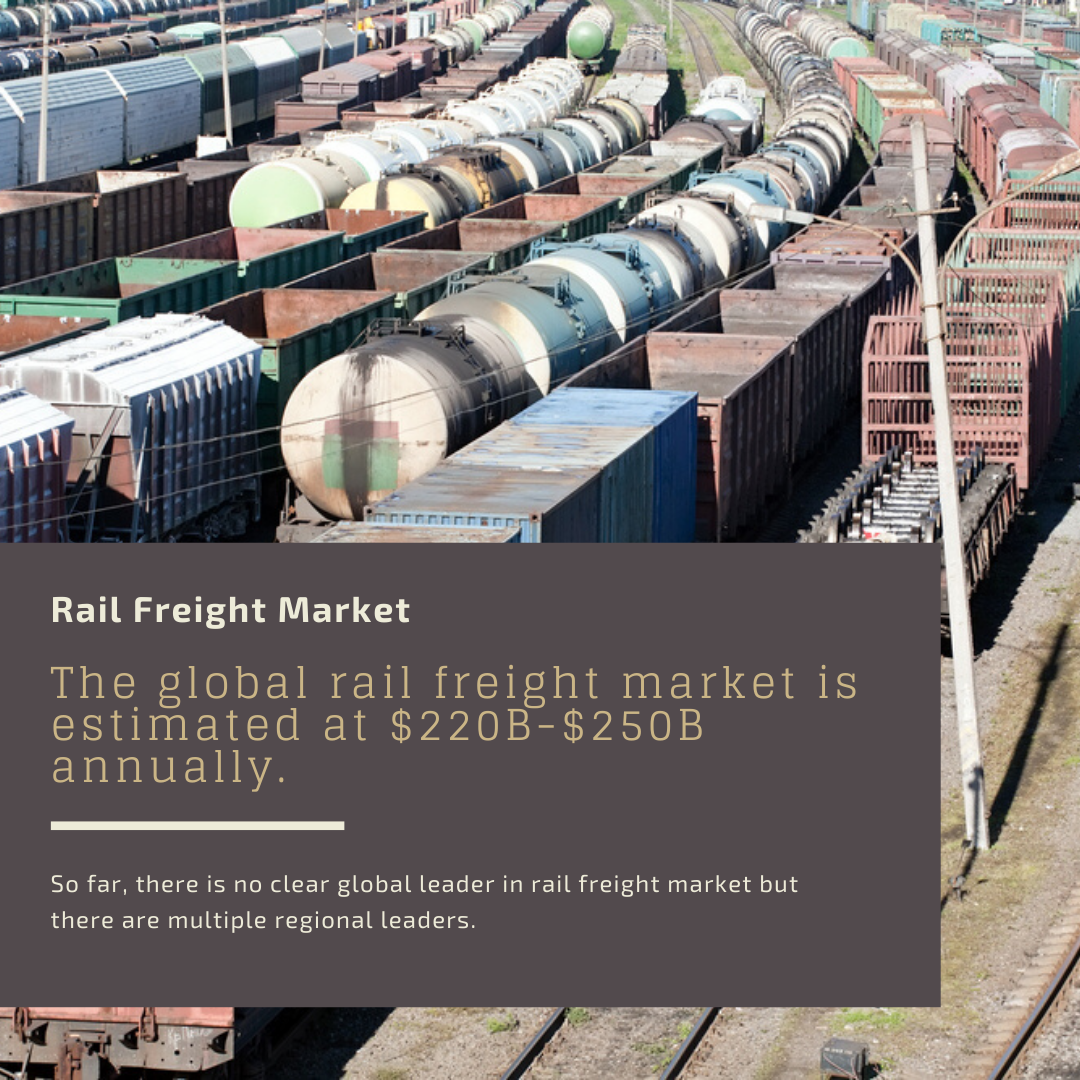 So, is the growth period for rail freight over? Well. Not exactly. The system saves the US, billions of dollars through reduced energy consumption and reduced air pollution. The rail freight system needs to improve its processes and make it shipper friendly. The deployment of digital technology on rolling stock will do just that. It will make it possible to enhance the reliability and safety of operations at the same time making them more transparent.
In US, severe winter weather and flooding on parts of its ~52,000 route-km network contributed to decline in overall rail freight volumes.
In UK, a consortium of business interests has called on the UK government to immediately start a programme for improving rail electrification to help meet the target of decarbonising the railway by 2040.
MARKET SEGMENTATION

CHINA`S EFFORTS  FOR EXPANSION AND INNOVATION IN  RAIL FREIGHT MARKET
China has intensified efforts to integrate all national ports and diversify their business growth model.  It wants to enhance their earning ability via measures such as sea-rail transport, intelligent port development and further expanding connectivity with markets related to the Belt and Road Initiative.
The goods exported via rail from China to Europe have expanded from electronic products, printers and laptops to now include  food, wine, apparel and even cars.
China is also looking to promote technical innovation in rail freight market. For example, a Chinese rail company has started selling low-emissions freight containers that maintain low temperature doing away with fuel-generated refrigeration.The invention, utilizing phase-change materials has the potential to drive down emissions produced in cooling rail and road freight containers.
RECENT DEVELOPMENTS IN RAIL WAGONS AND OPERATORS 
In Oct 2019, India based Adani  applied for accreditation as a licensed rail infrastructure manager and rolling stock operator in Australia
In Oct 2019,an experimental longer train with 70 wagons  was operated between China (Korgas)  and in Kazakhstan(Altynkol ) as part of a pilot programme to improve efficiency at the border crossing 
In Sep `19,Russia's State Transport Leasing Co gave contract for United Wagon Co to deliver 5 000 grain hopper wagons by Q4-2020 and 20 000 open wagons by Q4- 2022.Russian railways plans to reduce Japan – European delivery times via the trans-Siberian route to 14 days
In Aug 2019, Kazhakstan based Texol Group awarded United Wagon Co a contract to supply 400 articulated LPG tank wagons by Q1- 2021
In Aug 2019, About 50% or 34,000 DB Cargo wagon fleet was equipped with telematics and smart sensors. By 2020 , 100% of DB cargo`s fleet will be equipped with telematics. Every wagon will be fitted a telematics module,  GPS ,RFID and NFC tags.The sensors will transmit information about the load's condition, temperature and humidity, as well as monitoring of sensitive/hazardous materials
In Aug 2019,  Turkey based Tüpraş  awarded Stadler a contract to supply seven  electro-diesel locomotives starting 2021, along with an eight-year complete service maintenance agreement
MARKET SIZE AND FORECAST
The rail freight volume remained very much stable during 2000-2013, as compared to road freight which grew by 7% during the same period. The overall share of rail freight in Europe  came down to ~17% in 2013 from ~20% in 2000. The road freight share, on the other hand, grew from ~72% to ~75% in the same duration. The rail freight market across the globe is in dire need of better policies supporting the growth of railroad and intermodal freight transport.
Estonian operator Operail carried ~76, 000 TEU in 2019, +46% YOY increase in TEU and ~100+% increase in containerised freight tonnage YOY.In  Netherlands, rail freight transport saw an increase in kilometres increase in KMs in 2019. Rail freight transport carried out 9.8 million train kilometers, +5% YOY. This increase can be attributed to Havenspoorlijn, a 40km railway line connecting the various yards of the port of Rotterdam.
The global rail freight market is estimated at $220B-$250B annually.
COMPETITIVE LANDSCAPE
So far, there is no clear global leader in rail freight market but there are multiple regional leaders.
In recent years, trends in infrastructure charges, especially compared with other modes of transport, have significantly impacted the competitiveness of rail freight operators. The market dominance of rail freight operators is more regionalized now than ever. For example, in US,BNSF Railway and Union Pacific Railroad have a strong presence in the Western US, and CSX Transportation and Norfolk Southern are predominant in the Eastern US. This market has also seen frequent merger to reduce competition and maintain healthy freight rates over past 2 decades.
In 2019, BNSF reported decline in freight for all major segments, including industrial products (-3%), consumer products (-5%) , agricultural products  and coal. BNSF invested a total of $3.6B on capital projects in 2019, the majority of which was allocated towards maintenance and network expansion.
COMPANY PROFILES
THIS REPORT WILL ANSWER FOLLOWING QUESTIONS
What are the most important technology trends in regional rail freight market?
Changes in containers/wagons in coming years
Impact of Belt and road initiative on global rail freight market
How has tariff war impacted China-Europe, China-US trade and its effects on rail freight?
Freight rate trends in past 12 months on  major routes
Market share of major vendors in US, Europe and China
| | |
| --- | --- |
| Sl no | Topic |
| 1 | Market Segmentation |
| 2 | Scope of the report |
| 3 | Abbreviations |
| 4 | Research Methodology |
| 5 | Executive Summary |
| 6 | Introduction |
| 7 | Insights from Industry stakeholders |
| 8 | Cost breakdown of Product by sub-components and average profit margin |
| 9 | Disruptive innovation in the Industry |
| 10 | Technology trends in the Industry |
| 11 | Consumer trends in the industry |
| 12 | Recent Production Milestones |
| 13 | Component Manufacturing in US, EU and China |
| 14 | COVID-19 impact on overall market |
| 15 | COVID-19 impact on Production of components |
| 16 | COVID-19 impact on Point of sale |
| 17 | Market Segmentation, Dynamics and Forecast by Geography, 2020-2025 |
| 18 | Market Segmentation, Dynamics and Forecast by Product Type, 2020-2025 |
| 19 | Market Segmentation, Dynamics and Forecast by Application, 2020-2025 |
| 20 | Market Segmentation, Dynamics and Forecast by End use, 2020-2025 |
| 21 | Product installation rate by OEM, 2020 |
| 22 | Incline/Decline in Average B-2-B selling price in past 5 years |
| 23 | Competition from substitute products |
| 24 | Gross margin and average profitability of suppliers |
| 25 | New product development in past 12 months |
| 26 | M&A in past 12 months |
| 27 | Growth strategy of leading players |
| 28 | Market share of vendors, 2020 |
| 29 | Company Profiles |
| 30 | Unmet needs and opportunity for new suppliers |
| 31 | Conclusion |
| 32 | Appendix |