GLOBAL RAIL SEATS MARKET
INTRODUCTION
Transportation is one of the vital businesses in any economy. Over the years, the advent of globalization and countries improving their international relations indirectly create an important demand for transportation.
Among all forms of transportation, rail transportation is considered to be one of the efficient modes of transportation. Railways are considered to be the largest end-use in developed countries and as the most rapidly growing end-use in developing nations. To align with various modifications and advancements in the industry, manufacturers of train seat materials are also aiming to come up with newer and comfortable configurations in the seats installed in a train.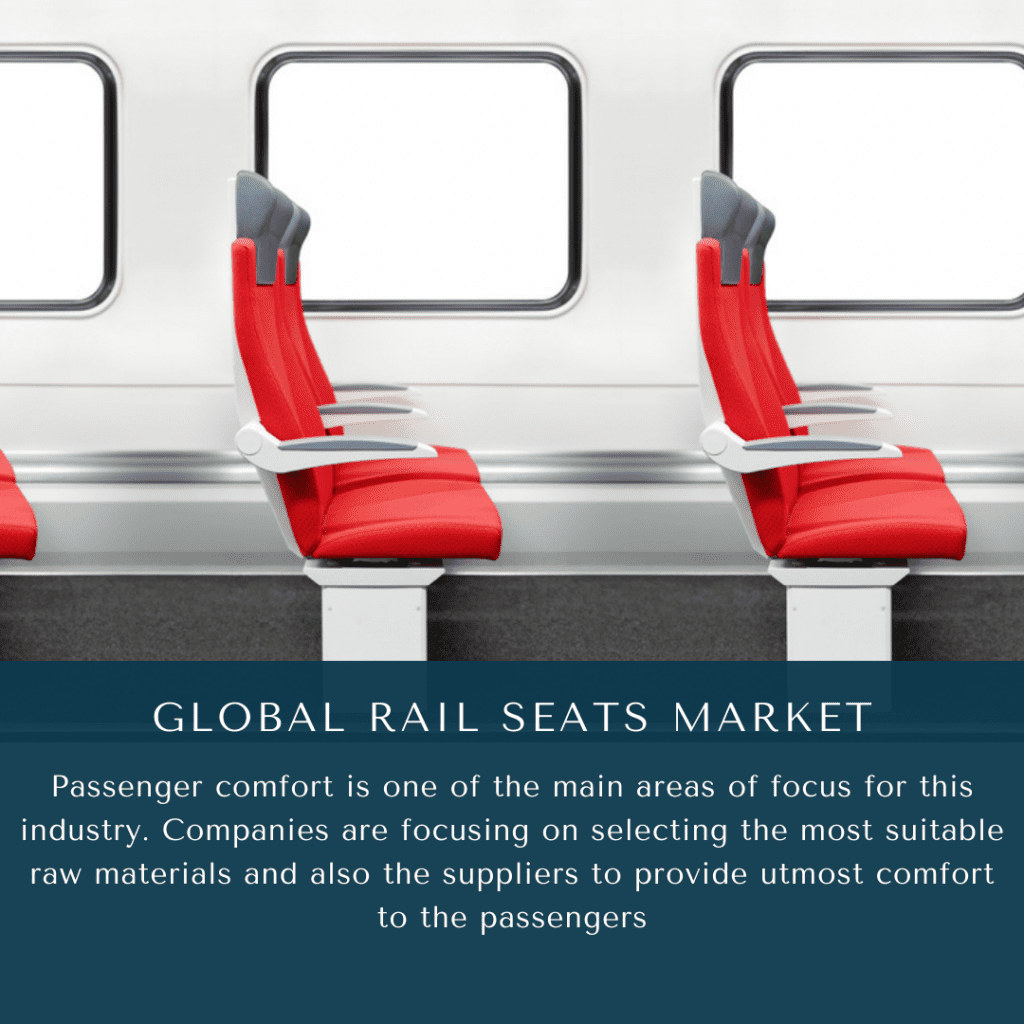 The market is subjected to growth because of increased investments in the railway industry accounting to urbanization and preference for eco-friendly transportation.
In this report, we will further dwell upon the intrinsic characteristics of the Global rail seat market.
GLOBAL RAIL SEATS MARKET DYNAMICS
The major driving factors for the growth of this market can be listed as below:
Rapid urbanization resulting in increased investments.

Increased tendency of the general public to go eco-friendly.

The rise in demand for high-speed trains.

Demand for comfortable and multi-functional seats.

Construction and modifications in existing rail networks.
However, on the other side, since the rolling stock market is highly capital intensive, it might act as a blunder in the market's growth. Not only this, on safety grounds, train seat materials have to pass certain fire safety regulations. Because of such strict, but necessary, laws, the use of materials like polyester is prohibited and therefore, such terms may hamper the growth of this market.
The market is segmented into various parts. The market segmentation is primarily into: Seat Cover Material, Train Type, Seat Type, and Foam used. The seat cover material generally used is either fabric, Vinyl, or Leather. The Train type could be – High-Speed Train, Local Passenger train or a General Passenger train. The seats which can regularly be found installed on the train are Regular Seats, Recliner seats, or Folding seats. The foam used in Train seats is mainly Silicone, Polyurethane, or Polyester.
As mentioned earlier, manufacturers are shifting from the use of conventional train seat fabric to other materials like leather. Also, leather train seats are considered to be more hygienic and aesthetic.
GLOBAL RAIL SEATS MARKET SIZE AND FORECAST
Geographically, the market is divided into various regions. Major regions are               
North America, Latin America, Asia-Pacific, Europe, Middle East, and Africa.
A large number of railway development projects are undergoing in various countries such as China, India, United Kingdom. The European market is expected to dominate the seat market owing to one of the fastest developments in high-speed trains and therefore automatic demand for comfortable seats during transit. The same development is expected in the Asian-pacific region owing to the development of better rail infrastructure. Because of population growth in countries like India and China, there is a natural increase in intercity trade and commute. Also, the living standard of people living in this region is rising which will eventually lead to an increase inefficient transport system demand. 
The introduction of the various metro, monorail, and light-train projects in the North American region will propel the growth of this market. Companies like Seats Incorporation are producing wall-mounted seats to make more space for passengers in a coach.
Incentives by Rail Development group like launching new investment program introducing thousands of new carriages will help the seat market to flourish. High-speed trains have a huge potential to be exploited in the market since they are capable of covering larger distances in short periods. This will eventually give the push for the demand for Seat manufacturing materials for such new carriages to be developed.
The organization of programs like InnoTrans motivates upcoming startups and companies to showcase their innovations and amplify their presence in the market. Also, major companies in the marketplace are signing up contracts and entering into partnerships. In 2016, Freedman Seating Corporation entered into a collaboration with Lectra, which provides integrated technology solutions to meet the demand for seating products.
Increasing government initiatives aiming to attract tourists and travelers and usage of high-speed trains for long routes with a luxurious interior and better services will further help in the growth of the market.
COMPETITIVE LANDSCAPE
The need for technological advancements like cost-effective and multifunctional seats is expected to create more opportunities for prospective startups to come up with innovations and flourish in the market. 
The major companies are already working on cost-effective train seats which can create high revenue opportunities for them. The OEMs are also focusing on manufacturing specialized train assemblies for government and private rail transport. Additionally, the subsidiary demands like extra features – charging points and safety belts are some minute but intrinsic modifications which are appreciated in the marketplace.
Passenger comfort is one of the main areas of focus for this industry. Companies are focusing on selecting the most suitable raw materials and also the suppliers to provide utmost comfort to the passengers. An example, Camira Fabrics Limited offers customized fabric for seats. However, as mentioned earlier, manufacturers have transitioned to using leather owing to robust features. Additionally, Seats Incorporation has introduced the EVC-Elastomeric Vibration Control series in rail seats that are capable of reducing vibrations and shocks experienced during travel.
Also, adding lights to seats is an appealing feature. Usage of lights for reading, seat reservation indication, or table use can come in handy to passengers on the rail. Grammar AG, focusing on the stated feature displayed integration of lighting systems on its IC3000 passenger seats. Also, manufacturers are expected to comply with the pollution norms set by governments for making eco-friendly seat designs. An example of this can be taken from Camira Fabrics which is using recycled plastic from oceans to manufacture fabrics for seats.
COMPANY PROFILE
Some of the prominent market players in the Global rail seat market are:
Grammer AG

Saira Seats

Automotive Seatin

FISA Srl

Kustom Seating Unlimited Incorporation

Rescroft Limited

FENIX Group

FlexoFoam Private Limited

IFoam Limited

Delimajaya Group

TransCal Limited

Wise Company Incorporation

Fenix Group LLC

CE White Corporation.

Rojac Urethane Limited

Ulrich Seats Limited