Global Railway Traction Motor Market 2020-2025
October 27, 2020

Request Sample
Coming Soon
Multi User License - $2,500
GLOBAL RAILWAY TRACTION MOTOR MARKET
INTRODUCTION
We are living in times of scarcity. Terms and phrases like sustainability, climate change, ozone depletion, closed loop economic transformation of industries, etc. are gaining finer definitions each day.
We are now building suitable alternatives. Concepts like Electrification, Public Transit Infrastructure Developments and regulations, shared mobility practices, etc. are redefining the language of leisure and want as we know it.
Locomotive and Railway Transit Systems, however has been suitably practicing this approach since decades now. Since, the onset of Locomotive vehicles in the early 19th century, the drivetrain of these transportation units has seen many developments.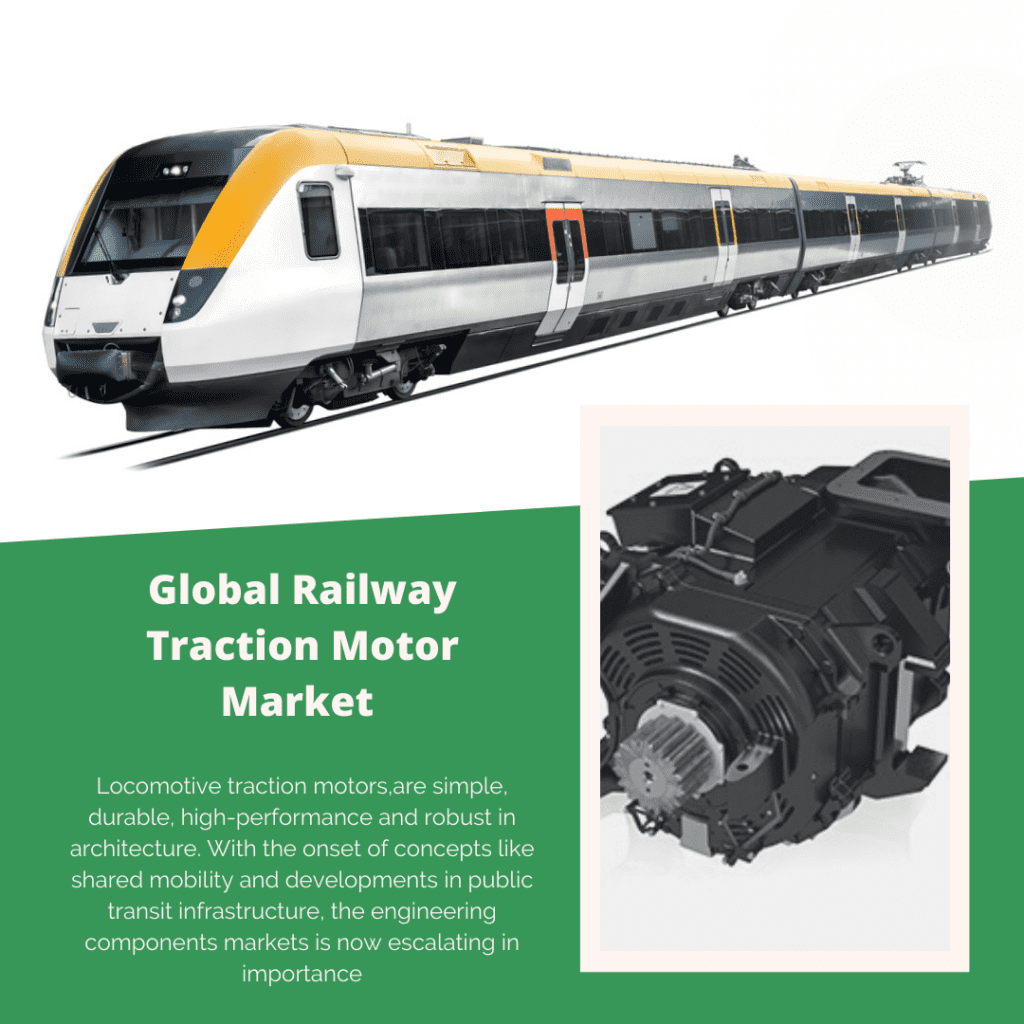 They have been evolutionary. The revolution came with the introduction of Electric Drivetrains. The solution allowed bogies to travel even larger distances with enhanced efficiency and at greater speeds. Subsequently, the cost of maintenance went down as the as life of product increased.
With the introduction of electric drivetrains, infrastructure for locomotives witnessed developments. Newer concepts were introduced and diesel/coal drivetrain engines were sidelined.
In engineering terms, the traction motor is responsible for the propulsion of the vehicle by controlling the input parameters of frequency, voltage and current applied at the stator coils whilst producing the desired speed and torque as a part of output.
CONSTRUCTION OF A TRACTION MOTOR
The traction motor system has three primary layout types:
Direct Current Electrification system
Alternating Current Electrification system
Composite system
Like a conventional motor, a traction motor also consists of a rotating armature around fixed field windings surrounding the entire armature, all of which is supported by a shaft arrangement. The fixed field comprises of fixed coils tightly wound around inside the motor cage.
The armature is another set of coils wound around the shaft which happen to be connected via brushes to the field. The contact between the armature and the field is maintained by spring loaded contacts pressing against the extension of armature, called commutator. It is responsible for distribution of correct current flow in appropriate sequence.
MARKET DYNAMICS
Locomotive traction motors, as previously said, are simple, durable, high-performance and robust in architecture. With the onset of concepts like shared mobility and developments in public transit infrastructure, the engineering components markets is now escalating in importance.
Segment Categorization
Railway networks, before had restricted access to many remote locations of the planet due to inefficiency of the combustion engines. With the changing picture, certain factors like territorial demarcations & physical topography hurdles of the planet still seem to challenge the system.
Hence, geographical access for a locomotive is considered an important segment where engineering optimizations need to be carried out suitably.
Type of Use
Monorails, Metros, Goods-carriers, Passenger Trains, Bullet Trains, Hyperloop conceptualization all have the common fundamentals in terms of transportation ideation. However, despite having a common stem, each of these have separate target audience and use.
Monorails and subway lines are used for urban commute specifically while goods carriers are meant for long overhaul transportation of goods. The application is molded according appropriate land use and specific need of the target consumers.
Type of Tech
Based on the above-mentioned parameters, the propelling units of the drivetrain i.e. the motors are segmented as AC, DC or Synchronous.
Overall, the Asia-Pacific corridor is the largest consumer in terms of Locomotive technologies and growth of greener solutions in terms of power unit can motivate overall scenario.
TRENDS & DEVELOPMENTS
The traction motor market is undergoing through a comfortable shift from Hybrid Diesel powered electricity generation motors to overall electric rail network.
As a part of drawback of the current system, the motor efficiency is a concern to be highlighted. Promotion of energy saving methodologies is being aimed at widely. At parallel, minimization of longitudinal vibrations and eccentric noise have to be developed at power in order to boost overall ride experience even at harsh geographical conditions.
NEW PRODUCTS DEVELOPED IN RAIL TRACTION MOTOR MARKET
MITRAC Propulsion System: A new generation of converters engineered by rolling stock pioneer Bombardier comes in two variants – air-cooled traction converters suited for decentralized propulsion systems for trains with distributed propulsion such as trams, automated people movers, metros, regional and intercity trains etc. This Propulsion system also characterizes increase in energy efficiency by adding alternative energy solutions such as lithium-ion traction batteries and supercapacitors.
New-gen DMU System: in Sep 2020, ZF showcased a modular gearbox for metro trains called EcoMet which is a compact, powerful and cost-efficient DMU system and offers a drive power maximum of 600kW and an input torque of 2500Nm. It features a revised and extended powershift transmission, and a reversing gear with two shift positions directly integrated into the transmission, suitable for slow as well as fast long-distance operation
Hydrogen Powered Trains:

In Germany, Alstom is currently running two trials trains which are Hydrogen powered.
Spanish train manufacturer Talgo unveiled a new modular hydrogen-powered propulsion system at a conference in Spain in Sep 2020 which it says could offer an emission-free alternative to diesel traction for non-electrified line
Scotland is also planning to implement around 300 hydrogen powered trains. Some advantages of hydrogen powered train are that they can run on the electrified and conventional lines alike and they are incredibly quiet compared to their diesel counterparts. Nevertheless, challenges in terms of mass supply of hydrogen and safety concerns, are yet to be addressed for mass deployment
High-speed metro: China debuts 160km/h metro train for Guangzhou. China's Guangdong Province has ordered 40 of the trains from CRRC Zhuzhou Locomotive
COMPANY PROFILES
| | |
| --- | --- |
| Sl no | Topic |
| 1 | Market Segmentation |
| 2 | Scope of the report |
| 3 | Abbreviations |
| 4 | Research Methodology |
| 5 | Executive Summary |
| 6 | Introduction |
| 7 | Insights from Industry stakeholders |
| 8 | Cost breakdown of Product by sub-components and average profit margin |
| 9 | Disruptive innovation in the Industry |
| 10 | Technology trends in the Industry |
| 11 | Consumer trends in the industry |
| 12 | Recent Production Milestones |
| 13 | Component Manufacturing in US, EU and China |
| 14 | COVID-19 impact on overall market |
| 15 | COVID-19 impact on Production of components |
| 16 | COVID-19 impact on Point of sale |
| 17 | Market Segmentation, Dynamics and Forecast by Geography, 2020-2025 |
| 18 | Market Segmentation, Dynamics and Forecast by Product Type, 2020-2025 |
| 19 | Market Segmentation, Dynamics and Forecast by Application, 2020-2025 |
| 20 | Market Segmentation, Dynamics and Forecast by End use, 2020-2025 |
| 21 | Product installation rate by OEM, 2020 |
| 22 | Incline/Decline in Average B-2-B selling price in past 5 years |
| 23 | Competition from substitute products |
| 24 | Gross margin and average profitability of suppliers |
| 25 | New product development in past 12 months |
| 26 | M&A in past 12 months |
| 27 | Growth strategy of leading players |
| 28 | Market share of vendors, 2020 |
| 29 | Company Profiles |
| 30 | Unmet needs and opportunity for new suppliers |
| 31 | Conclusion |
| 32 | Appendix |