Global Retail Banking Market 2020-2025
November 16, 2020

Request Sample
Coming Soon
Multi User License - $2,500
GLOBAL RETAIL BANKING MARKET
INTRODUCTION
Retail Banking or Consumer banking are the financial services provided to the individuals and not the businesses. There are services offered that include checking and savings accounts, mortgages, personal loans, credit cards and certificates of deposit.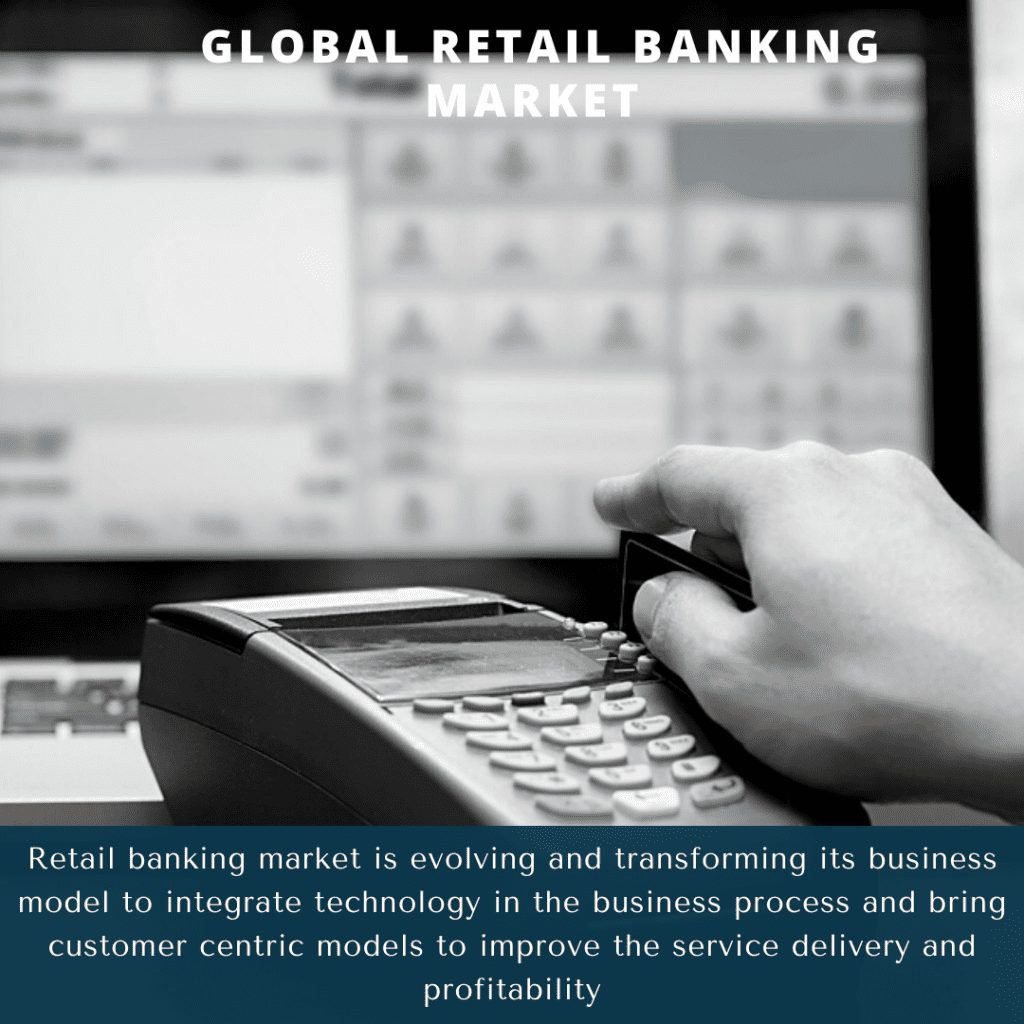 The aim of retail banks is to become a one-stop shop for as many financial services to provide the individual retail clients. In the digital era, internet and smartphone popularity has brought Fintech companies into the picture and they are offering retail banking services via mobile apps.
Several retail banks have also started to provide online services to the consumers and limited the need to visit bank branches for the same service.
MARKET DYNAMICS
In the existing market of Retail Banking, the offerings are checking and savings accounts, mortgages, personal loans, credit cards and certificate of deposits.
However, the product offerings for retail clients are expanding like addition of financial advisory with product offerings, investment services like wealth management, retirement planning, brokerage accounts and high net worth individual products or private banking.
According to the World Retail Banking Report 2020, over 57% of the consumers are now preferring internet banking, pre-COVID-19 the consumer preference was 49%, and 55% preferring mobile apps for banking services which in contrast to pre-COVID level was 47%. Therefore, many banks have evolved its digital platform experience to give seamless experience to consumers.
Furthermore, the growth of digital platform in the retail banking has some challenges, according to the reports 80% of the bank executives cited cybersecurity and privacy concern, 68% cited outdated data management and 73% cited identification of right partners as the barrier to transforming into the online platform.
MARKET SIZE AND FORECAST
There are different types of retail banks such as Public Sector Banks, Private Sector Banks and Foreign Banks. The PSBs have the largest market share due to their established goodwill in the market and they are anticipated to gain larger market share with strong balance sheet and strong governance.  
Geographically, the market is segmented as North America, Europe, Latin America, Middle East & Africa and Asia Pacific. The North American region is expected to dominate the retail market as they have highly focused to improve efficiency of banks by developing a more customer centric business model and actively managing risk, regulations and capital.
As of March 2020, the largest commercial banks by assets are Industrial and Commercial Bank of China Ltd (IDCBY), J.P. Morgan Chase & Co., Japan Post Holdings Co. Ltd, China Construction Bank Corp.(CICHY), Bank of America Corp., Agricultural Bank of China Ltd(ACGBY), Credit Agricole SA, Wells Fargo & Co., Bank of China Ltd, Citigroup Inc.
COMPETITIVE ANALYSIS
Industrial and Commercial Bank of China Ltd.: It is the largest bank in the world by the total assets under management. The company provides services like credit cards, loans, business financing, money management for the companies and private banking.
Financials
Net Profit (TTM) – $45.3 Billion
Revenue (TTM) – $ 123.6 Billion
Market Cap – $231.8 Billion
JP Morgan Chase & Co.: It is a financial holding company and provides financial and investment banking services. The company operates through the segments such as Consumer and Community Banking, Corporate and Investment Bank, Commercial Baking and Asset and Wealth Management. The company has global clients including corporations, investors, financial institutions, government and municipal entities.
Financials
Net Profit (TTM) – $36.4 Billion
Revenue (TTM) – $ 114.6 Billion
Market Cap – $280.1 Billion
Japan Post Holdings Co. Ltd.: It is a Japanese company and manage its group companies in the business of postal, banking and insurance businesses. It operates in the segments such as Postal and Domestic Logistics, Financial window, International Logistics, Banking, Life Insurance, and Others. In the Financial window segment it offers services in banking, insurance, merchandising, real estate and finance.
Financials
Net Profit (TTM) – $4.7 Billion
Revenue (TTM) – $112.3 Billion
Market Cap – $34.4 Billion
CONCLUSION
Retail banking market is evolving and transforming its business model to integrate technology in the business process and bring customer centric models to improve the service delivery and profitability.
The key drivers for this transformation is the customer preference for digital adoption and using smartphones apps for the banking services.
Many Fintech companies are emerging in the market to provide retail banking services which are a huge disruption to the traditional players in the market. Therefore, many traditional banks are coming up with online services to deliver better services to the customers. COVID-19 has further pushed more customers in the digital market and adopting online banking services.
COMPANIES PROFILED
| | |
| --- | --- |
| Sl no | Topic |
| 1 | Market Segmentation |
| 2 | Scope of the report |
| 3 | Abbreviations |
| 4 | Research Methodology |
| 5 | Executive Summary |
| 6 | Introduction |
| 7 | Insights from Industry stakeholders |
| 8 | Cost breakdown of Product by sub-components and average profit margin |
| 9 | Disruptive innovation in the Industry |
| 10 | Technology trends in the Industry |
| 11 | Consumer trends in the industry |
| 12 | Recent Production Milestones |
| 13 | Component Manufacturing in US, EU and China |
| 14 | COVID-19 impact on overall market |
| 15 | COVID-19 impact on Production of components |
| 16 | COVID-19 impact on Point of sale |
| 17 | Market Segmentation, Dynamics and Forecast by Geography, 2020-2025 |
| 18 | Market Segmentation, Dynamics and Forecast by Product Type, 2020-2025 |
| 19 | Market Segmentation, Dynamics and Forecast by Application, 2020-2025 |
| 20 | Market Segmentation, Dynamics and Forecast by End use, 2020-2025 |
| 21 | Product installation rate by OEM, 2020 |
| 22 | Incline/Decline in Average B-2-B selling price in past 5 years |
| 23 | Competition from substitute products |
| 24 | Gross margin and average profitability of suppliers |
| 25 | New product development in past 12 months |
| 26 | M&A in past 12 months |
| 27 | Growth strategy of leading players |
| 28 | Market share of vendors, 2020 |
| 29 | Company Profiles |
| 30 | Unmet needs and opportunity for new suppliers |
| 31 | Conclusion |
| 32 | Appendix |