Global Shark Fin Antenna Market 2020-2025
October 19, 2020

Request Sample
Coming Soon
Multi User License - $2,500
GLOBAL SHARK FIN ANTENNA
INTRODUCTION
Shark fin antenna is a new antenna technology which are used for more than just radio reception predominantly for automotive applications.
In fact, some models may even have the AM/FM radio receiver located elsewhere on the vehicle. When it comes to the shark fins, however, those are often used to pick up other signals, such as cellular data, GPS and satellite radio.
Essentially the car has all the capabilities to stay connected on the go, and in order to pick up the signal that transmits this information, it's going to require some form of an antenna. The shark fin is simply a convenient and good-looking way of hiding all those antennas.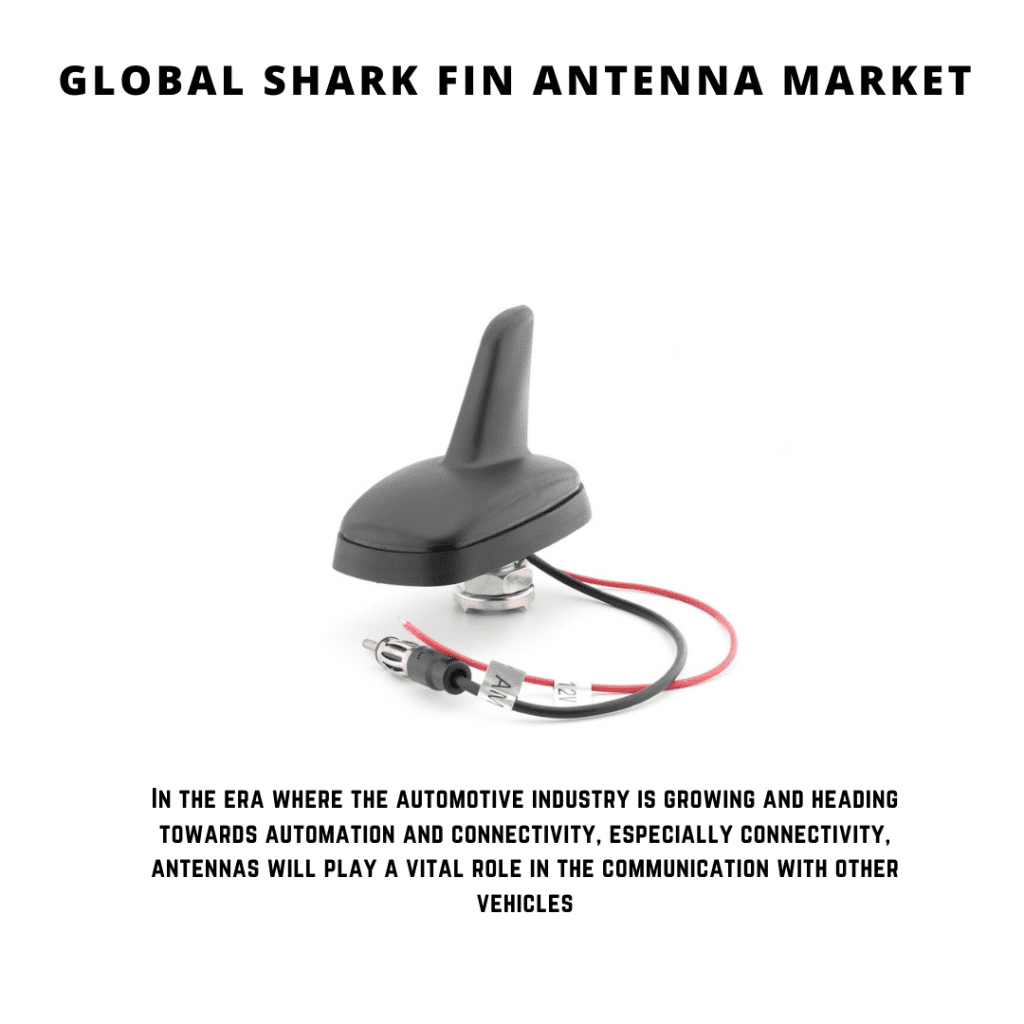 The newest and most advanced technology in the antenna sector is the Conformal Antenna. The conformal antenna is a flat radio antenna designed to conform or follow some prescribed shape, singlehandedly eliminating the need for the unsightly "shark fin."
Originally developed as avionics antennas integrated into the curving skin of military aircraft to reduce aerodynamic drag , conformal antennas replaced conventional antenna designs which protrude from the aircraft surface.
MARKET PLAYERS
Laird – is a leading British electronics company, whose main operations are in areas of Performance Materials, Wireless and Thermal Systems, and Connected Vehicle Solutions. Generated a revenue of 936 million British pounds in FY17-18.
Their standout shark fin antenna called the Laird Phantom Fin multiband antenna provides an excellent solution for the public safety, transportation and after market fleet applications.
The Phantom Fin requires only (1) one single hole mount/fixing which reduces vehicle damage, cost of installation and visual impact. The Phantom Fin design provides multiple antenna functions while remaining discrete. The Phantom Fin multiband antenna integrates 4G/LTE, GPS, UHF and WLAN frequency operation into one aerodynamic housing
Harada – is a Japanese manufacturer of antennas for automobiles and communication devices such as base stations for cellular phones.
Their major products include LPA (Low profile Antenna), Rod type antenna, and In-dash type Antenna. The Company also produces remote control devices including automobile keyless entry and remote car starter system.
Harada has its subsidiaries in the US, the UK, China, Mexico, Vietnam, and Singapore.
Currently, composite types of these antennas that support various media in addition to radio are constantly being introduced to the market on the back of the evolving technology. In 2019, Harada generated a total sale of 411 million Yen or 3.8 billion USD. Their sales breakdown by region for the year 2019 was Japan (36.9%), USA (31.5%), Europe (10.6%), Asia (21%).
Yokowa – is a Japanese multinational electrical engineering and software company, with businesses based on its measurement, control, and information technologies.
Yokogawa's main businesses are in areas of industrial automation and test and measurement hardware and software, main hardware products include Pressure Transmitters, Flow meters, analysers, controllers, recorders and data acquisition equipment.
In 2019, Yokowa generated a total sale of 404 million Yen or 3.7 billion USD. According to Yokowa, the sales generated in this fiscal year saw a 45.6% decrease yoy, as opposed to 105million in profit the previous year during the same period.
Kathrein – or officially known as Kathrein-Werke KG is a Germn antenna manufacturer headquartered out of Rosenheim in Germany. It is one of the oldest and largest antenna manufacturers which was valued at around $1.8 billion in 2015 but was acquired by Swedish giant Ericsson in the year 2019. It is also one of the primary suppliers to the German car maker, BMW.
Hirschmann mobility – In 2017, TE Connectivity Ltd, a world leader in connectivity and sensors, announced its acquisition of Hirschmann Car Communication (HCC).
Hirschmann Car Communication is one of the world's leading specialists in antenna technologies, primarily for automobile communications and connectivity. HCC is based in Germany and operates in Europe, North America and China.
Jinbo Antenna – is a Chinese based antenna supplier and their main products include Car Antenna, Car Communication Antenna, Car Radio Antenna, Car CB Antenna, Car Air Compressor. In 1995, it changed the company name to Zhejiang JinBo Electron Co.,Ltd, and began exports worldwide
MARKET SEGMENTATION
Shark Fin Antenna Market by Types
Combined Antenna
AM/FM Antenna
Shark Fin Antenna Market by Applications
SOME OF THE KNOWN ADVANTAGES OF SHARKFIN ANTENNA ARE
Easy to Install: Only one piece of hardware is needed to install instead of several, and it can be attached with a simple, tamperproof direct mount stud.
Aesthetically appealing: They are sleek, aerodynamic, and visually pleasing, ideally placed on a ground plane.
Cost Effective: Since only one multi band antenna is required instead of several single antennas, these antennas turn out to be cost effective for the OEMs.
High Performance: This antenna provides superior performance with regard to communication, navigation, and data transfer.
Very rugged: Tree branches, bad weather, and car washes are no match for these multi-band antennas, which are designed to withstand the regular hazards that antennas face when mounted on a vehicle and exposed to the elements.
Long and reliable lifespan: Shark Fin antennas are built to last. They are IP67 weatherproof while providing UV protection. These design features ensure a long, reliable, maintenance-free life.
High quality radio reception: is ensured owing to our unique patented technology.
Wind noises are reduced compared to rod type antennas.
The antennas are attached by laser welding without using any screw, allowing lower profile and lighter weight.
MERGERS AND ACQUISITIONS
Laird Plc, a British electronics manufacturer was acquired by Advent International in 2018.
In June 2019, Swedish mobile network equipment maker Ericsson confirmed that it was buying the antenna and filters division of Germany's Kathrein in a move which will boost its 5G product portfolio as antenna technology becomes increasingly important. Ericsson said in a statement that the acquired business had sales of around 270 million euros ($306 million) during the year 2017.
TE Connectivity acquired Hirschmann automotive in order to strengthen their antenna segment in order to cater to the growing advancement in ADAS and connectivity in the automotive segment.
CONCLUSION
In the era where the automotive industry is growing and heading towards automation and connectivity, especially connectivity, antennas will play a vital role in the communication with other vehicles. High performance, agile and fail proof antennas are the need of the hour in order to aid the development of connected cars.              
Automotive OEM's are continuously partnering up with network giants such as Ericsson and TE connectivity in order to establish their systems and networks in the upcoming models.
Therefore, despite the down trend in sales and R&D due to Covid-19, the long drawn interest in automotive OEM's to bring about a revolution in connected cars will show a positive upward trend in interest to improve the network infrastructure in their cars.
COMPANIES PROFILED
Suzhong
Ace Tech
Skyworks
TriQuint
RFMD
Avago
Murata
Epcos
Infineon
RDA
Vanchip
| | |
| --- | --- |
| Sl no | Topic |
| 1 | Market Segmentation |
| 2 | Scope of the report |
| 3 | Abbreviations |
| 4 | Research Methodology |
| 5 | Executive Summary |
| 6 | Introduction |
| 7 | Insights from Industry stakeholders |
| 8 | Cost breakdown of Product by sub-components and average profit margin |
| 9 | Disruptive innovation in the Industry |
| 10 | Technology trends in the Industry |
| 11 | Consumer trends in the industry |
| 12 | Recent Production Milestones |
| 13 | Component Manufacturing in US, EU and China |
| 14 | COVID-19 impact on overall market |
| 15 | COVID-19 impact on Production of components |
| 16 | COVID-19 impact on Point of sale |
| 17 | Market Segmentation, Dynamics and Forecast by Geography, 2020-2025 |
| 18 | Market Segmentation, Dynamics and Forecast by Product Type, 2020-2025 |
| 19 | Market Segmentation, Dynamics and Forecast by Application, 2020-2025 |
| 20 | Market Segmentation, Dynamics and Forecast by End use, 2020-2025 |
| 21 | Product installation rate by OEM, 2020 |
| 22 | Incline/Decline in Average B-2-B selling price in past 5 years |
| 23 | Competition from substitute products |
| 24 | Gross margin and average profitability of suppliers |
| 25 | New product development in past 12 months |
| 26 | M&A in past 12 months |
| 27 | Growth strategy of leading players |
| 28 | Market share of vendors, 2020 |
| 29 | Company Profiles |
| 30 | Unmet needs and opportunity for new suppliers |
| 31 | Conclusion |
| 32 | Appendix |