Global Smart Speaker Market 2020-2025
November 16, 2020

Request Sample
Coming Soon
Multi User License - $2,500
GLOBAL SMART SPEAKER MARKET
KEY FINDINGS
For the forthcoming years, the smart speaker segment is expected to expand its reach which would require more data to be processed by the smart speakers which would involve more complex set of databases so advancement of software is expected.
Major restraints for the market growth of smart speakers has been in terms of data privacy and localization of the language adoption by the virtual assistant
The market is getting increasingly crowded with various new launches from various players
With the advent of smart speakers, there is an increasing advent of voice commerce
The smart home segment was found to be contributing the largest market share for the forecast period
INTRODUCTION
Global consumer electronics market is witnessing a major surge in the adoption of smart devices with the ever-changing innovations of the IoT (Internet of Things) which has given the end consumers the luxury of interoperability of devices.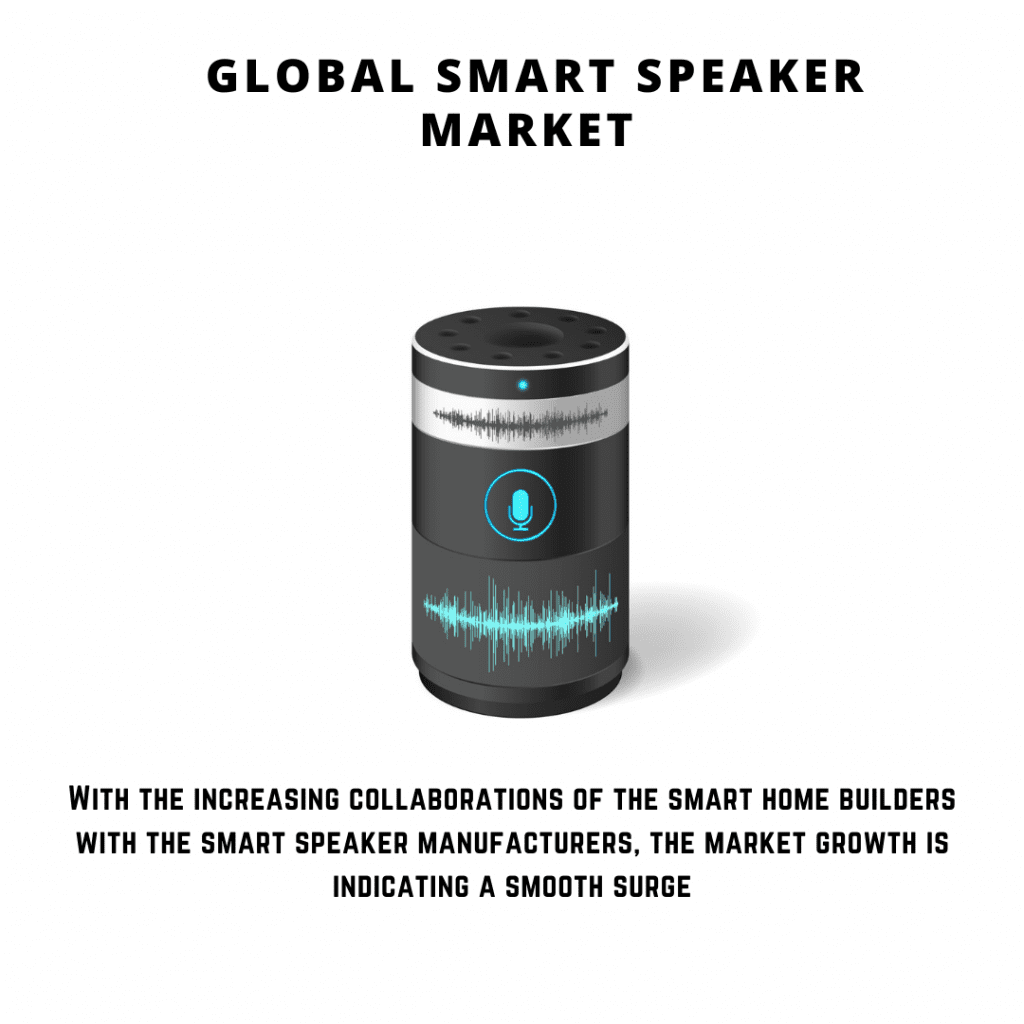 Smart speaker is one the highest adopted product category. The virtual assistant feature with the help of artificial intelligence helps operate the smart devices through Wi-Fi connectivity to integrate daily life functionalities like ordering food online, playing music, listening to news and weather forecast just at the effort of voice commands.
MARKET DYNAMICS
The major market forces attributed to the increasing adoption of the smart speakers are
Growing adoption of seamless internet (both 3G and 4G) connectivity in both the upper middle income and the lower middle-income countries
Switching trend of smart home devices from manually operated devices, the high disposable per capita income
Changing consumer behavior of switching to multifunctional devices for ease of use at a negligible incremental cost including
Rising trend among millennials and younger generation to be early adopters for latest technological innovations.
With the increasing collaborations of the smart home builders with the smart speaker manufacturers, the market growth is indicating a smooth surge.
RECENT NEW PRODUCT DEVELOPMENTS
Huawei, a Chinese manufacturer has introduced Huawei Sound X in collaboration with Devialet, a French audio company outside of China.
Amazon introduced Echo devices in Sep 2019 with the all new Echo Show 8, Echo Flex and Echo Dot with clock.
Baidu introduced its latest Xiaodu Smart Display X8 Smart Display for the Chinese market which includes full view touchscreen display with 1200*800 resolution and robust microphone array and supports biometric modalities including gesture ad face recognition
Top Intelligent Virtual Assistants:
Alexa
Google Assistant
Siri
Baidu
AliGenie
MARKET SEGMENTATION
Market is segmented majorly in terms of
Geography- Global market is segmented into North America (U.S, Canada, Mexico), Europe (UK, Germany, France, Italy, Rest of Europe), Asia Pacific (China, India, Japan, Australia, rest of Asia-Pacific) and LAMEA (Latin America, Middle East, Africa).
The adoption of smart speakers is high for regions like North America where the consumer choices are majorly driven by the ease of use, luxury and entertainment with the advent of technological interventions and willingness to adopt newer technology with advanced features. Smart city projects for both China and India shall prove to be a huge opportunity to drive the smart speaker market growth.
Intelligent Virtual Assistant (IVA): The major players in the global market are Amazon Alexa, Google Assistant, Siri, Cortana and others (AliGenie, XiaomiAI Assistant, Duer OS, SKT NUGU,Naver Clova and Kakao)
Attributing to the established market segment of Apple and iOS devices, expected growth of Siri is about 35%. In 2017, 48.4% of smartphone voice assistant segment was contributed by Siri. And the major drivers for Siri could be the deep integration technology and high-quality virtual surround sound.
On the other hand, Alexa is available in more than 80 countries holds a major market share of 70% owing to its low pricing and wide array of benefits including playing games, listening to music, news as well as controlling smart homes. Alexa is also being integrated by other companies such as Fabriq and Sonos which is affordable for the price sensitive customer segment.
By Price: The smart speaker category is segmented into: Low pricing, average pricing and premium pricing category
COVID IMPACT ON GLOBAL SMART SPEAKER MARKET
With the nation-wide lockdown due to the pandemic, there has been seen an increasing trend of digital media adoption and a major shift has been observed in terms of digitization as means of entertainment. This might prove to be an opportunity for increasing adoption of the smart devices although no market study report was found to affirm this prediction.
COMPETITIVE LANDSCAPE
Alphabet
Alibaba (China)
Baidu (China)
| | |
| --- | --- |
| Sl no | Topic |
| 1 | Market Segmentation |
| 2 | Scope of the report |
| 3 | Abbreviations |
| 4 | Research Methodology |
| 5 | Executive Summary |
| 6 | Introduction |
| 7 | Insights from Industry stakeholders |
| 8 | Cost breakdown of Product by sub-components and average profit margin |
| 9 | Disruptive innovation in the Industry |
| 10 | Technology trends in the Industry |
| 11 | Consumer trends in the industry |
| 12 | Recent Production Milestones |
| 13 | Component Manufacturing in US, EU and China |
| 14 | COVID-19 impact on overall market |
| 15 | COVID-19 impact on Production of components |
| 16 | COVID-19 impact on Point of sale |
| 17 | Market Segmentation, Dynamics and Forecast by Geography, 2020-2025 |
| 18 | Market Segmentation, Dynamics and Forecast by Product Type, 2020-2025 |
| 19 | Market Segmentation, Dynamics and Forecast by Application, 2020-2025 |
| 20 | Market Segmentation, Dynamics and Forecast by End use, 2020-2025 |
| 21 | Product installation rate by OEM, 2020 |
| 22 | Incline/Decline in Average B-2-B selling price in past 5 years |
| 23 | Competition from substitute products |
| 24 | Gross margin and average profitability of suppliers |
| 25 | New product development in past 12 months |
| 26 | M&A in past 12 months |
| 27 | Growth strategy of leading players |
| 28 | Market share of vendors, 2020 |
| 29 | Company Profiles |
| 30 | Unmet needs and opportunity for new suppliers |
| 31 | Conclusion |
| 32 | Appendix |