Global Smartwatch Market 2020-2025
July 28, 2020

Request Sample
Coming Soon
Multi User License - $2,500
INTRODUCTION
A smartwatch, much like a smartphone is a portable device designed to carry a miniature version of a computer around your wrist. Most smart watches today when connected with a smartphone via Bluetooth or an internet connection, enable the user to check notifications, make use of different apps, answer calls, text, track fitness levels, navigate locations, etc thus proving to be a one tool kit.
GLOBAL SMARTWATCH MARKET DYNAMICS
Although digital watches have been in the market for decades, some with unique features like built-in calculators and unit converters. It was only in the later 2010's that tech companies entered this market segment when Pebble Smartwatch introduced its first smartwatch in 2012 and gained immediate popularity.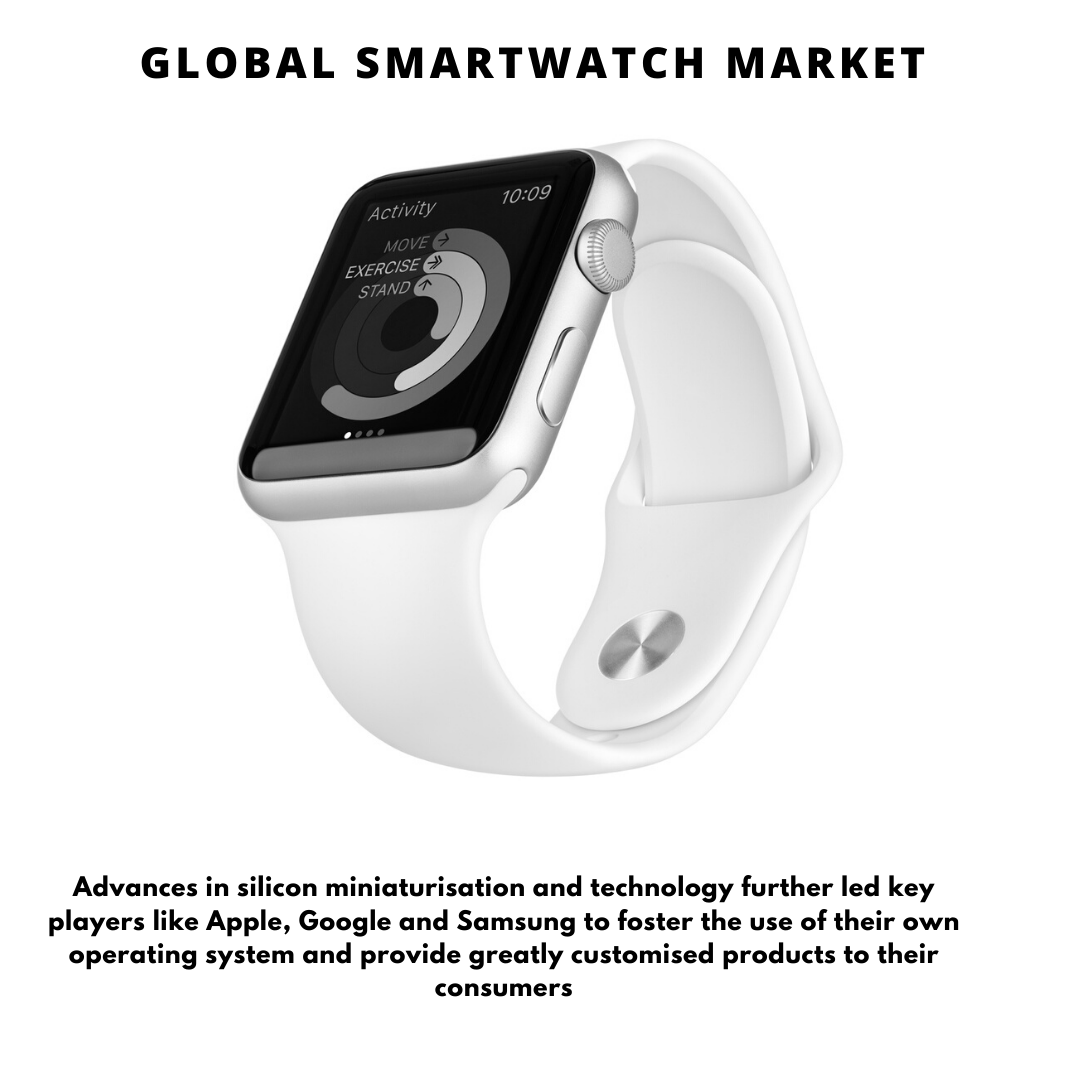 Later, advanced technology brought the revolution in the smartwatch industry, with Apple announcing its first ever Apple watch series in April, 2015 providing momentum to the smartwatch industry globally. Many other players were quick to enter the new market niche.
Advances in silicon miniaturisation and technology further led key players like Apple, Google and Samsung to foster the use of their own operating system and provide greatly customised products to their consumers to meet specific needs and opened doors to other kinds of dedicated- purpose smartwatches leading to an overall increase in smartwatch volume globally. 
US SMARTWATCH MARKET
As consumers around the globe are willing to spend more on portable devices that can perform features like monitoring your diet, heart rate, pulse rate, distance counts, etc., the demand for smartwatches is on the rise.
Furthermore, with outdoor activities cut down, a wearable healthcare device which is easy and fashionable to carry has proven favourable for athletes, gym goers, fitness freaks and sports persons alike, thus attracting new tech players to enter this promising field.
In Oct 2019, Google(owned by Alphabet)made an offer to acquire U.S. wearable device maker Fitbit Inc.
Fitbit, pioneered the wearable devices trend, is now partnering with health insurers and has been making acquisitions in the healthcare market, to diversify its revenue stream. In Aug 2019, it launched a new product, Versa 2, with new features like voice assistant Alexa, online payments and music storage.
INDIA SMARTWATCH MARKET
In India, smartwatch is a consumer product that is viewed as an amalgamation of state-of-the-art IT and an everyday fashion item. A watch is regarded as a kind of luxury jewel for many and therefore a smartwatch serves as a symbol for wealth and fashion for many potential customers in the upper section, thus driving more sales for the smartwatch market.
India based Titan, world's fifth largest watchmaker, manufactured 18 million watches last fiscal, of which about 700k units were smart wearable devices.
In June 2020, Chinese brand Realme sold over 15,000 smart watches(priced at $50), in less than two minutes during its first sale on both Flipkart and Realme.com.The watch had features like with real-time heart rate sensor and SpO2 monitor for blood oxygen levels. It also had 14 different sport modes, including cricket, yoga, walking, running etc.
COVID-19 has muted the pace of growth for smart wearables in India as a sizeable chunk of urban population is now working from home and having limited physical activity.
GLOBAL SMARTWATCH MARKET SEGMENTATION
By Geography
US
China
Russia
India
Saudi Arabia
France
Germany
UK
Japan
South Korea
Rest of the world
By Application
Personal Assistance
Medical/Health
Wellness
Sports
Miscellaneous
By OS
GLOBAL SMARTWATCH MARKET SIZE AND FORECAST
Global smartwatch volumes grew 20% YOY to 12.5 Million units in Q1-2020. But Q2-2020 is likely to reverse this trend as many outlets remained shut and e-commerce was hampered in many locations.
The Fitness and Medical Application is expected to gain the highest popularity as compared to other features, considering the current market trends.
The global smartwatch market is estimated at $XXM in 2020 growing at –% CAGR till 2025
THE WAY FORWARD
Hybrid smartwatch -fusion of a traditional mechanical watch with a smartwatch is the way forward. A hybrid smartwatch offers the basic features of a smartwatch, equipped with Bluetooth connectivity but resembles a normal watch with some added features like that of a calorie tracker and heart rate tracker.
Consumers, who do not need a complex smartwatch facility have shown interest in this product as it does not require much prior technological knowledge or long hours of charging to make optimal use of the product. Therefore, this segment holds a scope for huge growth for the players operating in the market. 
COMPETITIVE LANDSCAPE
In Q1-2020, Apple Watch led the global market with a market share of 55%, followed by Samsung and Garmin rose to third position.
With tech giants hugely investing in R&D facilities to constantly develop new and highly customised devices in the smartwatch industry in order to remain relevant in the market, the smartwatch industry is expected to constantly flourish. For instance, Apple provides innovative features like shock-proof and water resistance capabilities in their new Apple watch series thus attracting great public interest into their products.
New companies are focusing on design and development of new and highly advanced smartwatches. The new products are now equipped with powerful speakers, HD cameras, GPS tracker, Good storage capacity, voice control, thermometers among others. Many of them also feature high-end software that allow a seamless wireless and touch less feature, high-end connectivity, digital mapping and personal organiser.
COMPANY PROFILES
Sony
Oppo
THIS REPORT WILL ANSWER THE FOLLOWING QUESTIONS
Market Size and Forecast. Million units and $M(2020-2025)
COVID-19 impact on global smartwatch spending
New smartwatch development strategies of Top 5 suppliers
Market share of leading vendors,2020
| | |
| --- | --- |
| Sl no | Topic |
| 1 | Market Segmentation |
| 2 | Scope of the report |
| 3 | Abbreviations |
| 4 | Research Methodology |
| 5 | Executive Summary |
| 6 | Introduction |
| 7 | Insights from Industry stakeholders |
| 8 | Cost breakdown of Product by sub-components and average profit margin |
| 9 | Disruptive innovation in the Industry |
| 10 | Technology trends in the Industry |
| 11 | Consumer trends in the industry |
| 12 | Recent Production Milestones |
| 13 | Component Manufacturing in US, EU and China |
| 14 | COVID-19 impact on overall market |
| 15 | COVID-19 impact on Production of components |
| 16 | COVID-19 impact on Point of sale |
| 17 | Market Segmentation, Dynamics and Forecast by Geography, 2020-2025 |
| 18 | Market Segmentation, Dynamics and Forecast by Product Type, 2020-2025 |
| 19 | Market Segmentation, Dynamics and Forecast by Application, 2020-2025 |
| 20 | Market Segmentation, Dynamics and Forecast by End use, 2020-2025 |
| 21 | Product installation rate by OEM, 2020 |
| 22 | Incline/Decline in Average B-2-B selling price in past 5 years |
| 23 | Competition from substitute products |
| 24 | Gross margin and average profitability of suppliers |
| 25 | New product development in past 12 months |
| 26 | M&A in past 12 months |
| 27 | Growth strategy of leading players |
| 28 | Market share of vendors, 2020 |
| 29 | Company Profiles |
| 30 | Unmet needs and opportunity for new suppliers |
| 31 | Conclusion |
| 32 | Appendix |