Third Party Logistics (3pl) Market In India 2020-2025
October 21, 2020

Request Sample
COMING SOON
Multi User License - $1,800
THIRD PARTY LOGISTICS (3PL) MARKET IN INDIA
3PL or third-party logistics is an evolving market for a developing country like in India. Moreover the Asia-Pacific region held the highest 3PL market share in 2019.
Many of us are part of this market having direct or indirect connections and of which we are unaware of, but to give a very basic example of it are the ones who are using online platforms for shopping and shipping are the main consumers of this 3PL logistics.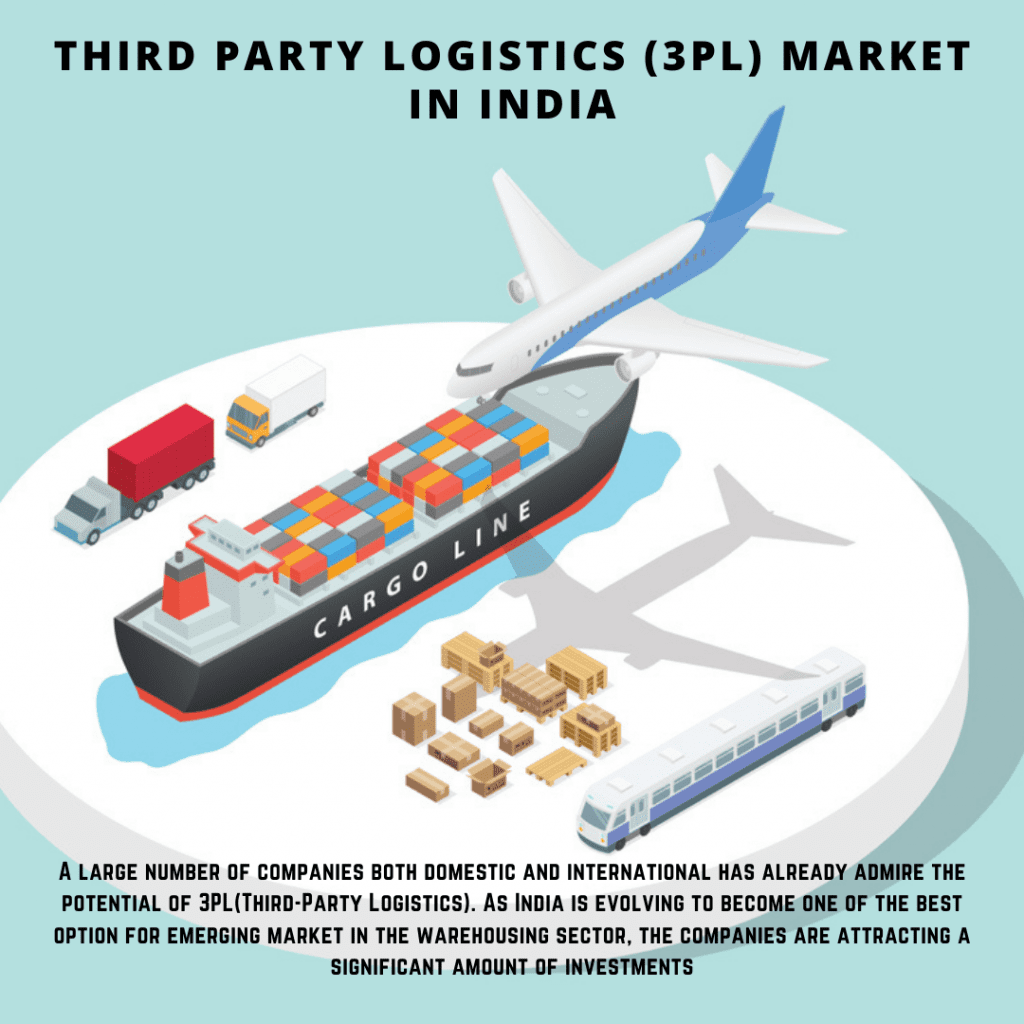 In 1PL or first-party logistics, a company has their own cargo and directly ships its products to their customers where in 2PL(second-party logistics) an enterprise that owns assets such as vehicles or planes uses it to transport products from one location to another.
In 3PL(third-party logistics), the main function include warehousing, in this the products are first taken out from the company and moved to a warehouse(large storage facility) and then after a halt the products are again shipped from warehouses to their respective customers.
KEY BENEFITS FOR 3PL(THIRD-PARTY LOGISTICS) MARKET
Potency of the buyer and suppliers.
Financial competence of the market.
Analytical depiction of the global 3P.
Impact analysis of key drivers, restraints and opportunities.
Profitable trends to enable stakeholders to get a strong foothold in the market.
FUNCTIONS IN 3PL(THIRD PARTY LOGISTICS)
The main functions in 3PL are packaging, warehousing, supply chain management, terminal operations, customer brokerage and many more. It also has special IT software products and analysis services to track and trace every products being shipped.
GOVERNMENT'S ROLE IN THIRD PARTY LOGISTICS
GST(Goods and Services Tax) and e-commerce are key components leading to business growth in India. Moreover the government is making reforms with the Ministries of Railway, Transport, Aviation and Ships to reduce the logistics cost from 14% to 9%.
ADVANTAGES OF 3PL(THIRD-PARTY LOGISTICS)
Out of 1PL, 2PL, 3PL, 4PL and 5PL, the 3PL or third-party logistics is the most convenient and well known logistics service in India.
Because of its low capital commitment it is one of the most cost effective logistics system in India. It also meets all the technical requirements of the client as it helps the firms to focus on other important work rather than only focusing about logistics and thus reduces a great amount of headache for the employees.
LOGISTICS COMPANIES INVOLVED IN 3PL(THIRD-PARTY LOGISTICS)
Some of the oldest and best known companies are already disrupting the market with their services and these include FedEx Corporation, Nippon Express, DSV Panalpina, United Parcel Service, DB Schenker Logistics, XPO Logistics, Kuehne + Nagel, Allcargo, DHL, Mahindra Logistics, TVS Supply Chain Solutions and many more.
TOP SOFTWARE PRODUCTS INVOLVED IN 3PL(THIRD-PARTY LOGISTICS)
The top software products which helps to maintain the complexities of 3PL and provides accuracy and  automation of services are:
Flowspace
Shipbob
ChannelApe
ShipHero
3PL Warehouse Manager
Magaya Supply Chain
Shipwell
Fulcrum
Manhattan SCALE
StockIQ
TMS-TOTALaccess
All these software products can be used for well maintain of the products and can cost from USD 1000 up to USD 10000 per month.
SEGMENTS IN 3PL(THIRD-PARTY LOGISTICS)
Due to a larger potential it has many segments which form 3PL's core part.
Transport: It includes railways, roadways, waterways and airways.
Service type: Dedicated Contract Carriage(DCC), Inland Container Depots(ICD), Dedicated Freight Corridor(DFC), Domestic Transport Management, Warehousing and Distribution.
Industry: Technical, Automotive, Retailing, Elements, Food and Groceries, healthcare, others.
COVID-19 IMPACT ON INDIA 3PL MARKET
Third-party logistics(3PL) are negatively impacted by the pandemic due to uncertain lockdowns, close borders and 40% increase in virus-related shipping issues faced by e-commerce platforms.
In spite of unprecedented challenges, industry analysts say that 3PL qualify as essential critical business.
Thus, selecting the right ecommerce logistic partner has now become even more important to sustain in this even in hard environment such as pandemic due to Saar-Cov 2. One should even consider to have multiple 3PL partners to diversify and mitigate risk associated with single source providers and the companies must remain committed to maintain normal services to their customers.
COMPETITIVE LANDSCAPE
A large number of companies both domestic and international has already admire the potential of 3PL(Third-Party Logistics). As India is evolving to become one of the best option for emerging market in the warehousing sector, the companies are attracting a significant amount of investments from the past 2 years from global and private equities.
French companies like FM Logistics had announced the investment of USD 30 million for the development of a 31-acre logistics facility in in Haryana for a storage capacity of 1,00,000 pallets.
Along with this, Groupe ADP announced the purchase of 49% stake in GMR Airports for Rs 107.9 billion.
Moreover, DP World and NIIF(National Investment Infrastructure Fund) had already invested a sum of USD 400 million to acquire Continental Warehousing Crop(Nhava Seva), one of the largest company in the logistics sector in India.
CONCLUSION
Although companies like Amazon and Flipkart are making a great progress in developing 3PL infrastructure we should also remember the opportunities and evolutions it still can have can have to launch smaller companies and make big profits in order to make their consumers happy.
COMPANIES PROFILED
| | |
| --- | --- |
| Sl no | Topic |
| 1 | Market Segmentation |
| 2 | Scope of the report |
| 3 | Abbreviations |
| 4 | Research Methodology |
| 5 | Executive Summary |
| 6 | Introduction |
| 7 | Insights from Industry stakeholders |
| 8 | Cost breakdown of Product by sub-components and average profit margin |
| 9 | Disruptive innovation in the Industry |
| 10 | Technology trends in the Industry |
| 11 | Consumer trends in the industry |
| 12 | Recent Production Milestones |
| 13 | Component Manufacturing in US, EU and China |
| 14 | COVID-19 impact on overall market |
| 15 | COVID-19 impact on Production of components |
| 16 | COVID-19 impact on Point of sale |
| 17 | Market Segmentation, Dynamics and Forecast by Geography, 2020-2025 |
| 18 | Market Segmentation, Dynamics and Forecast by Product Type, 2020-2025 |
| 19 | Market Segmentation, Dynamics and Forecast by Application, 2020-2025 |
| 20 | Market Segmentation, Dynamics and Forecast by End use, 2020-2025 |
| 21 | Product installation rate by OEM, 2020 |
| 22 | Incline/Decline in Average B-2-B selling price in past 5 years |
| 23 | Competition from substitute products |
| 24 | Gross margin and average profitability of suppliers |
| 25 | New product development in past 12 months |
| 26 | M&A in past 12 months |
| 27 | Growth strategy of leading players |
| 28 | Market share of vendors, 2020 |
| 29 | Company Profiles |
| 30 | Unmet needs and opportunity for new suppliers |
| 31 | Conclusion |
| 32 | Appendix |