Global Torque Converter Automatic Transmission Market 2019-2025 | Size| Share| Trends
October 14, 2019

Request Sample
COMING SOON
Multi User License - $2,500
Torque Converter Automatic Transmission Market
Torque converter automatic is the oldest automatic transmission technology. It is particularly very popular in North America where >95% of cars sold have an auto transmission by default.
After many failure reports and recalls issued by vehicle manufactures for DCT, torque converter automatics are now seen as more reliable alternative to DCT (Dual clutch transmission) and AMT (Automated manual transmission).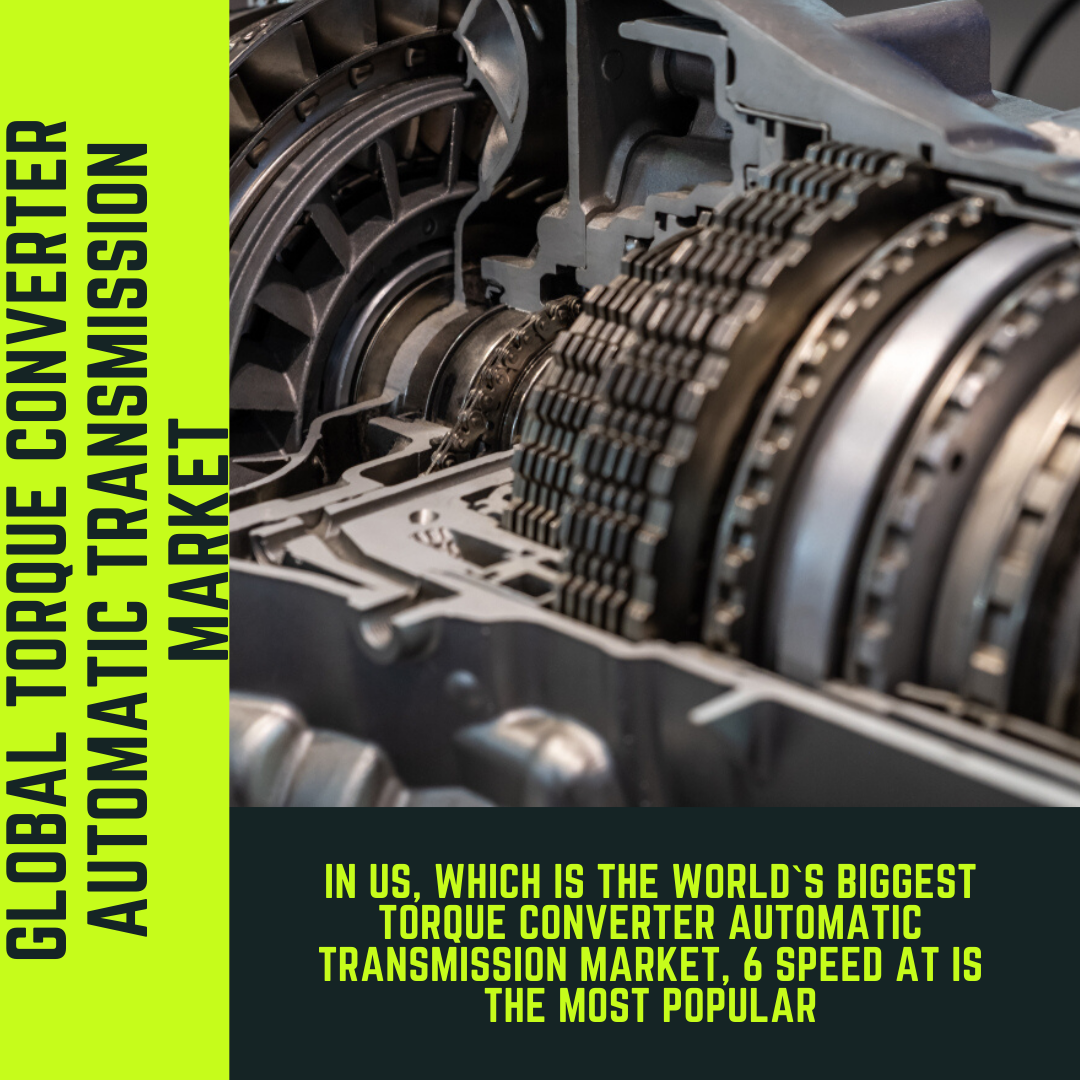 CVT however still trumps torque converter ATs in terms of fuel efficiency but it does not have that seamless shifts which is achieved in torque converter automatics by hydraulic lock up.
MARKET DYNAMICS
4 and 5 speed torque converter automatics dominated global markets during 1990-early 2000s but for the past 10 years or so 6 speed ATs are the norm in the mass segment and 8 speed ATs in the premium segment.
In US, which is the world`s biggest torque converter automatic transmission market, 6 speed AT is the most popular.
The 9-10 speed AT are used by many manufacturers in premium applications, especially in SUVs where two extra ratios immensely help in off-roading application. Also, the new gen transmissions incorporate a multi-stage damper system for smoother pulling away and improved refinement.
A greater importance has been given in all recent transmission developments to provide as "direct- drive" experience as possible
Owing to fuel economy reasons, many new gen torque converter automatic transmissions now have built in idle disconnect function to reduce idling losses.
In the medium and heavy duty commercial vehicle segment, AMT transmission has made steady inroads due to higher fuel economy and lower maintenance costs.
MARKET SEGMENTATION

MARKET SIZE AND FORECAST
Torque converter automatic transmission is the most popular type of automatic transmission globally accounting for ~35% share in 2018.
The global Torque Converter automatic transmission market was estimated at $XX Billion in 2019 growing at –% CAGR till 2025
COMPETITIVE LANDSCAPE
We have seen numerous partnerships in the torque converter automatic transmission market be it OEM-OEM(Ex- Ford-GM) or OEM-Suppliers(Ex- BMW-ZF, Land Rover -ZF,Chrysler-ZF, Allison- China National Heavy Duty Truck Group). Most of the partnerships have centred around building efficient, 8,9 and even 10 speed transmission which can be used in multiple vehicle platforms.
The suppliers are betting strongly on technical innovation to differentiate their products by offering "world's fastest shift response time".
An unusual scenario unfolded in 2013 when 2 of the "Detroit big 3", Ford and GM partnered to build 10 speed torque converter ATs for their uber profitable pickup and SUVs segment.
Among external suppliers, ZF and Allison are among the market leaders in passengers and commercial vehicles respectively.
COMPANIES PROFILED
Harbin DongAn Automotive Engine Manufacturing
Weifang Shengrui Power Machinery Technology Company
Ningbo Shuanglin Auto Parts
Ford Motors
FCA Group
Hyundai Powertech Co, Ltd
Honda Motor Co, Ltd
THIS REPORT WILL ANSWER THE FOLLOWING QUESTIONS
How will the Torque Converter Automatic transmission market grow/decline in key geographies globally?
Impact of e-mobility on Torque Converter Automatic transmission market
Which vehicle segment will generate the highest Torque Converter Automatic transmission demand in top 10 countries?
What`s happening in the Torque Converter Automatic transmission material supply chain?
Upcoming vehicle platforms with 8 and 10 speed Torque Converter Automatic transmission
Average B-2-B price in all segments
Future technology trend of Torque Converter Automatic transmission and manufacturing capacity in US, Europe, China, and India
Potential for torque converter automatic transmission in off-highway, heavy duty application
Who is the leading Torque converter automatic transmission sub-component (oil pump, torque converter, gear set, control unit etc) suppliers?
What`s happening in the Torque Converter Automatic transmission material supply chain?
Market share of leading players in different segments and geographies
Torque Converter Automatic transmission manufacturing globally (number of plants, capacity, planned expansion etc)
OE- Supplier alignment in Torque Converter Automatic transmission market
To enquire about the report, write to us at  sales@mobilityforesights.com
| | | |
| --- | --- | --- |
| 1 | Market Segmentation | 3 |
| 2 | Executive Summary | 5-6 |
| 3 | Introduction | 7-10 |
| 4 | Insights from Industry stakeholders | 11 |
| 5 | Key criteria for torque converter transmission adoption by OEMs | 12-13 |
| 6 | Raw material supply chain and torque converter transmission manufacturing in US, Europe and China | 14-15 |
| 8 | New product development and innovation | 18-19 |
| 9 | Global automotive transmission trends | 20-21 |
| 10 | Impact of growth in EV market on torque converter automatic transmission market | 22-23 |
| 11 | Market Size ,Dynamics and Forecast By Product type | 29-38 |
| 12 | Market Size ,Dynamics and Forecast By Application | 29-38 |
| 13 | Market Size ,Dynamics and Forecast By sub-component | 39-48 |
| 14 | Market Size ,Dynamics and Forecast By Geography | 49-65 |
| 16 | Competitive Landscape | 79-82 |
| 17 | OEM-supplier relationship in torque converter automatic transmission market | 27-28 |
| 18 | Company Profiles | 80-95 |
| 19 | Unmet needs and Market Opportunity for suppliers | 96-97 |
| 20 | Conclusion | 98-99 |
| 21 | 5 Key predictions | 100 |
| 22 | Appendix | 101 |