Global Tractor Engine Market 2019-2025
July 8, 2020

Request Sample
COMING SOON
Multi User License - $2,500
TRENDS IN TRACTOR ENGINE MARKET
In Europe and North America Variable geometry turbo equipped engines have been growing in volume. Compact emission treatment units including selective catalyst reduction, diesel particulate filter and diesel oxidation catalyst are also gaining prominence
Standard and articulated tractors across the globe continue to get an increase in power as the implements become wider, larger, and heavier and continued demand to increase working speed
OEMs are losing interest in Dual fuel powered tractors (CNG & Diesel) with focus now shifting to hybrids
At least 10 out of 35+ tractor manufacturers globally have plans to introduce electric/hybrid tractors by 2023
In South East Asia, fields are often tilled by contractors who prefer low cost 2-3.0L engine capacity with direct injection and 50-60 hp output tractors
GLOBAL TRACTOR ENGINE MARKET ANALYSIS
The global tractor engine market is estimated at ~2-2.2 Million units annually.
India, China and US are the top 3 tractor markets globally, accounting for ~60% share of global tractor sales. The European farm tractor market retails about 180,000-200,000 units annually.
In terms of engine specs, the tractors in Asia are vastly different from their European and American counterparts. India and China are dominated by low power output tractors(<40hp) whereas the US and European markets are dominated by >50hp tractors.
In US, after Interim tier-4 regulation came into force in 2007, cooled EGR, DPF and DOC became a standard fitment, now the replacement market for SCR and DPF cleaning has become bigger.
TRACTOR SALES IN IN INDIA(WORLD`S BIGGEST TRACTOR MARKET)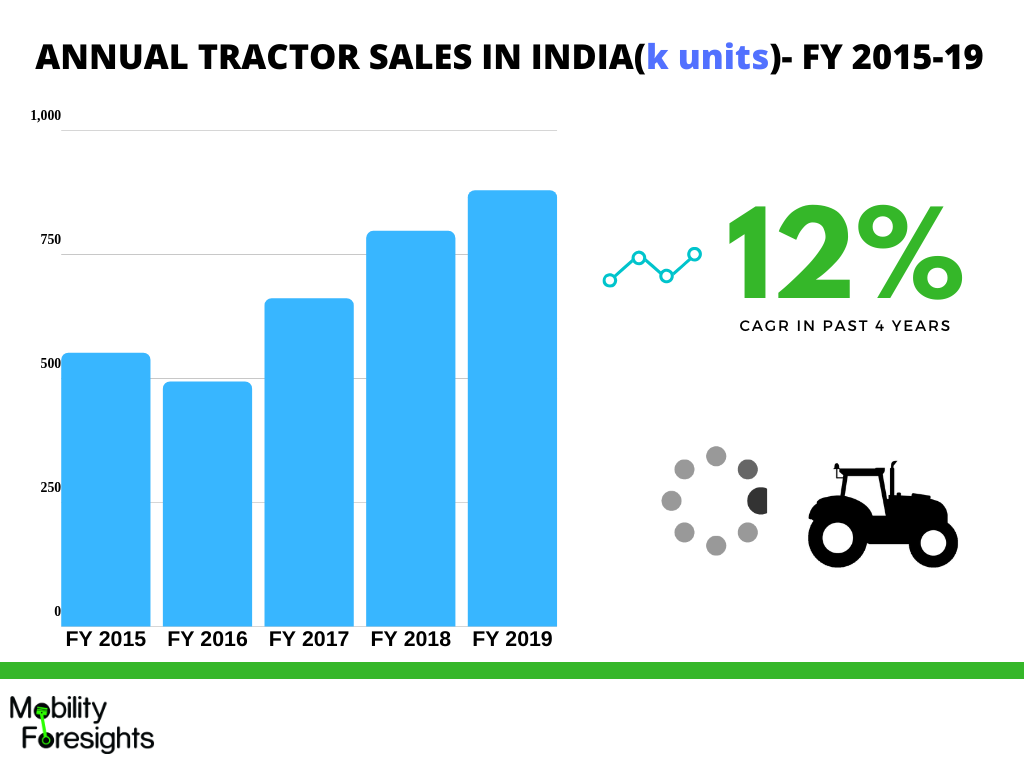 COMPANY PROFILES
Kubota
Escorts
Swaraj
Hubei Fotma Machinery Co. Ltd
THIS REPORT WILL ANSWER THE FOLLOWING QUESTIONS
Opportunity for tractor engine sub-component suppliers, by region, by OEM, 2019-2025
Sales breakdown of global tractor sales by engine type, output, and model
Upcoming tractor models, by powertrain
Revenue growth and strategic analysis of tractor engine manufacturers globally
Opportunities in the tractor engine after-treatment market
| | |
| --- | --- |
| Sl no | Topic |
| 1 | Market Segmentation |
| 2 | Scope of the report |
| 3 | Abbreviations |
| 4 | Research Methodology |
| 5 | Executive Summary |
| 6 | Introduction |
| 7 | Insights from Industry stakeholders |
| 8 | Cost breakdown of Product by sub-components and average profit margin |
| 9 | Disruptive innovation in the Industry |
| 10 | Technology trends in the Industry |
| 11 | Consumer trends in the industry |
| 12 | Recent Production Milestones |
| 13 | Component Manufacturing in US, EU and China |
| 14 | COVID-19 impact on overall market |
| 15 | COVID-19 impact on Production of components |
| 16 | COVID-19 impact on Point of sale |
| 17 | Market Segmentation, Dynamics and Forecast by Geography, 2020-2025 |
| 18 | Market Segmentation, Dynamics and Forecast by Product Type, 2020-2025 |
| 19 | Market Segmentation, Dynamics and Forecast by Application, 2020-2025 |
| 20 | Market Segmentation, Dynamics and Forecast by End use, 2020-2025 |
| 21 | Product installation rate by OEM, 2020 |
| 22 | Incline/Decline in Average B-2-B selling price in past 5 years |
| 23 | Competition from substitute products |
| 24 | Gross margin and average profitability of suppliers |
| 25 | New product development in past 12 months |
| 26 | M&A in past 12 months |
| 27 | Growth strategy of leading players |
| 28 | Market share of vendors, 2020 |
| 29 | Company Profiles |
| 30 | Unmet needs and opportunity for new suppliers |
| 31 | Conclusion |
| 32 | Appendix |