GLOBAL TRACTOR LUBRICANTS MARKET
KEY FINDINGS
Global oil production in 2020 was down to 76 Million Barrels/day compared to 100 Million Barrels/day in 2019 and is expected to recover strongly in 2021 after cratering last year due to the coronavirus epidemic.
The lubricant industry suffered a shortage of raw materials due to the global pandemic, where additives and chemicals are crucial to the development of lubricants.
Lubricant manufacturers select and mix raw materials and test them against the specifications shared by the users or developing tailor-made lubricants for various applications in collaboration with OEMs.
A proposed standard from ASTM International's petroleum products, liquid fuels, and lubricants committee would set minimum performance requirements for tractor hydraulic fluids
Lubricant Industry leaders are investing billions of dollars in R&D to develop lower-carbon emission solutions
Tractor demand in India is highly increased, in turn implying that demand for tractor lubricants would continue to grow at healthy rates.
80 percent of tractor lubricants are sold in the aftermarket segment, a majority of farmers often don't have access to service stations or workshops.
INTRODUCTION
Off-road equipment such as excavators and tractors make use of a variety of large exposed gear drives operating at low speeds and not normally manufactured to a high degree of precision and They often operate in hostile environments, being exposed to climatic extremes of temperature, also to abrasive dust and corrosive atmospheres.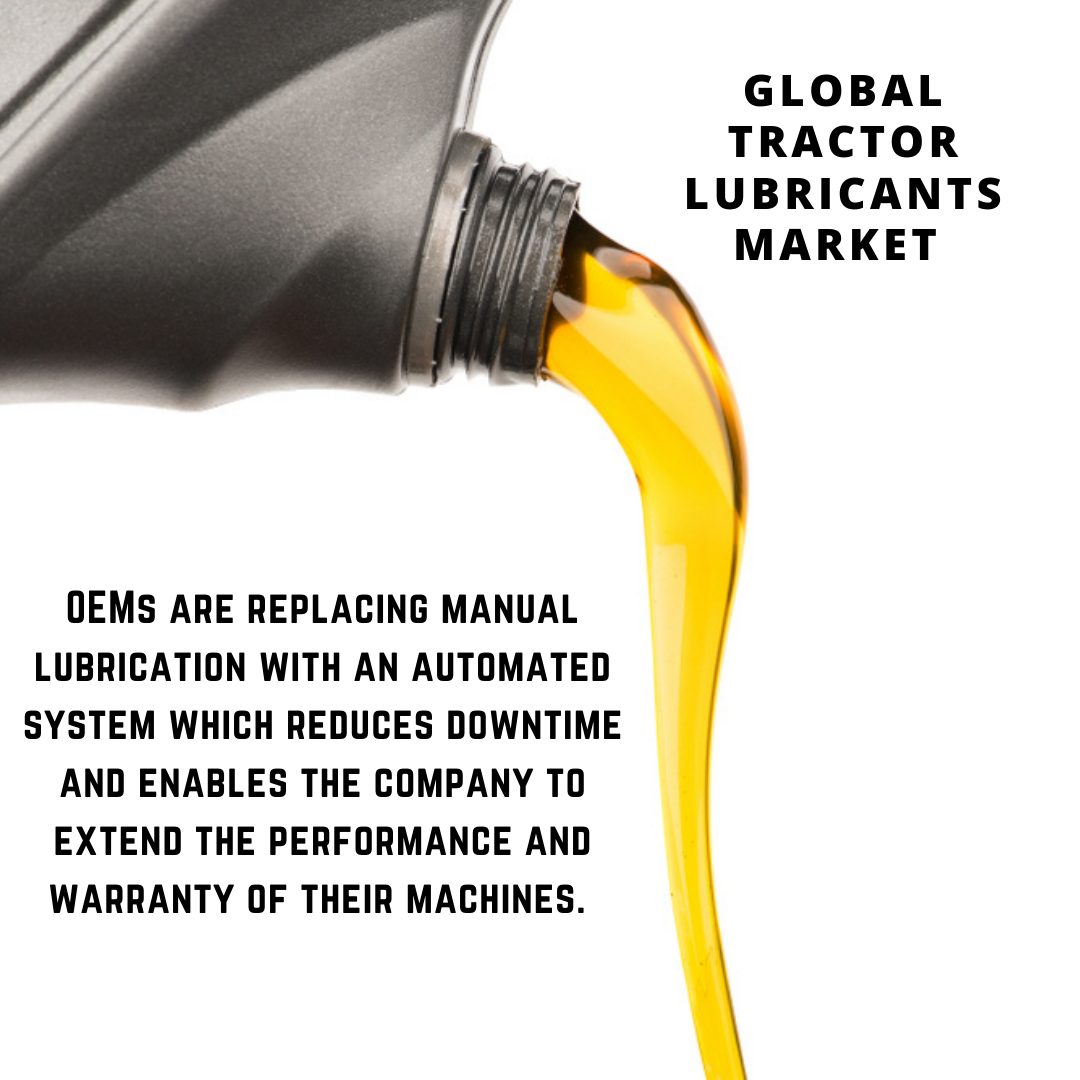 Choosing the right consumables, like lubricants, can play an important part in how a machine performs, and thus efficiency and overall business performance.
TRACTOR LUBRICANTS MARKET DYNAMICS
Lubricant Manufacturers are formulated to meet and exceed the performance requirements of many of today's off-highway engines. It provides superior soot handling and acid neutralization capabilities, making it suitable for modern diesel engines
Customers are concerned with protecting the investment in equipment and keeping it running economically. Synthetic oils offer an opportunity for extended drain intervals and longer time to overhaul, both of which may lead to lower maintenance costs. Balanced against the higher cost of oil, and possibly air and oil filters.
Engine oils have changed considerably over the last ten years. A major advance is the greater availability of new, more highly refined base-stocks that significantly enhance lubricant performance under more demanding operating requirements.
Minimum performance specifications have been proposed as the international standard for tractor fluids, to remove poor quality fluids from the marketplace and to ensure that customers purchase fluids that work.
OEMs are replacing manual lubrication with an automated system which reduces downtime and enables the company to extend the performance and warranty of their machines. use of automated lubrication systems (ALS) is becoming a more prevalent alternative to improve overall quality and safety through preventative maintenance.
Approximately 2.5 billion gallons of lubricants are sold annually in North America. Studies show that much of this fluid (60 percent) is not accounted for and ends up in groundwater, rivers, lakes and on the ground itself, causing untold harm to the environment, fish and wildlife.
Marine, forestry and agriculture industries in particular, along with citizen groups and governments, are becoming more and more concerned about our responsibility to the protection of the environment. The use of biodegradable fluids can help to maintain the environment and relieve some of the demand for mineral oils in the future.
TRACTOR LUBRICANTS MARKET SEGMENTATION
By Type
Mineral Oil

Synthetic Oil

Semi-Synthetic Oil
By Application
Engine

Transmission Fluids

Hydraulics

Grease

Other fluids
TRACTOR LUBRICANTS MARKET SIZE AND FORECAST
The global tractor lubricants market is estimated at $XX Billion in 2020 and growing at XX% CAGR till 2025.
COMPETITIVE LANDSCAPE
Shell Lubricants will offer carbon-neutral products for use in a range of industries including power and wind, general manufacturing, steel and construction, and oil and gas. As part of this new offering, the company will also make available carbon-neutral oils for heavy-duty engines. the company says it aims to offset annual emissions of more than 52 million gallons of advanced synthetic lubricants and also working toward becoming a net-zero emissions energy business by 2050 or sooner.
The lubricant is developed with proprietary Chevron technology, called, ISOSYN Technology, a combination of very high-viscosity base oils and additives added with an optimal mixture of dispersants, detergents, oxidation, wear and corrosion inhibitors, viscosity enhancers and latest generation antifoaming agents. considers the performance and work rates required for tractors and other equipment, especially at times of high operation such as harvesting or sowing.
COMPANIES PROFILED