GLOBAL TRACTOR SUSPENSION MARKET
KEY FINDINGS
U.S and European markets have focused more on suspension systems which have advantages to improve operator comfort while increasing productivity in the field, loader, and transport operations.
The operator of the tractor suffers from the highest incident rates of injuries causing low back pain while working for a long time. This resulted in a demand to improve and development of new vibrations absorbing systems.
Manufacturers will offer minimum comfort level to the operators, defining the market standards.
Case IH and Claas have front axle suspension more than half in their line-up.
INTRODUCTION
Farmers spend hours on driving and operating their tractors, physical relief becomes the priority. However, the vibration to which the operator is subjected is very little, these vibrations limit the speed at which the tractor is operated.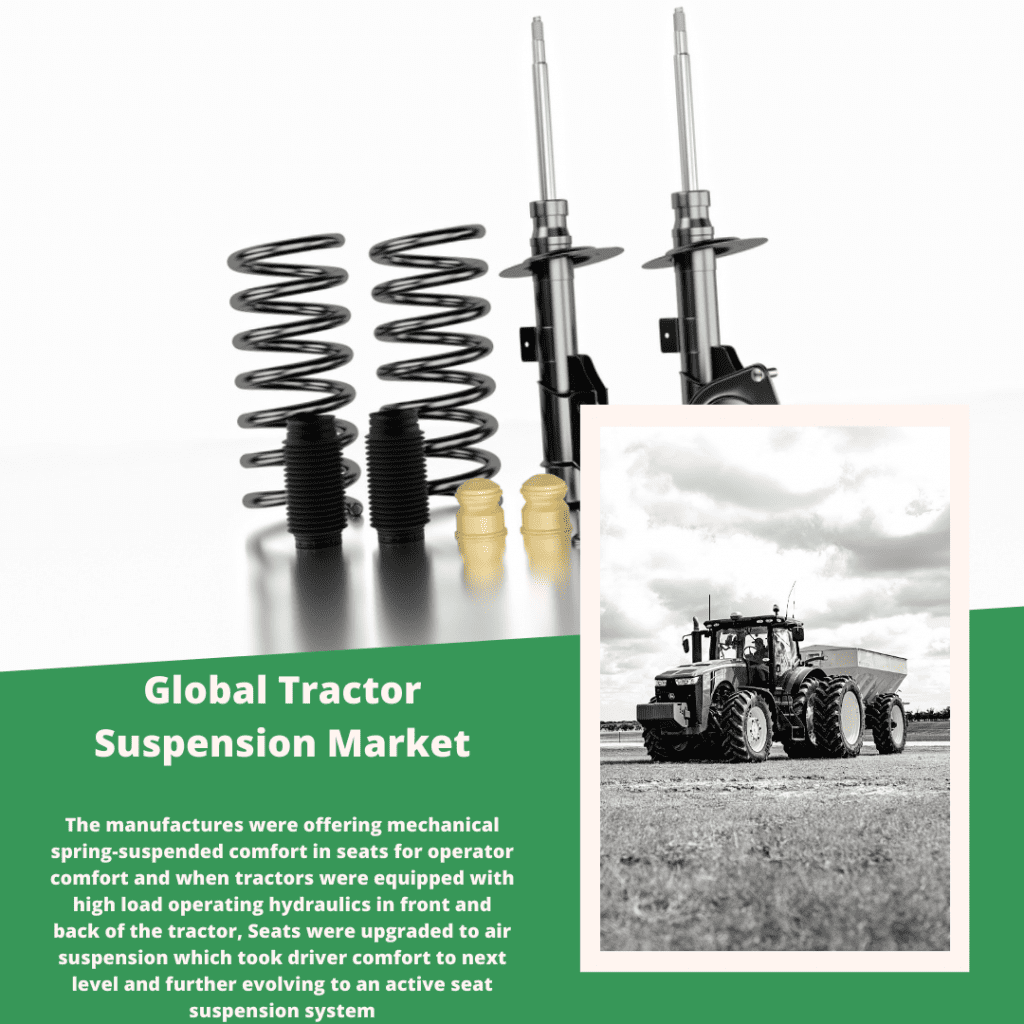 Compared to other machinery, tractors and construction equipment do not have traditional suspension systems. Considering their operating conditions, it is not feasible to have one.
To overcome this issue manufacturers focused on alternate ways to provide comfort for the operator. At the base level, seat suspensions will be equipped in all the machinery and extending up to front axle suspensions.
TRACTOR SUSPENSION MARKET DYNAMICS
Initially, the manufactures were offering mechanical spring-suspended comfort in seats for operator comfort and when tractors were equipped with high load operating hydraulics in front and back of the tractor, Seats were upgraded to air suspension which took driver comfort to next level and further evolving to an active seat suspension system.
As seat suspensions had some drawbacks, OEMs started to mount dampers to the cab and to the front axle of the tractor. Currently, U.S and European companies are interested in equipping these new technologies in their upcoming launches and these are developed in their in-house R&D centers.
TRACTOR SUSPENSION  MARKET SIZE AND FORECAST
The global tractor suspension market is estimated at $XX Million in 2020 and growing at XX% CAGR till 2025.
COMPETITIVE LANDSCAPE
John Deere has updated their 400 and 600 Series Tractors for the model year 2022 offering the ultimate package to customers and they can choose for their cabs which includes a heated, ventilated leather seat capable of swiveling up to 24 degrees to the left or right and an ActiveSeat II suspension for a smoother ride.
ZF's ongoing development of the CALM module has led to the electronically controlled eCALM, a pneumatic cabin suspension. Includes new features such as leveling, lowering and raising cabin to different levels.
Caterpillar's wheel tractor-scraper designed to increase productivity and operator comfort, providing a 21% larger cab interior than the preceding model, the 657g, improves operator comfort and provides excellent visibility to the bail, cutting edge and bowl of the new 657.
The air suspension comfort seat adjusts and rotates 30-degrees to reduce fatigue, while the new advanced ride management adjusts damping to match ground conditions, resulting in a smoother ride for the operator.
Kubota tractor corporation announces the launch of the L60LE series. The new tractors boast a wide range of ergonomically designed comfort features and functions to reduce fatigue and maintain productivity. Standard features for both cab and ROPS models include a wide, spacious operator area and a standard deluxe suspension seat with a swivel feature.
AGCO's Fendt brand has introduced five new products including a new IDEAL combine and its first tracked tractor line for the North American market. Their Smart Ride Plus load-levelling has a hydraulic system that integrates with the front suspension springs to adjust the tractor height, keeping the chassis-level to maintain the correct angle between the tractor hitch and rear implements.
It also keeps the tractor level when operating heavy front-or rear-mounted attachments. Ride comfort improves because the suspension of the levelled tractor can travel equally both up and down. The self-levelling hydraulics raise or lower the front of the tractor to make attaching or removing the front mono-block weight easier.
COMPANIES PROFILED