Global Travel Insurance Market 2020-2025
August 20, 2020

Request Sample
Coming Soon
Multi User License - $2,500
GLOBAL TRAVEL INSURANCE MARKET
KEY FINDINGS
Most of the companies have either suspended offering travel insurance policies on a temporary basis as risk involved is high or have introduced dynamic premiums based on the place to be visited.
It is estimated that around 20% people used to take travel insurance in pre COVID times which may increase to around 70-80 % now. Most of the countries have made or are in the process of making travel insurance mandatory which would drive the growth for the industry in the coming decade.
INTRODUCTION
Travel insurance refers to the risk associated while traveling such as injury or death, loss of luggage, delays, and others. It provides numerous benefits such as trip cancellation, loss of luggage & travel documents etc.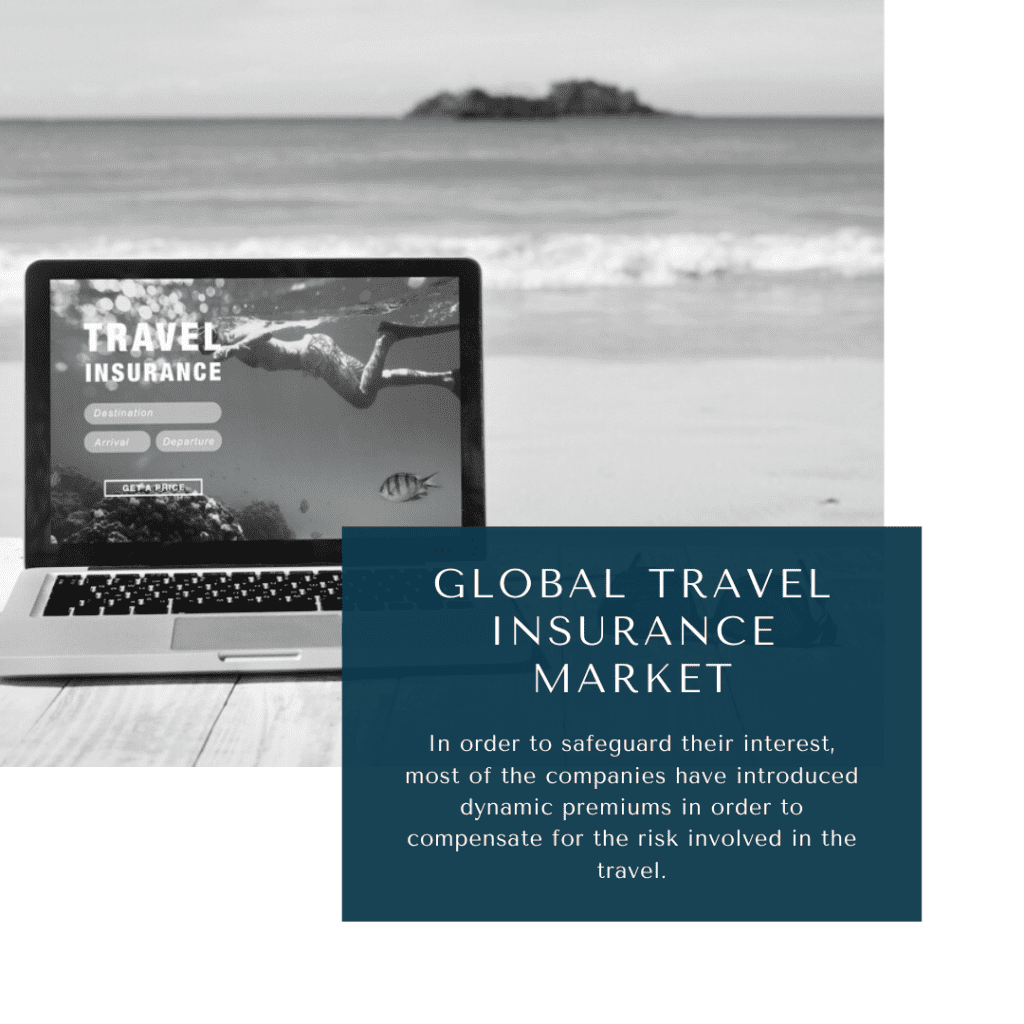 Growing tourism is the key factor driving the travel insurance market in addition to increasing government initiative, for instance, to visit some countries such as Luxembourg, the United States, Belgium, France, and others it is mandatory to have travel insurance to obtain VISA.
GLOBAL TRAVEL INSURANCE MARKET DYNAMICS
Various factors that are driving the growth in the market includes increased penetration of smartphones and internet for purchase of online travel insurance through company website and airlines websites.
In addition, rising disposable income, extensive holiday coverage and online travel bookings also contributes towards its growth. Whereas, low consumer experiences in terms of coverages, lack of awareness related to travel insurance policies, premium rates of travel insurance are some factors hindering the market growth over the forecast period.
On the contrary, technological developments such as global positioning system (GPS), data analytics, artificial intelligence (AI), application program interface (API) and geo-location among others is a major opportunistic scope for the market players operating in the global travel insurance market.
IMPACT OF COVID-19 ON TRAVEL INSURANCE MARKET
COVID-19 has severely affected travel insurance providers as most of the countries closed their borders in order to combat its spread.
Industry giants such as Zurich Insurance Group reported a 40% decline in their profits due to  reduced demand for travel insurance caused by a sharp decline in sales at Cover-More, alongside reduced life insurance operations due to adverse disability claims, effected a 56-per-cent decline in the company's earnings for its Asia-Pacific business.
 Overall, the virus wiped out around USD 686 million from its profits as compared to last year due to the imposition of travel restrictions across the world.
As the outbreak of the virus is controlled and people are resuming back to work, most of the travel insurers are starting to offer cover for COVID-19 to provide a reassurance to the travellers that they are looking for during the trip.
Saga, a UK based specialist insurer introduced cover for the treatment of the disease abroad and repatriation to UK as standard on its travel insurance policies for all trips from June-1.The company  had refunded around USD 54 million of advance payments to customers whose travel was interrupted by the outbreak and such changes were introduced  to provide certainty to the customers who plan to visit after the lock down restrictions were  lifted .
In order to reduce its impact, companies have also introduced new travel insurance policies that takes into consideration road trips that would become a necessity till the virus is controlled. Seven Corners, a company in US launched an insurance policy named as ARMOR that provides an annual subscription which can be applied to any road trip and provides benefits such as returning a passenger, motorcycle or a car during road trips.
In order to safeguard their interest, most of the companies have introduced dynamic premiums in order to compensate for the risk involved in the travel. For Example, in case a person wants to visit USA, premiums could be high as compared to travel to South Asia countries where the risk of the disease is less.
Two types of travel insurance policies which are expected to be offered after the pandemic includes
"Cancel for any reason" travel insurance. It costs between 10% and 12% of the price of the vacation, and it will refund part of travel costs if the trip gets cancelled. 
"Named perils" travel insurance. This is the more common kind of travel insurance. It's less expensive (7% to 9% of trip cost), but it only covers the perils named in the policy and a pandemic is probably not included.
Cancel for any reason" travel insurance is more expensive than standard "named perils" travel insurance, it is more flexible. Its main benefit is that if one changes his mind about the trip, the policy guarantees a minimum of 75% of money would be refunded. 
TRAVEL INSURANCE MARKET SIZE AND FORECAST
The global travel insurance market size is estimated at $XX Billion in 2020, growing at –% CAGR till 2025
GLOBAL TRAVEL INSURANCE COMPETITIVE LANDSCAPE
The key players in the travel insurance market are Allianz Group, American International Group Inc., Association Generali S.P.A, AXA, Insure and Go Insurance Services Limited, Seven Corners Inc., Travel Insured International, Travel Safe Insurance, USI Insurance Services, and Zurich Insurance Co. Limited.
These players have adopted various strategies to increase their market penetration and strengthen their position in the industry.
AXA French Insurance Company revealed a new program AXA Go in China to provide travel insurance via WeChat a Chinese messaging application.25th January 2019, FWD insurance launches a new 24/7 travel insurance chatbot for providing assistance for the entire process of calming travel insurance
COMPANIES PROFILED
| | |
| --- | --- |
| Sl no | Topic |
| 1 | Market Segmentation |
| 2 | Scope of the report |
| 3 | Abbreviations |
| 4 | Research Methodology |
| 5 | Executive Summary |
| 6 | Introduction |
| 7 | Insights from Industry stakeholders |
| 8 | Cost breakdown of Product by sub-components and average profit margin |
| 9 | Disruptive innovation in the Industry |
| 10 | Technology trends in the Industry |
| 11 | Consumer trends in the industry |
| 12 | Recent Production Milestones |
| 13 | Component Manufacturing in US, EU and China |
| 14 | COVID-19 impact on overall market |
| 15 | COVID-19 impact on Production of components |
| 16 | COVID-19 impact on Point of sale |
| 17 | Market Segmentation, Dynamics and Forecast by Geography, 2020-2025 |
| 18 | Market Segmentation, Dynamics and Forecast by Product Type, 2020-2025 |
| 19 | Market Segmentation, Dynamics and Forecast by Application, 2020-2025 |
| 20 | Market Segmentation, Dynamics and Forecast by End use, 2020-2025 |
| 21 | Product installation rate by OEM, 2020 |
| 22 | Incline/Decline in Average B-2-B selling price in past 5 years |
| 23 | Competition from substitute products |
| 24 | Gross margin and average profitability of suppliers |
| 25 | New product development in past 12 months |
| 26 | M&A in past 12 months |
| 27 | Growth strategy of leading players |
| 28 | Market share of vendors, 2020 |
| 29 | Company Profiles |
| 30 | Unmet needs and opportunity for new suppliers |
| 31 | Conclusion |
| 32 | Appendix |