INTRODUCTION
India is world`s biggest two-wheeler market and also one of the most unsafe country for road driving. Close to 150k people lost their lives in 2017, where more than 1/3rd of total lives lost were two-wheeler riders. What is also worth noting is that more than 50% of lost lives belonged to 18-35 age group. The loss of young population due to road accidents has already caused substantial loss to the developing country , where GDP per capita is <2,000 USD.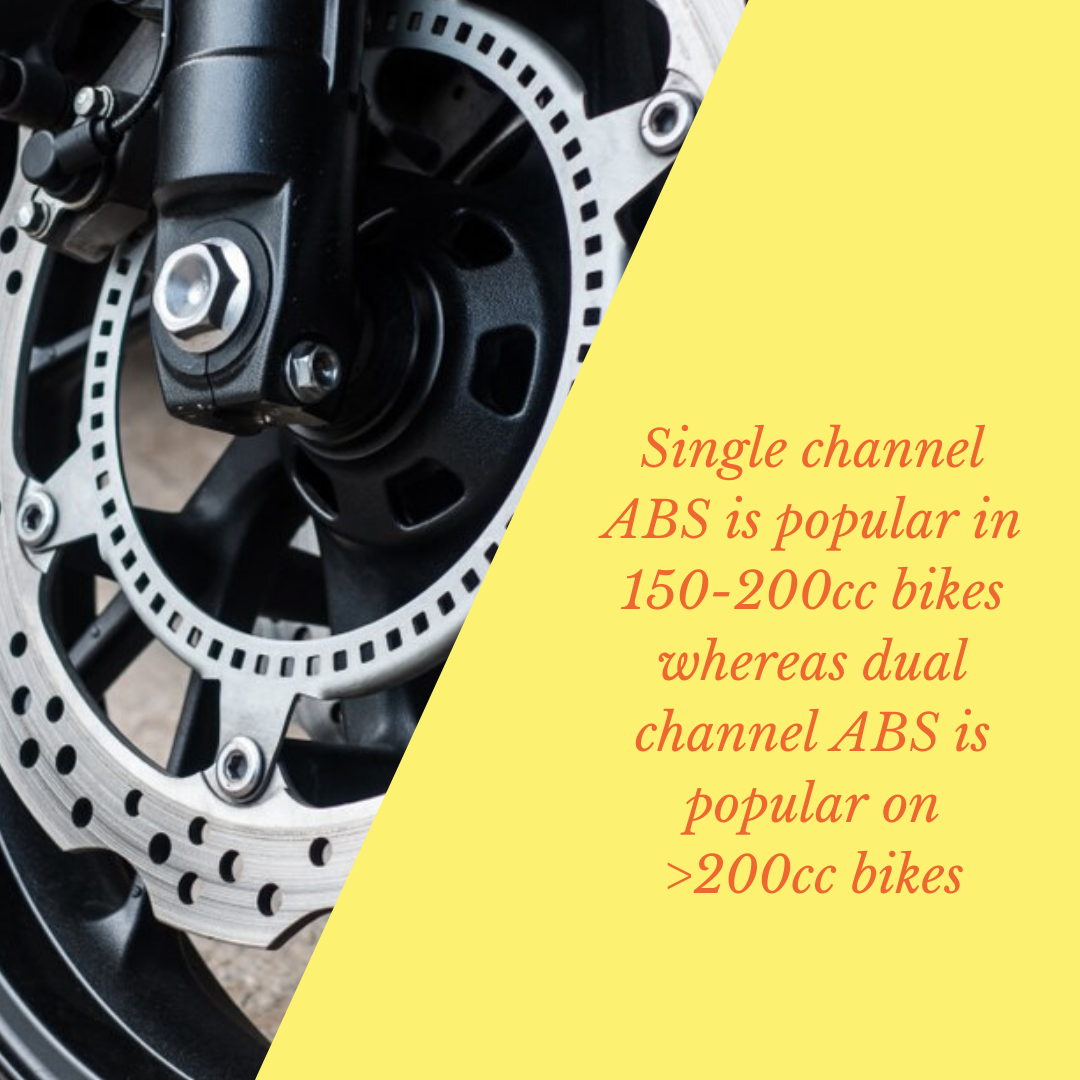 Road accidents are often a result of multiple factors i.e. error in driver`s judgement, poor engineering and condition of vehicle, bad road design and visibility. Among all these factors, the vehicle engineering part is the easiest thing to be fixed.This is where ABS(Anti-lock Braking System) comes into picture.
MARKET SEGMENTATION

MARKET DYNAMICS
The Indian market is completely dominated by low cost two-wheelers. A very high 28% GST on all category of two-wheeler has been already squeezing margins of OEMs therefore the additional cost of ABS will be directly passed on to the consumer.
More than 85% of two wheelers sold in India cost less than $1,000. The entry level two wheelers like TVS XL, Bajaj CT 100 and Hero Splendour cost ~$500-$600 ex-showroom.These prices are lowest globally for any powered two-wheeler. For reference, average transaction price for two wheelers in Europe and US was $3,700 and $10.600 respectively in 2018.
Owing to significantly lower cost, Majority of the two wheelers in India have drum brakes on both front and rear wheel. The 150cc-180cc bikes typically have front disc and rear drum brakes setup.
The two-wheeler ABS legislation was first issued in 2016, when all two- wheelers with more than 125 cc engine capacity were asked to make ABS standard from 1st April 2017. But, it eventually got pushed by two years to April 2019.We believe, this upcoming regulation will be the biggest growth driver for two -wheeler ABS market in India.
As of July`19, India`s unemployment is at 20 year high. The small and Medium enterprises, a key contributor to India`s informal economy are still recovering from the after-effects of Demonetization and a complicated GST, this has significantly dragged down the economic growth forecast. In a country of 1.3 Billion population where per capita income is <2,000, this is the biggest challenge to the two-wheeler market.
The two wheeler ABS market in India will get a solid boost from new companies entering the market like Jawa, FB Mondial,Husqvarna,SYM,BSA and many more new entrants.
MARKET SIZE AND FORECAST
The Indian market is dominated by utilitarian 100cc motorcycles and scooters. The motorcycles are popular in tier-3 cities and rural areas, whereas gear-less scooters enjoy strong following in urban areas.The automatic/gearless scooters,powered by a small 100-125cc engines, predominantly have all drum brake setup will not contribute to the volumes of the two wheeler ABS market in India.
However,the good news for two wheeler ABS manufacturers is ,the market is moving towards premium scooters as testified by super success of TVS Ntorq and Aprilia SR 150.Going forward, we can expect some more >150cc scooters being introduced in the market which will further augment the market size.
Single channel ABS is popular in 150-200cc bikes whereas dual channel ABS is popular on >200cc bikes. The two-wheeler manufacturers typically charge a premium of ~10-12k INR ($150-$160) for a single channel ABS and ~15k INR ($220) for a dual channel ABS.
India's >300cc two-wheeler segment is dominated by Royal Enfield with 0.8M annual sales. But, as of Dec 2018, none of its products have ABS or even CBS (Combi Braking System). Bajaj and its partially owned subsidiary KTM have the remaining market share of >300cc bikes and they have >23% ABS penetration.
Over past 5 years, scooters have enjoyed a solid growth primarily due to growing traffic congestion in metro cities. However, this segment is not at all a contributor to the two-wheeler ABS market in India as they are powered by 100-110cc engines. There has been a growing shift towards slightly powerful and premium 125cc scooters from 110 cc scooters, but we don't expect any massive shift towards 150cc+ scooters.
The two-wheeler ABS market in India was valued at $XX Million in 2019 and will grow to $YY Million by 2025.
COMPETITIVE LANDSCAPE
Bosch and Continental are among the market leaders of Two -wheeler ABS market in India. Brakes India is a new entrant to this market. Continental was one of the early movers in this market when it supplied its dual channel ABS to TVS for Apache 180 in 2011.
Bosch has a solid grip on the Indian two-wheeler market due to its presence spawning more than five decades in the country and comprehensive product offerings including ABS. We expect a few more new vendors to enter the market in medium term,owing to  high volumes and low competition.
COMPANY PROFILES
Brakes India
THIS REPORT WILL ANSWER THE FOLLOWING QUESTIONS
  Market Size and Forecast of Two wheeler ABS market in India(Volume and Value)
  Two wheeler ABS market split by two wheeler manufacturer/OEM
  Two wheeler ABS market split by sub-components
  Market Trends,risks, drivers and opportunities in  Two wheeler ABS market in India
  Market share of two wheeler ABS manufacturers in India
  Growth strategy of two wheeler ABS manufacturers
  Impact of upcoming BS VI emission norms on the two wheeler ABS market in India
  Average B-2-B Two wheeler ABS price
  The impact of new electric two-wheeler startups on the two wheeler ABS market in India
| | | |
| --- | --- | --- |
| 1 | Market Segmentation | 3 |
| 2 | Executive Summary | 5-6 |
| 3 | Introduction | 7-10 |
| 4 | Insights from Industry stakeholders | 11 |
| 5 | Key criteria for  ABS  system vendor selection by two-wheeler OEMs | 12-13 |
| 6 | Two-wheeler ABS manufacturing in India | 14-15 |
| 7 | Breakdown of two-wheeler brake system by sub-component | 16-17 |
| 8 | Impact of BS VI  emission and ABS norms on two-wheeler ABS market | 18-19 |
| 9 | Overview of braking system used on two wheelers in India | 20-21 |
| 10 | Expected growth of electric two-wheelers in India 2019-2025 | 22-23 |
| 11 | Market Size ,Dynamics and Forecast By Product type | 29-38 |
| 5 | Market Size ,Dynamics and Forecast By Application | 39-50 |
| 6 | Market Size ,Dynamics and Forecast By End-use | 51–60 |
| 15 | Competitive Landscape | 62-65 |
| 16 | Market share of vendors-2019 | 66 |
| 17 | OEM-supplier relationship in two- wheeler ABS system market | 67-68 |
| 18 | Company Profiles | 69-75 |
| 19 | Unmet needs and Market Opportunity for suppliers | 76 |
| 20 | Conclusion | 77 |
| 21 | 5 Key predictions | 78 |