US 3PL Market 2020-2025
October 21, 2020

Request Sample
COMING SOON
Multi User License - $3,000
US 3PL MARKET
INTRODUCTION
Logistics Industries requires high capital investment to set up a well-defined and structured   infrastructure so that the large fleet sizes are well maintained, also for labors and technology. A 3PL logistics company is been providing standard and specialized services like inventory management, warehouse management, cross-docking, door-to-door delivery, and packaging and shipping of products.
As the operating costs are very high many industries prefer outsourcing logistics services to reduce operational costs and also to increase profitability.
3PL logistics services have been one of the services which help to reduce the operational costs and is the primary cause for the market growth in the US. Outsourcing 3PL services have helped organizations to concentrate more on the technology and core business thus increasing the operational efficiency of industries.
The U.S. 3PL Logistics market is one of the biggest shareholders in the North American circuit of 3PL market with expected growth of over 3% CAGR during 2020-2025.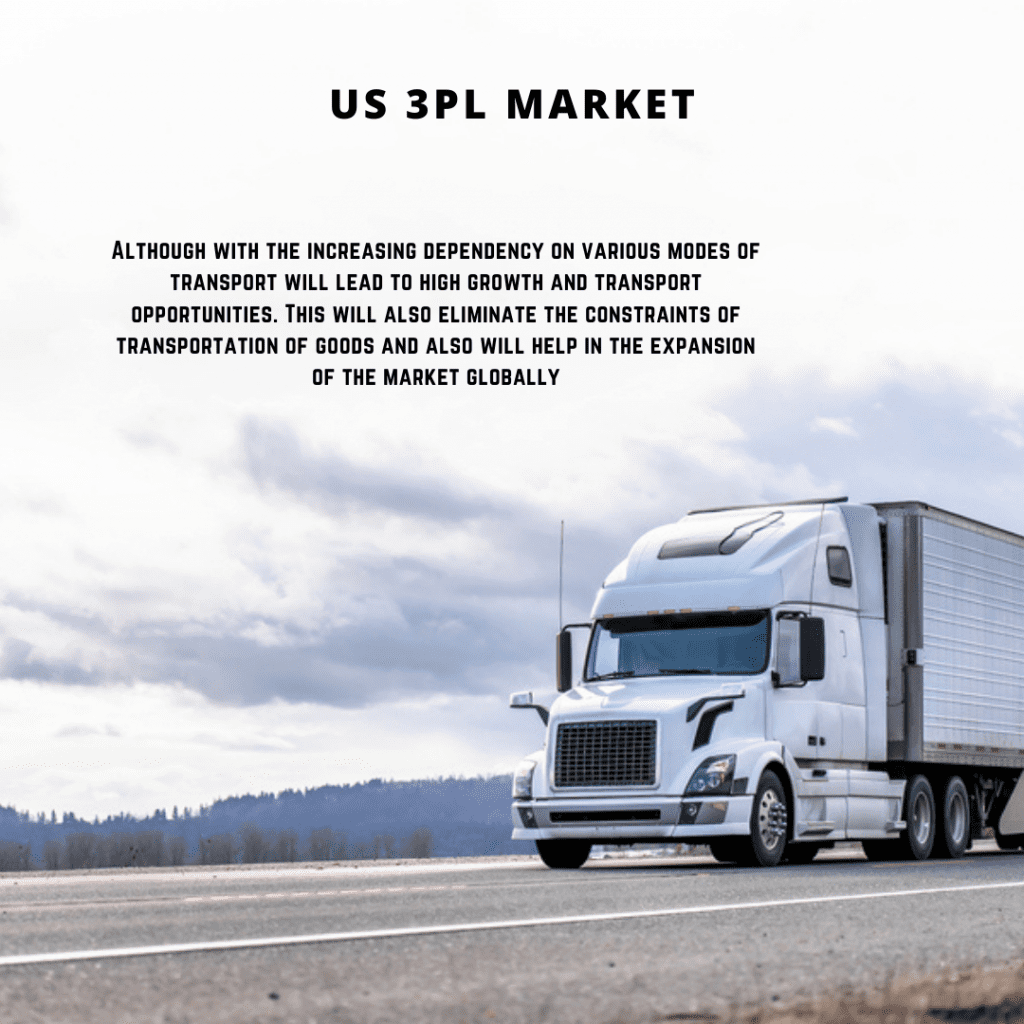 And it helps to eliminate unnecessary spending and increase profit percentage. The growth of e-commerce industries will subsequently increase the demand for third party logistics services and the adoption rate will also increase.
Moreover rise in globalization has helped in generating a global network of manufacturing and industrial activities. To maintain it efficiently and effectively it is necessary to use 3PL services and thus will increase demand for 3PL services.
The primary cause affecting the growth of the third-party logistics industry in the U.S. is high competition in the market, the domination of big companies in the market has resulted in a reduction of profits to the smaller companies.
US 3PL MARKET SEGMENTATION
By Industry
Technological
Automotive
Construction
Retail
E-commerce
Food and households
Medical and Healthcare
Others
US 3PL MARKET TRENDS
Over the last five years, the logistics industry has undergone a lot of transition with the major companies concentrating more on technology and core competencies. The 3PL logistics industry offers state-of-the-art solutions for accurate shipment tracking and its movement. The improvised technology, world visibility, documentation, and imaging capability will boost the market growth.
Blockchain technology has been introduced in the 3PL logistics market which has been a major cause in the growth of the market. Blockchain technology offers a digital platform which allows logistics industries to access distributed transaction ledger.
This technology generates identical copies of the transaction ledger that are documented and maintained in distributed computer systems which are managed by stakeholders. This will eliminate the need of central maintaining authority.
The introduction of blockchain technology has resulted in cost benefits which have increased profitability and market growth.  This has lead to 3PL market growth in the US at a CAGR of about 6%. Also increase in the use of multimodal transport has boosted the market growth in the U.S.
US 3PL MARKET DYNAMICS
The U.S. e-commerce recorded at CAGR of 11.8% over the forecast period of 2014-2019.
Air-based logistics services segment market share in 2019 was 40%, Rail and Road services segment market share in 2019 was 25% and Sea-based logistics services segment market share in 2019 was 35%.
In 2019 US accounted for around 25% of the global third-party logistics market and according to the World Trade Organisation merchandise exports for the U.S increased to USD 1.66 trillion in 2018, from USD 1.54 trillion in 2017.
In 2019, Domestic Transportation Management (DTM) services in the third-party logistics market in the U.S. were valued at USD 93.5 billion and it is expected to reach USD 177.5 billion by 2026.
Dedicated Contract Carriage (DCC) solutions in the 3Pl logistics market in the U.S. were valued at USD 20 billion and it is expected to reach USD 35.5 billion by 2026.
Likewise International Transportation Management (ITM) solutions in U.S were valued at USD 70 billion, Warehousing and Distribution were valued at USD 45.5 billion, and Logistics Software were valued at USD 5 billion in 2019.
By 2026, ITM solutions are expected to reach USD 120 billion, Warehousing and Distribution are expected to reach USD 80 billion, and Logistics Software is expected to reach USD 15 billion respectively in the U.S.
US 3PL MARKET COMPETITIVE ANALYSIS
The market is classified or broken into parts, by looking at the presence of various international and domestic 3PL companies in the United States. Some of the major companies that has bulk involvement in the 3PL Logistics market are Hub Group Inc., J.B. Hunt Transport Services Inc., United Parcel Service of America Inc., C.H. Robinson Worldwide Inc., DB Scheneker, KUEHNE+NAGEL Inc.,  and XPO logistics Inc.
Large companies like C.H. Robinson declared that they are going to acquire Prime distribution services. J.B Hunt confirmed the acquisition of RDI Last Mile Co., which will expand the company's final mile services division to 100 plus locations and with the area of more than 31 lakh sq. feet of warehousing space.
XPO logistics one of the leading contract logistics and 3PL service providers is expected to have incurred a loss of USD 500 million worth of business after Amazon decided to internalize its supply chain functions.
Although with the increasing dependency on various modes of transport will lead to high growth and transport opportunities. This will also eliminate the constraints of transportation of goods and also will help in the expansion of the market globally.
However, there are certain disadvantages like cargo theft, railway theft which the companies have to overcome to have effective growth and efficiency in the market.
To make use of most of the opportunities and to become one of the leading company in the market, the market vendors have to focus more on the fast-growing segments and stress more on the profitable and stronger sections, while also keeping their hold on the weaker sections or the slow-growing segments.
With the increasing demand from key industries such as technological, automotive, manufacturing, retail, healthcare, and construction is said to create excess opportunities and demand for the warehousing space in the future.
COMPANIES PROFILED
| | |
| --- | --- |
| Sl no | Topic |
| 1 | Market Segmentation |
| 2 | Scope of the report |
| 3 | Abbreviations |
| 4 | Research Methodology |
| 5 | Executive Summary |
| 6 | Introduction |
| 7 | Insights from Industry stakeholders |
| 8 | Cost breakdown of Product by sub-components and average profit margin |
| 9 | Disruptive innovation in the Industry |
| 10 | Technology trends in the Industry |
| 11 | Consumer trends in the industry |
| 12 | Recent Production Milestones |
| 13 | Component Manufacturing in US, EU and China |
| 14 | COVID-19 impact on overall market |
| 15 | COVID-19 impact on Production of components |
| 16 | COVID-19 impact on Point of sale |
| 17 | Market Segmentation, Dynamics and Forecast by Geography, 2020-2025 |
| 18 | Market Segmentation, Dynamics and Forecast by Product Type, 2020-2025 |
| 19 | Market Segmentation, Dynamics and Forecast by Application, 2020-2025 |
| 20 | Market Segmentation, Dynamics and Forecast by End use, 2020-2025 |
| 21 | Product installation rate by OEM, 2020 |
| 22 | Incline/Decline in Average B-2-B selling price in past 5 years |
| 23 | Competition from substitute products |
| 24 | Gross margin and average profitability of suppliers |
| 25 | New product development in past 12 months |
| 26 | M&A in past 12 months |
| 27 | Growth strategy of leading players |
| 28 | Market share of vendors, 2020 |
| 29 | Company Profiles |
| 30 | Unmet needs and opportunity for new suppliers |
| 31 | Conclusion |
| 32 | Appendix |