US Airport Infrastructure Market 2020-2025
November 11, 2020

Request Sample
Coming Soon
Multi User License - $1,800
INTRODUCTION

Before one can delve into the US airport infrastructure market it is important to look at the aviation industry as a whole because the health of the aviation industry directly corresponds to the airport infrastructure market. 
The United States aviation industry is a vital cog to the economic juggernaut that is the United States of America, it comes as no surprise that the industry adds close to $800 million dollars which is roughly 4.2% of the country's GDP.
The aviation industry is also responsible for employing close to 6.5 Million people in the United States. The air transport market in America was forecasted to grow by around 62% by 2037, If this growth trend becomes reality then the Aviation sector in the country will employ around 8 million people and contribute around $1.26 trillion to the United States GDP.
However, it is important to note that these estimates were made pre-pandemic and the aviation industry is one of the worst hit industries because of the pandemic. It is estimated that it can take up to 3-4 years for the industry to reach back to pre-pandemic levels, meaning that the growth trends predicted for the industry pre-pandemic might have to get pushed back by the same time frame.
That being said, Given the large size of the country and distances between major cities air transport has been and will always be the most convenient and used method of transportation in the country.
MARKET SEGMENTATION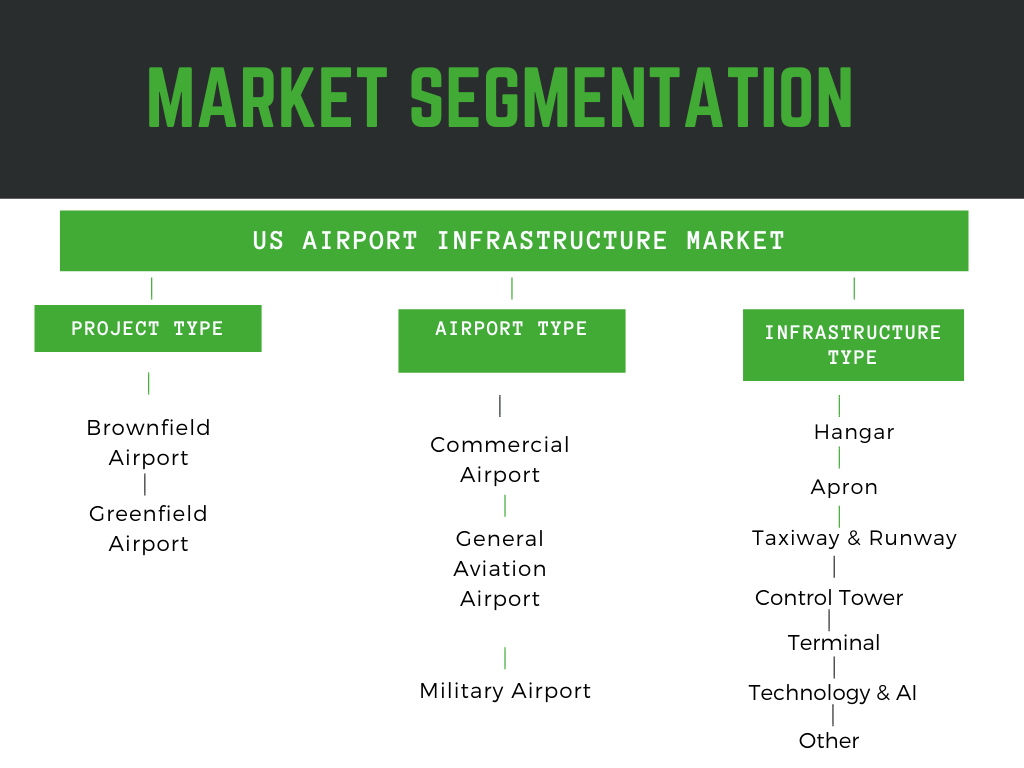 Brownfield Airports: Remodeling or demolishing an existing airport to make way for a new one are classified as Brownfield Airport Projects.
Greenfield Airports: These are new airports constructed on new undeveloped sites complying with present day norms.
US AIRPORT INFRASTRUCTURE MARKET DYNAMICS
There has been a steady and significant increase of air passenger traffic in the United States. The last decade itself has seen a rise of 25% of air passenger traffic owing to increasing population, better economic conditions of the populace and the vast size of the country.
The pandemic threw a major spanner in the works to these growth trends that have been observed over the last decade.
Quarantines and lockdowns globally meant that the aviation industry is going through its worst crisis ever in its history. It was a common site to see empty airports throughout the year as flights had to be cancelled. This had a resounding impact on all players involved in the aviation industry including the airport infrastructure market.
 On 5 May earlier this year Airports Council International estimated that 2020 would see less than half of the air traffic it had originally envisaged for this year.
Going back to pre-pandemic times most of the major airports in the United States were in severe need of revamping this happened because the past two decades has not overseen any new airport constructions in fact the United States hasn't built a new airport in 24 years meaning that the already existing airports came under increasing duress to keep up with the growing demand of air travel.
There are many reasons that a new airport hasn't been built for such a long period of time, one being the environmental costs of making a new airport is always heavily rebuked by environmentalists and activists alike. Another factor is finding a suitable site that would comply with government laws, satisfy environmental norms and is close enough to the city to make sense for the passengers.
Most major American cities in need of a new airport don't have a site that ticks all these boxes. Owing to all these aforementioned reasons the US department of transportation recently awarded $840 Million in airport infrastructure grants.
As previously discussed, building new airports may not be the most feasible option as it is quite a cumbersome process. So, one can expect most if not all of these funds to get funneled into Brownfield Airport projects throughout the country. However, Brownfield projects pose their own set of challenges and hurdles.
Revamping infrastructure at an already existing airport means that the airport in question might have to be shut down for a period of time to make the necessary changes and that would cause major inconvenience. Some Brownfield projects still use archaic infrastructure and changing them can pose its own set of problems.
Coming back to the present day there might just be a silver lining for the airport infrastructure market as the pandemic would provide them with the opportunity to carry out their projects at much greater ease with record low air traffic moving through airports.
One such example is the Westchester County Airport in New York which used the pandemic to completely shut down for a month to undertake a major runway repaving project. Originally this was supposed to be done in stages late at night over a period of four months meaning that the pandemic expedited the process four fold.
The pandemic has also brought about a new norm in airports – Contactless travel. This means the Infrastructure companies would be investing heavily in Artificial Intelligence to make Contactless travel highly efficient and a reality as soon as possible.
COMPETITIVE LANDSCAPE
The American airport infrastructure market is a highly competitive and fragmented market meaning there are no clear dominant players in the market. Most of these companies expand and grow keeping brownfield projects in mind because there have been no greenfield projects undertaken in the country for 2 decades.
So, it comes as no surprise that there's an impetus towards consulting and management capabilities as most brownfield projects are long – term projects that can span multiple years.
In light of recent events one can expect these companies to gravitate around and focus on advanced technologies like Augmented & Virtual Reality amongst other branches of Artificial Intelligence to meet today's demands of a modern and safe airport.
COMPANIES PROFILED
| | |
| --- | --- |
| Sl no | Topic |
| 1 | Market Segmentation |
| 2 | Scope of the report |
| 3 | Abbreviations |
| 4 | Research Methodology |
| 5 | Executive Summary |
| 6 | Introduction |
| 7 | Insights from Industry stakeholders |
| 8 | Cost breakdown of Product by sub-components and average profit margin |
| 9 | Disruptive innovation in the Industry |
| 10 | Technology trends in the Industry |
| 11 | Consumer trends in the industry |
| 12 | Recent Production Milestones |
| 13 | Component Manufacturing in US, EU and China |
| 14 | COVID-19 impact on overall market |
| 15 | COVID-19 impact on Production of components |
| 16 | COVID-19 impact on Point of sale |
| 17 | Market Segmentation, Dynamics and Forecast by Geography, 2020-2025 |
| 18 | Market Segmentation, Dynamics and Forecast by Product Type, 2020-2025 |
| 19 | Market Segmentation, Dynamics and Forecast by Application, 2020-2025 |
| 20 | Market Segmentation, Dynamics and Forecast by End use, 2020-2025 |
| 21 | Product installation rate by OEM, 2020 |
| 22 | Incline/Decline in Average B-2-B selling price in past 5 years |
| 23 | Competition from substitute products |
| 24 | Gross margin and average profitability of suppliers |
| 25 | New product development in past 12 months |
| 26 | M&A in past 12 months |
| 27 | Growth strategy of leading players |
| 28 | Market share of vendors, 2020 |
| 29 | Company Profiles |
| 30 | Unmet needs and opportunity for new suppliers |
| 31 | Conclusion |
| 32 | Appendix |