US CONSTRUCTION EQUIPMENT MARKET

                                                                    
INTRODUCTION
The U.S. Commerce Department has stated that during the first four months of 2020, construction spending in the U.S. amounted to USD 412.5 billion. The high demand for faster construction of buildings and facilities for the rising population is positively influencing market statistics.
The escalating development of smart cities in US is one of the major factors driving the increase in the demand for construction equipment. Government initiatives, such as the Smart Cities Project under the U.S. Economic Development Program, are supporting the regional construction equipment market.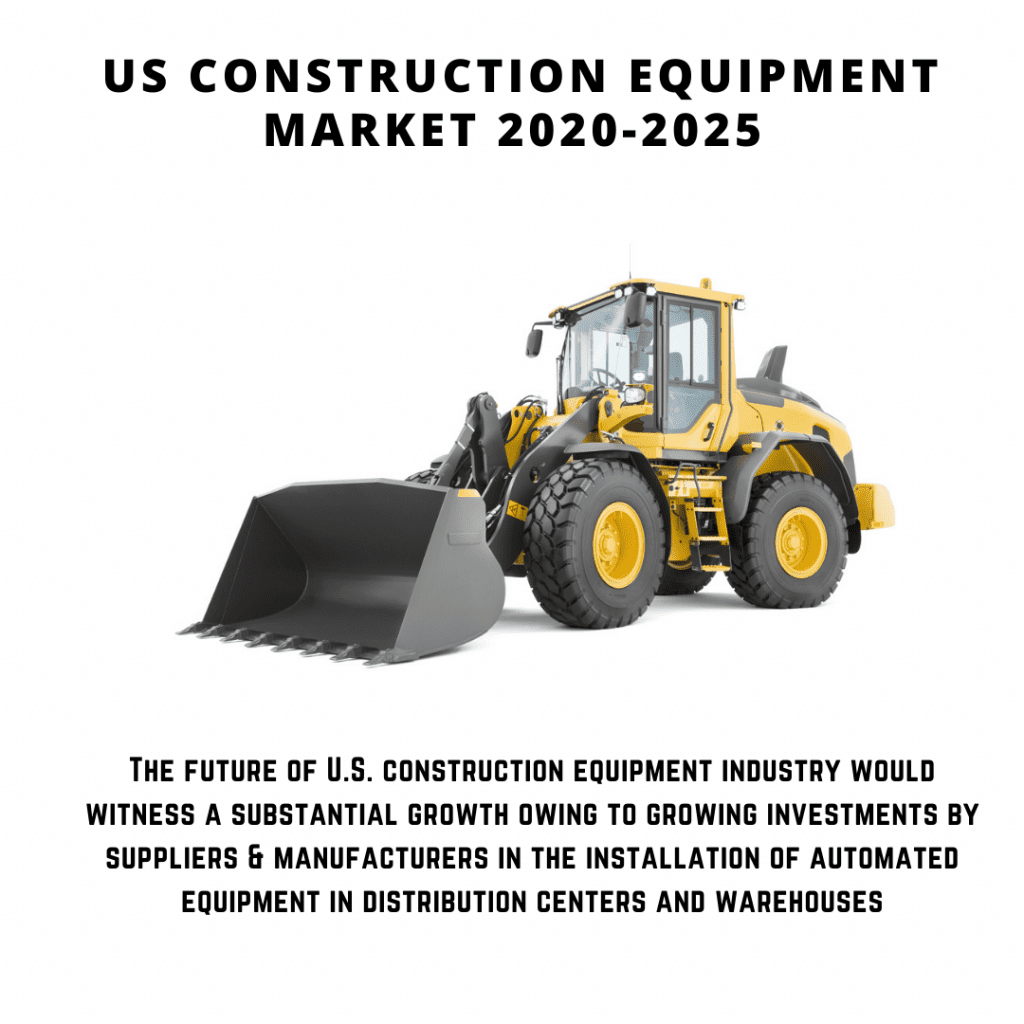 The advancement of technology and computation has made the construction equipment smarter and, efficient for use.
The US is a leader in the construction industry due to the increasing investments in the property and expanding infrastructure leading to a surge in construction equipment market revenues. The past few years of data show that commercial and residential construction has been rising that has been a catalyst in the growth of construction equipment market.
US CONSTRUCTION EQUIPMENT MARKET SEGMENTATION
By Construction Equipment Product Type
Cranes

Mobile Cranes

Crawler Cranes

Tower Cranes
Earthmoving Equipment

Loaders

Excavators

Motor Grader
Aerial Work Equipment

Articulated Boom Lifts

Telescopic Boom Lifts

Scissor Lifts
Material Handling Equipment

Telescopic Handlers

Forklifts
Road Construction Equipment
By Construction Equipment Applications
Construction

Oil and Gas

Mining

Municipality
GROWTH DRIVERS
Integration of advanced technologies in construction machinery.

Increasing investments in infrastructure development.

Rising demand for equipment rental in US.

Rising number of infrastructural and industrial projects in US.

Increasing implementation of Li-Fi Technology.

Growing number refurbishment activities in US.

Growing investments in mining projects in US.

Forming exponential and extensive partnerships with companies for strategic establishments

Government initiatives to provide telecommunication facilities to small towns are driving demand across the telecom sector
CHALLENGES
Instability of application industries

Lack of skilled and qualified machinery operators

High initial costs of construction equipment

Fluctuating commodity prices

High maintenance cost of construction equipment
TECHNOLOGY ADVANCEMENT IN US CONSTRUCTION EQUIPMENT MARKET
Technology has been a disruptor in how machines have become more efficient and reduce the cost and labor adoption. The embarkment of new technology into machines make it smarter, easy to use, automate the processes and, also reduce on-site accidents.
In response to the growing demand, construction equipment market players are launching new equipment integrated with advanced technologies such as IoT and AI. The use case of AI and IoT has transitioned the construction equipment industry.
Machines that are integrated with advanced technology provides robust monitoring and control facilities assisted by proximity sensors and IoT. The technology also, enables efficient control over fuel usage.
The expansion of the Internet and mobile connectivity in US has been a major factor promoting the market growth of material handling equipment and cranes. Internet connectivity is a prerequisite for smart homes and IoT applications. The installation and maintenance of telephone lines are driving the adoption of advanced cranes with pre-installed technologies such as telematics.
FUTURE OUTLOOK
The future of U.S. construction equipment industry would witness a substantial growth owing to growing investments by suppliers & manufacturers in the installation of automated equipment in distribution centers and warehouses.
Major players, like Amazon and eBay, are investing significant amounts in the construction of warehouses for storage of inventory. In 2020, Amazon announced that it plans to construct over 1,000 warehouses and delivery hubs in the suburban areas of the U.S. Due to COVID 19, the regional markets have witnessed a considerable growth owing to the emergence of e-commerce companies.
As per the American Road & Transportation Builders Association (ARTBA), the construction of parking lots, private highways, driveways, and bridges is estimated to reach a value of approximately USD 72 billion in 2020. Thus, the development in construction activities is anticipated to drive the industry with each year passing and, holds a formidable future of innovation and, implementation.
COMPANY PROFILES