US Motor Insurance Market 2020-2025
August 4, 2020

Request Sample
Coming Soon
Multi User License - $2,500
US MOTOR INSURANCE MARKET
INTRODUCTION
In US Auto insurance is increasingly becoming a mandatory step while purchasing a car in the United States. While not all states mandate automobile insurance, a certain amount of auto insurance is required by most states. The requirement varies by jurisdiction, but a number of people do shell out on policies to help cover themselves. The motor insurance demand in the US heavily depends on the sales and registration of new motor vehicle cars and policy renewal of older vehicles
US MOTOR INSURANCE MARKET SEGMENTATION
There are various insurance plans which are sold by insurance companies.. Companies bundle up and try to sell the best plans which are affordable and give maximum cover to their customers. There are some basic plans which motor insurance companies provide which are described below.
The most popular type of insurance is the liability insurance which is the minimum requirement in most states. Liability insurance protects in the case of bodily injury or property damage. This insurance has a cover which will insure any medical bills for another person or the whole accident. This will also insure any damage done to some other car/property. Medical payments insurance also exists which is an option to cover for any medicals bill for the passengers or co-passengers during the accident.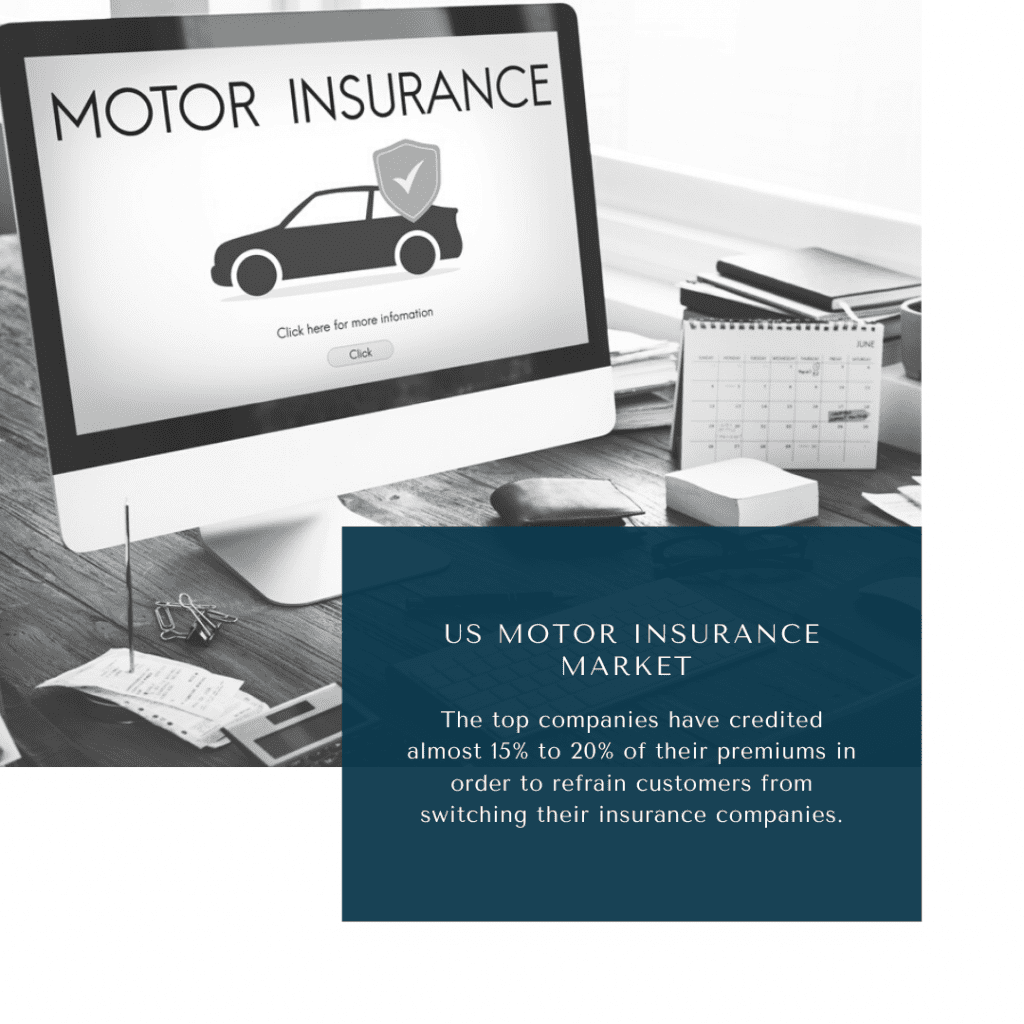 Liability insurance and uninsured motorists are what is called as mandatory minimum requirements in most states. Uninsured motorists coverage is covering for any damage that uninsured people do for example someone might cause an accident who doesn't have liability insurance. The uninsured motorists coverage kicks in here in this scenario.
For the concern of safety and well-being, consumers will want even additional features added to their insurance policies. Collision insurance is an option which can be added where damage is done by the owner. It covers the damage done to the vehicle regardless of fault.
There are deductibles attached to these features where some fee is taken despite the premium paid in order to limit the number of claims and reduce the risk for insurance companies. The deductible price can be chosen which will affect the overall premium price of the insurance policy.
Full coverage insurance covers all from liability to uninsured motorists to collision to comprehensive damages. Comprehensive and collision is not required by law but are features added to get a full coverage. This plan provides the maximum security and coverage for vehicles.
US MOTOR INSURANCE MARKET DYNAMICS
The pandemic has brought a time of uncertainty where it has led to a dip in sales of vehicles. The top automakers recently reported that there was a 30% decrease in sales. This is the largest drop since the great recession and the financial crisis in 2009.  Car rental companies in the US have also stopped purchasing new vehicles and are rather looking to offload the vehicles from their inventory.
The supply and demand of the motor insurance is heavily driven by the sales of new vehicles. Insurance companies heavily rely on the sales of vehicles as it is mandatory in most states to obtain a policy. Insurers are going to be hit as well as the number of new sold cars drop. With increasing unemployment in the US, there will be a shift in purchasing behavior where customers are going to be worried about paying their premiums.
There will be customers who would want to change their planes to ensure that they have the required coverage at an affordable price. Insurance firms have to come up with competitive plans for the pandemic as some have already. There have been reports of firms providing relief, crediting partial premiums and being lenient towards cancellations.
US MOTOR INSURANCE MARKET COMPETITIVE LANDSCAPE
A few major competitors dominate the U.S. auto insurance market. The top 5 companies in the market enjoy more than 50% of the market share. Although these carriers are insuring a vast range of policies, they vary in terms of size, level of service and many other features. The top insures in the United States respectively are State Farm, GEICO (Berkshire Hathaway Group), Progressive, Allstate and USAA.
In the time of the pandemic, the insurers have realized and proceeded to refund premiums for consumers who have had zero commute.
The top companies have credited almost 15% to 20% of their premiums in order to refrain customers from switching their insurance companies. Insurance companies are providing flexibility in their premium payments and offering policy discounts.
With less commute, there are going to be less driving on roads which will also result in fewer accidents or damages which is an advantage to both the firms and the consumers.
COMPANY PROFILE
| | |
| --- | --- |
| Sl no | Topic |
| 1 | Market Segmentation |
| 2 | Scope of the report |
| 3 | Abbreviations |
| 4 | Research Methodology |
| 5 | Executive Summary |
| 6 | Introduction |
| 7 | Insights from Industry stakeholders |
| 8 | Cost breakdown of Product by sub-components and average profit margin |
| 9 | Disruptive innovation in the Industry |
| 10 | Technology trends in the Industry |
| 11 | Consumer trends in the industry |
| 12 | Recent Production Milestones |
| 13 | Component Manufacturing in US, EU and China |
| 14 | COVID-19 impact on overall market |
| 15 | COVID-19 impact on Production of components |
| 16 | COVID-19 impact on Point of sale |
| 17 | Market Segmentation, Dynamics and Forecast by Geography, 2020-2025 |
| 18 | Market Segmentation, Dynamics and Forecast by Product Type, 2020-2025 |
| 19 | Market Segmentation, Dynamics and Forecast by Application, 2020-2025 |
| 20 | Market Segmentation, Dynamics and Forecast by End use, 2020-2025 |
| 21 | Product installation rate by OEM, 2020 |
| 22 | Incline/Decline in Average B-2-B selling price in past 5 years |
| 23 | Competition from substitute products |
| 24 | Gross margin and average profitability of suppliers |
| 25 | New product development in past 12 months |
| 26 | M&A in past 12 months |
| 27 | Growth strategy of leading players |
| 28 | Market share of vendors, 2020 |
| 29 | Company Profiles |
| 30 | Unmet needs and opportunity for new suppliers |
| 31 | Conclusion |
| 32 | Appendix |